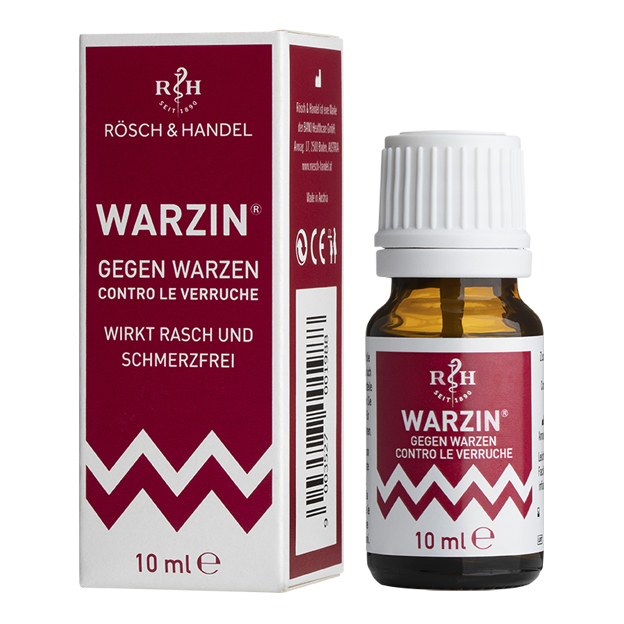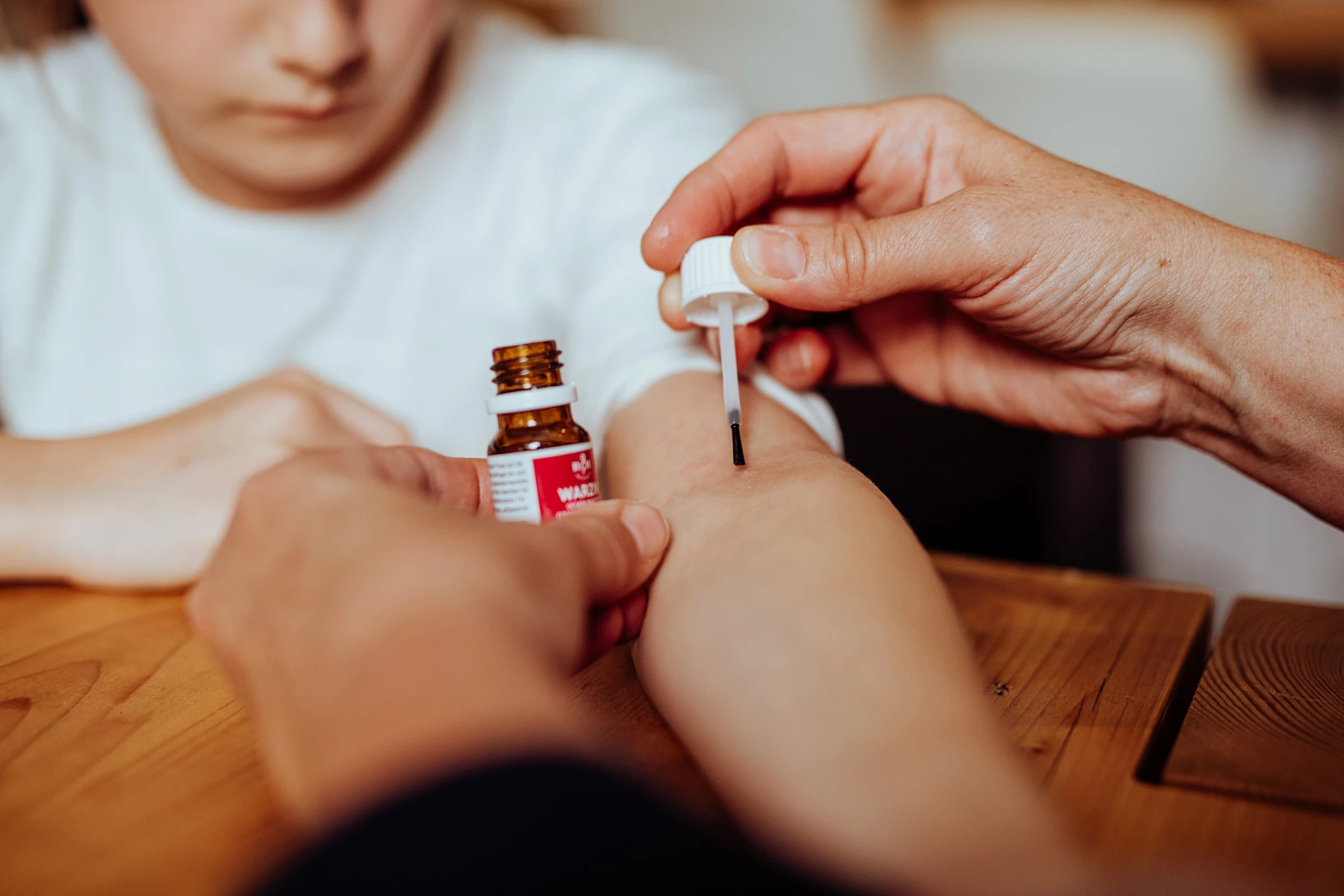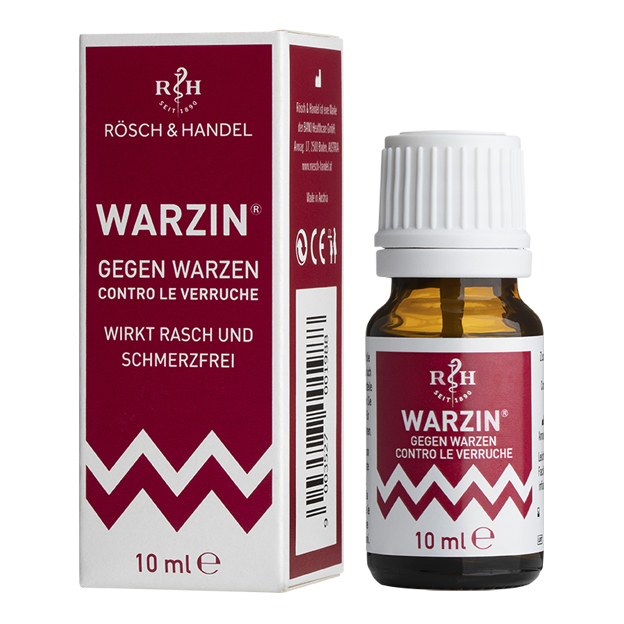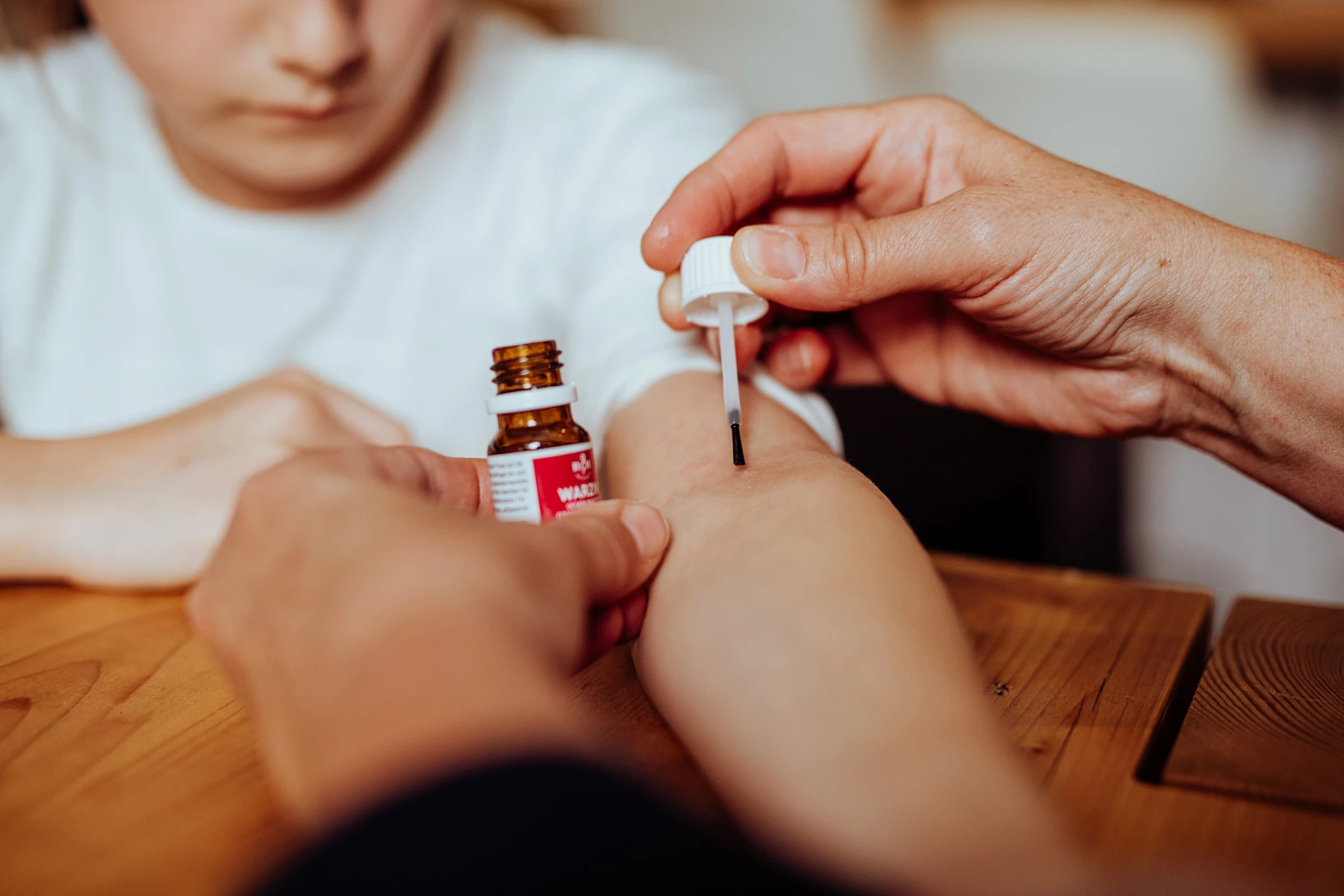 Benefits at a glance
Proven for removing warts

Easy application using the enclosed brush

Quick and painless
Warzin against warts
To remove warts
€9.90*
Content:
0.01 L
(€990.00* / 1 L)
Product number:
7000198
Benefits at a glance
Proven for removing warts

Easy application using the enclosed brush

Quick and painless
Warzin against warts: Product description
Warzin is used to treat common warts, warts on the sole of the foot, plantar warts and warts on the nail plate.
Warzin against warts: Effect
A milky white protective skin forms shortly after applying Warzin for the first time. This should not be removed. Experience shows that the treated wart heals after three to eight weeks.
Warzin against warts: Uses and indications
Brush the wart with Warzin using the enclosed brush twice a day. To protect the surrounding healthy skin from the peeling effect, we recommend covering it well with a rich, oil-based cream or Vaseline before treatment.
To increase the effectiveness of Warzin on the soles of the feet, we recommend taking a warm five-minute foot bath in the evening directly before applying the lotion. This will make it easier to remove the wart during the final bath.
Go to our download area for directions for use.
Warzin against warts: Ingredients
Collodion, lactic acid, castor oil
Good to know
What causes warts?
Warts are benign skin growths caused by viruses known as human papillomaviruses (HPV). Since these viruses can easily penetrate the skin through rubbing and sweating, the virus is most often caught in swimming pools, saunas and gyms. Especially when warts develop on the soles of the feet they can become painful after a while.
What is the best remedy for warts?
There are various ways to remove warts – from surgical procedures done by a dermatologist to wart tinctures and cryotherapy, or icing. Often warts suddenly disappear by themselves. Tinctures and icing agents (icing spray, icing pen) are available as over-the-counter treatments in every pharmacy. Dermatologists can also perform cryotherapy, or icing. The wart is then iced, which destroys the cells in the uppermost layer of skin. This can be quite painful and therefore quite challenging when treating children. Children in particular often have several warts at the same time. If treating the first wart proves too uncomfortable, it will be difficult to treat other warts, depending on the child's age.
Especially when treating children and adults who are sensitive to pain we recommend using tinctures. These remove warts quickly, effectively and, above all, painlessly.
You can find more about warts in our "Good to know" section.
Go to our download area for directions for use.
How can I tell if I have a wart?
Warts are often small, round, flat lumps that can appear either in clusters or alone on the skin. They can occur all over the body, but are most commonly found on the hands and feet.
If in doubt, we recommend seeking the advice of a doctor.
Are warts contagious?
Common warts are very contagious, unlike age warts, which are not caused by the human papillomavirus. To avoid infection, it is important to wear flip-flops in all areas where many people are barefoot (public baths, saunas, locker rooms, gyms, showers, etc.). This can also prevent troublesome athlete's foot.
Find out more about warts and treating warts in our interview with Dr Sylvia Holle-Robatsch, a specialist in dermatology and angiology.
Quality from experience
Tried and tested formulations
We rely on traditional combinations of active ingredients, some of which have been tried and tested for centuries and are processed with modern formulations.
Tested raw materials
Only tested raw materials are used in production, many of which also meet the requirements of the European Pharmacopoeia or are of medicinal quality.
High-quality production
Our production is ISO 13485:2016 certified and audited annually, which ensures that our products are always of consistent quality.