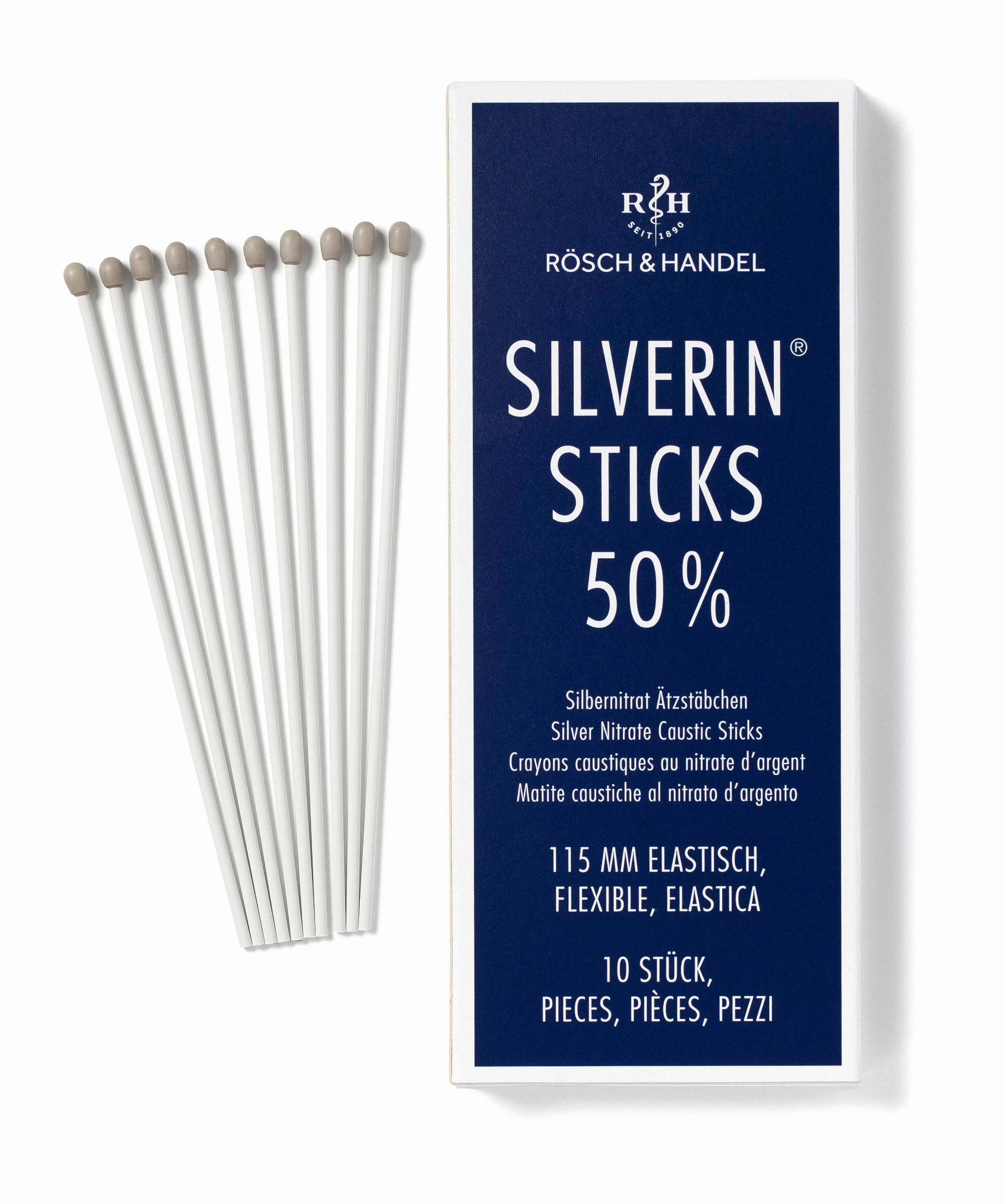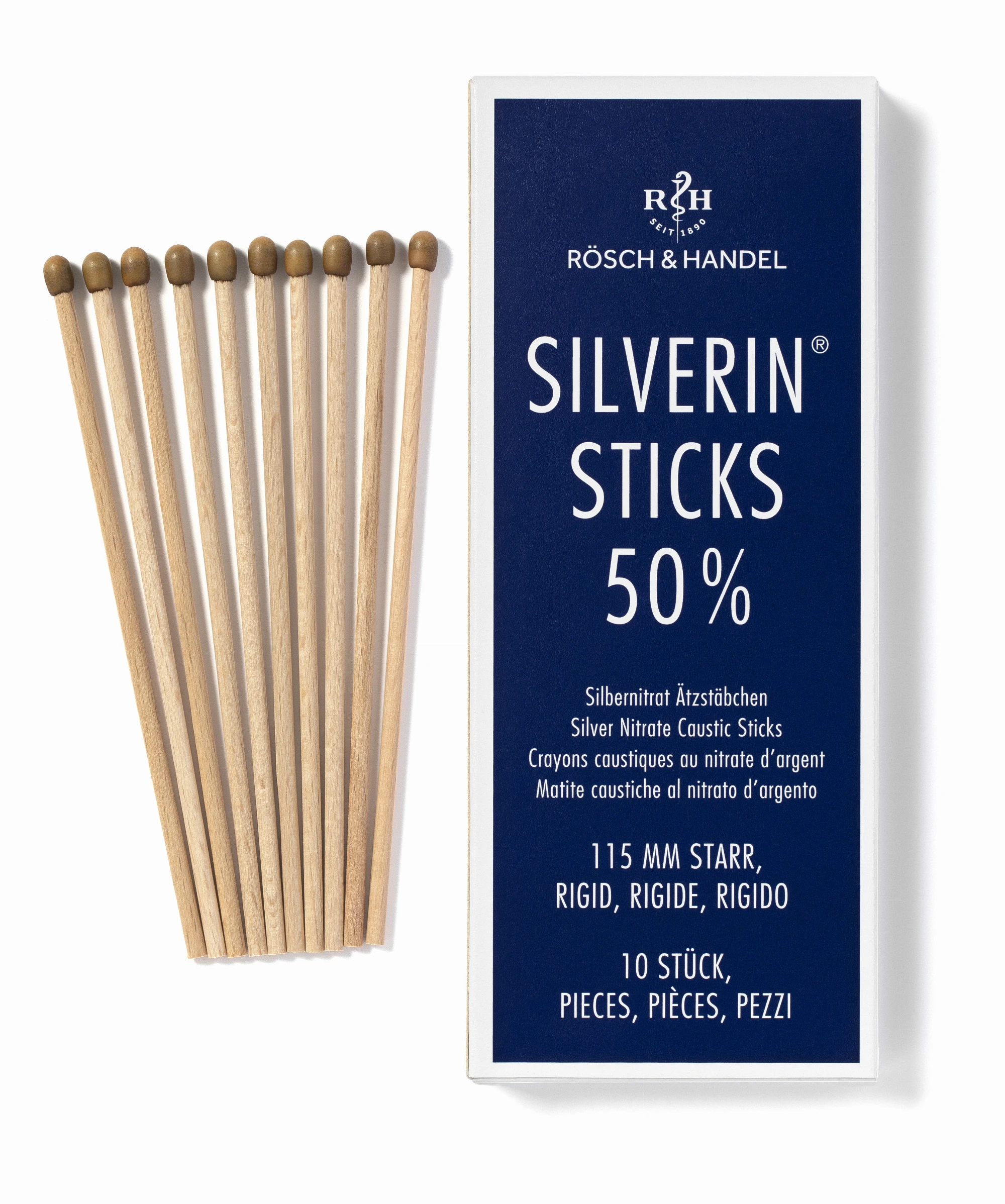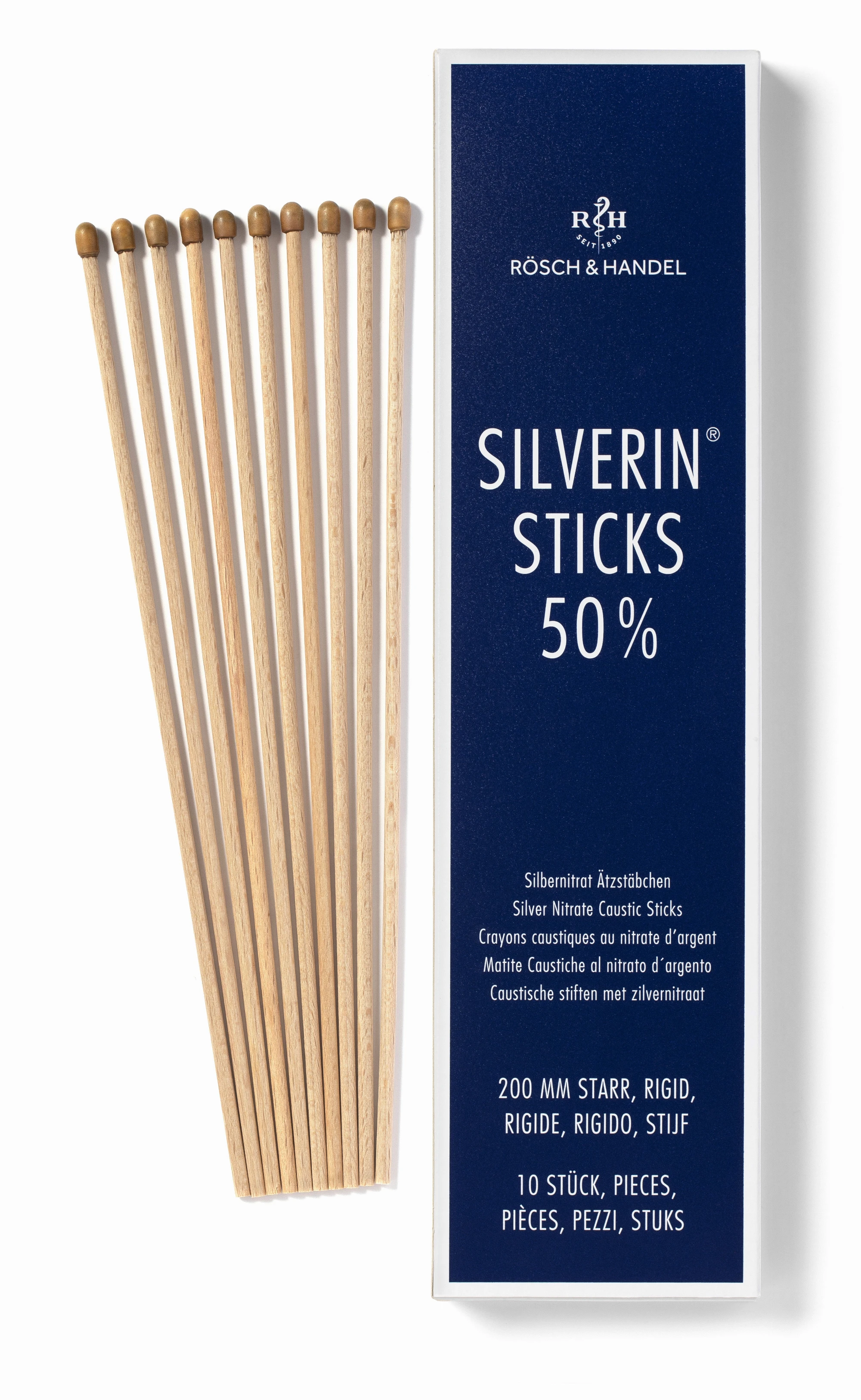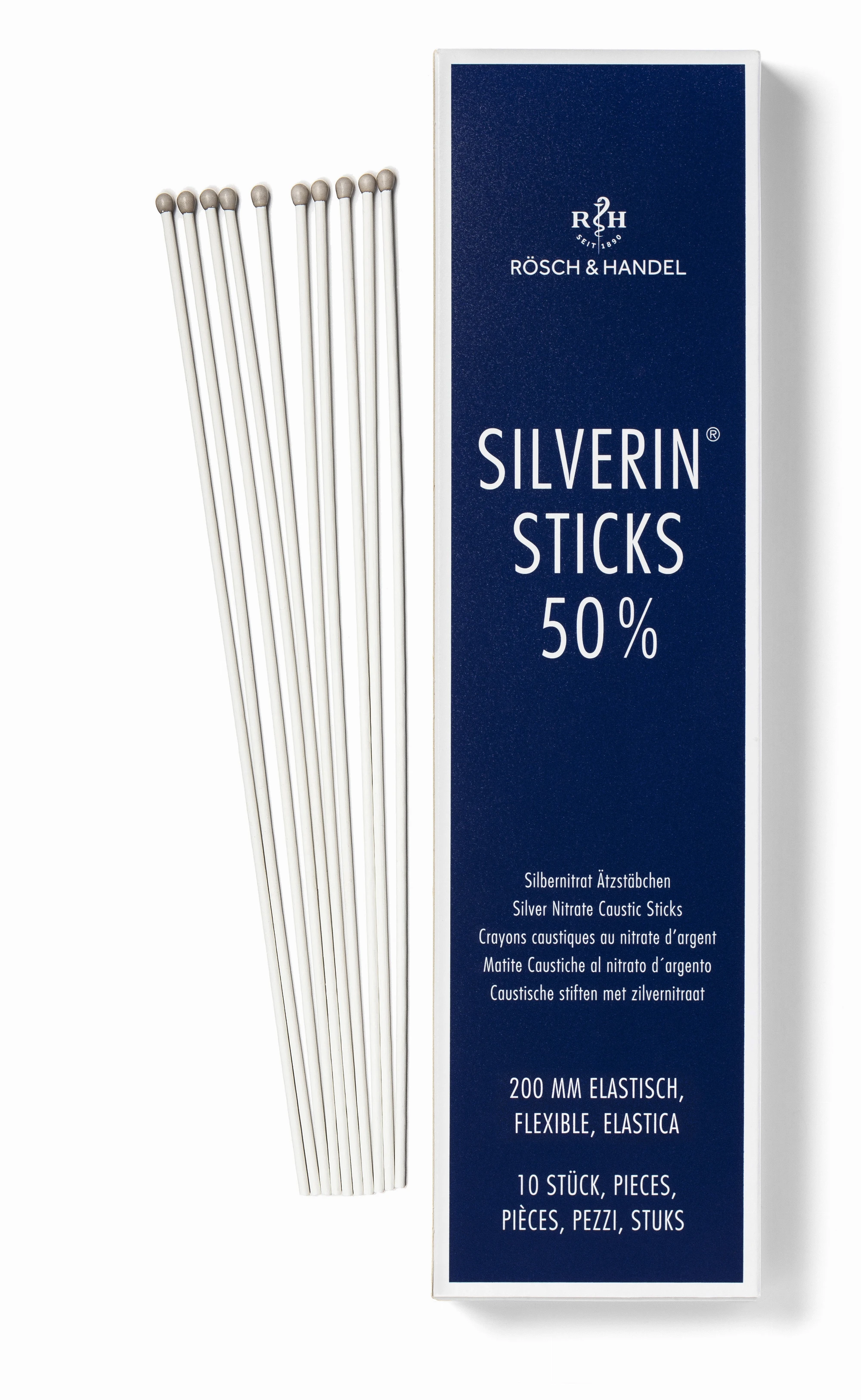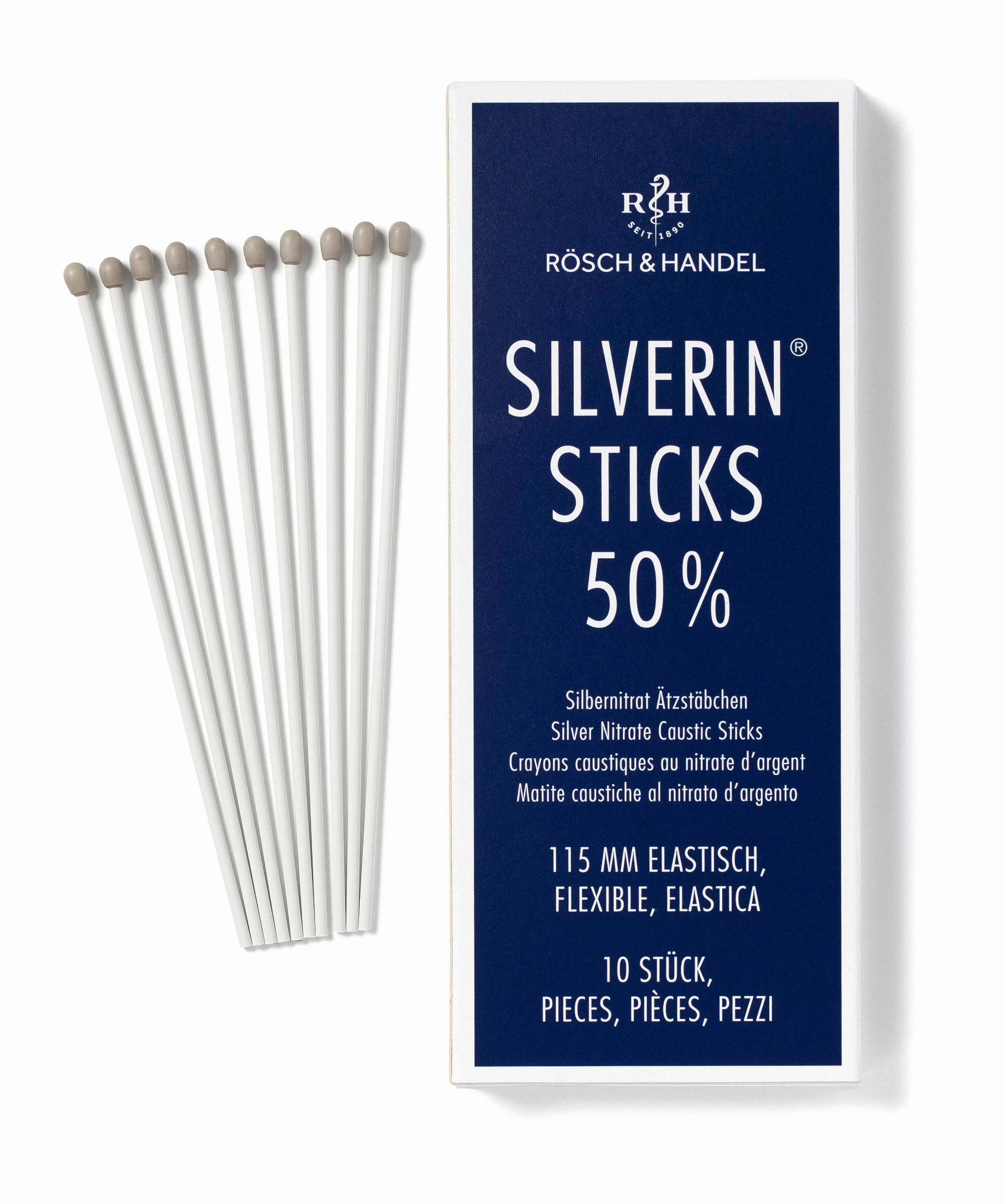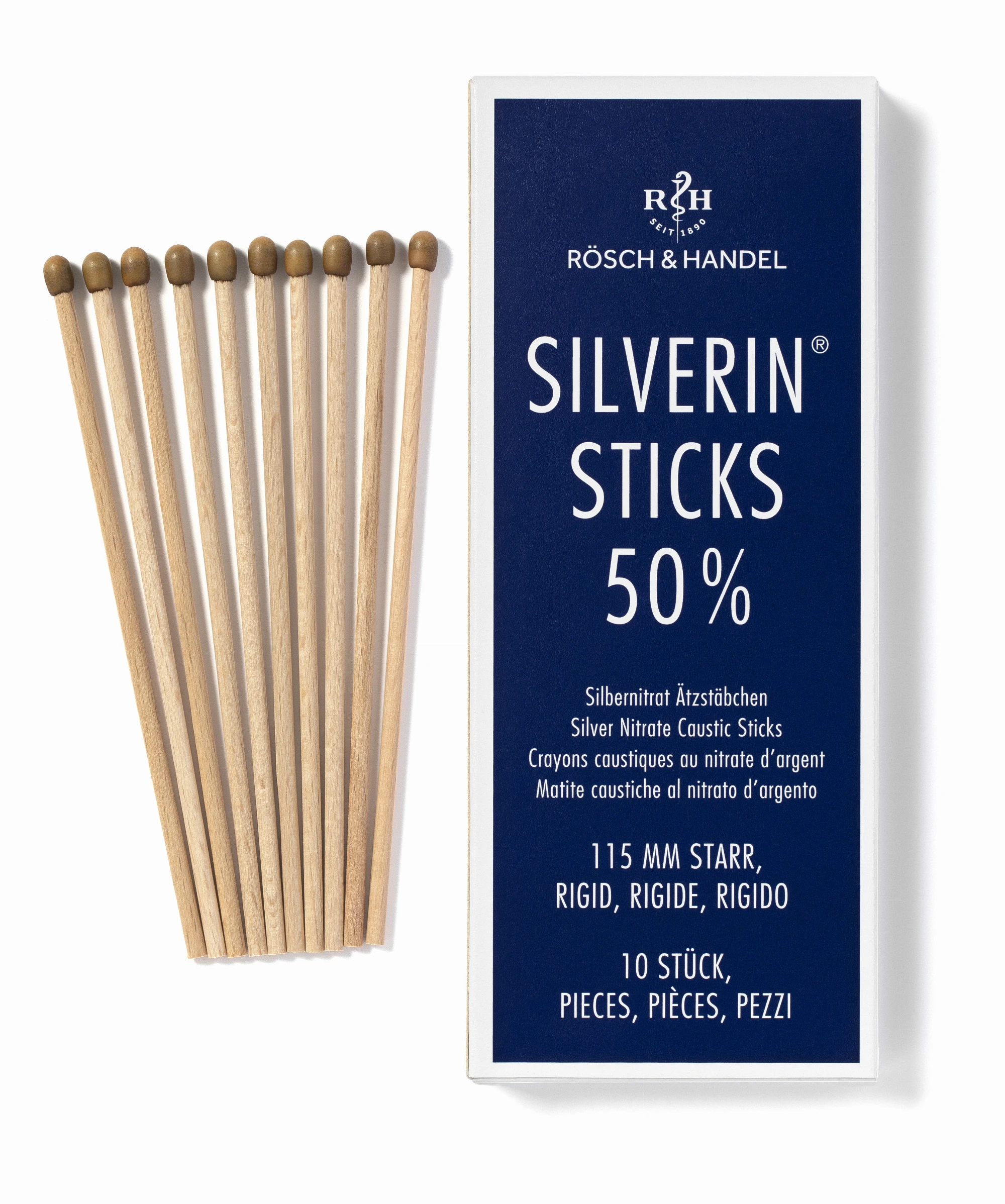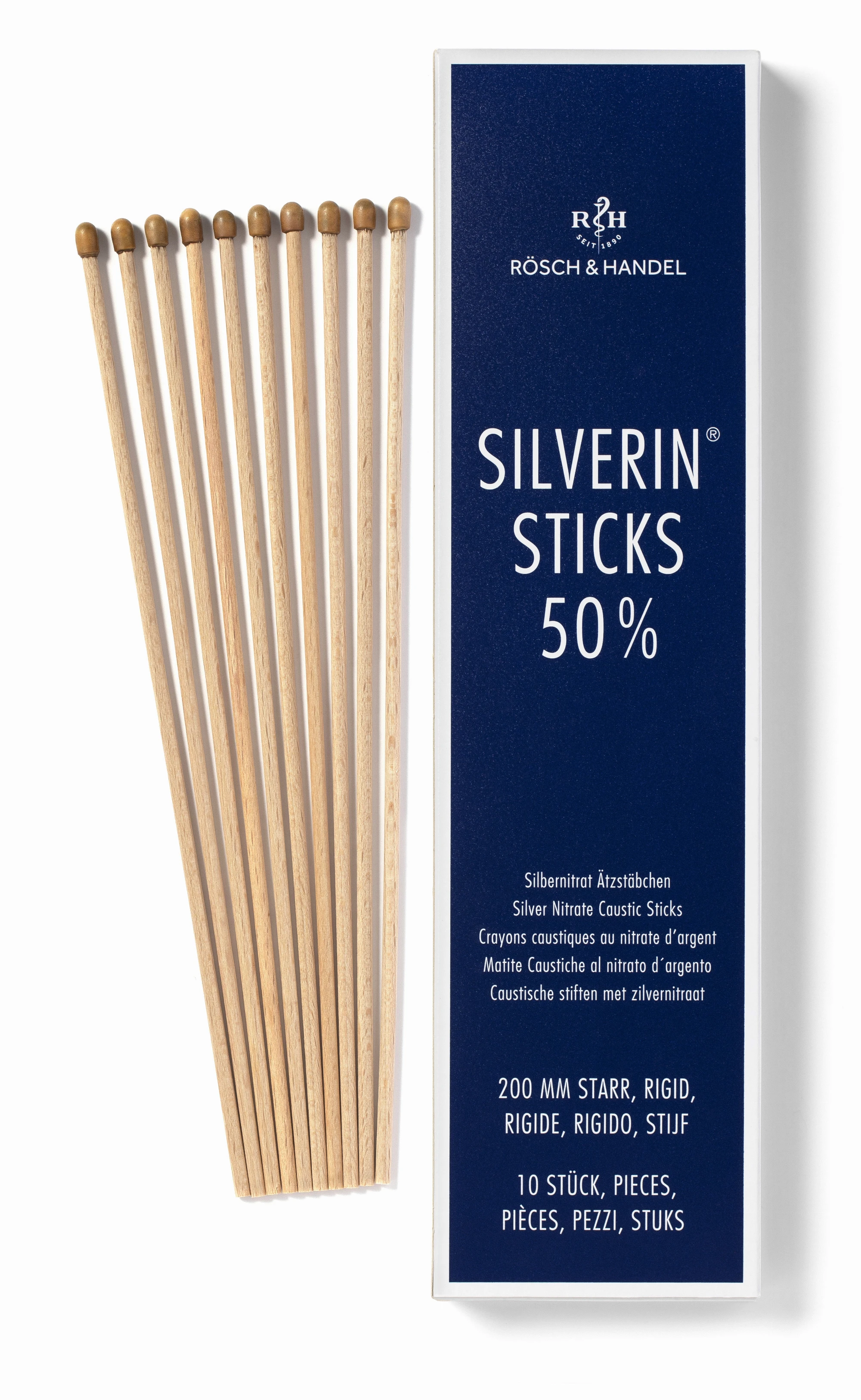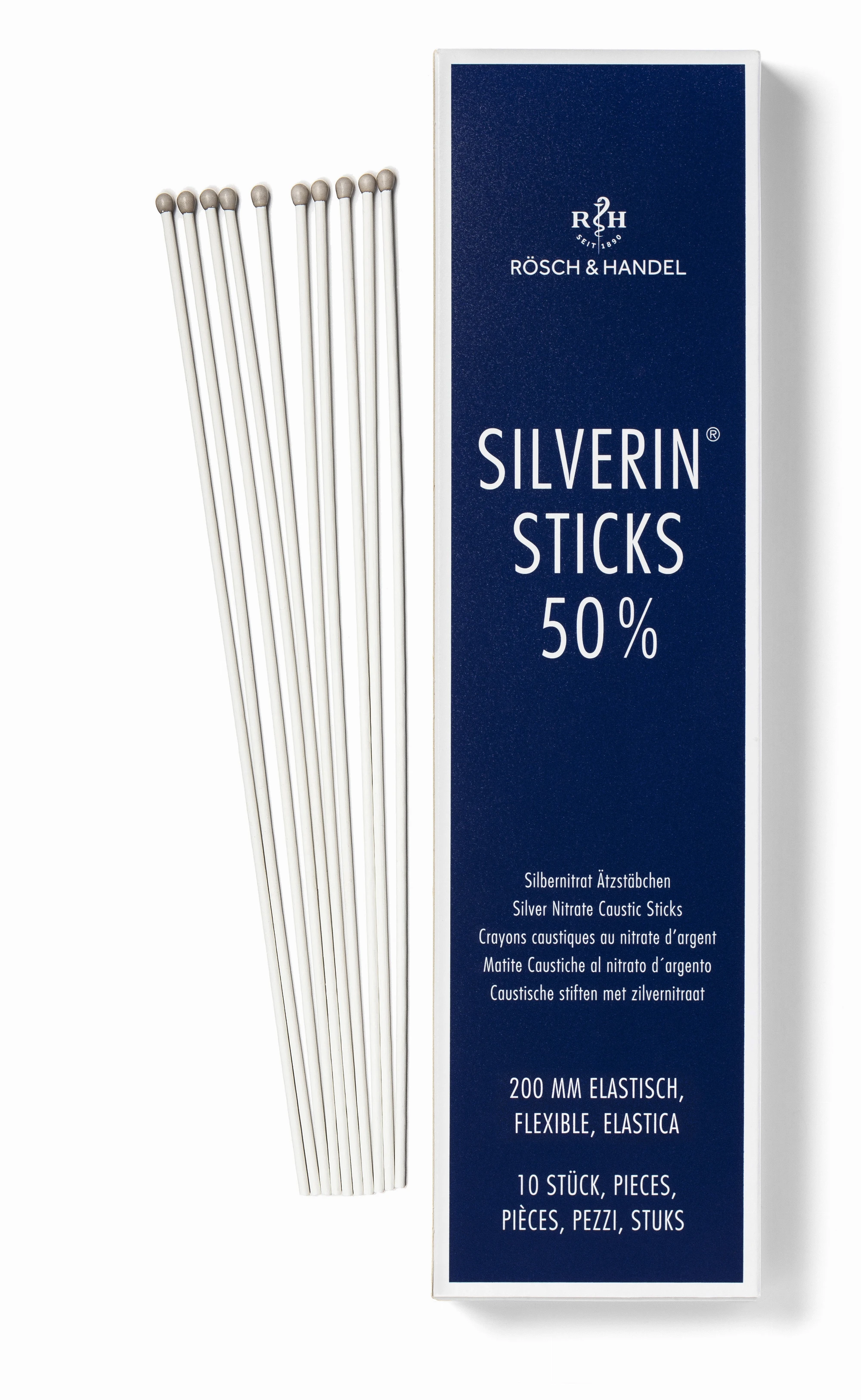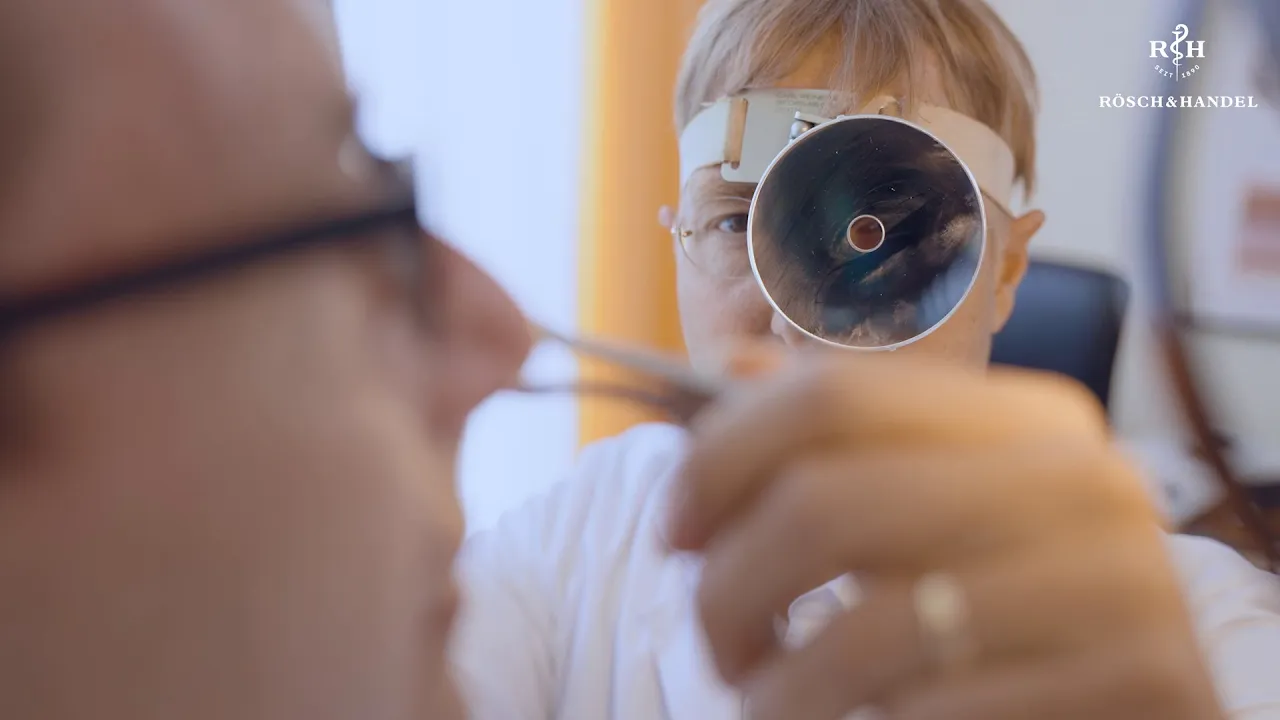 Benefits at a glance
To treat warts and corns

To help remove umbilical cord residue

For stoma care

For use in gynaecology

For use in wound management

To remove excessive tissue proliferation

Medical device
SILVERIN STICKS 50% with silver nitrate
To remove warts and corns
€14.10
Content:
10 pcs.
(€1.41 / 1 pcs.)
Product number:
1304124
Benefits at a glance
To treat warts and corns

To help remove umbilical cord residue

For stoma care

For use in gynaecology

For use in wound management

To remove excessive tissue proliferation

Medical device
SILVERIN STICKS 50%: Product description
Silver nitrate cautery sticks are used for chemical cauterisation using a mixture of silver nitrate and potassium nitrate that is attached to the head of the sticks. They have long been described in pharmacopoeias and are used externally for a wide variety of uses.
Silver nitrate cautery sticks are a proven means of removing excessive tissue proliferation that may occur when skin wounds heal, for example surgical cavities with granulation polyps. They are suitable for use in wound management, stoma care and aphthous stomatitis. They are also used for haemostasis in the case of minor bleeding such as nosebleeds or after biopsies, or when the use of electrocautery would be too complicated and painful.
Common areas of use are to remove warts and in podiatry (e.g. for corns). Application is quick, easy and usually completely painless.
SILVERIN STICKS 50%: Effect
Silver nitrate is an astringent and promotes scab formation. Potassium nitrate serves to weaken the effect of silver nitrate. Silver nitrate cautery sticks allow for spot treatment so that the effect is limited to the desired area.
Umbilical cord residues in newborns can be easily removed using our cautery sticks. However, this should be done by a doctor or midwife.
SILVERIN STICKS 50%: Uses and indications
First, moisten the head of the stick using water. The aim is to apply the liquid that has been enriched with silver nitrate to the desired area. Roll the stick evenly over the desired area several times, applying no pressure. The treated area will discolour and then be repelled by the surrounding tissue within a few days.
It may take up to 24 hours for the discolouration to occur.
With the exception of wart removal, silver nitrate cautery sticks should only be used by professionals.
SILVERIN STICKS 50%: Ingredients
The head of each cautery stick consists of 50% silver nitrate and 50% potassium nitrate.
Good to know
What pack sizes and variations of silver nitrate cautery sticks are available?
Different concentrations (50% & 75%), rod lengths (115mm & 200mm) and materials (wood – rigid & plastic – elastic) are available. Different groups of healthcare professionals have their own preferences and there are no formal recommendations regarding strength, length or material.
Silver nitrate cautery sticks are available in packs of 10 and 100.
Precautionary measures
In newborns and on sensitive skin, contact with the sticks should be kept as short as possible.

In the case of any unusually coloured or unusually shaped skin lesions that are not clearly recognisable as "granulation tissue"

or as simple warts, silver nitrate cautery sticks should only be used under medical supervision.

Clothing and other objects must be protected when handling the sticks. Silver nitrate causes brown–black stains that cannot be removed with conventional cleaning agents.

Clean healthy skin that has been unintentionally touched with the head of a stick thoroughly under running water with a sponge; harmless dark colouration of these skin areas may still occur. The dark colouring fades after about 10 to 14 days.

If the stick comes into contact with the eye, immediately rinse under running water for at least five minutes with the eyelid open and then consult a doctor.

When treating the mouth and throat, make absolutely sure that no parts of the cautery stick can be swallowed, as this can lead to serious health complications.
Can SILVERIN STICKS 50% be used to stop bleeding?
Yes, SILVERIN STICKS 50% can also be used to stop bleeding. This treatment should only be carried out by doctors and qualified personnel, though.
Information for medical professionals
Ear, nose and throat doctors and medical professionals will find an interview with Prof Dr Klemens Frei, a specialist in ear, nose and throat diseases, on cauterisation using SILVERIN silver nitrate sticks for recurrent nose bleeds.
You can find more information about using the cautery sticks to treat warts in our interview with Dr Sylvia Holle-Robatsch, a specialist in dermatology and angiology.
Go to our download area for directions for use.
Quality from experience
Tried and tested formulations
We rely on traditional combinations of active ingredients, some of which have been tried and tested for centuries and are processed with modern formulations.
Tested raw materials
Only tested raw materials are used in production, many of which also meet the requirements of the European Pharmacopoeia or are of medicinal quality.
High-quality production
Our production is ISO 13485:2016 certified and audited annually, which ensures that our products are always of consistent quality.