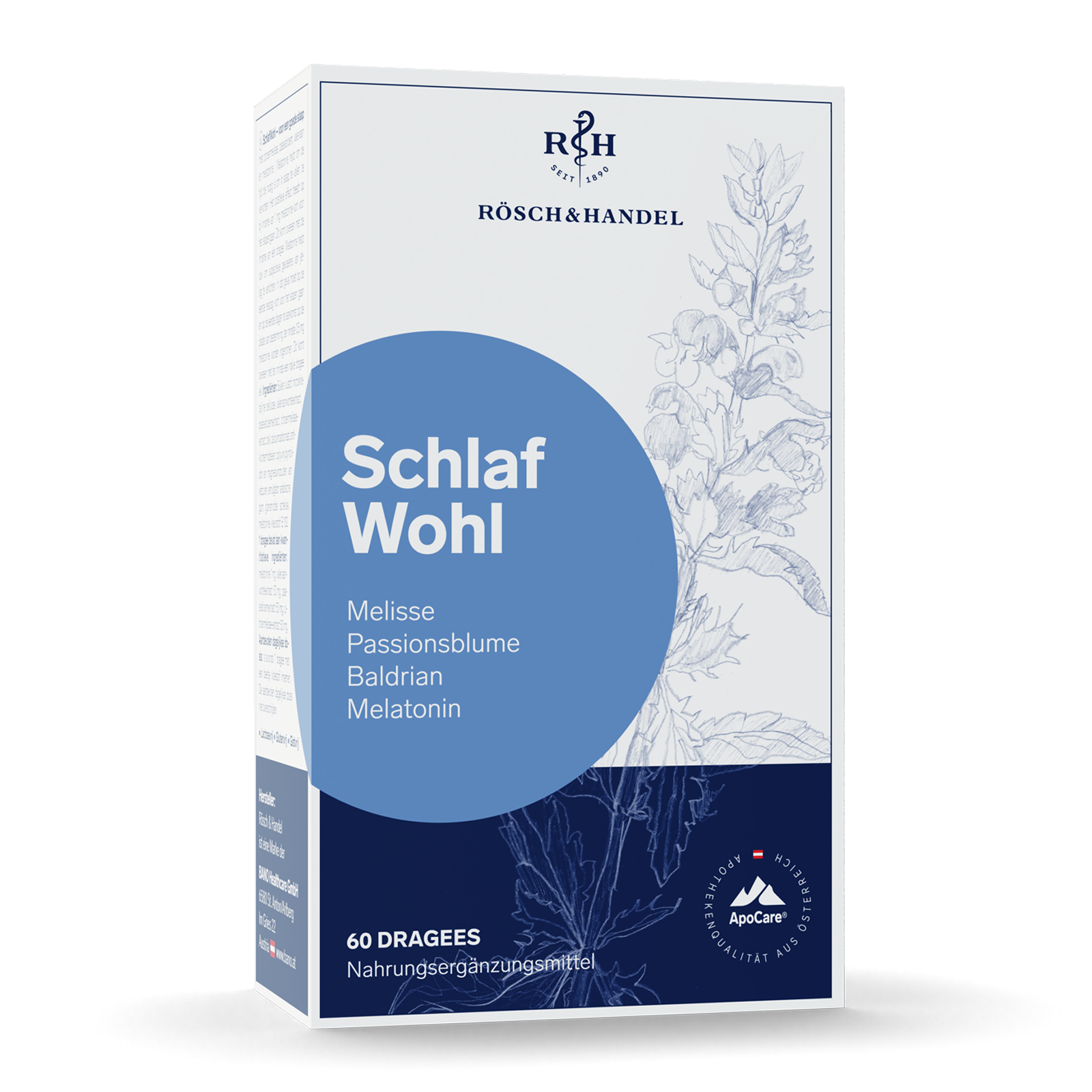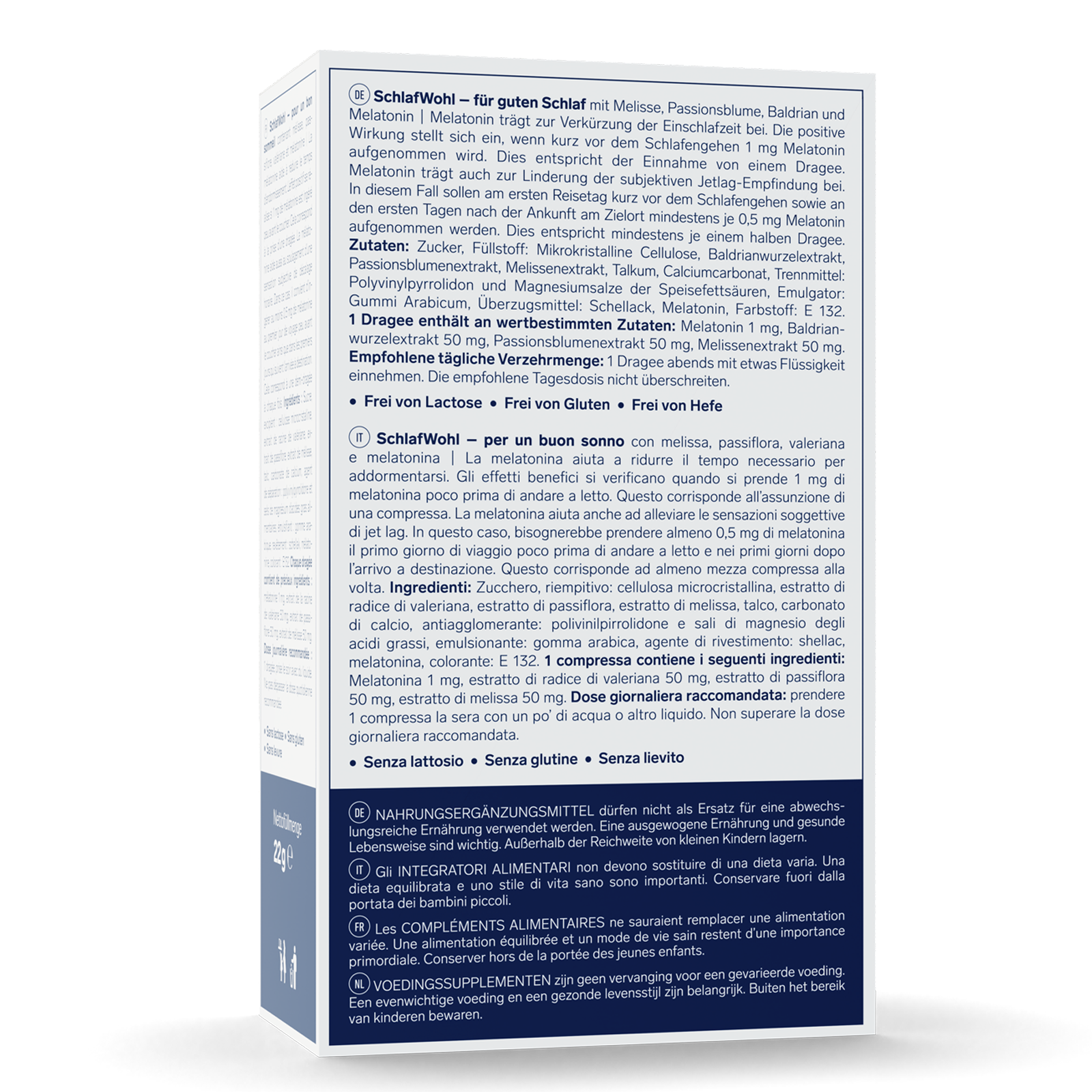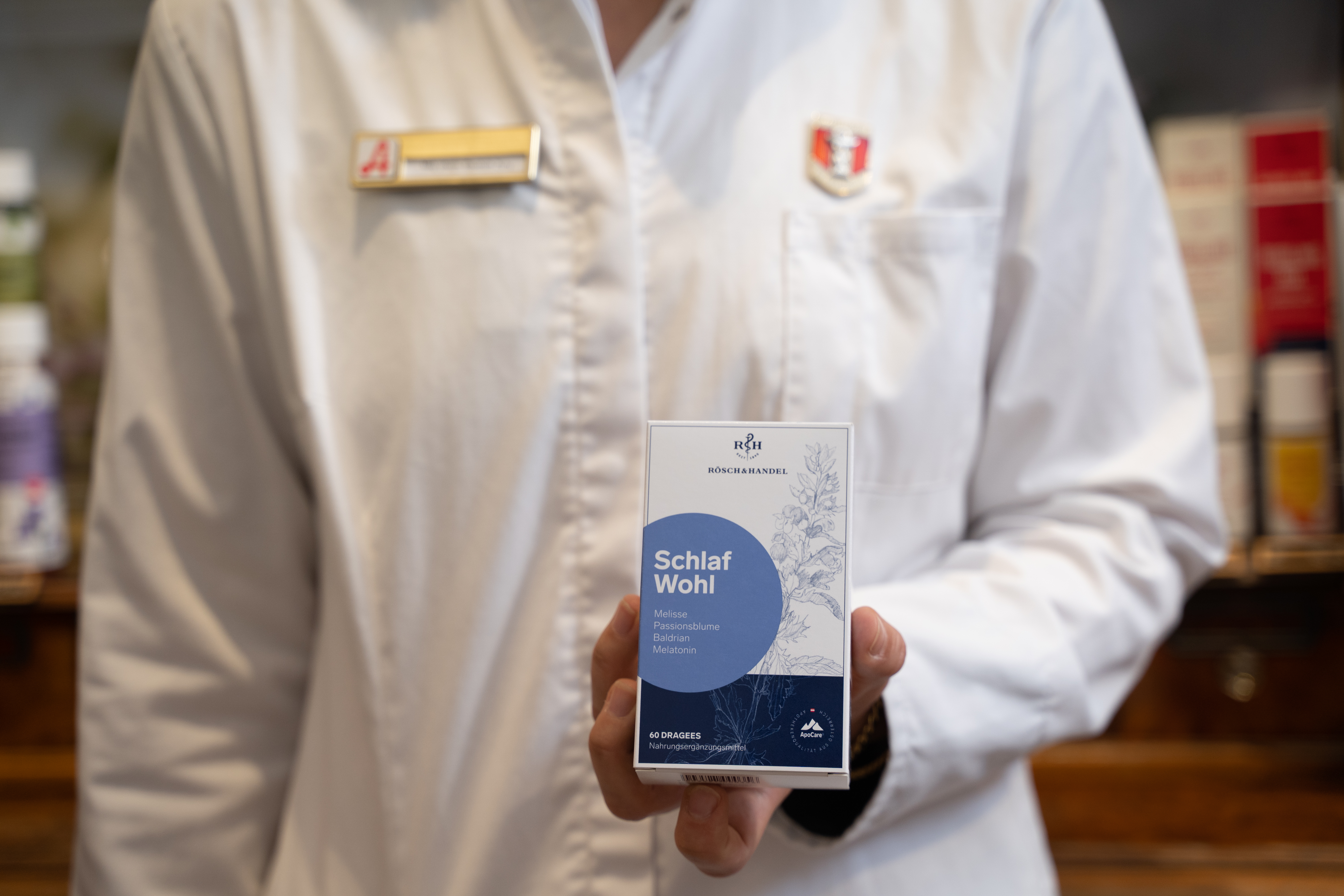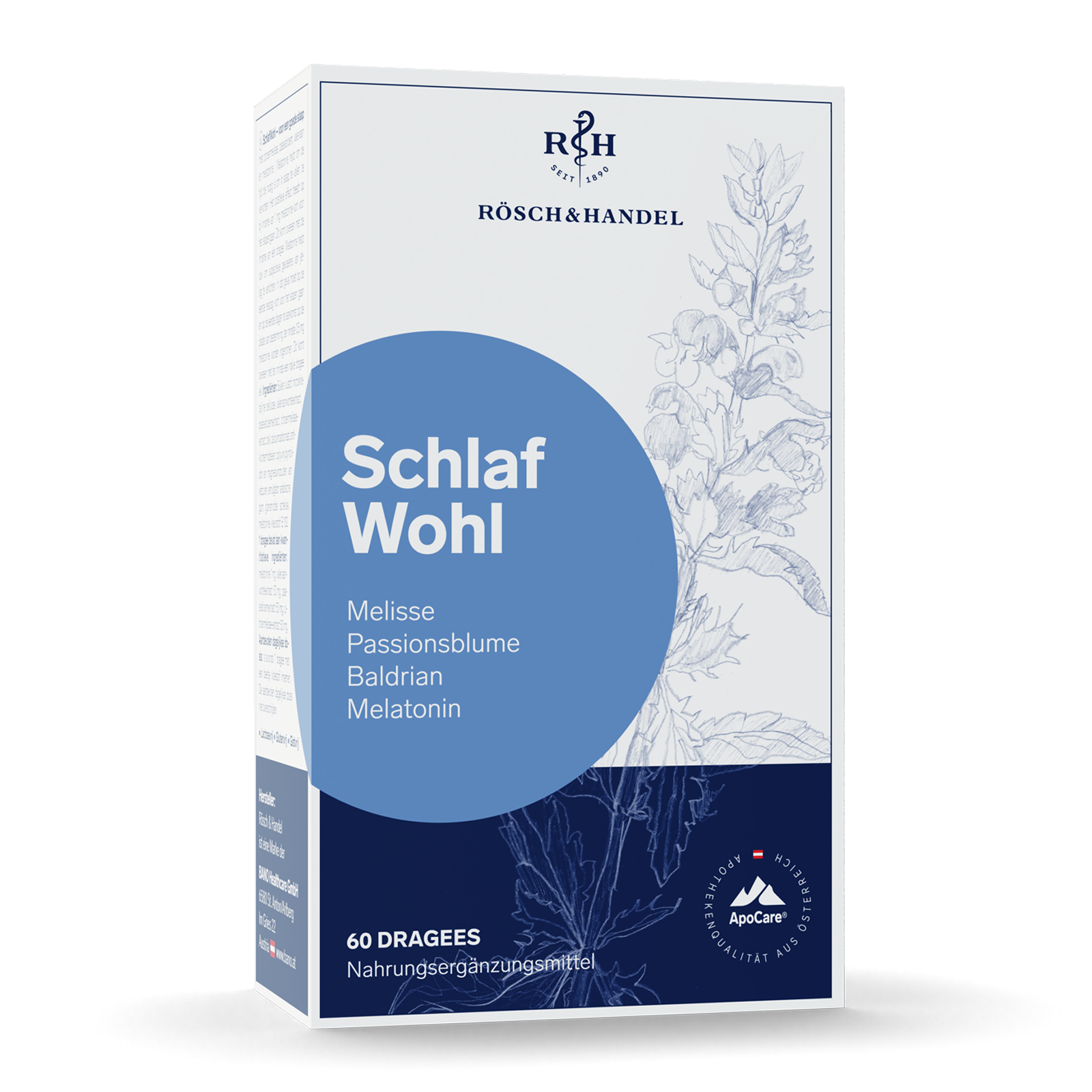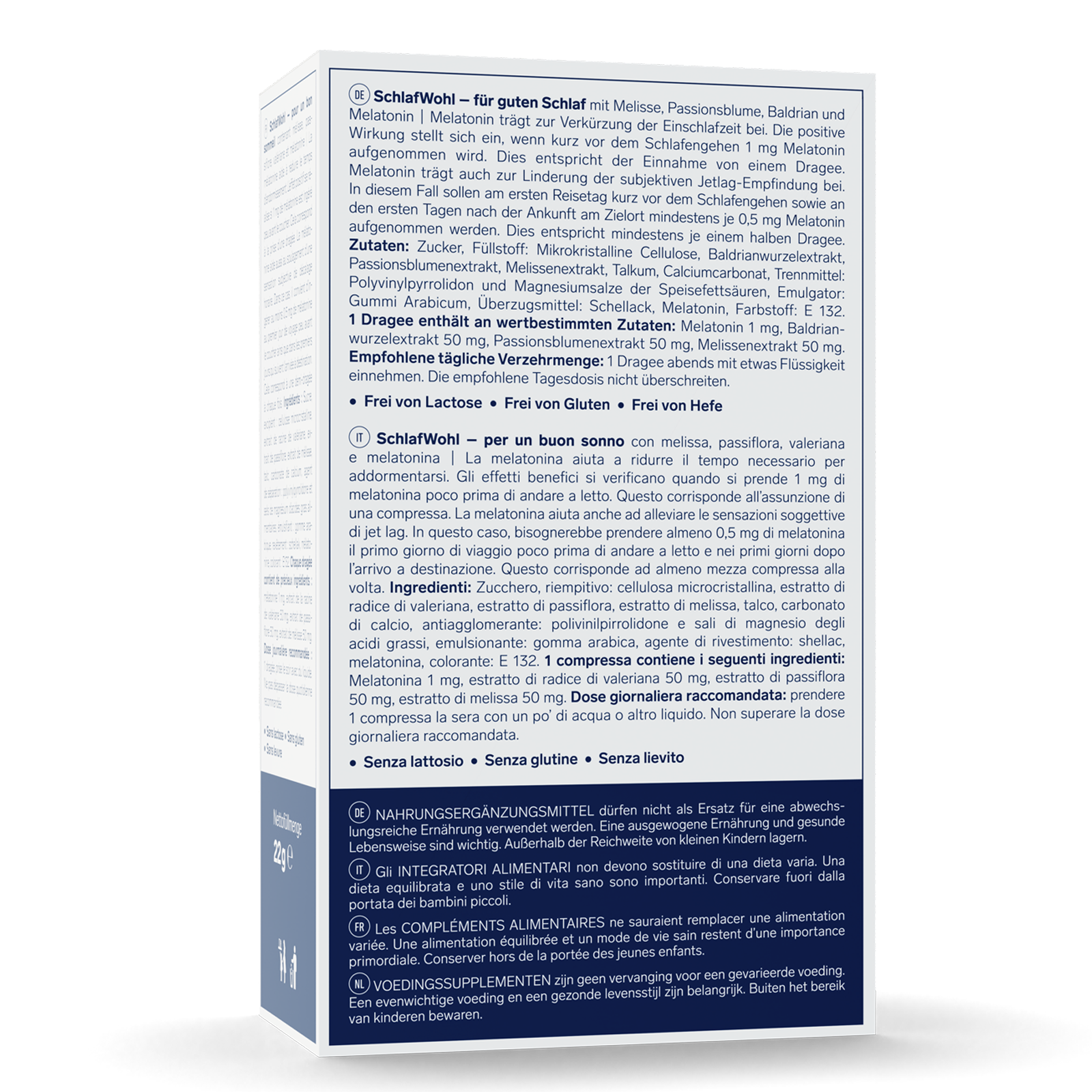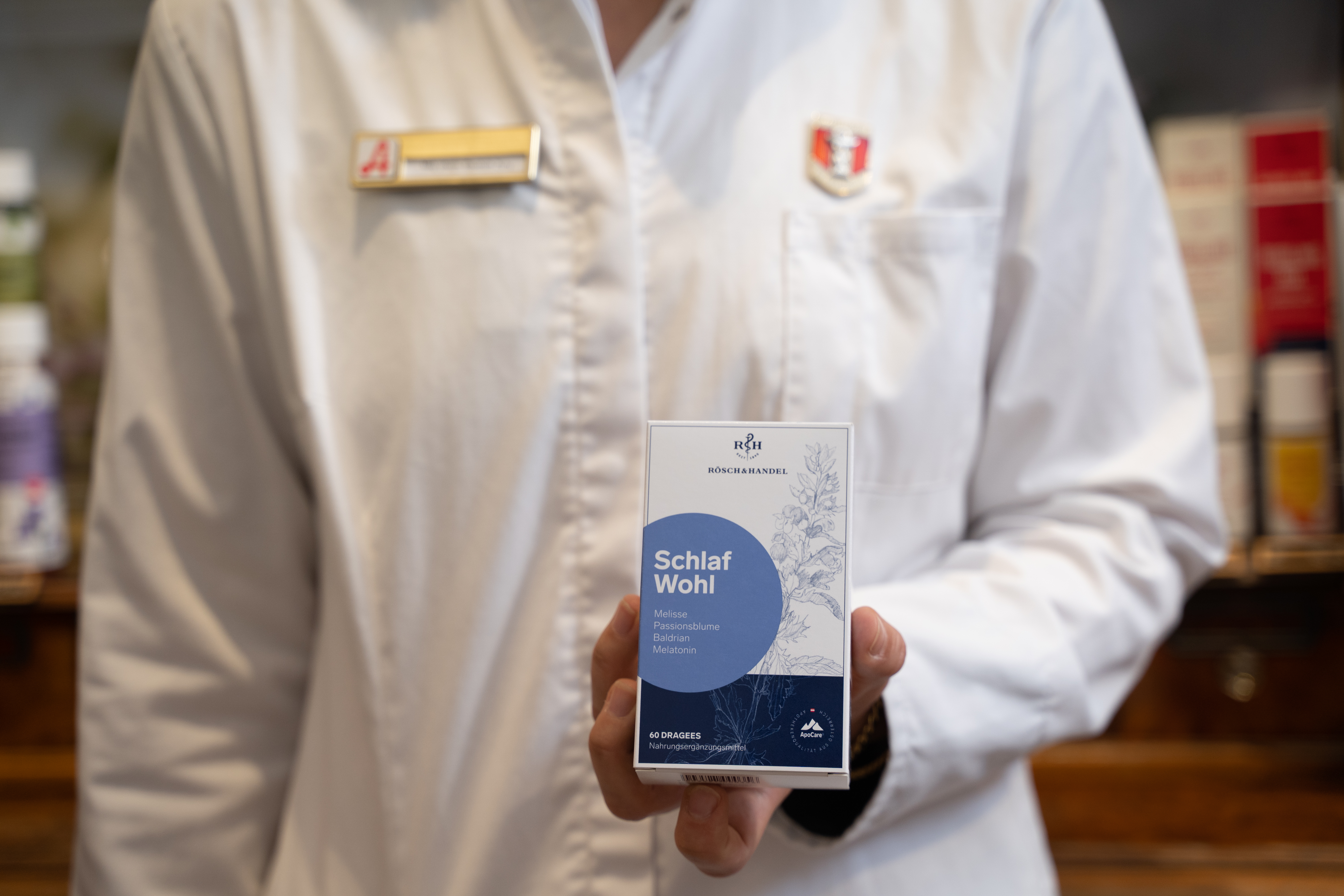 Benefits at a glance
1mg melatonin per coated tablet

Ideal for jet lag or shift work

No habituation

Helps you fall asleep and stay asleep
ApoCare SchlafWohl
For a good night's sleep
€18.90
Content:
60 pcs.
(€0.32 / 1 pcs.)
Product number:
7000356
Benefits at a glance
1mg melatonin per coated tablet

Ideal for jet lag or shift work

No habituation

Helps you fall asleep and stay asleep
ApoCare SchlafWohl: Product description
ApoCare SchlafWohl is a food supplement that helps you fall asleep and stay asleep at night. It is also the ideal companion for long-distance flights, jet lag or shift work. ApoCare SchlafWohl can also help those with sleep disorders caused by stress or grief, as the unique combination of active ingredients from herbal substances poses no risk of habituation.
Effect Melatonin
Melatonin is an endogenous hormone, that is it is produced by the body, and is responsible for the body's day-night rhythm. If this rhythm is disturbed, for example during long-distance travel, jet lag can sometimes make it difficult for us to fall asleep. Additional melatonin in the form of a SchlafWohl dragée supports the body and helps you to fall asleep more easily.
ApoCare SchlafWohl: Uses and indications
Take one to two dragées daily in the evening with a little liquid.
Food supplements are no substitute for a varied, balanced diet and a healthy lifestyle. Store out of reach of children. Do not exceed the recommended daily dose.
ApoCare SchlafWohl: Ingredients
Sugar, filler: microcrystalline cellulose, valerian root extract, passion flower extract, balm extract, talcum, calcium carbonate, separating agent: polyvinylpyrrolidone and magnesium salts from fatty acids, emulsifier: gum arabic, coating material: shellac, melatonin, colour: E132
One dragée contains 1mg melatonin, 50mg valerian root extract, 50mg passion flower extract and 50mg lemon balm extract.
Good to know
The power of plants combined with melatonin
Used properly, herbal sleep aids are an effective therapeutic option. According to Mag. Pharm. Dieter Kröner, a pharmacist at the Raimund Pharmacy in Pernits and co-developer of SchlafWohl, "Passionflower, valerian and lemon balm, three jewels from nature's garden, relax, de-stress and calm the body and mind. One of the body's own hormones, melatonin, helps you get a good night's sleep." The combination of medicinal plants plus melatonin has proven its worth over many years.
What causes sleep disorders?
It is estimated that between 30% and 50% of the population occasionally suffers from sleep problems. Older people and women are most frequently affected. Sleep disorders can have different causes, and a distinction can be drawn between difficulties falling asleep and difficulties staying asleep. Often, both occur together and herbal sleep aids improve sleep disorders very efficiently.
Besides alcohol or too much caffeine, jet lag, shift work, professional or private stress, the menopause and grief can make it difficult to fall asleep and stay asleep.
What can be done against insomnia?
Besides a cool, preferably dark bedroom with ideally around 18° room temperature, a regular time for going to bed is a good start. Consistent rituals before bedtime such as some relaxation exercises, reading a book or listening to relaxing music help the body to prepare for sleep.
If none of this helps, combination preparations with herbal ingredients can also provide effective support. Melissa and above all valerian with its characteristic smell as one of the most important herbal sleep aids are very suitable as they have a pleasantly relaxing effect, especially in cases of overexertion, nervousness and stress and make a positive contribution to inner balance. Melatonin as the body's own hormone is responsible for the correct day-night rhythm and shortens the time it takes to fall asleep.
Quality from experience
Tried and tested formulations
We rely on traditional combinations of active ingredients, some of which have been tried and tested for centuries and are processed with modern formulations.
Tested raw materials
Only tested raw materials are used in production, many of which also meet the requirements of the European Pharmacopoeia or are of medicinal quality.
High-quality production
Our production is ISO 13485:2016 certified and audited annually, which ensures that our products are always of consistent quality.