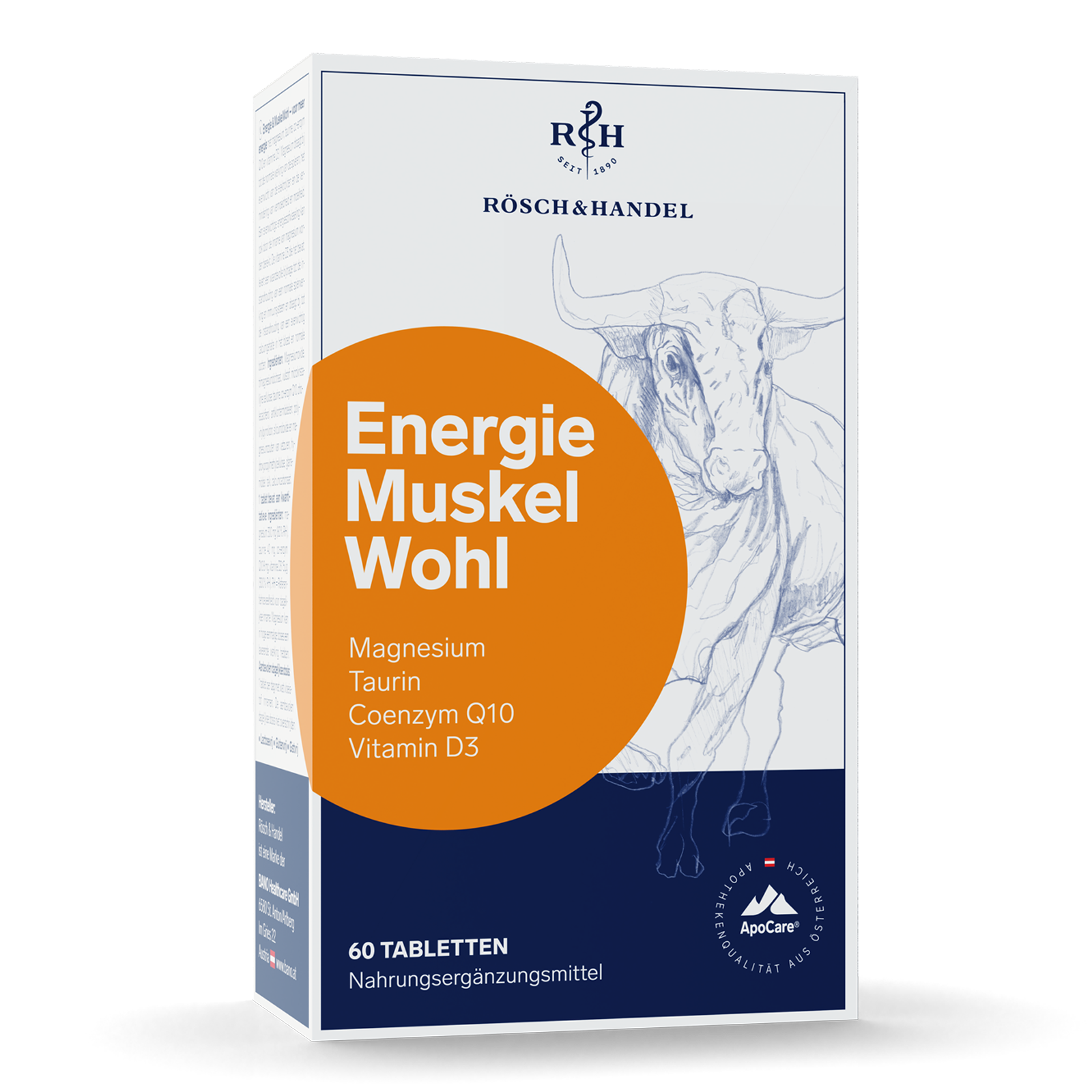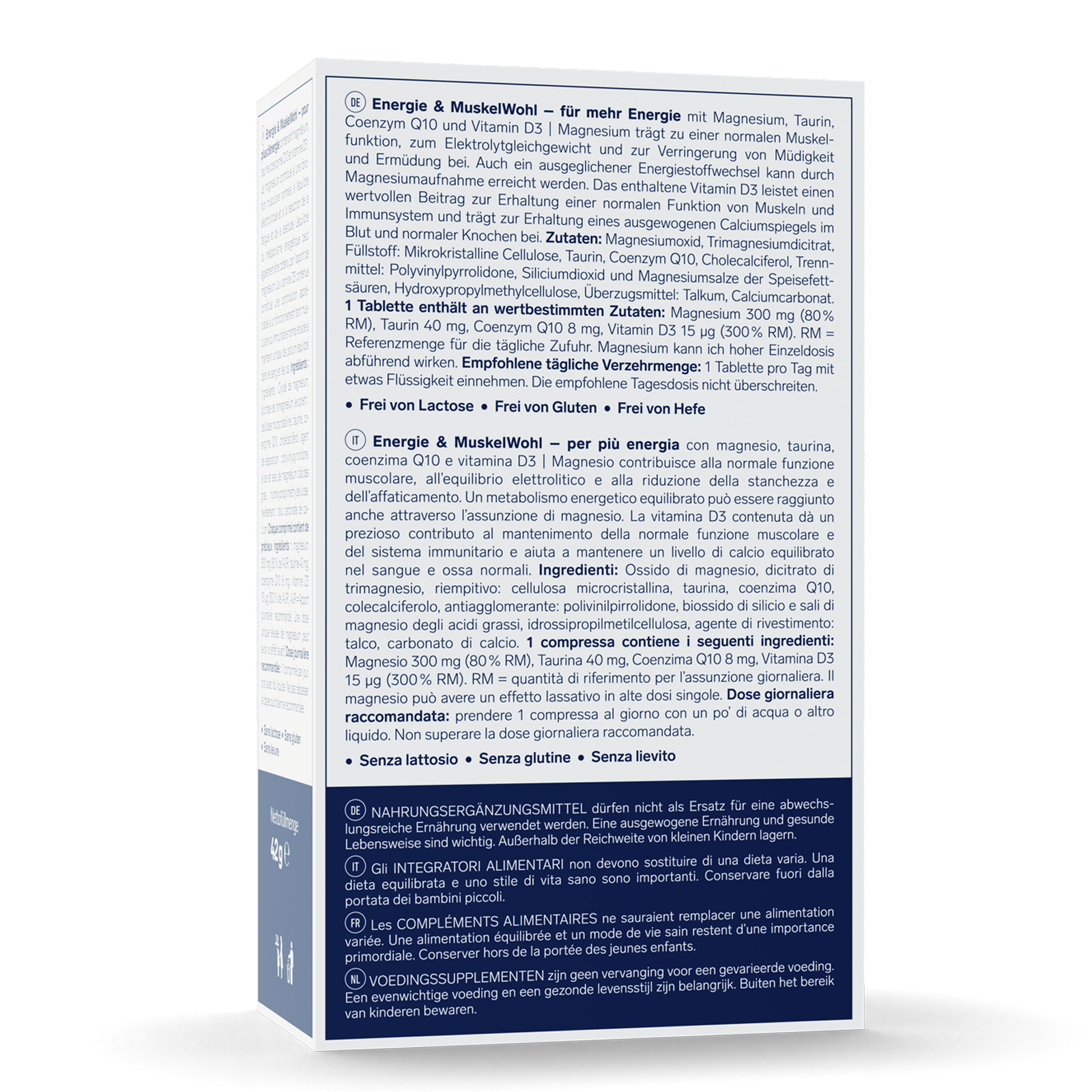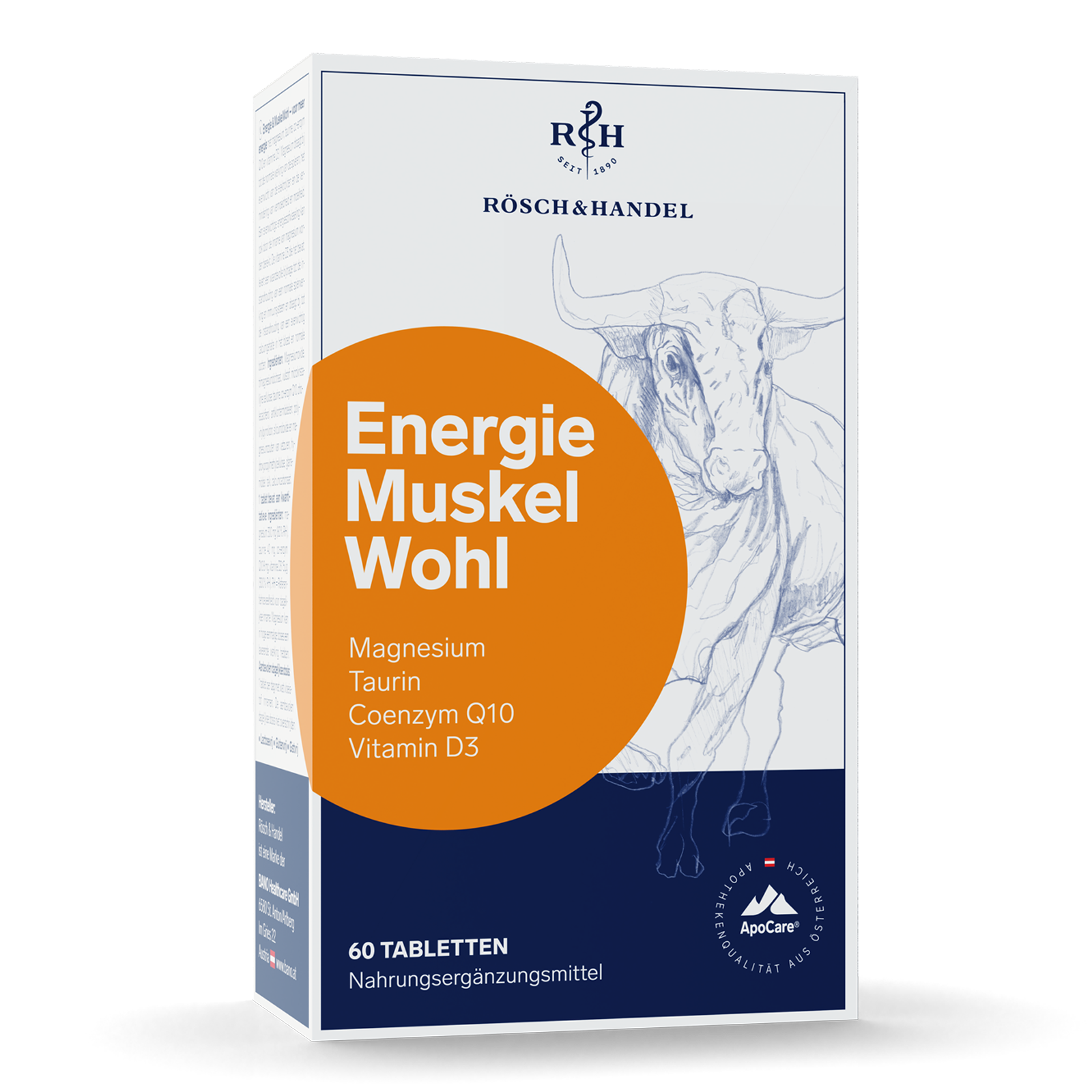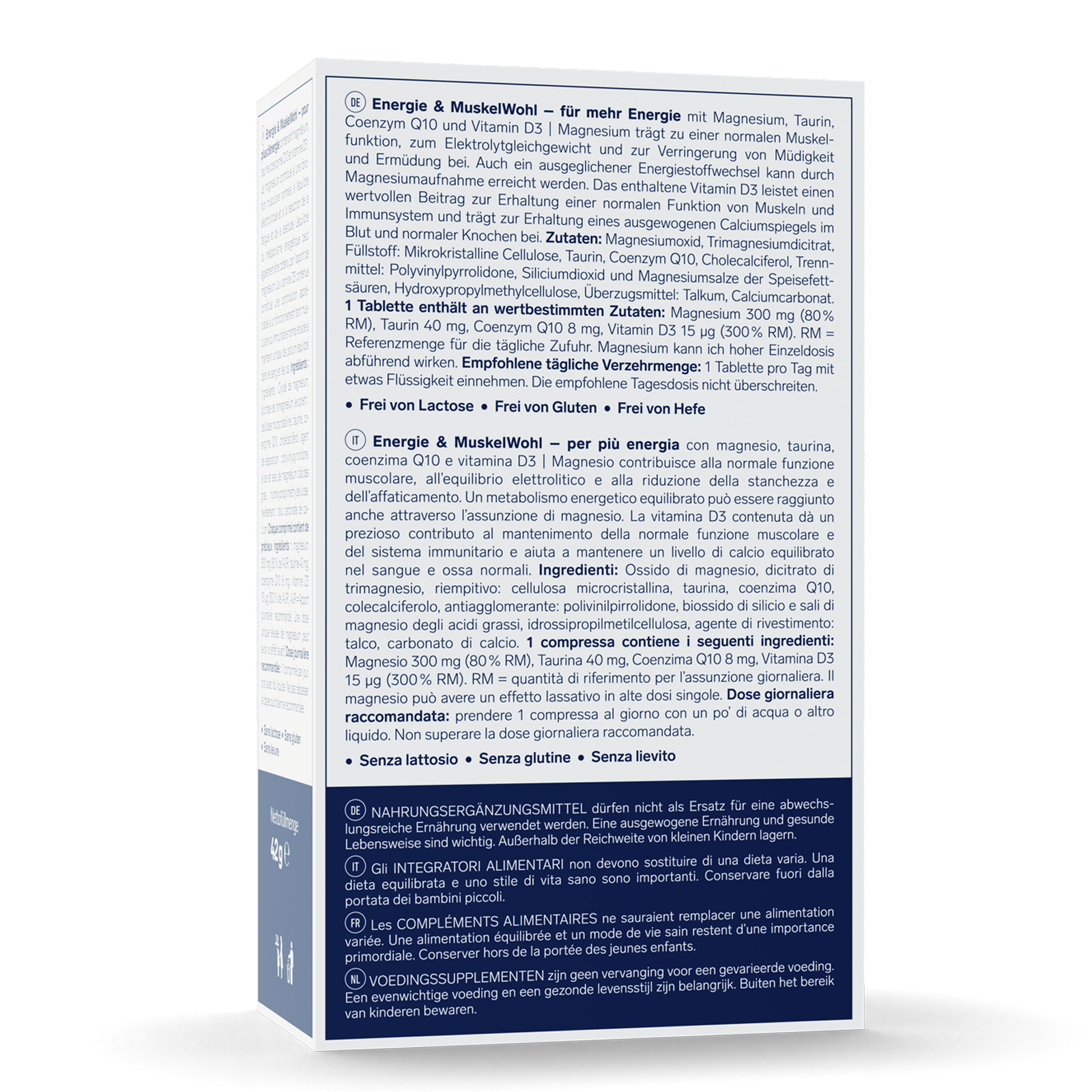 Benefits at a glance
To maintain normal muscle function

Ideal during intense physical exertion at work and when doing sports

To reduce fatigue and exhaustion

With magnesium, vitamin D3, taurine and coenzyme Q10
ApoCare Energy & MuscleWell
With magnesium, vitamin D3, taurine and coenzyme Q10
€18.90
Content:
60 pcs.
(€0.32 / 1 pcs.)
Product number:
7000349
Benefits at a glance
To maintain normal muscle function

Ideal during intense physical exertion at work and when doing sports

To reduce fatigue and exhaustion

With magnesium, vitamin D3, taurine and coenzyme Q10
ApoCare Energy & MuscleWell: Product description
ApoCare Energy & MuscleWell contains magnesium, taurine, vitamin D3 and coenzyme Q10. It contributes to the maintenance of normal muscle function, electrolyte balance and normal energy metabolism and helps to reduce fatigue and tiredness. Taurine is also considered an antioxidant and binds free radicals.
ApoCare Energy & MuscleWell is, for example, ideal during physical exertion when doing sports and at work or for general fatigue.
ApoCare Energy & MuscleWell: Effect
Magnesium is one of the most abundant minerals in the body. It supports energy metabolism in the cells and is responsible for numerous metabolic processes in the body. It also helps to maintain the body's electrolyte balance and is important for the proper functioning of the body's own cells.
Magnesium is thus important for the human organism and supports wellbeing.
ApoCare Energy & MuscleWell: Uses and indications
Take one tablet one to two times a day, unchewed, with a little liquid. Increase the dosage to two tablets in autumn and winter or during strenuous exercise.
ApoCare Energy & MuscleWell: Ingredients
Magnesium oxide, trimagnesium citrate, filler: microcrystalline cellulose, taurine, coenzyme Q10, cholecalciferol,* anti-caking agents: polyvinylpyrrolidone, silicon dioxide and magnesium salts of fatty acids, hydroxypropylmethylcellulose, glazing agent: talc, colour: E171.
* Vitamin D3
One tablet contains the following active ingredients: 300mg magnesium (80% RQ), 40g taurine, 8mg coenzyme Q10, 15 µg vitamin D3 (300% RQ).
RQ = Reference quantity for daily intake. Magnesium can have a laxative effect in high single doses.
Valuable ingredients for reducing fatigue and exhaustion
What is magnesium good for?
Magnesium, which is essential to all organisms, must be supplied to the body in sufficient quantities every day. It helps to maintain normal muscle function, reduce fatigue and exhaustion, maintain the body's electrolyte balance, utilise energy and synthesise protein.
How do I know if I have a magnesium deficiency?
Often, nightly calf cramps can be a sign of magnesium deficiency. A twitching eyelid or tingling in the arms and legs are other signs of magnesium deficiency. If you are unsure, it is best to consult a doctor and take a blood test to find out for sure.
Is taurine good for the body?
Absolutely. Taurine occurs naturally in the human body and can also be produced by the body itself. It is particularly concentrated in muscle cells and has numerous functions in the body as well as an antioxidant effect.
What is coenzyme Q10 good for?
As a fixed component of every cell in the body, coenzyme Q10 converts energy from food into the body's own energy in the human cell. It thus helps to provide the body with the energy it needs for everyday life and special challenges.
In young people, the organism can usually produce sufficient coenzyme Q10, but with increasing age the level of coenzyme Q10 can often not be maintained owing to the aging process. It can therefore make sense to take coenzyme Q10 in the form of food supplements.
What is vitamin D3 good for?
Vitamin D3 can to a large extent be produced in the body with the help of sunlight and can also be supplied with food. It not only supports bone mineralisation, but is also involved in muscle metabolism and the immune system. A lack of sunlight particularly in the winter months can lead to an undersupply of vitamin D. Regular outdoor exercise and a diet that also includes oily fish (e.g. salmon, mackerel and herring) and egg help to maintain the required amount of vitamin D.
Quality from experience
Tried and tested formulations
We rely on traditional combinations of active ingredients, some of which have been tried and tested for centuries and are processed with modern formulations.
Tested raw materials
Only tested raw materials are used in production, many of which also meet the requirements of the European Pharmacopoeia or are of medicinal quality.
High-quality production
Our production is ISO 13485:2016 certified and audited annually, which ensures that our products are always of consistent quality.