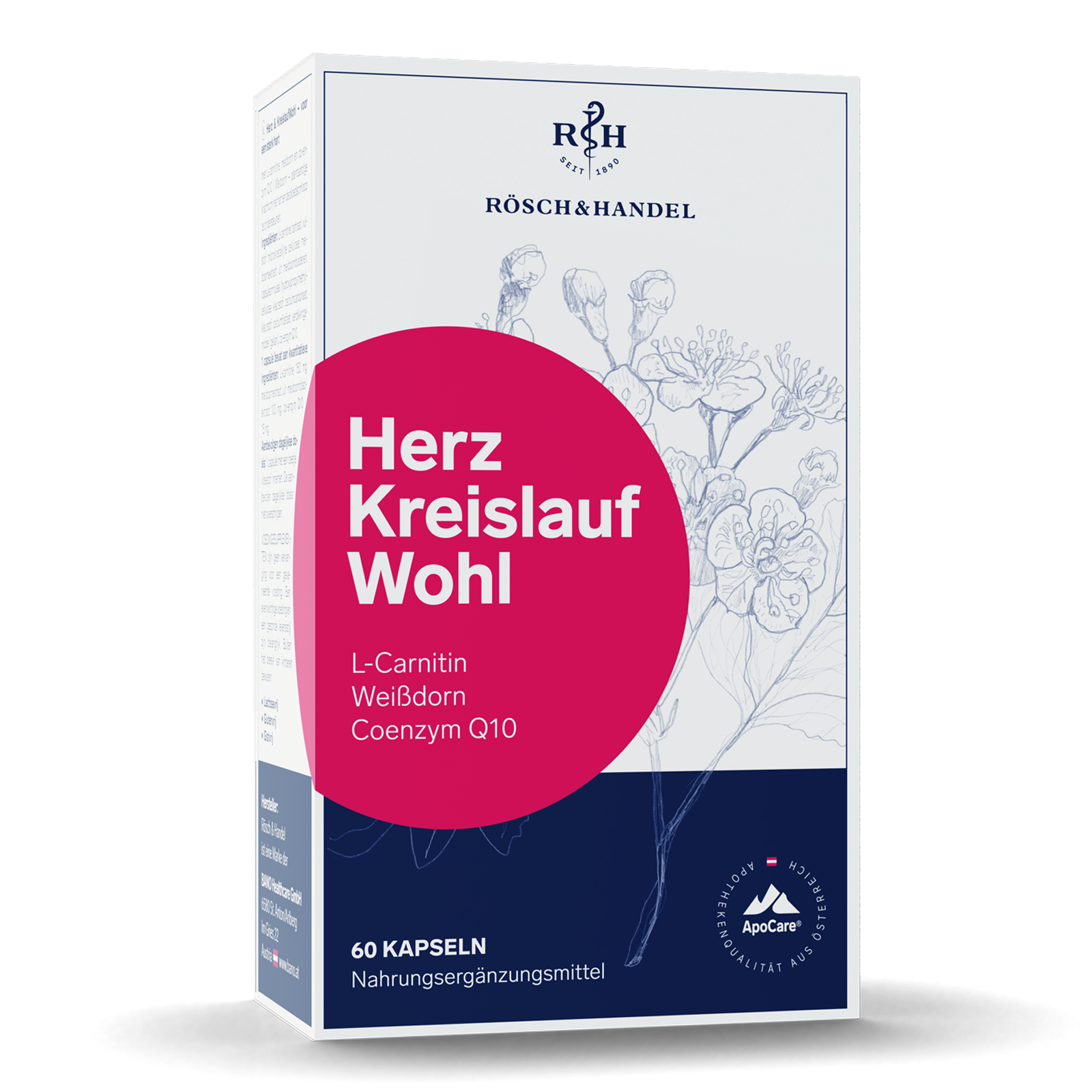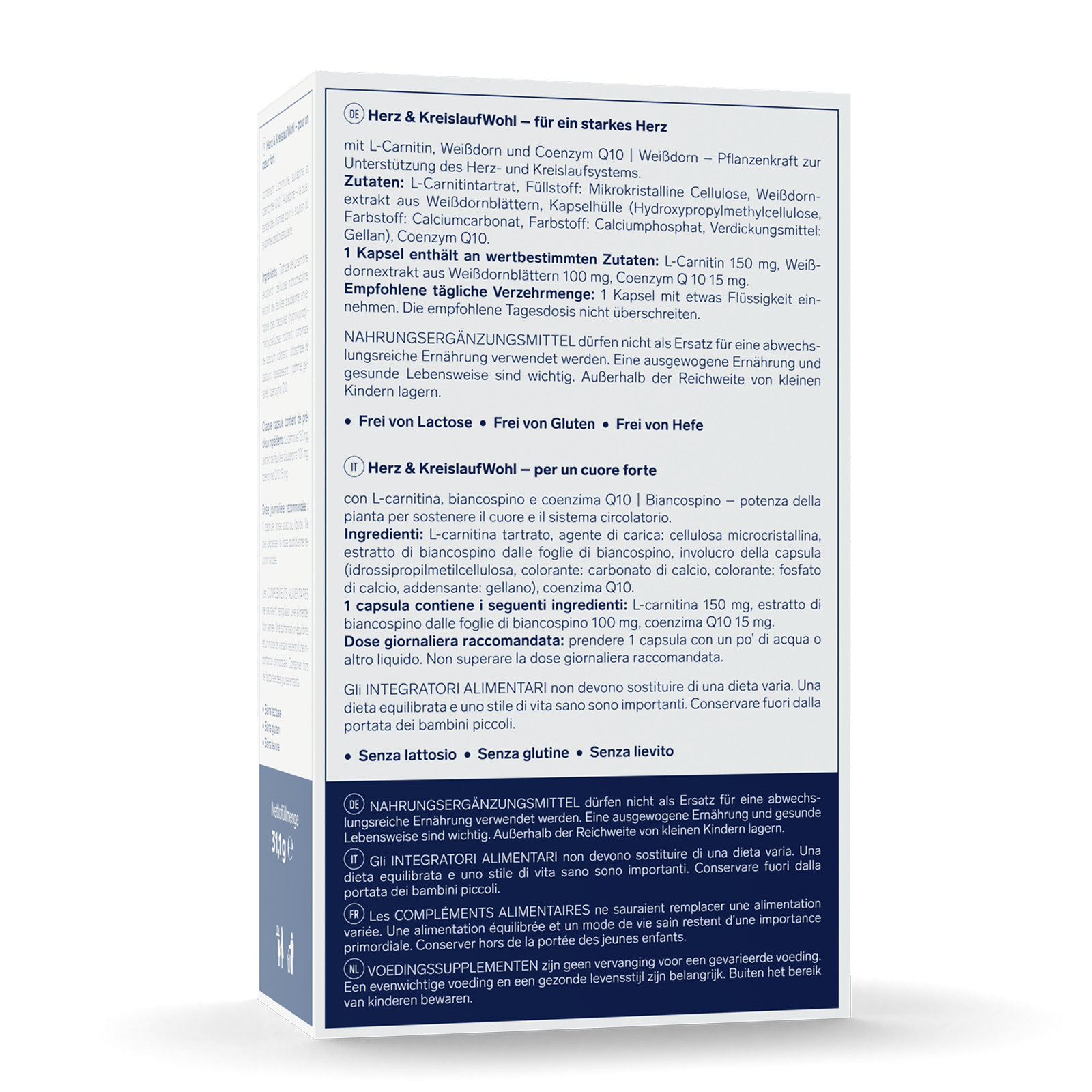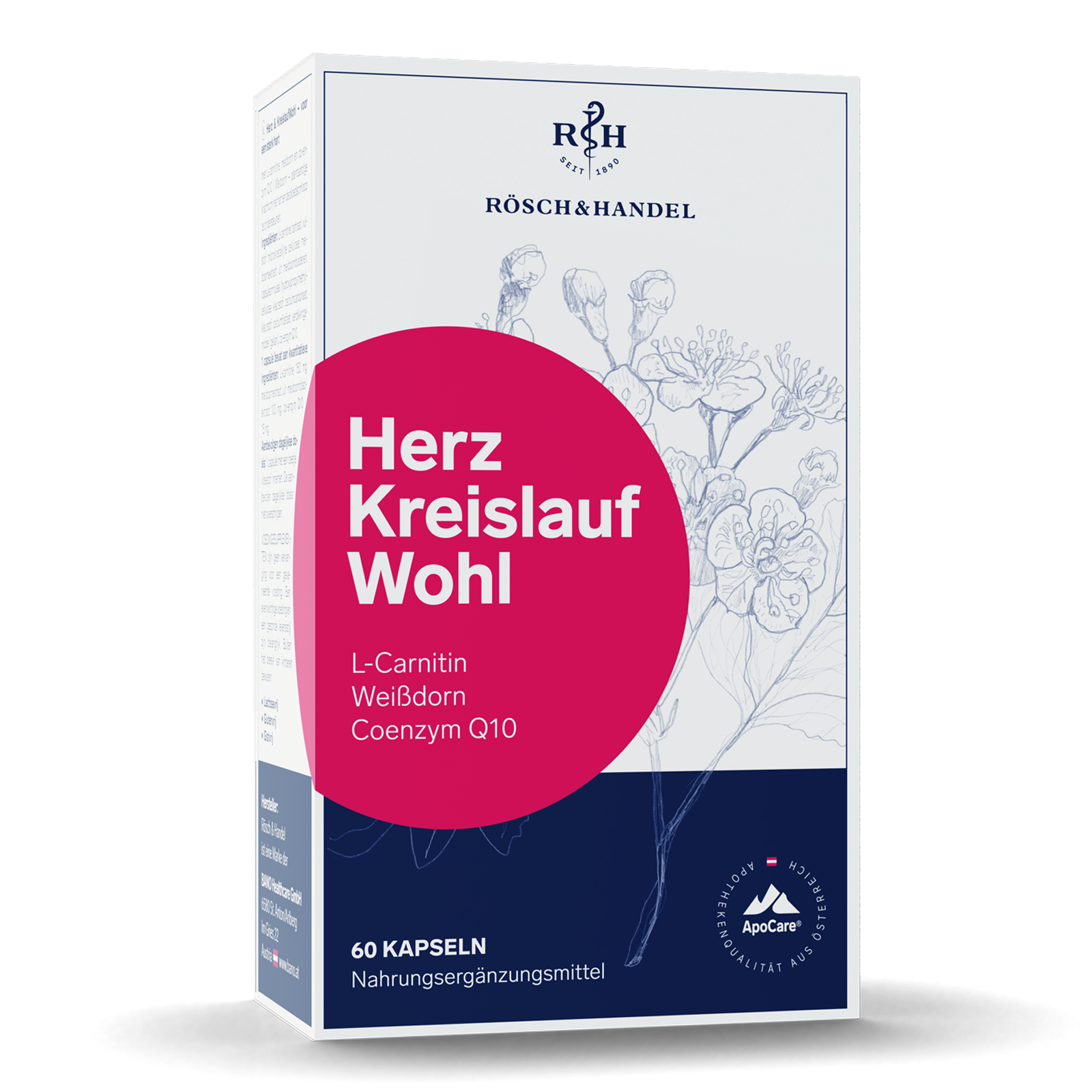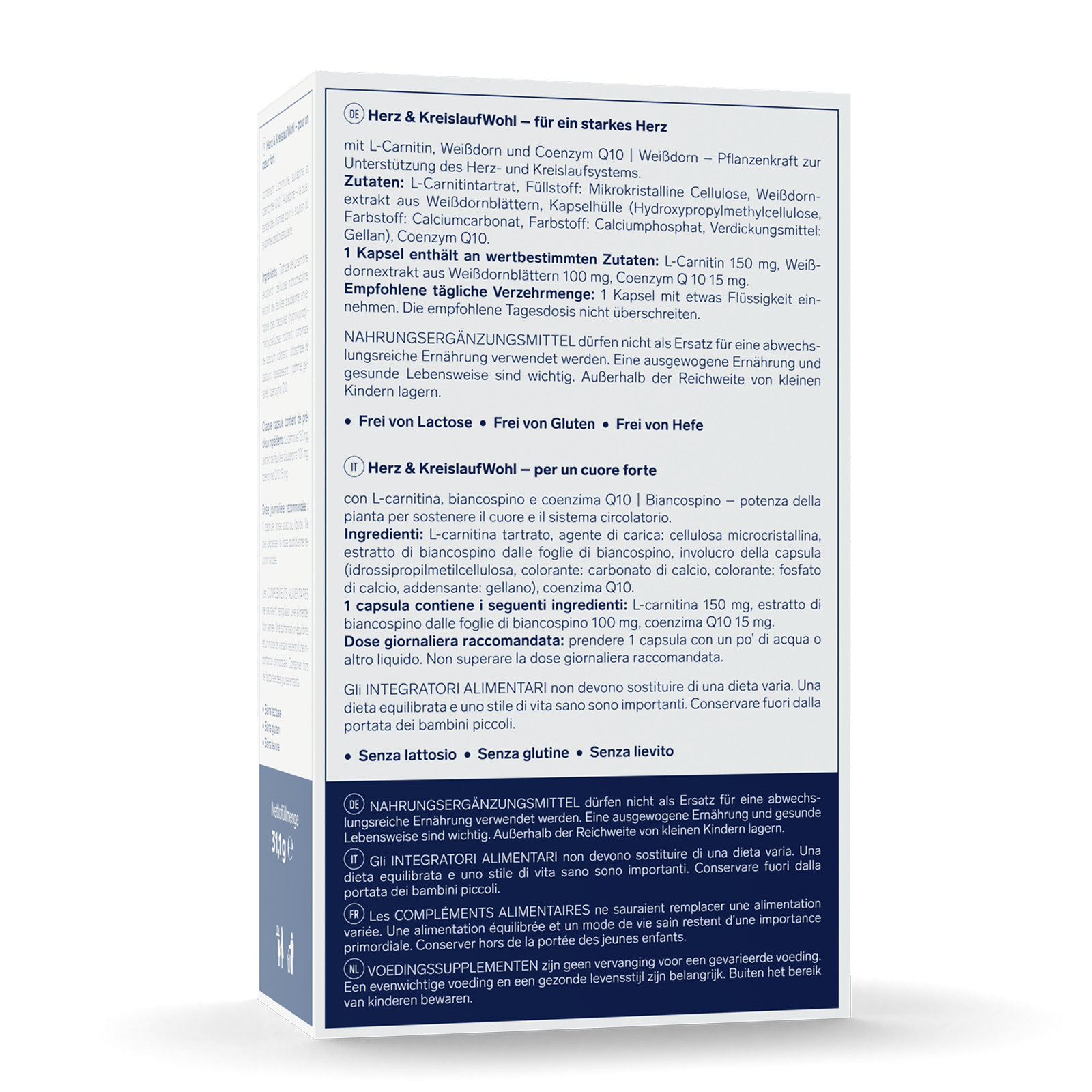 Benefits at a glance
Supports normal heart function

Promotes energy metabolism

Strengthens the heart and circulation

With natural ingredients
ApoCare Herz & KreislaufWohl
For the heart and circulation
€18.90*
Content:
60 pcs.
(€0.32* / 1 pcs.)
Product number:
7000363
Benefits at a glance
Supports normal heart function

Promotes energy metabolism

Strengthens the heart and circulation

With natural ingredients
ApoCare Herz & KreislaufWohl: Product description
ApoCare Herz & KreislaufWohl is a food supplement that strengthens the circulation using natural ingredients such as hawthorn, L-carnitine and coenzyme Q10 and helps you deal with the stresses of everyday life.
ApoCare Herz & KreislaufWohl: Effect
Hawthorn contributes to the normal functioning of the heart by ensuring that more of the oxygen present in the blood is utilised by the muscles.
L-Carnitine is a substance in the body that plays an important role in energy metabolism and is necessary for transporting fatty acids. It is found in large quantities in meat and is mainly absorbed from meat, but the body can also produce its own. Vegans in particular can only absorb a small amount of L-carnitine from their diet.
Q10 is an endogenous vitamin-like substance that converts energy from food into endogenous energy in the cells. It is mainly found in offal, oily fish and in various nuts and seeds.
All three active ingredients form the perfect combination for best supporting your heart.
ApoCare Herz & KreislaufWohl: Use and indications
Take one tablet once a day with a little liquid. Do not chew. In case of difficulty swallowing, simply pull the capsule apart, dissolve the contents in water and drink.
ApoCare Herz & KreislaufWohl: Ingredients
L-carnitine tartrate, bulking agent: microcrystalline cellulose, hawthorn leaf extract, capsule shell (hydroxypropyl methylcellulose, colourant: calcium carbonate, colourant: calcium phosphate, thickener: gellan), coenzyme Q10
One capsule contains 150mg L-carnitine, 100mg hawthorn extract from hawthorn leaves and 15mg coenzyme Q10
Good to know
How do I know that I have cardiovascular problems?
Cardiovascular problems lead to fatigue and exhaustion, but other symptoms can also be dizziness, palpitations and a drop in physical performance. The older we get the more difficult the simplest of activities such as climbing the stairs, riding a bike and doing the cleaning can feel.
"A rolling stone gathers no moss" – the saying has lost none of its relevance. Regular exercise keeps you fit and active and contributes to physical wellbeing. The heart is a muscle, and it wants to be exercised. Too much rest can lead to a drop in physical performance. Sometimes, though, exercise alone does not help. If you are so exhausted that you can hardly bring yourself to do any exercise over a longer period of time, you should have the causes clarified, preferably by a doctor.
What is hawthorn good for?
Hawthorn was chosen as Medicinal Plant of the Year 2019 and has long been used to support the heart and circulation. It helps the oxygen in the blood to be better distributed throughout the body and thus improves the oxygen supply in the body.
Quality from experience
Tried and tested formulations
We rely on traditional combinations of active ingredients, some of which have been tried and tested for centuries and are processed with modern formulations.
Tested raw materials
Only tested raw materials are used in production, many of which also meet the requirements of the European Pharmacopoeia or are of medicinal quality.
High-quality production
Our production is ISO 13485:2016 certified and audited annually, which ensures that our products are always of consistent quality.