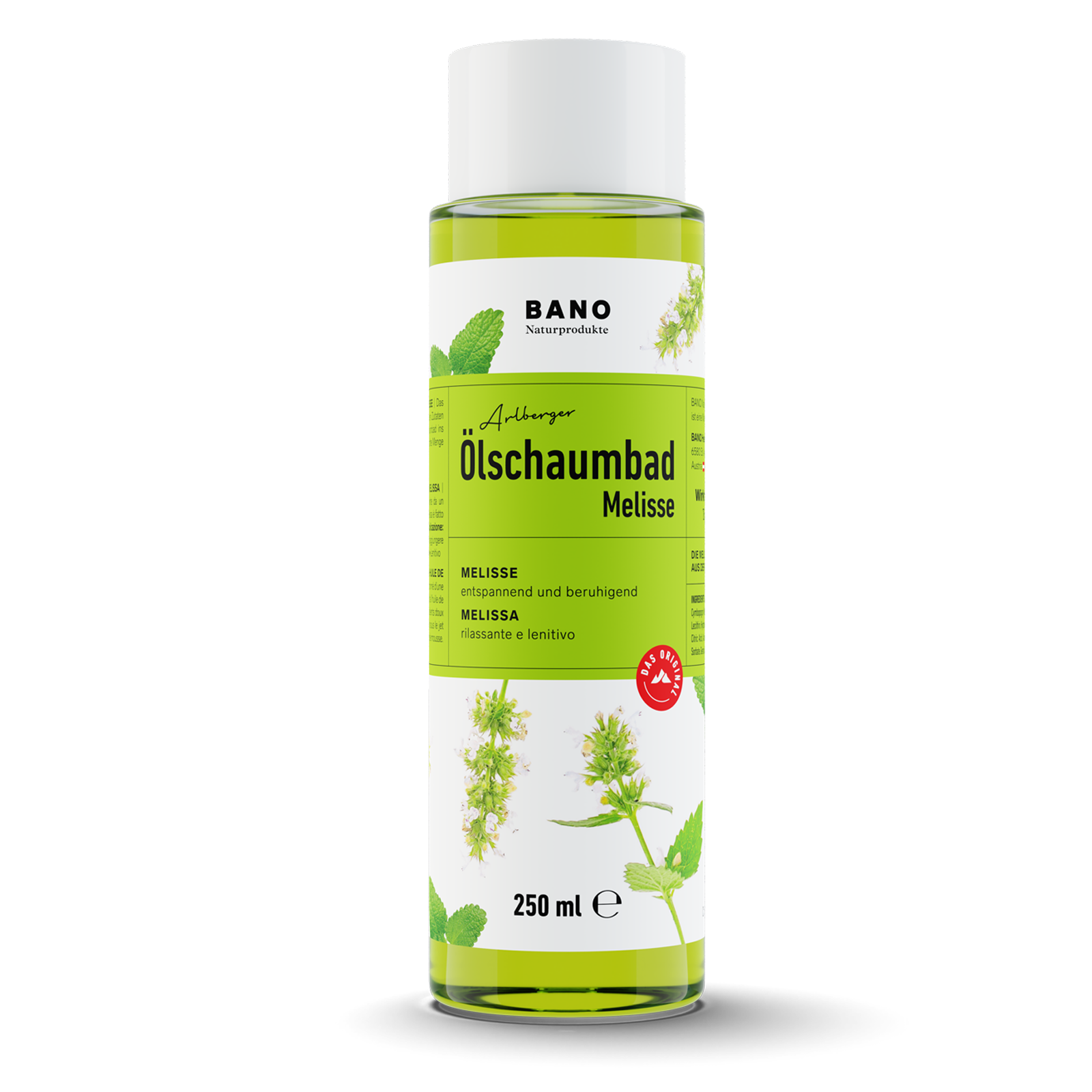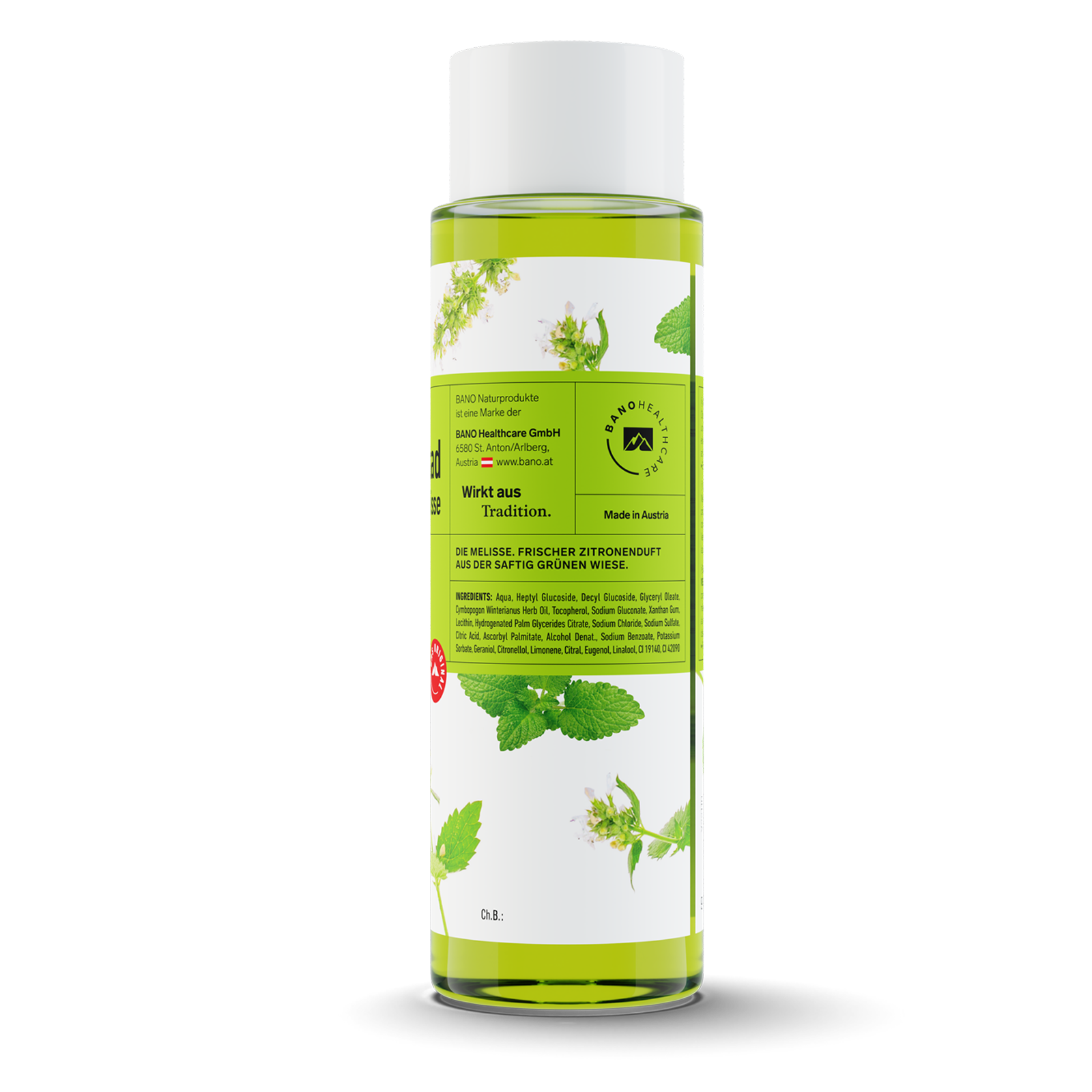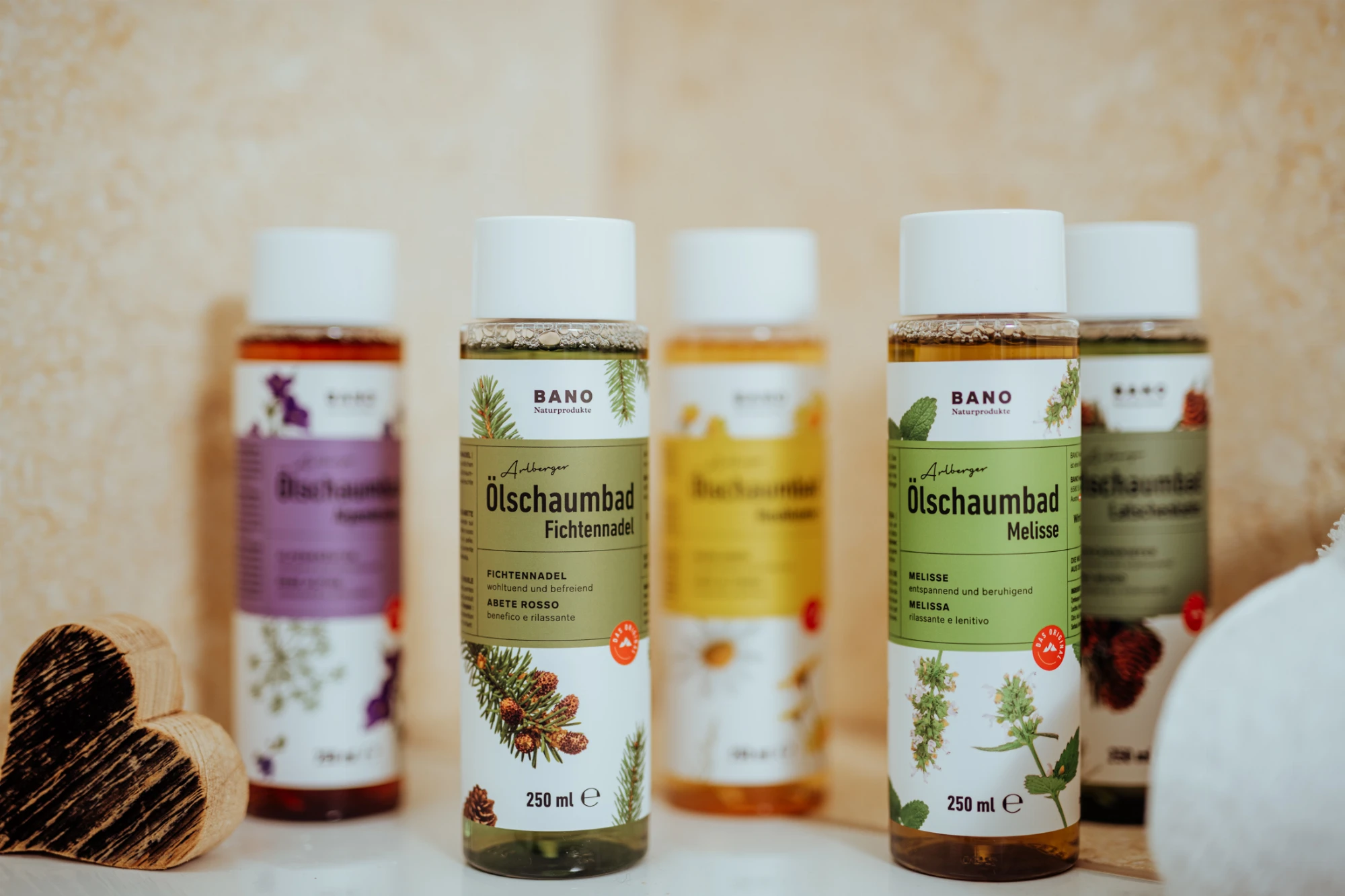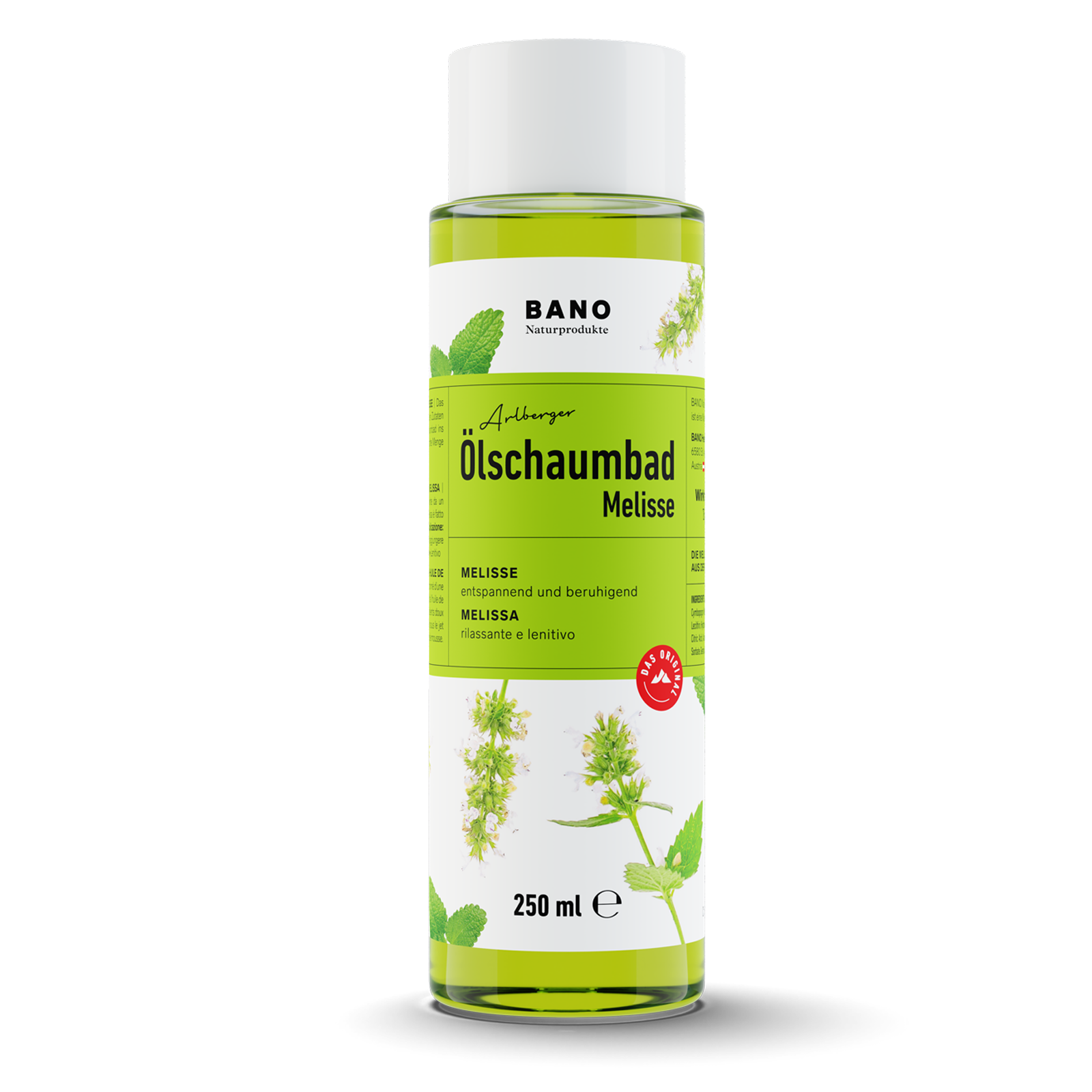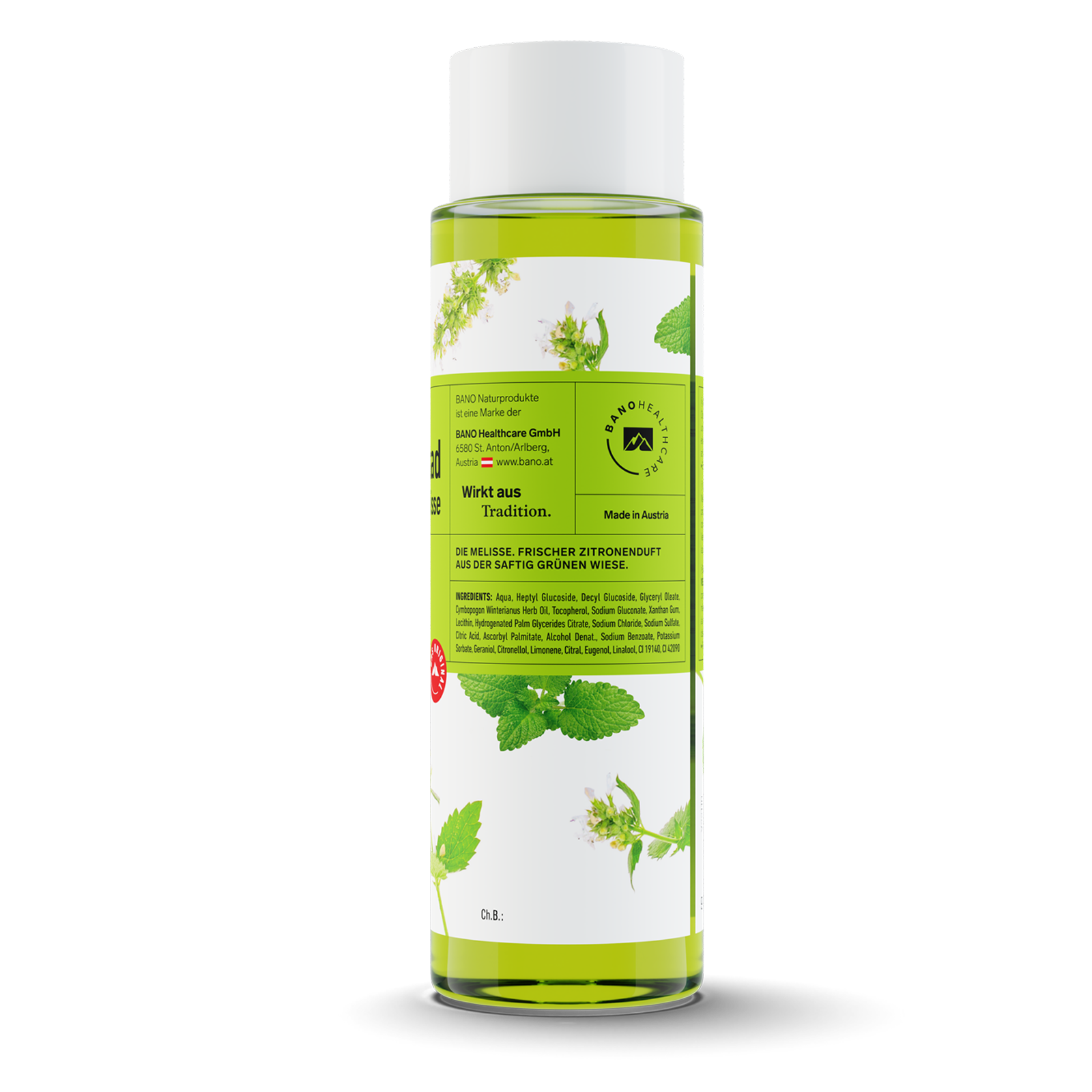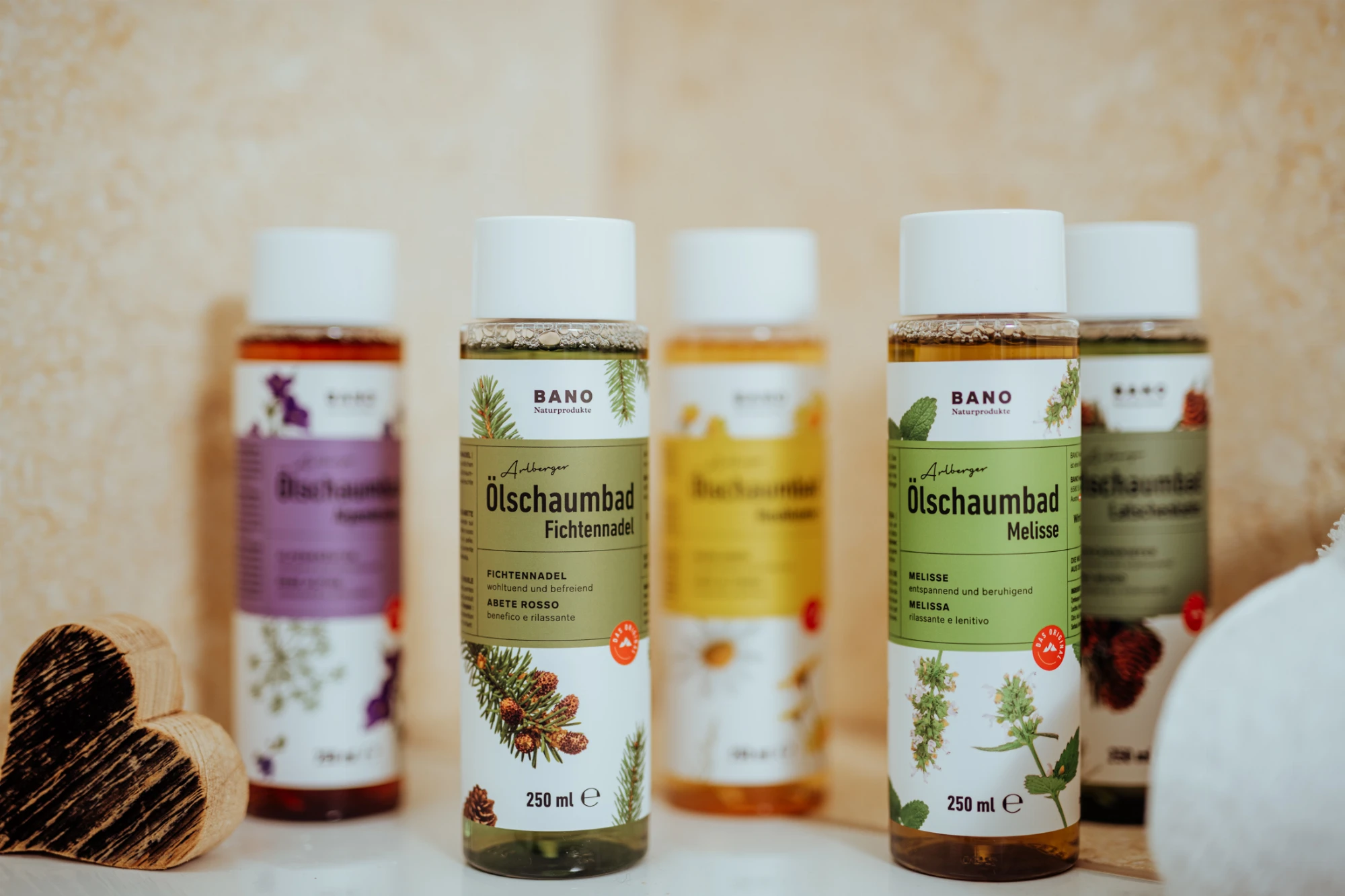 Benefits at a glance
Relaxing and soothing

Mild skin care with pure oils

Bathtime fun for young and old
Arlberger Melissa Foaming Bath Oil
Relaxing foam bath with Indian melissa oil
€12.90
Content:
0.25 L
(€51.60 / 1 L)
Product number:
23003
Benefits at a glance
Relaxing and soothing

Mild skin care with pure oils

Bathtime fun for young and old
Arlberger Melissa Foaming Bath Oil: Product description
Melissa's main use is to calm the nervous system, and it is particularly popular in treating insomnia, restlessness and irritability. The best way to enjoy its effect is in a full bath.
Arlberger Melissa Foaming Bath Oil for your wellbeing
The essential oil of Indian lemon balm (Cymbopogon winterianus herb oil) helps you cope with heavy stress and tension. Its soothing effect relaxes and regenerates both body and mind.
Arlberger Melissa Foaming Bath Oil: Uses and indications
Depending on how much foam you prefer, pour straight under the water stream. We recommend bathing for around 15 minutes at a temperature of between 36°C and 38°C.
Arlberger Melissa Foaming Bath Oil: Ingredients
Aqua, heptyl glucoside, decyl glucoside, glyceryl oleate, Cymbopogon winterianus herb oil, tocopherol, sodium gluconate, xanthan gum, lecithin, hydrogenated palm glycerides citrate, sodium chloride, sodium sulphate, citric acid, ascorbyl palmitate, alcohol denat., sodium benzoate, potassium sorbate, geraniol,* citronellol,* limonene,* citral,* eugenol,* linalool,* CI 19140, CI 42090
* Essential oil ingredients
Good to know
What is the difference between lemon balm and melissa?
There is no difference. As melissa smells slightly lemony when grated, it is often called lemon balm.
The origin of melissa
Melissa used to be a purely southern European and oriental plant, but it has now become native to our region too. In the Middle Ages, it was decreed that it had to be cultivated in every monastery garden as it was considered very valuable and indispensable even back then. Once it has become native to a garden, it proliferates year after year. It can be drunk as a tea and used as a versatile medicine.
What is melissa good for?
Melissa is known for its calming effect. It is pleasantly relaxing especially when you are exhausted, nervous or stressed, and contributes to you maintaining your inner balance.
Quality from experience
Tried and tested formulations
We rely on traditional combinations of active ingredients, some of which have been tried and tested for centuries and are processed with modern formulations.
Tested raw materials
Only tested raw materials are used in production, many of which also meet the requirements of the European Pharmacopoeia or are of medicinal quality.
High-quality production
Our production is ISO 13485:2016 certified and audited annually, which ensures that our products are always of consistent quality.