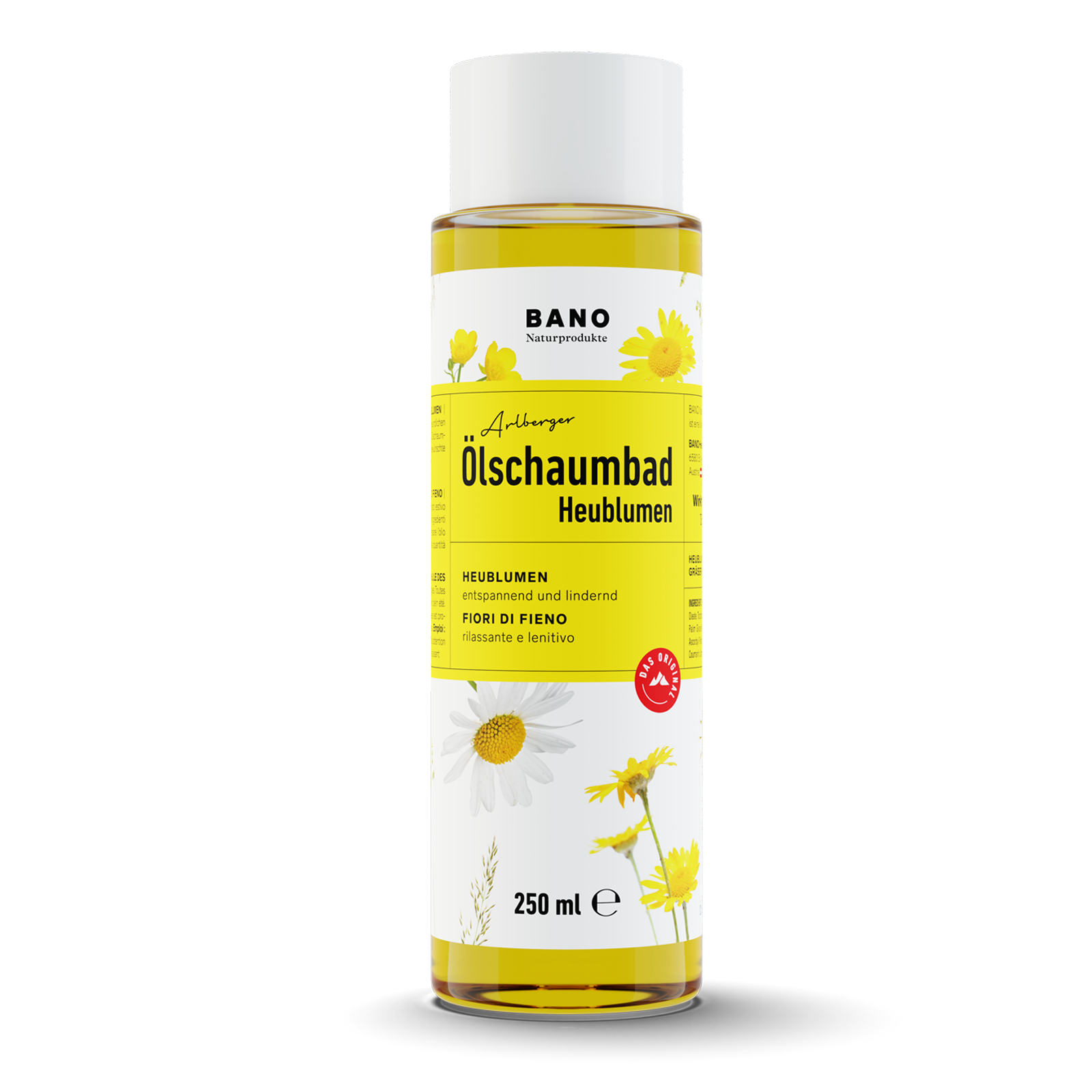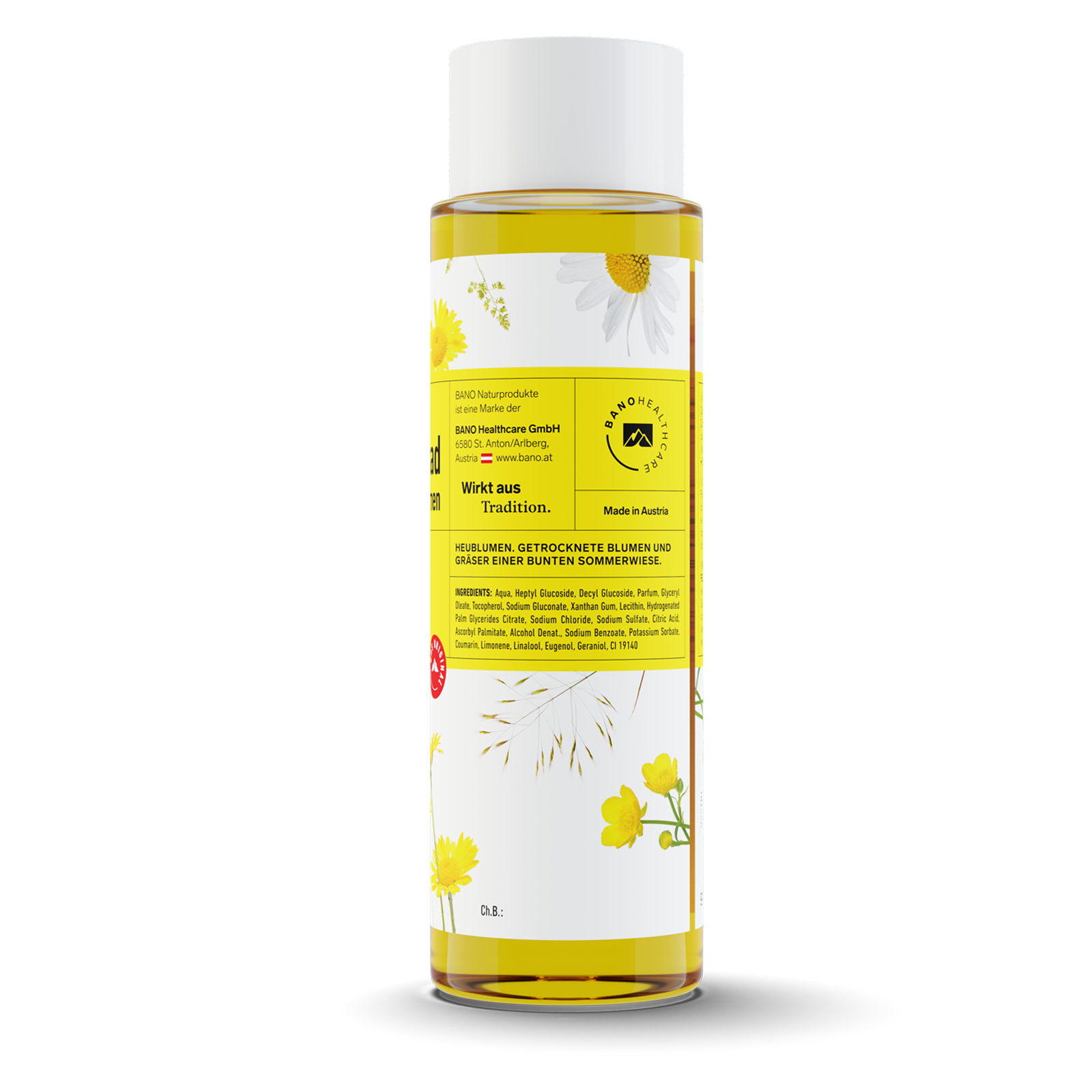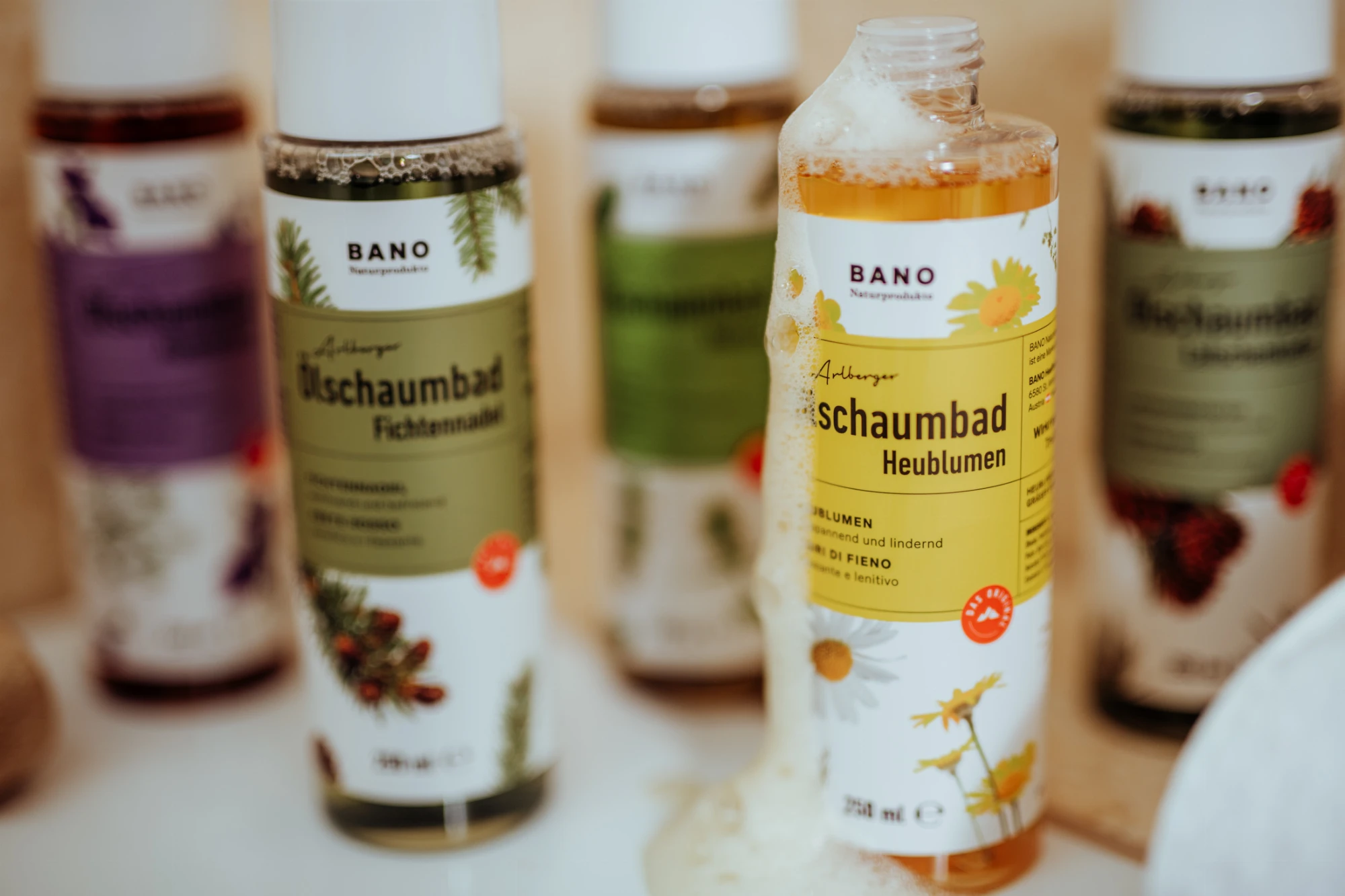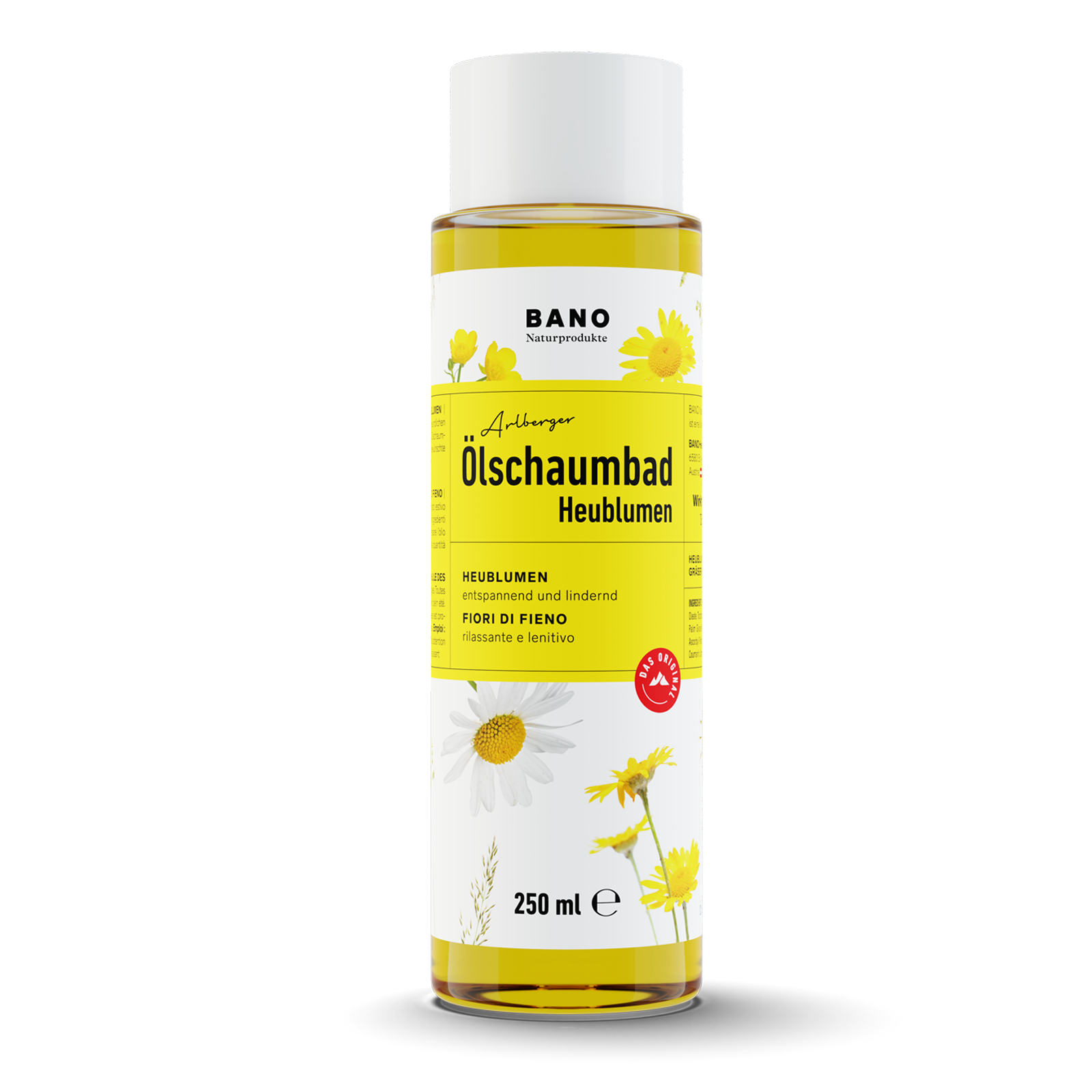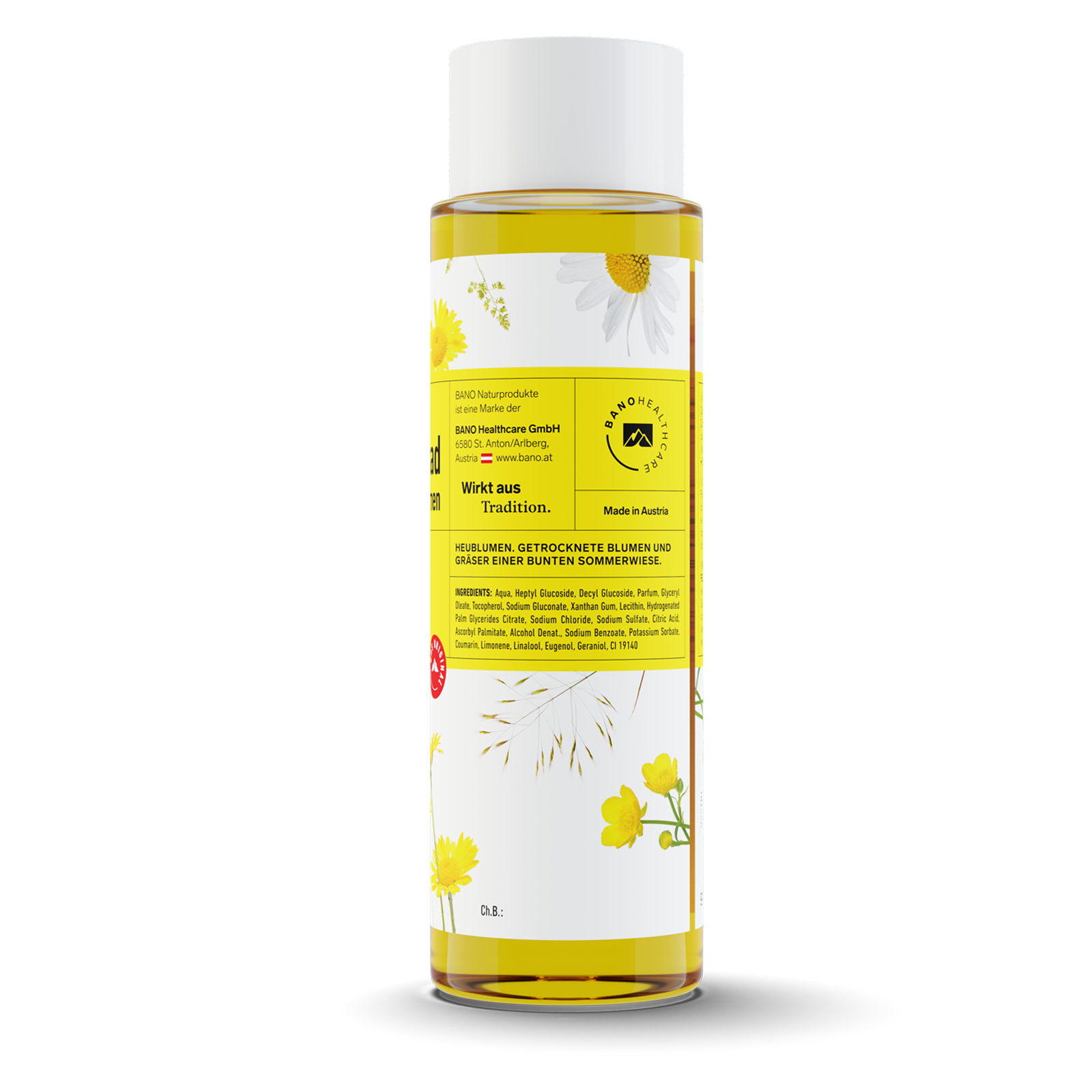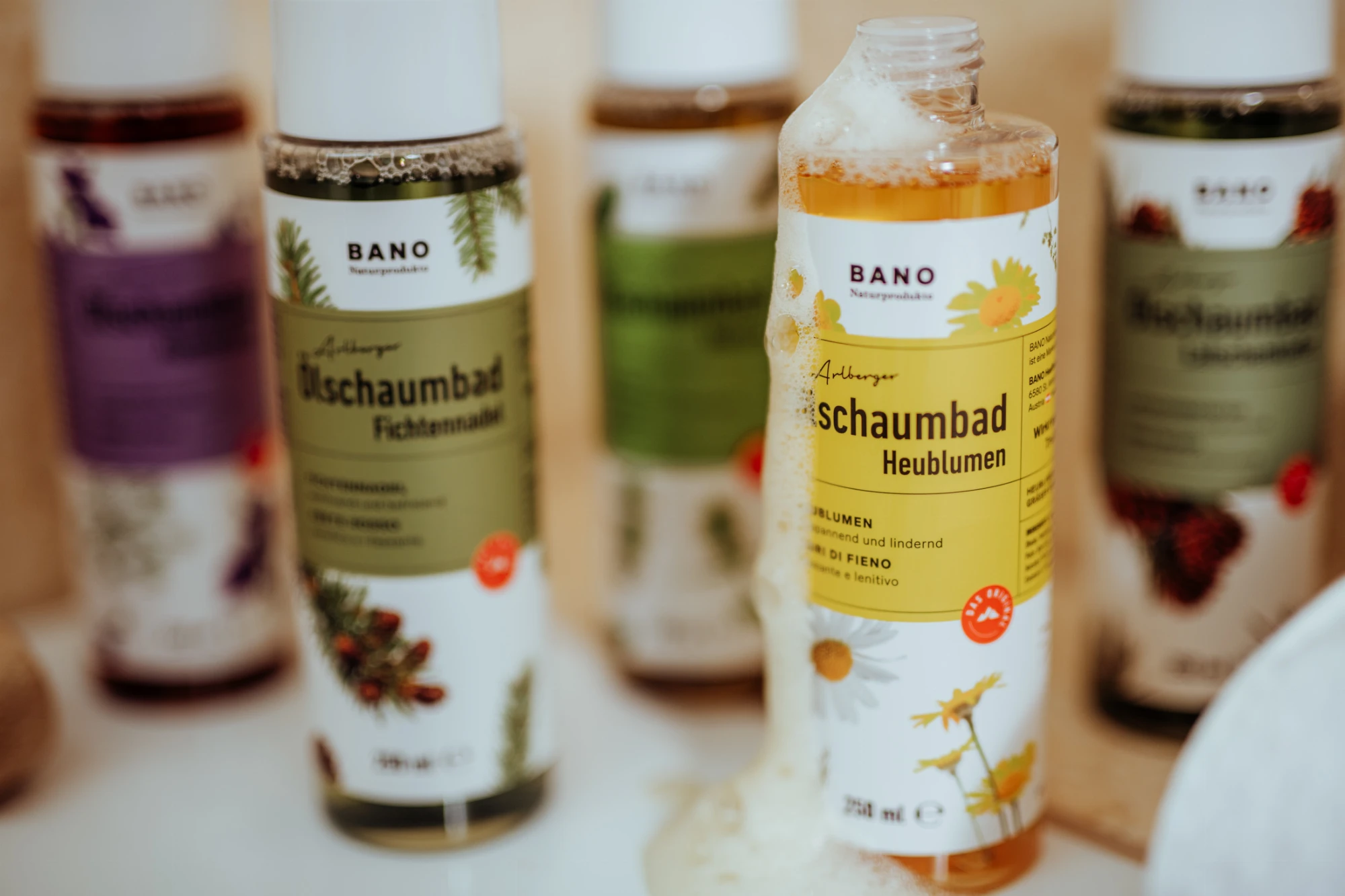 Benefits at a glance
Relaxing and soothing

Mild skin care with pure oils

Bathtime fun for young and old
Arlberger Hay Flower Foaming Bath Oil
Invigorating for mind and soul
€12.90
Content:
0.25 L
(€51.60 / 1 L)
Product number:
23001
Benefits at a glance
Relaxing and soothing

Mild skin care with pure oils

Bathtime fun for young and old
Arlberger Hay Flower Foaming Bath Oil: Product description
The feeling of warm water against your skin and the fresh scent of grass and flowers revitalise the body and soul. Hay flowers not only act as a mild metabolic stimulant, they also have a calming effect. This brings the body and mind back into balance and makes you feel fit and full of energy.
Made from skin-friendly ingredients and pure oils, Arlberger Hay Flower Foaming Bath Oil also has a calming effect on the body and boosts circulation.
Arlberger Hay Flower Foaming Bath Oil for your wellbeing
Our foaming bath oils have been an integral part of our product range for decades. They are especially gentle on the skin, smell of fresh hay flowers and have a wonderfully relaxing effect – all to boost your sense of wellbeing.
Arlberger Hay Flower Foaming Bath Oil: Uses and indications
Pour directly into the water stream as required. We recommend bathing for around 15 minutes at a temperature of between 36°C and 38°C.
Arlberger Hay Flower Foaming Bath Oil: Ingredients
Aqua, heptyl glucoside, decyl glucoside, perfume, glyceryl oleate, tocopherol, sodium gluconate, xanthan gum, lecithin, hydrogenated palm glycerides citrate, sodium chloride, sodium sulphate, citric acid, ascorbyl palmitate, alcohol denat., sodium benzoate, potassium sorbate, coumarin, limonene, linalool, eugenol, geraniol, CI 19140
Good to know
Hay flower oil: Effect and extraction
The wonderful scent of hay flowers (Graminis flos) has a positive effect on the body. Hay flower baths have gained in increasing popularity in recent years, for example in spas, because of their soothing effect.
Hay flower perfume oil is made from 20 different essential oils, among other ingredients, including sage oil, mugwort oil, oregano oil and rosemary oil. They are what make our Hay Flower Foaming Bath Oil one of our favourites when it comes to fragrance.
How can I attain harmony of body, mind and spirit?
It is important to take time out of our hectic everyday life and to switch off. A bath can have a very calming and relaxing effect. The warm water can relieve tension in the body and the pleasant fragrances have a calming effect on the body and mind. That way, you can perhaps attain harmony of body, mind and spirit – at least for a short while.
Quality from experience
Tried and tested formulations
We rely on traditional combinations of active ingredients, some of which have been tried and tested for centuries and are processed with modern formulations.
Tested raw materials
Only tested raw materials are used in production, many of which also meet the requirements of the European Pharmacopoeia or are of medicinal quality.
High-quality production
Our production is ISO 13485:2016 certified and audited annually, which ensures that our products are always of consistent quality.