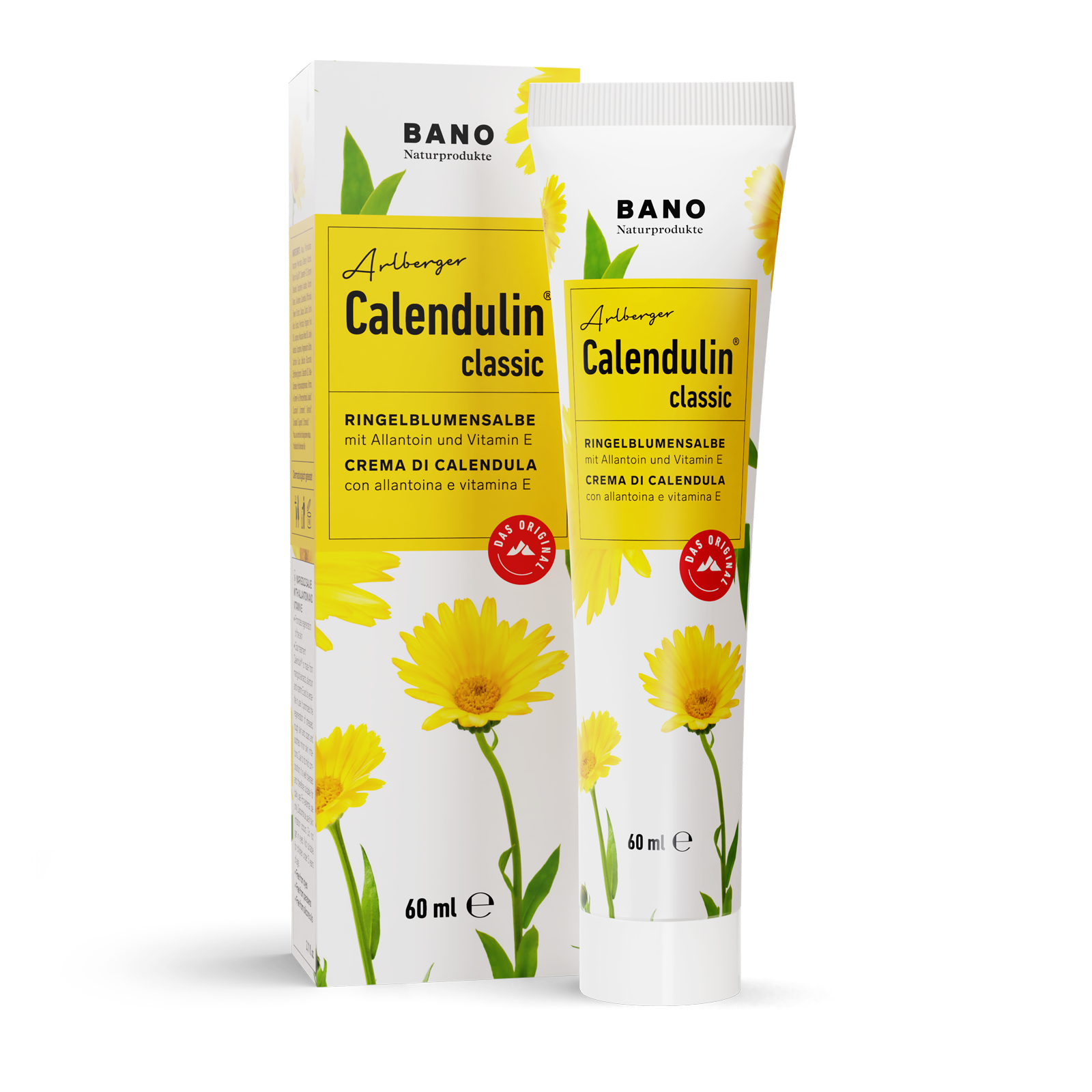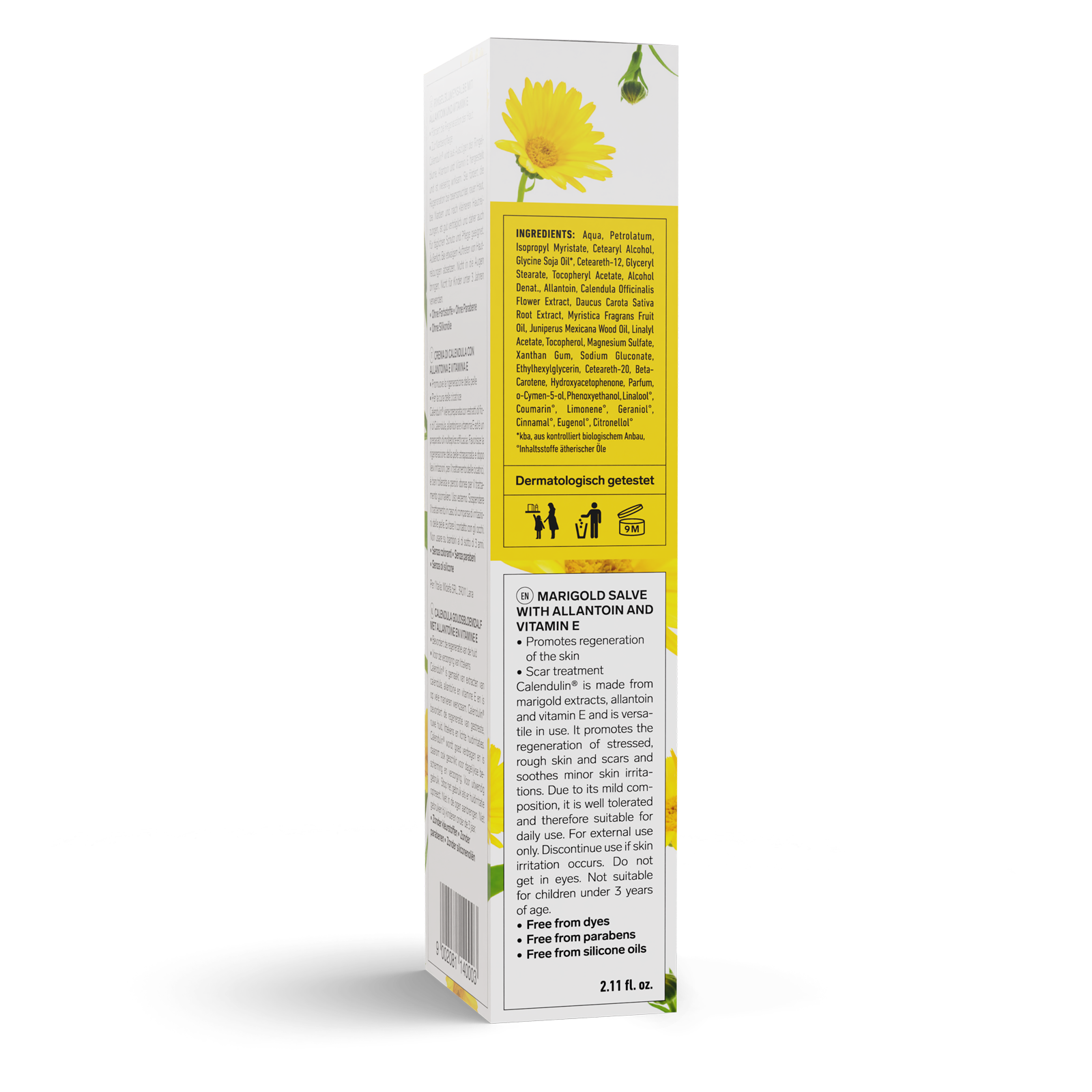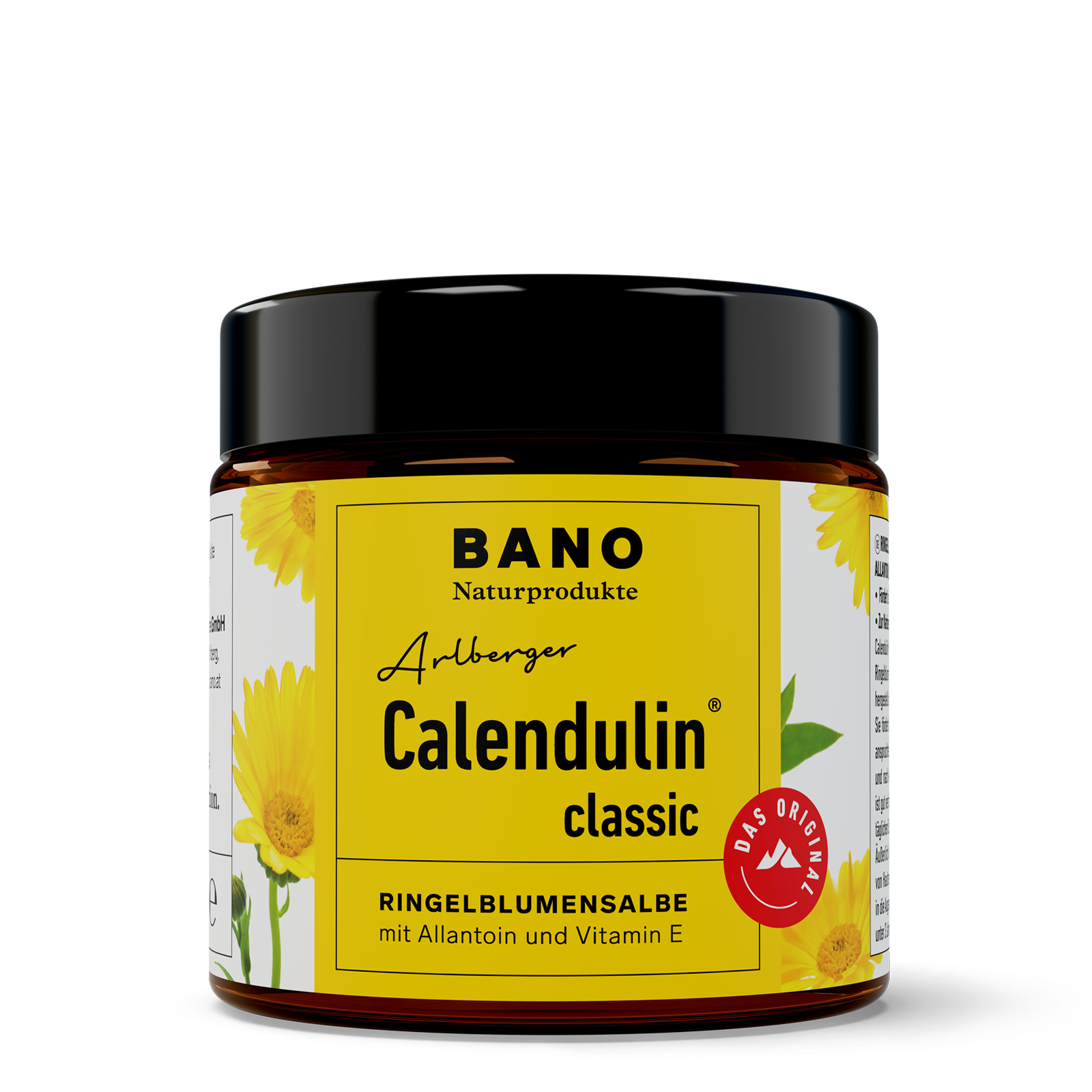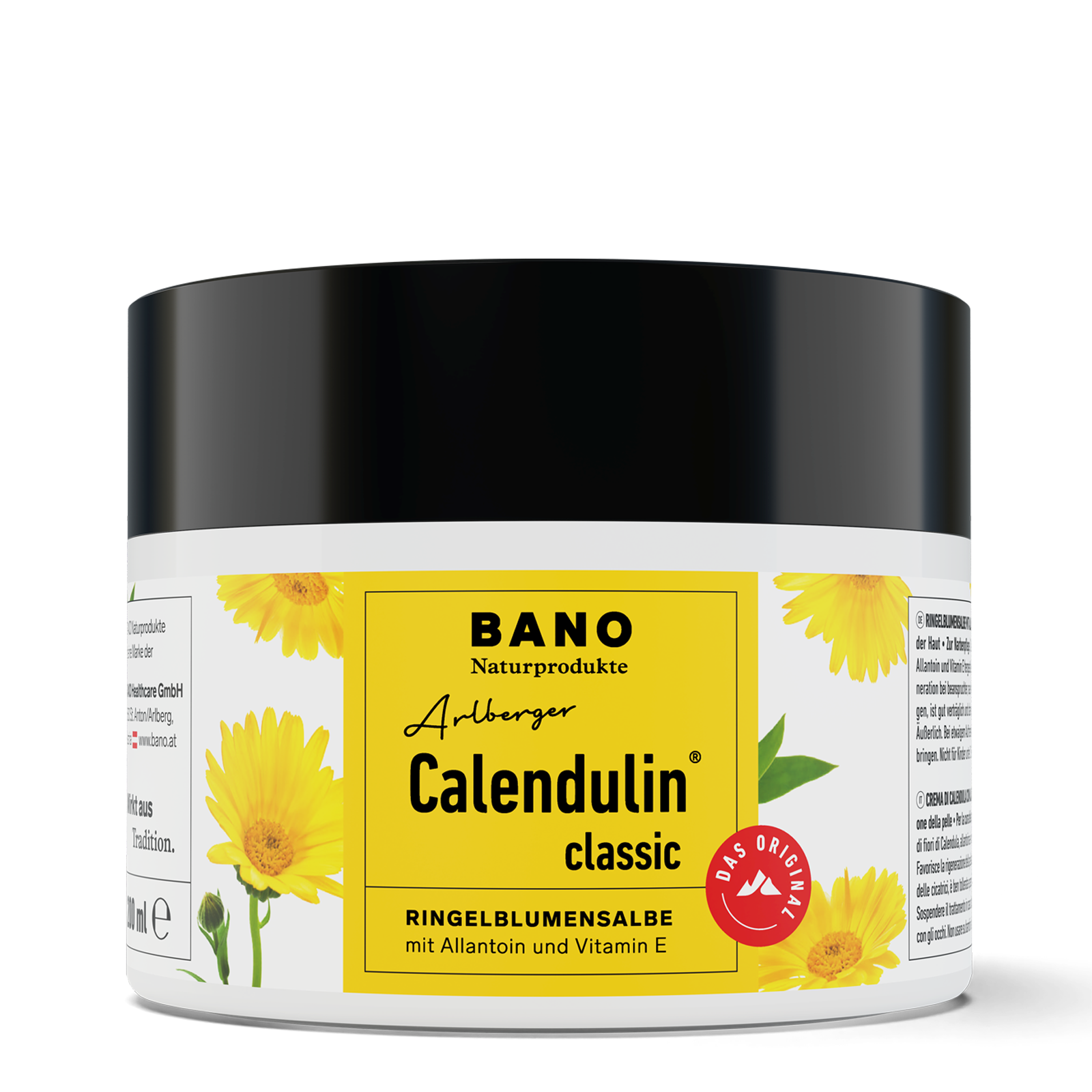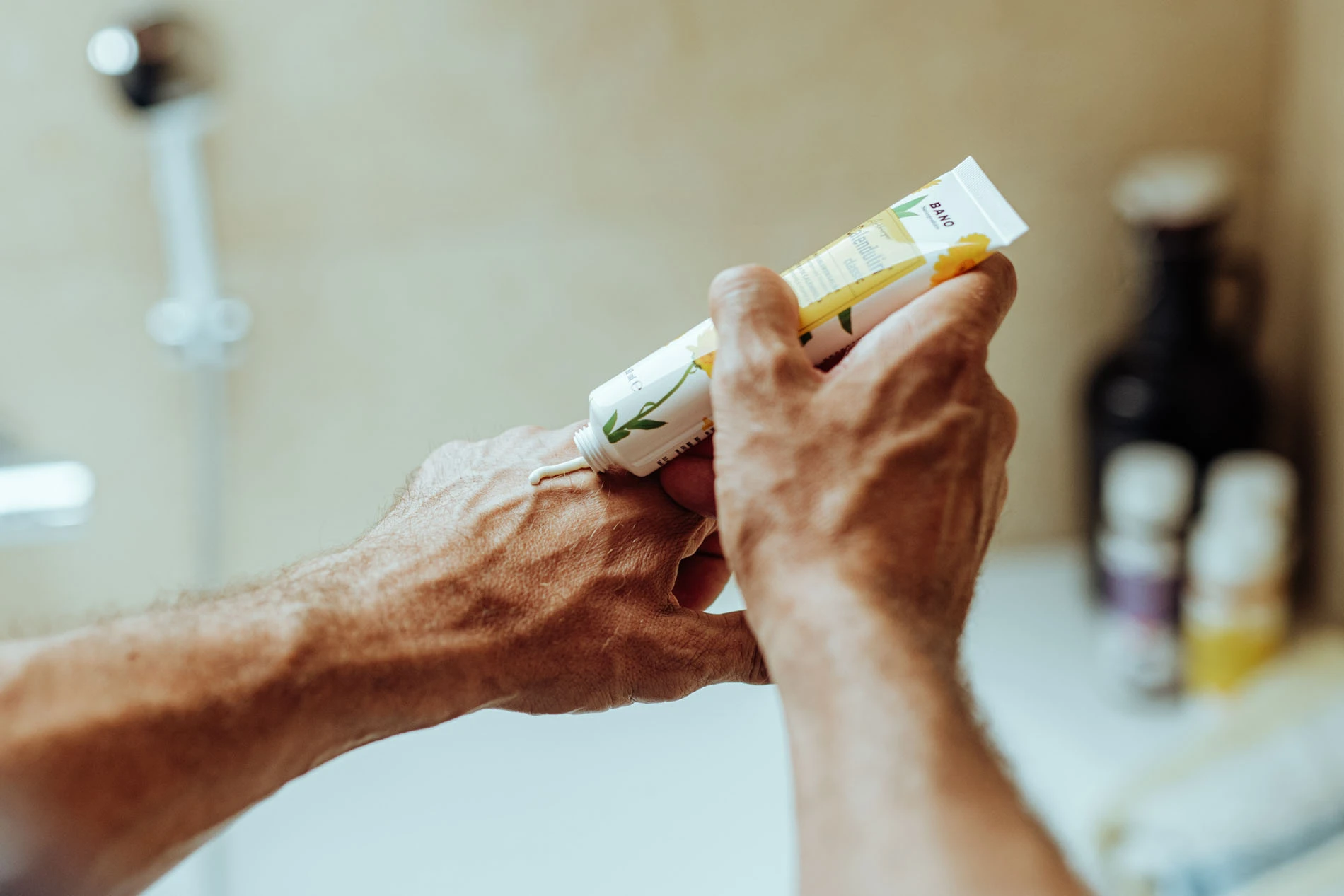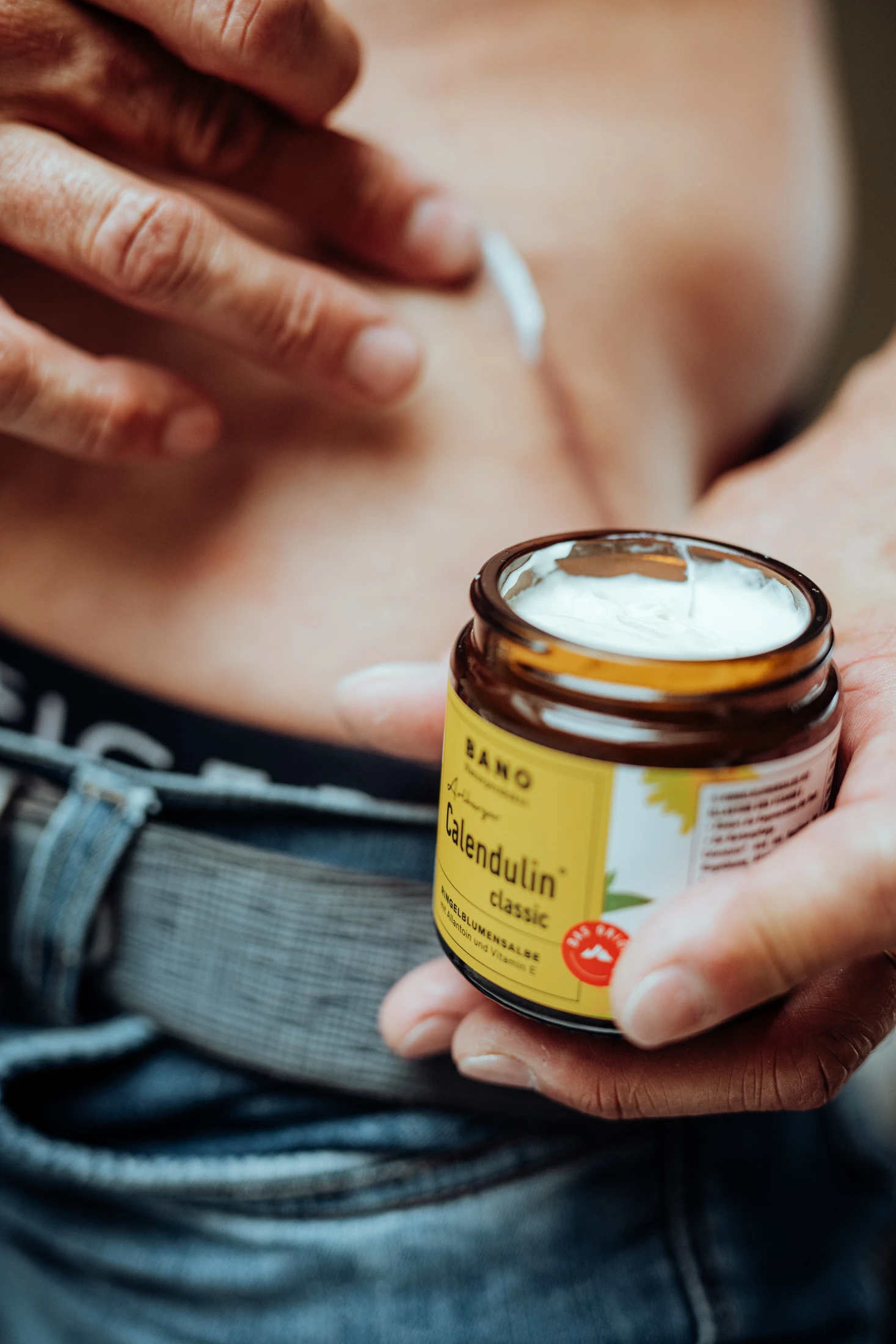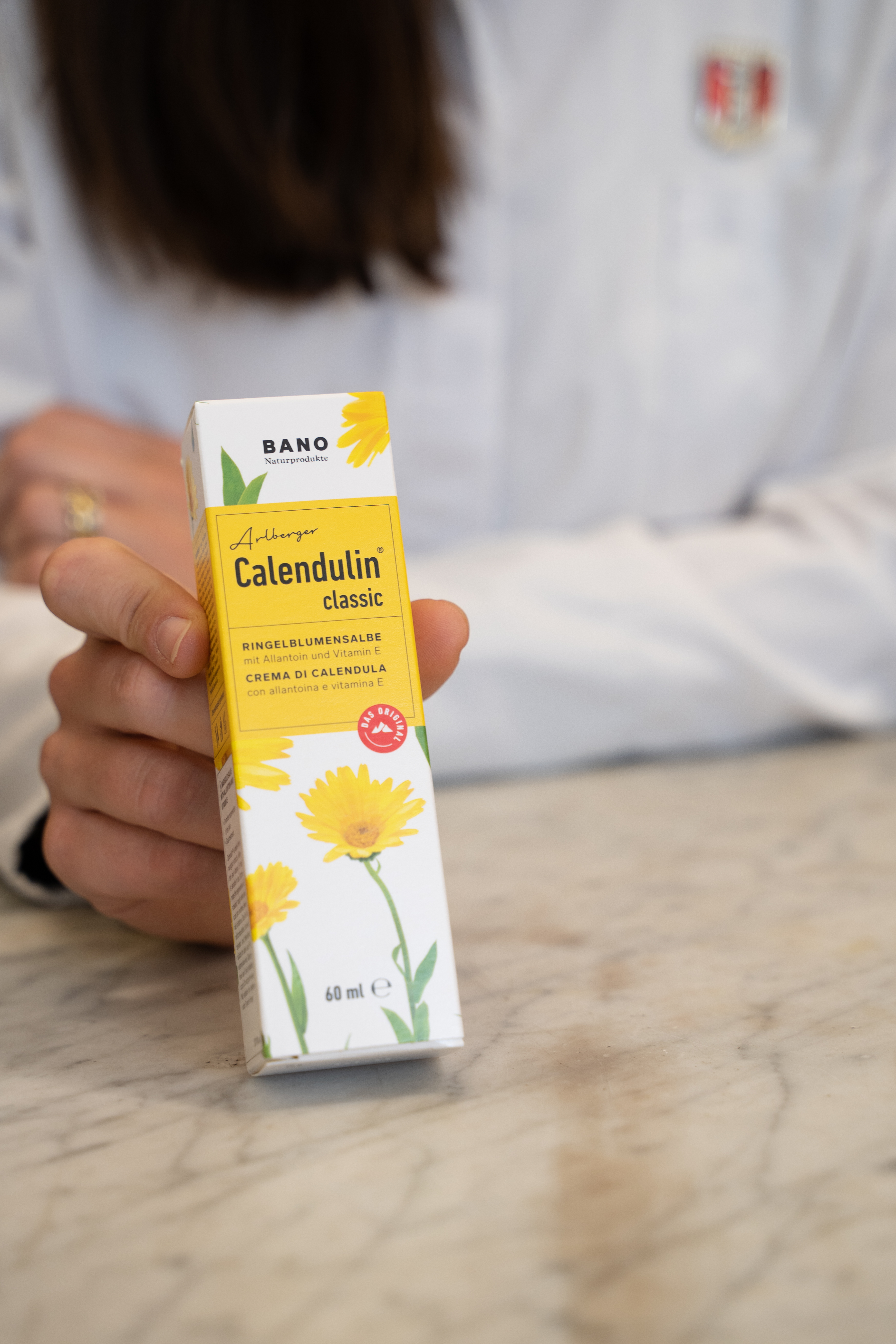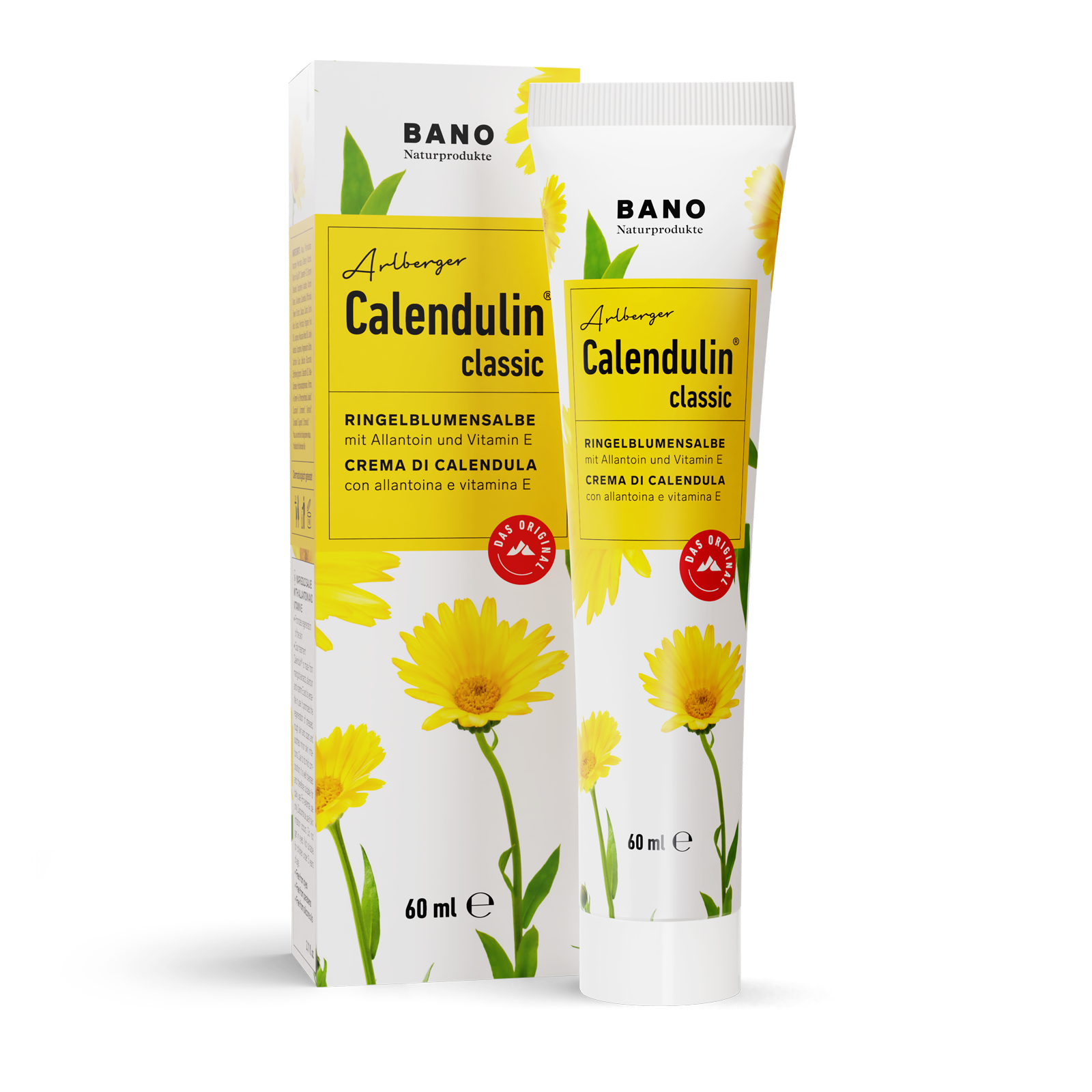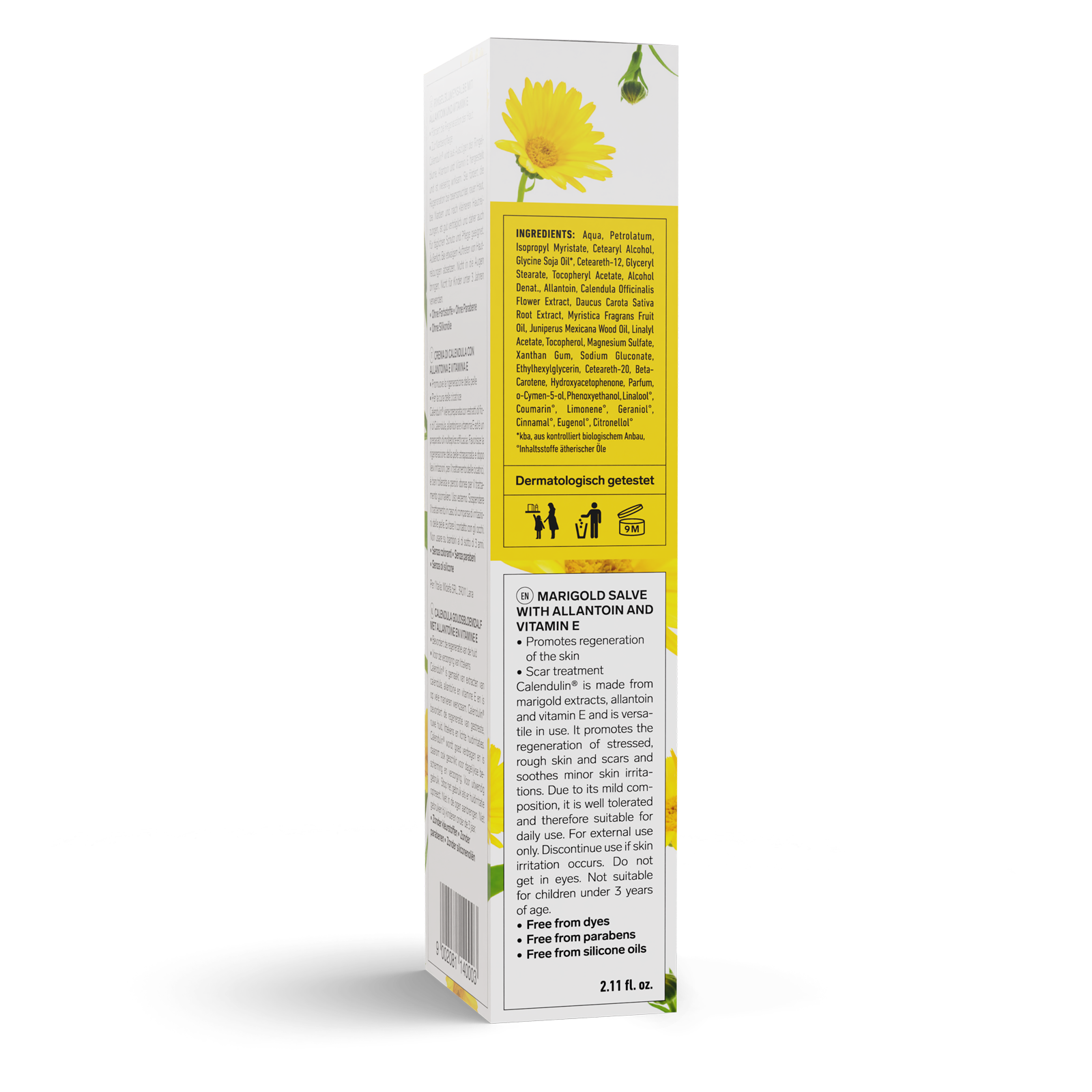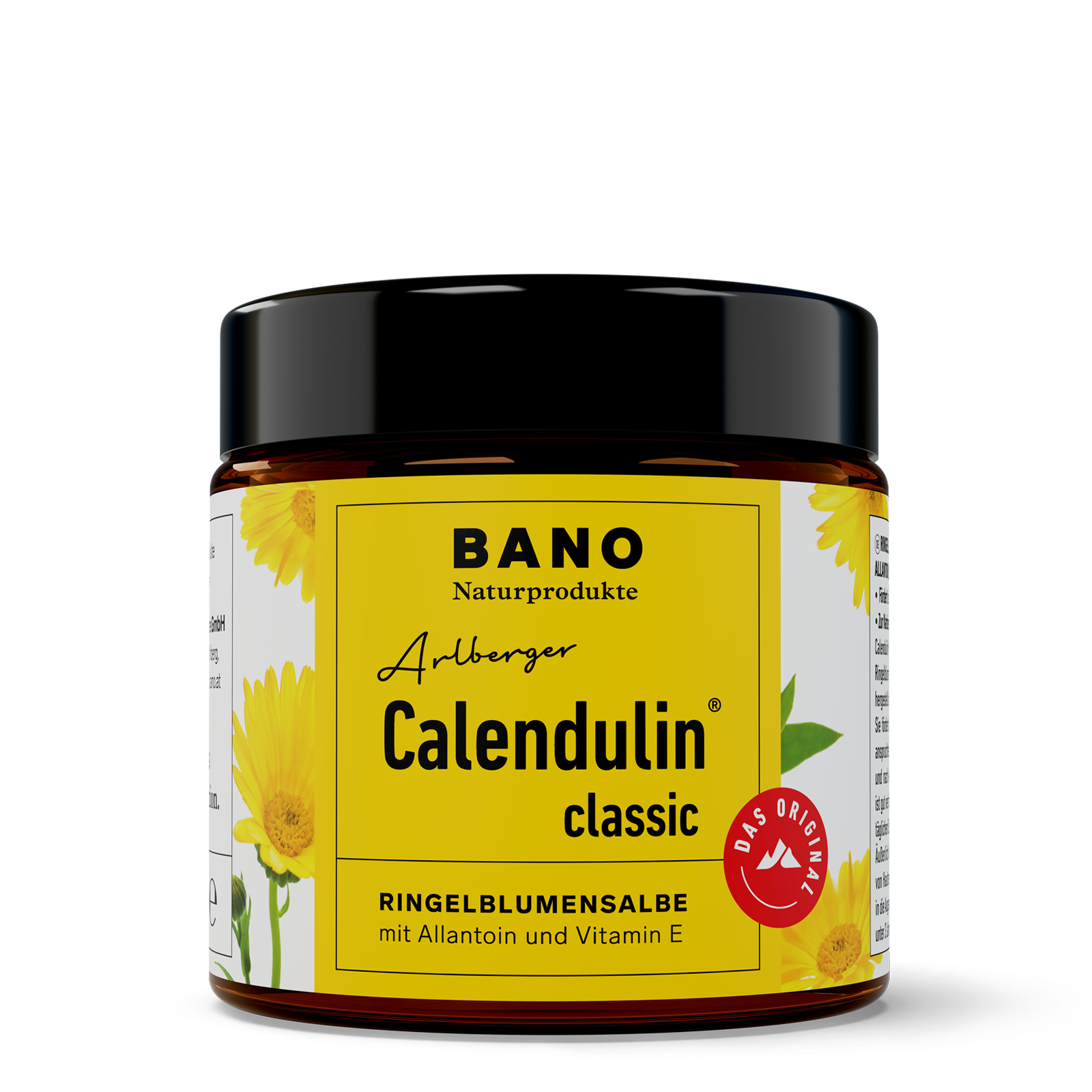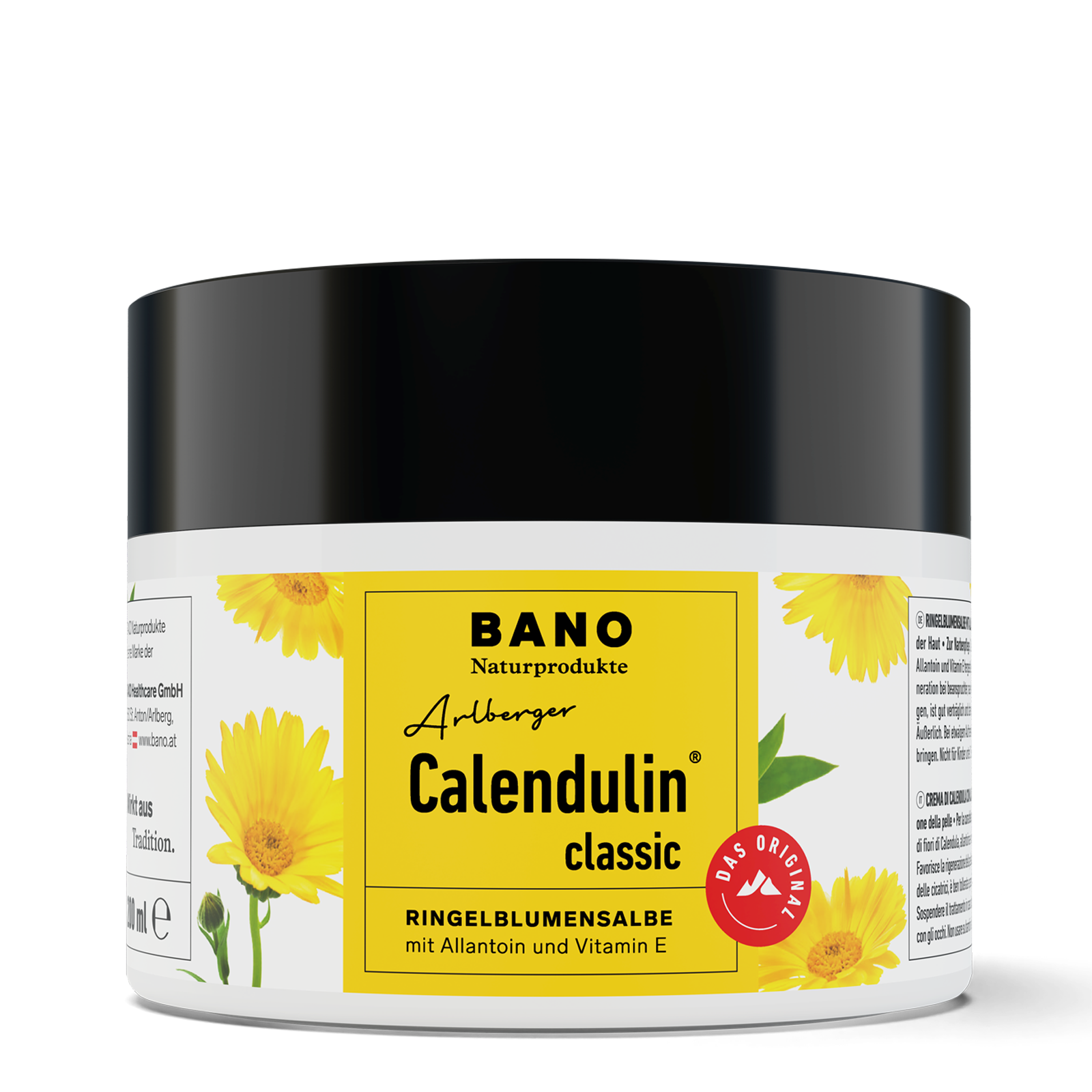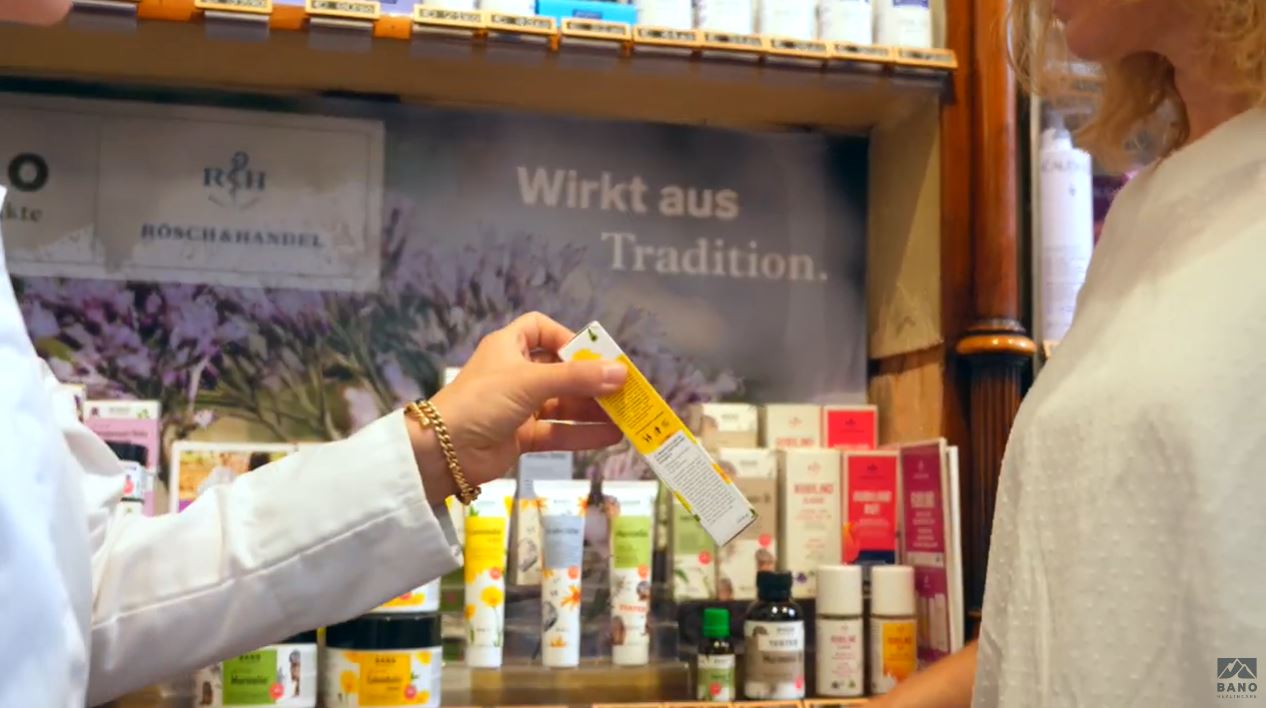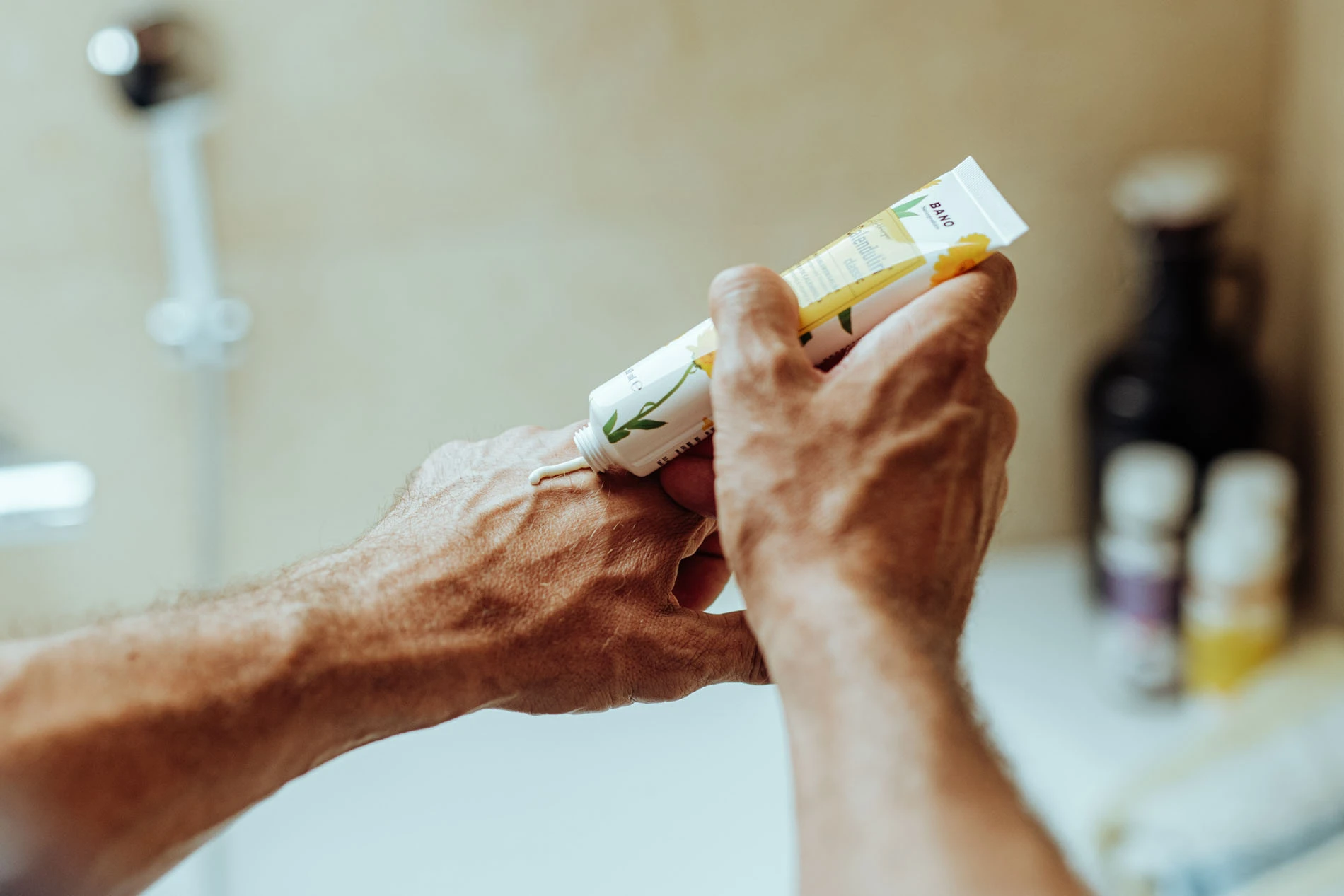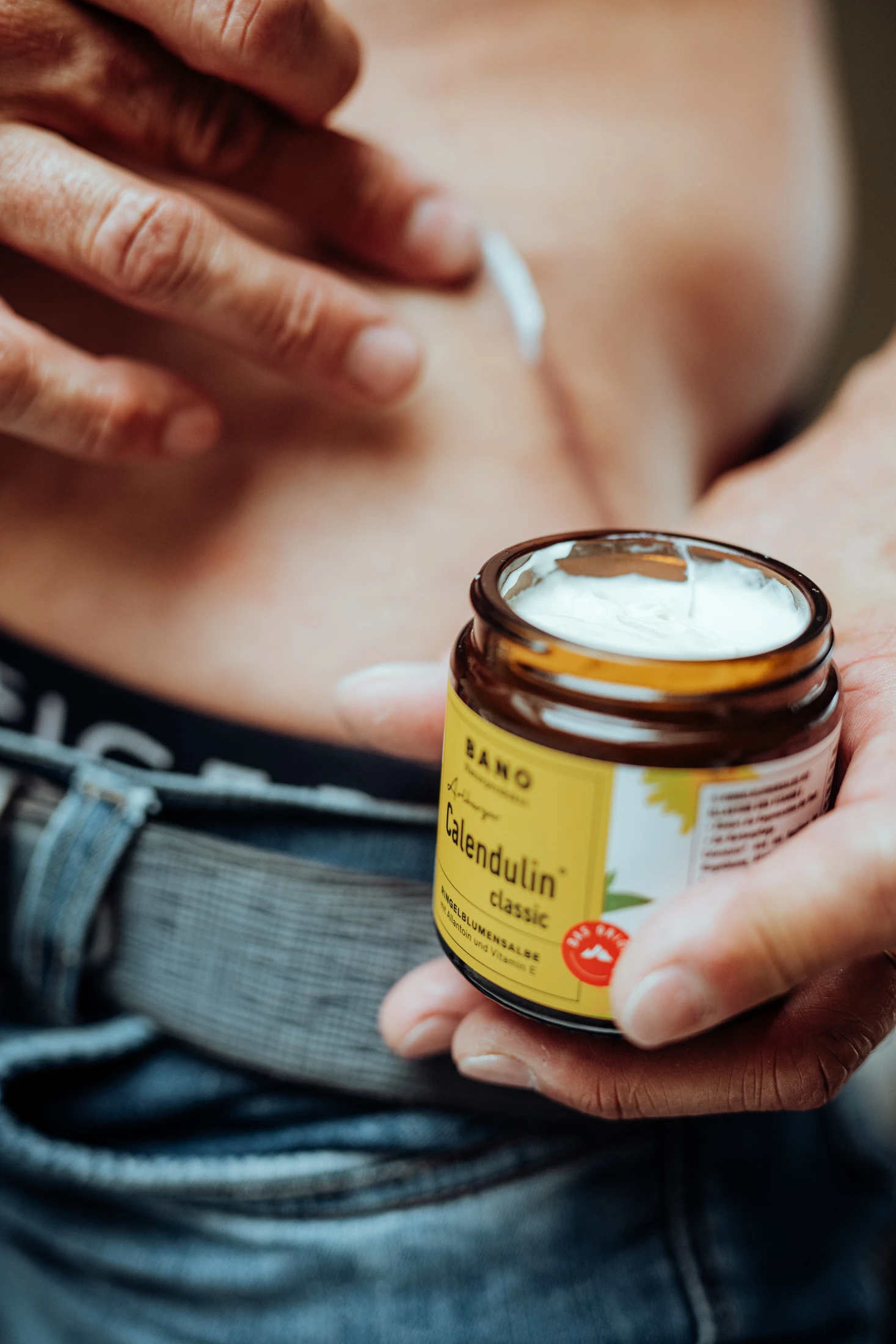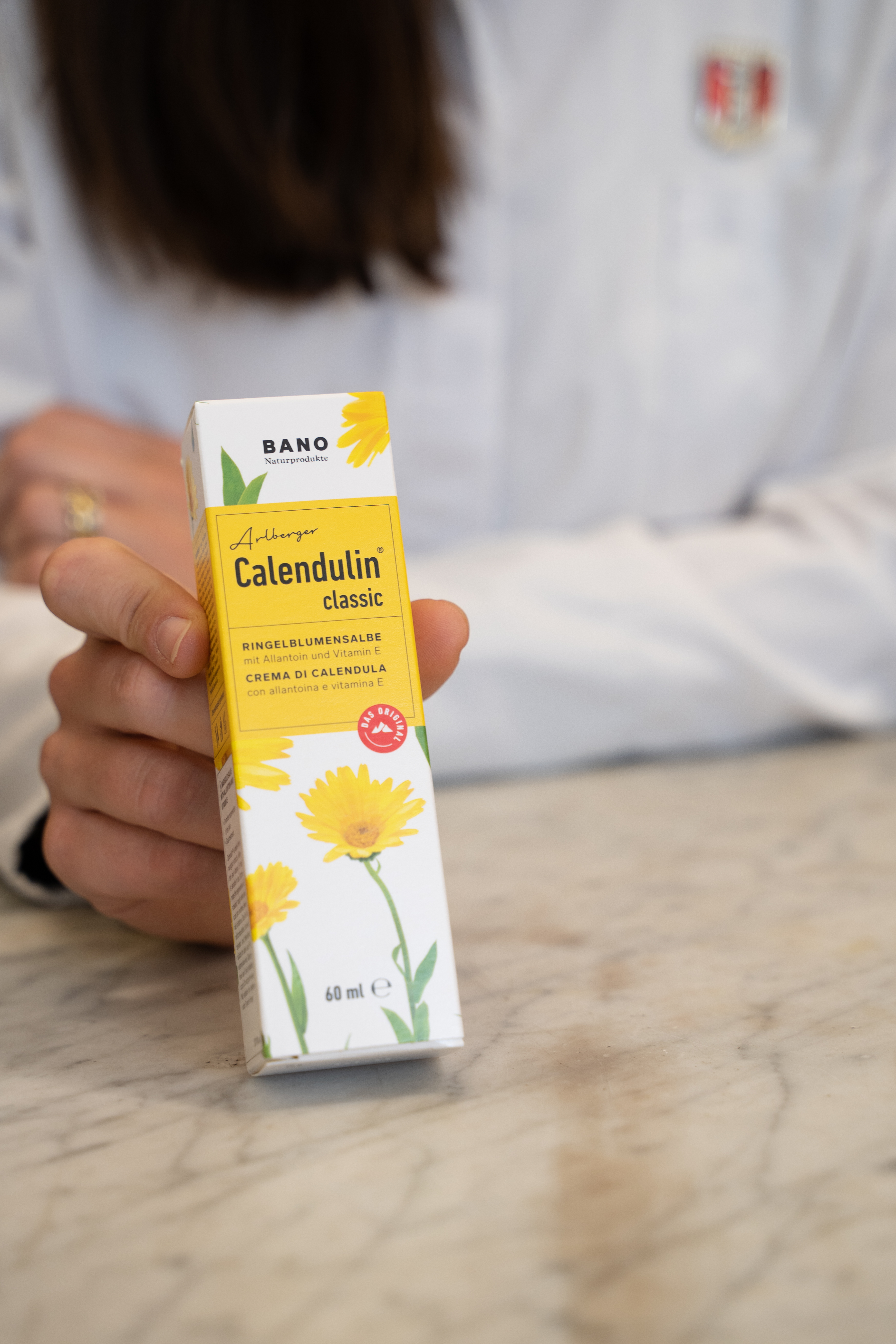 Benefits at a glance
For rough, stressed skin

To treat scars

Positive effect on minor inflammations

Promotes skin regeneration

For daily skin care

For tattoo aftercare
Marigold Salve with Allatoin and Vitamin E
Skin care with allantoin and vitamin E
€7.50
Content:
0.06 L
(€125.00 / 1 L)
Product number:
14000
Benefits at a glance
For rough, stressed skin

To treat scars

Positive effect on minor inflammations

Promotes skin regeneration

For daily skin care

For tattoo aftercare
Marigold Salve with Allatoin and Vitamin E: Product description
Our Marigold Salve is a rich pharmacy-quality skin care product that supports the regeneration of stressed skin. It can be used daily, helps relieve the pain caused by varicose veins and soothes skin irritations. It is also ideally suited for scar care and after-treatment of tattoos.
In addition to pure marigold oil, our Marigold Salve contains nourishing allantoin and vitamin E, which protects cells.
Due to the combination of its active ingredients, Marigold Salve is very well tolerated by neurodermatitis sufferers.
The Calendulin range was developed around 40 years ago in the Arlberg pharmacy in St. Anton, Arlberg and has been one of the most popular and best-selling marigold salves in pharmacies in Austria ever since.
Marigold Salve with Allatoin and Vitamin E: Effect
High-quality marigold oil derived from marigold blossoms, allantoin and vitamin E nourish and protect stressed skin and give it a velvety suppleness.
Pure marigold oil gives the skin elasticity and protects dry and irritated skin.
Allantoin activates cell renewal and vitamin E protects the skin from free radicals. Dry, rough skin feels immediately nourished and relaxed.
Marigold Salve also unfolds its full effect in treating scars.
Marigold Salve with Allatoin and Vitamin E: Uses and indications
Apply several times a day to the skin. Marigold Salve can be used over a longer period of time.
Marigold extract is used in face, hand and foot salves or generally to treat dry skin.
Marigold Salve with Allatoin and Vitamin E: Ingredients
Aqua, petrolatum, isopropyl myristate, cetearyl alcohol, glycine soja oil,* ceteareth-12, glyceryl stearate, tocopheryl acetate, alcohol denat., allantoin, Calendula officinalis flower extract, Daucus carota sativa root extract, Myristica fragrans fruit oil, Juniperus mexicana wood oil, linalyl acetate, tocopherol, magnesium sulphate, xanthan gum, sodium gluconate, ethyl hexyl glycerine, ceteareth-20, beta carotene, hydroxy acetophenone, perfume, o-cymen-5-ol, phenoxyethanol, linalool,° coumarin,° limonene,° geraniol,° cinnamal,° eugenol,° citronellol°
* From controlled organic cultivation
° Essential oil ingredients
Good to know
What properties does marigold have?
Since time immemorial marigold (also known as calendula) has been considered beneficial to health. It contains a variety of plant substances and can be used both internally and externally.
Internally, it is valued in folk medicine for treating gastrointestinal complaints; externally its effect is particularly well known in skin care.
Skin benefits
Marigold (Calendula officinalis) nourishes, soothes and protects even very stressed skin.
Marigold's active ingredients also soothe mild inflammations of the epidermis.
Can marigold salve also be used as a face cream?
Of course. Marigold has an intensive nourishing effect on dry skin and can also help tackle blemished skin and pimples.
Can marigold salve be used to treat wrinkles?
Yes and no. Our Marigold Salve is not a miracle cure for wrinkles, but it does help the skin retain its elasticity, gives it an extra dose of TLC and thus helps to protect skin from drying out.
Can marigold salve be used to treat burns?
Marigold salve can be used to treat minor, localised burns, but it should not be applied to open wounds. Minor burns generally heal by themselves within a few days. Our Marigold Salve can promote skin regeneration and elasticity.
Where can you buy the best marigold salve?
Marigold Salve with Allantoin and Vitamin E stands for pharmacy quality and has done so for 40 years.
Besides pharmacies, Marigold Salve with Allantoin and Vitamin E is also available in select health food stores and drugstores as well as here in our online shop.
Quality from experience
Tried and tested formulations
We rely on traditional combinations of active ingredients, some of which have been tried and tested for centuries and are processed with modern formulations.
Tested raw materials
Only tested raw materials are used in production, many of which also meet the requirements of the European Pharmacopoeia or are of medicinal quality.
High-quality production
Our production is ISO 13485:2016 certified and audited annually, which ensures that our products are always of consistent quality.