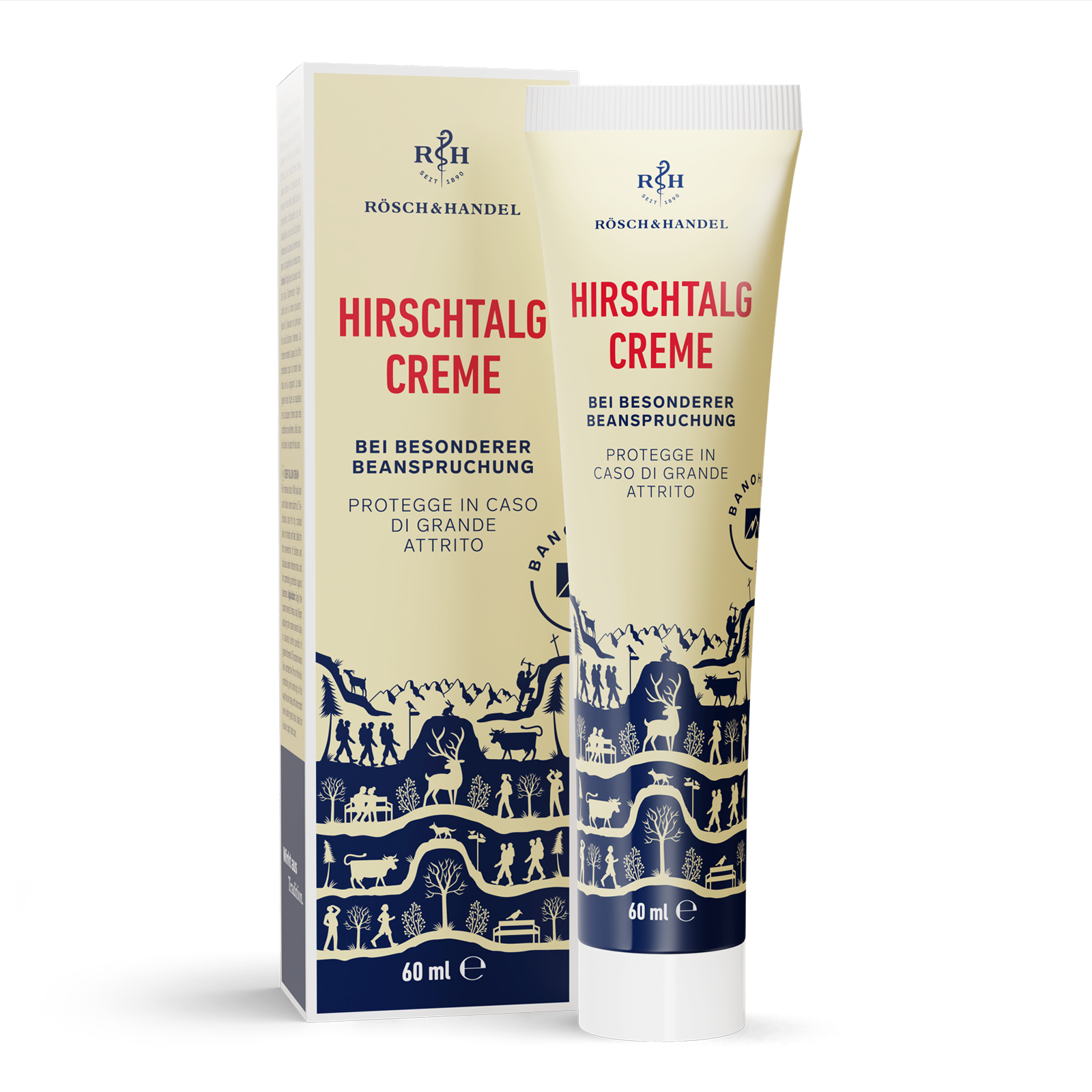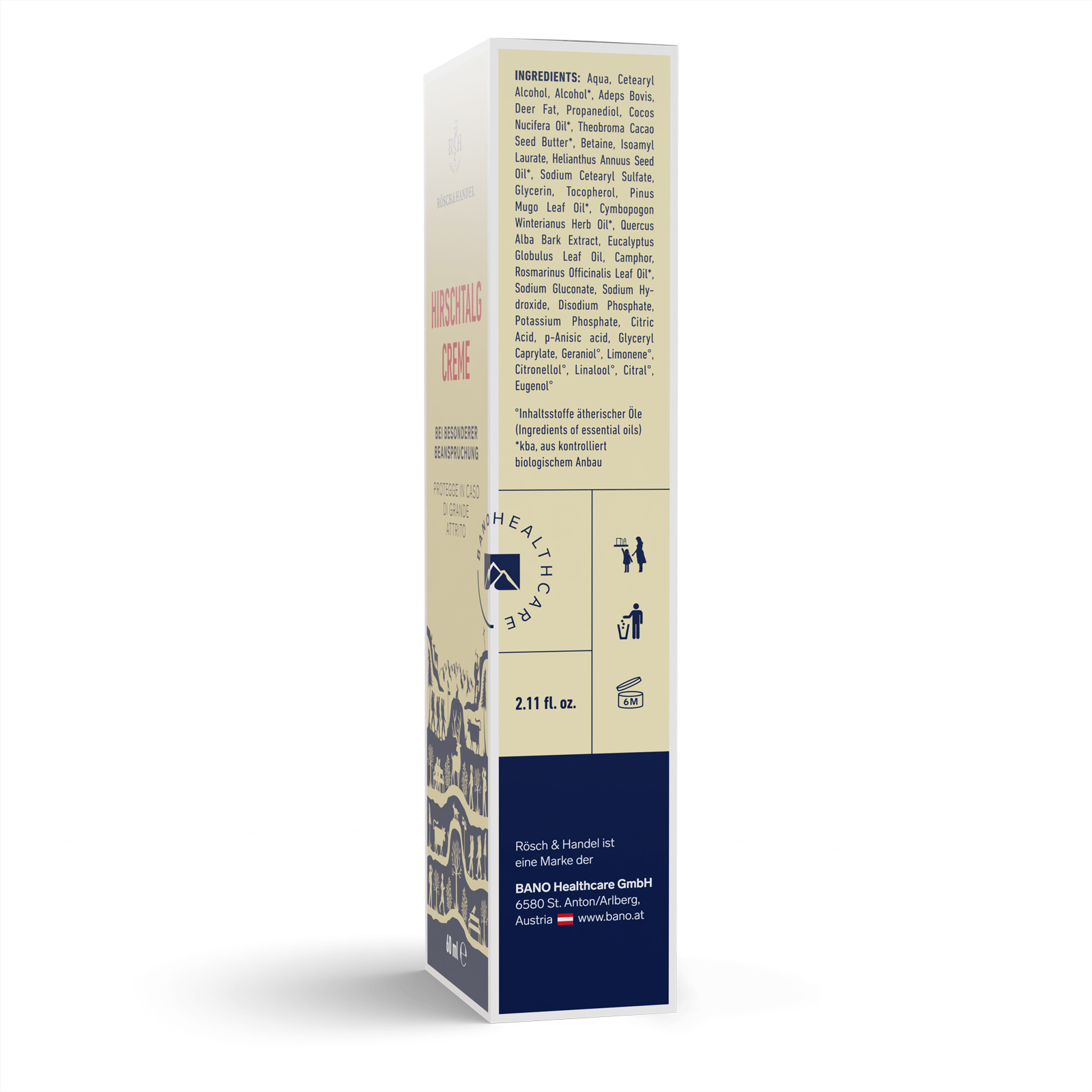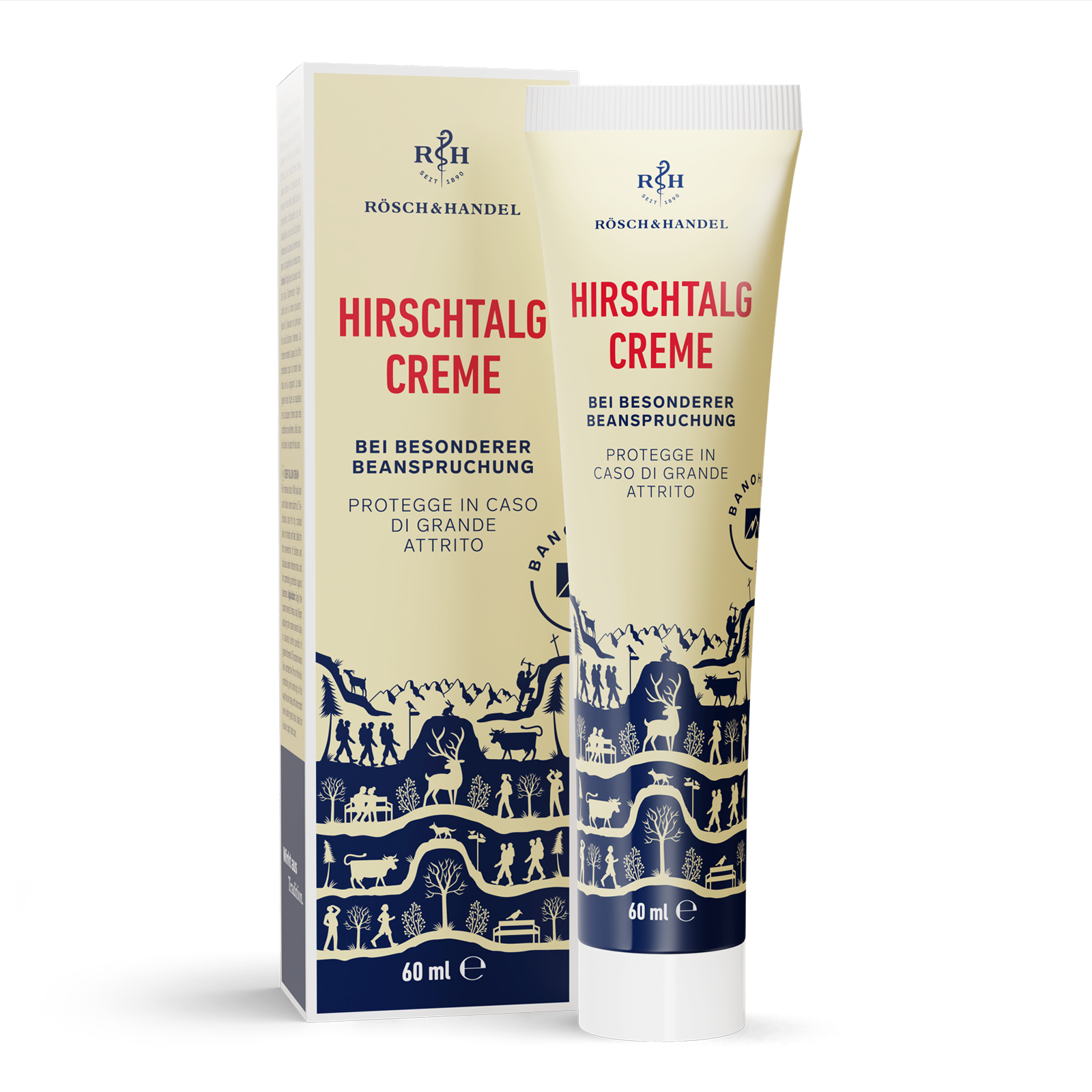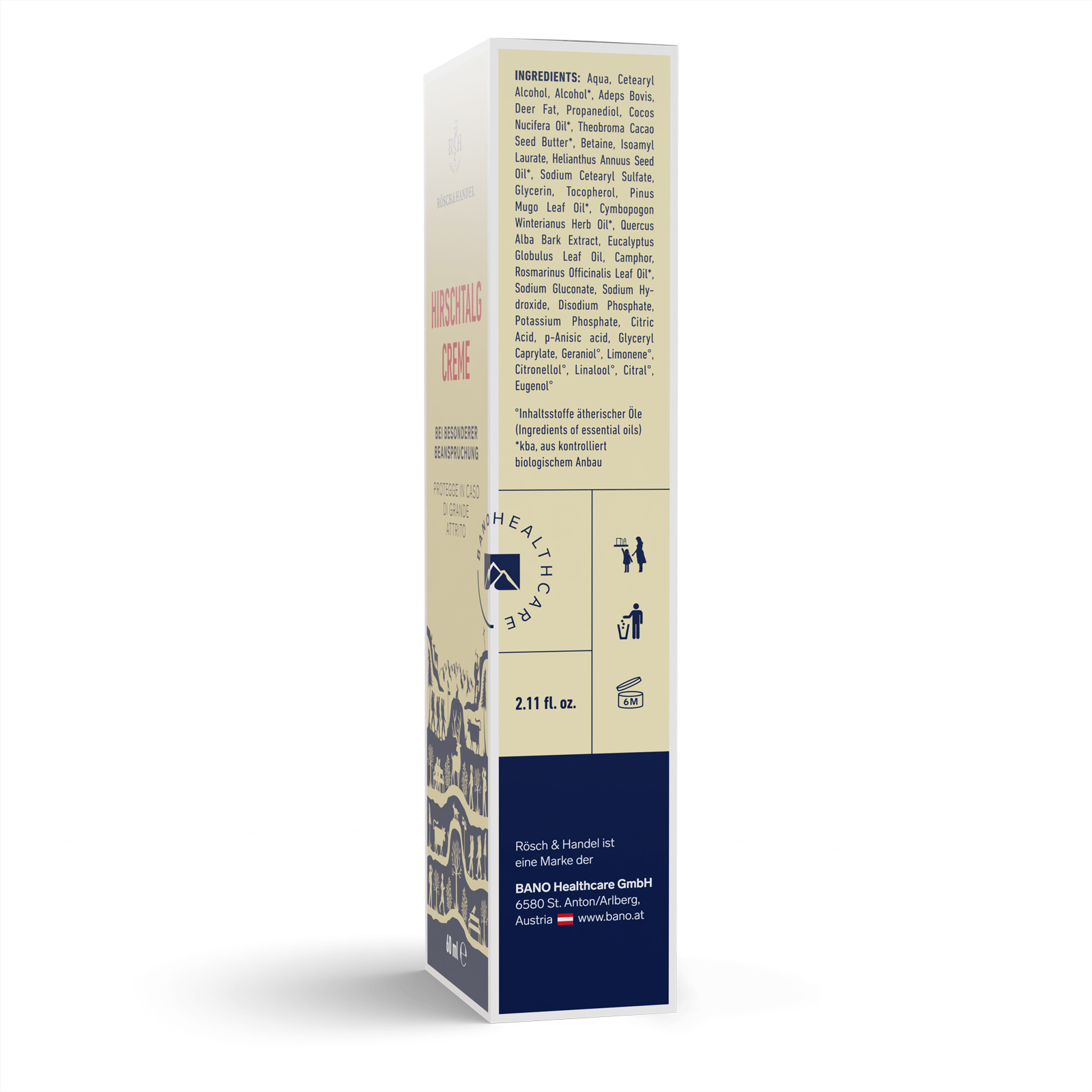 Benefits at a glance
For soft feet

Prevents blisters and calluses

Great protection for your dog's paws in winter

Prevents bedsores

No parabens or mineral oils
Deer Tallow Cream Rösch
For blisters and calluses
€7.50*
Content:
0.06 L
(€125.00* / 1 L)
Product number:
7000103
Benefits at a glance
For soft feet

Prevents blisters and calluses

Great protection for your dog's paws in winter

Prevents bedsores

No parabens or mineral oils
Deer Tallow Cream Rösch: Product description
Traditional, heavy-duty hand and foot care to ward off blisters and calluses. Protection for hikers and runners, for example. Also ideal for treating dry, chapped skin and helps prevent bedsores in a nursing setting.
In winter, our Deer Tallow Cream can also be used to protect your dog's paws against the cold and road salt.
Deer Tallow Cream Rösch: Effect
Deer Tallow Cream Rösch creates a protective layer on your skin that prevents the formation of blisters and calluses. At the same time, your skin is nourished so that it stays supple and smooth.
Deer Tallow Cream Rösch: Uses and indications
It is best to apply the cream several days before going hiking or running, for instance. Apply several times a day to dry, chapped skin.
Deer Tallow Cream Rösch: Ingredients
Aqua, cetearyl alcohol, alcohol,* adeps bovis, deer fat, propanediol, Cocos nucifera oil,* Theobroma cacao seed butter,* betaine, isoamyl laurate, Helianthus annuus seed oil,* sodium cetearyl sulphate, glycerine, tocopherol, Pinus mugo leaf oil,* Cymbopogon winterianus herb oil,* Quercus alba bark extract, Eucalyptus globulus leaf oil, camphor, Rosmarinus officinalis leaf oil,* sodium gluconate, sodium hydroxide, disodium phosphate, potassium phosphate, citric acid, p-anisic acid, glyceryl caprylate, geraniol,° limonene,° citronellol,° linalool,° citral,° eugenol°
* From controlled organic cultivation
° Essential oil ingredients
Good to know
Who is Deer Tallow Cream Rösch particularly suitable for?
Sports enthusiasts of all ages rely on the protection provided by our Deer Tallow Cream, including
mountaineers

mountain bikers

hikers

cyclists

trail runners

runners

swimmer

rowers
In many types of sports, the skin is exposed to specific stresses and there is a risk of chafing, usually because the skin rubs against clothing. This leads to blisters on the feet, sore nipples and chafed inner thighs. This friction can be avoided by applying our Deer Tallow Cream.
It can provide optimal protection to our four-legged friends – against cold and road salt in winter.
How does Deer Tallow Cream Rösch work?
Deer Tallow Cream Rösch adds a protective layer on to the skin. This prevents blisters, chafing and bedsores.
In addition, nourishing ingredients give you smooth, supple skin.
When should Deer Tallow Cream Rösch be applied?
We recommend applying Deer Tallow Cream Rösch several days in advance of longer hikes or ultra runs. For cyclists, runners or shorter periods when your skin will be stressed, applying the cream shortly before is sufficient.
Is Deer Tallow Cream Rösch also suitable for my dog's paws?
Absolutely. In winter it provides optimal protection against the cold and road salt.
Deer Tallow Cream or Deer Tallow Stick?
This is a question of personal preference. There is no difference in terms of their effect. Only their smell and ingredients differ: Deer Tallow Cream smells of melissa oil and Deer Tallow Stick smells of marzipan and is a little firmer. Deer Tallow Cream is ideal for those who want a product that contains no Vaseline.
If you prefer your hands cream-free, simply use our handy Deer Tallow Stick. It is also perfect when you're on the go, especially if you're planning a tour lasting several days, for example. It fits in any backpack and takes up hardly any space.
Quality from experience
Tried and tested formulations
We rely on traditional combinations of active ingredients, some of which have been tried and tested for centuries and are processed with modern formulations.
Tested raw materials
Only tested raw materials are used in production, many of which also meet the requirements of the European Pharmacopoeia or are of medicinal quality.
High-quality production
Our production is ISO 13485:2016 certified and audited annually, which ensures that our products are always of consistent quality.