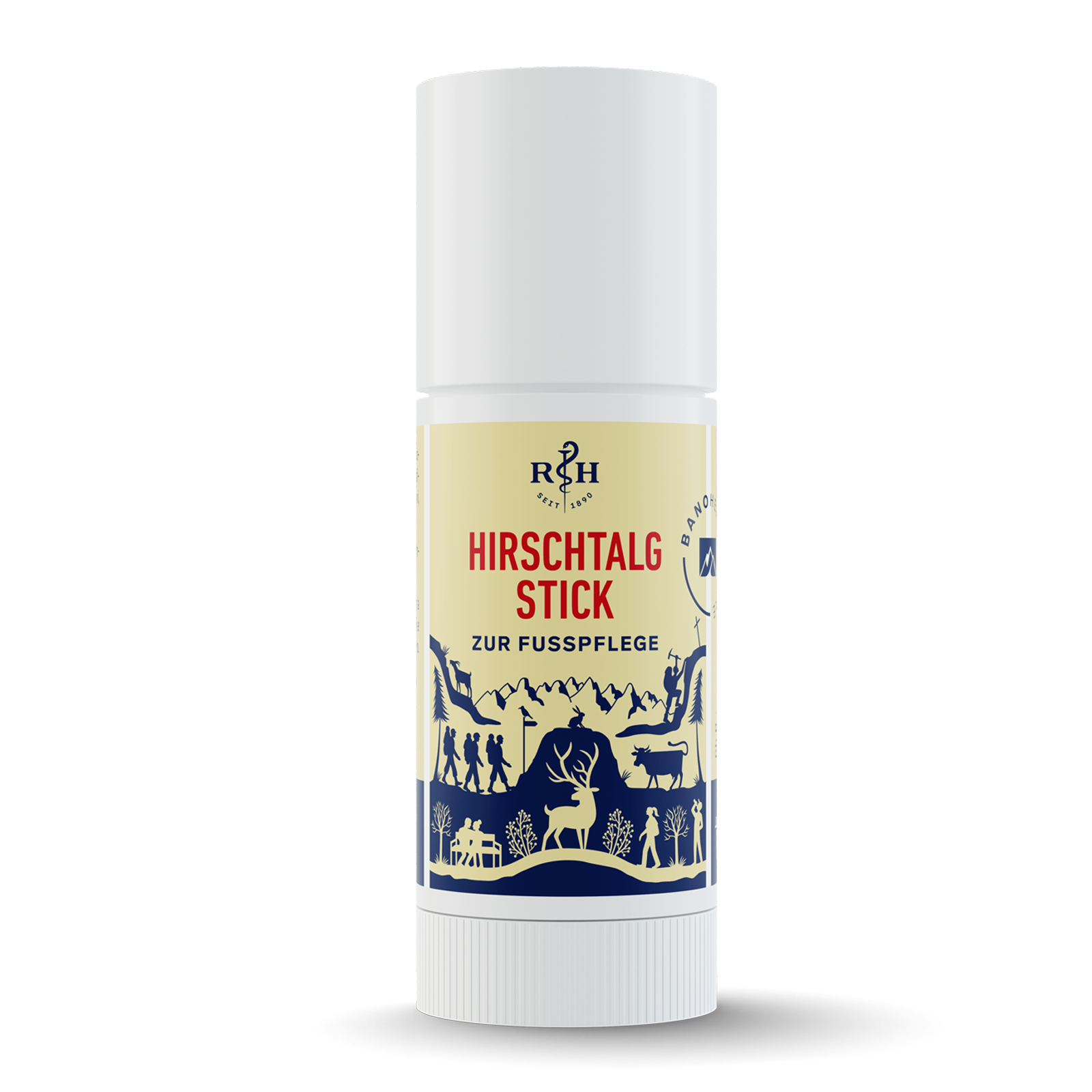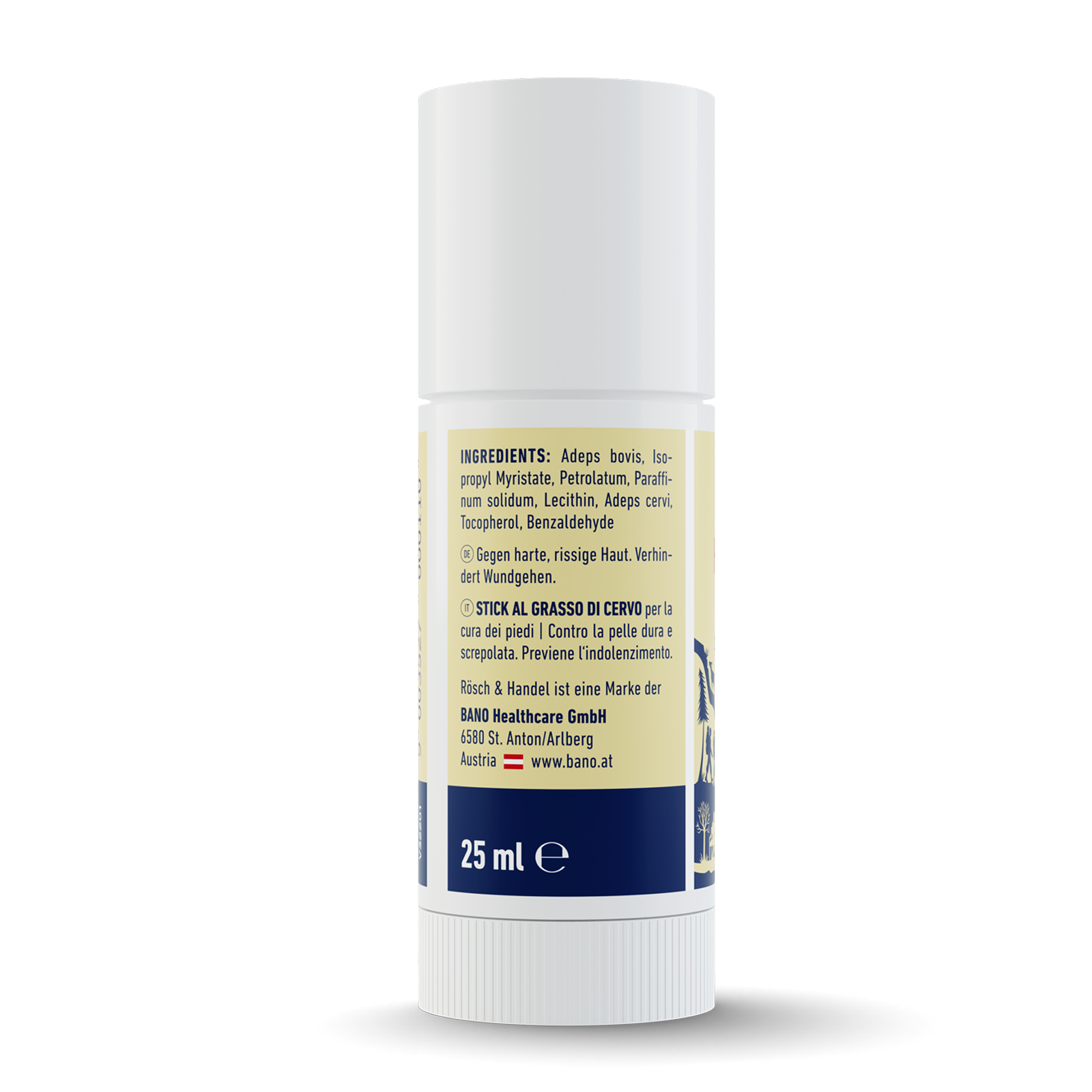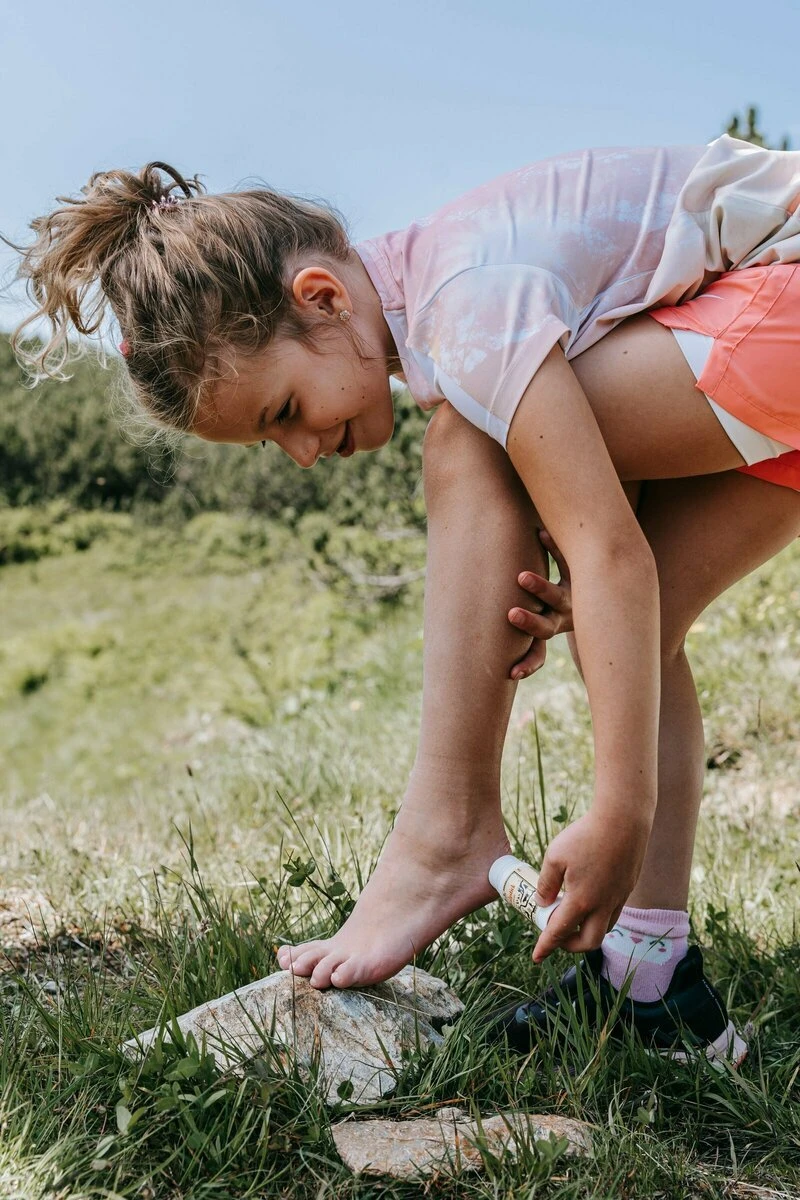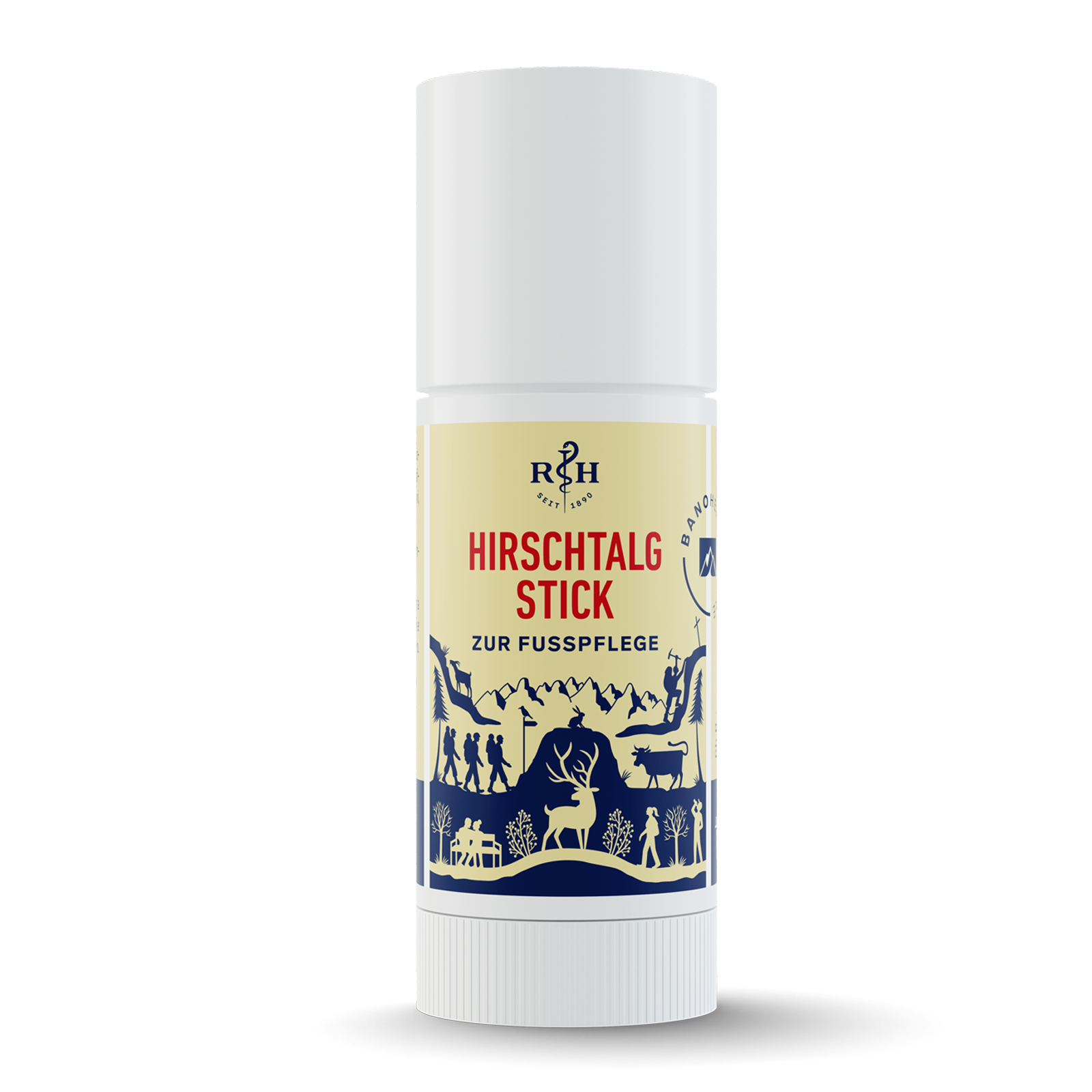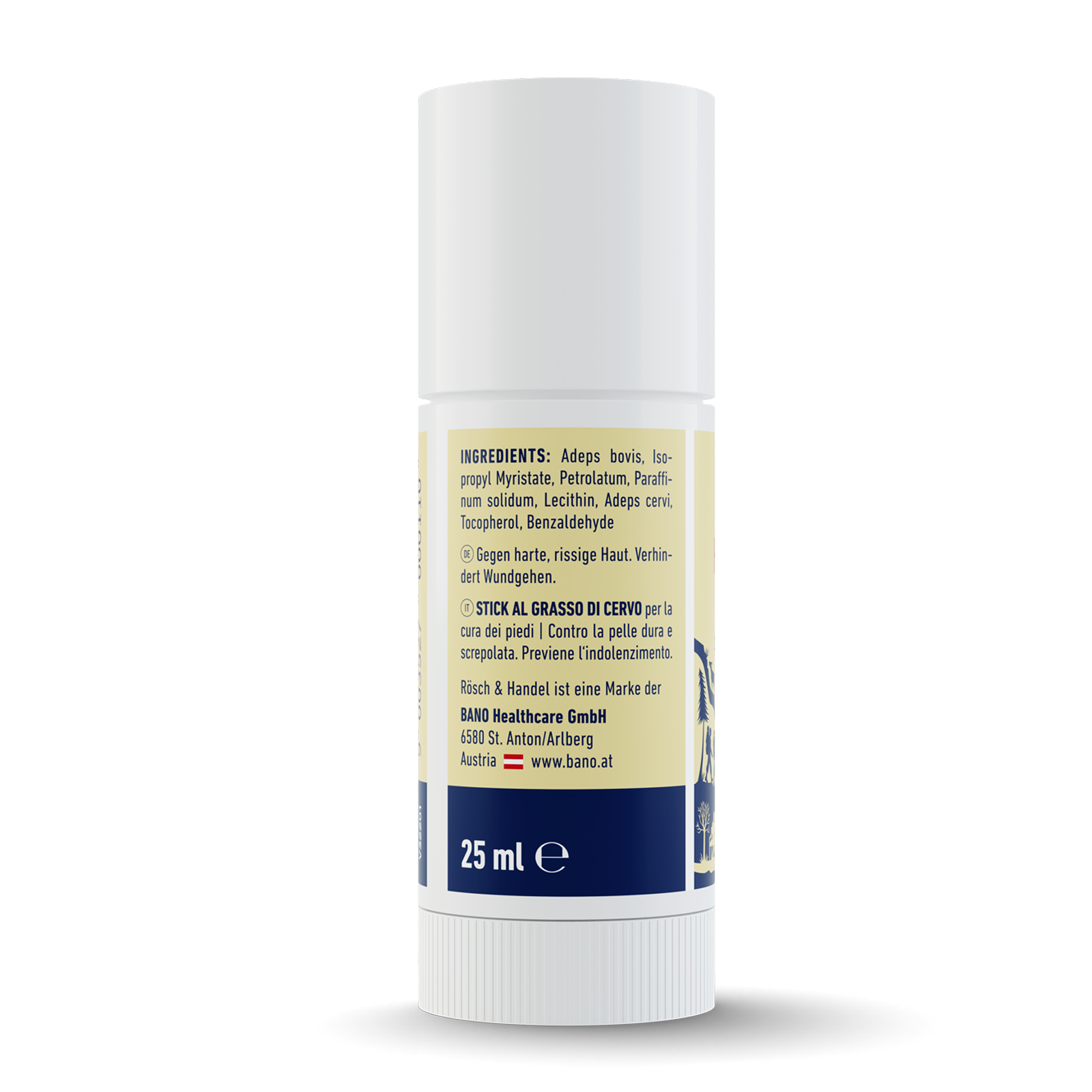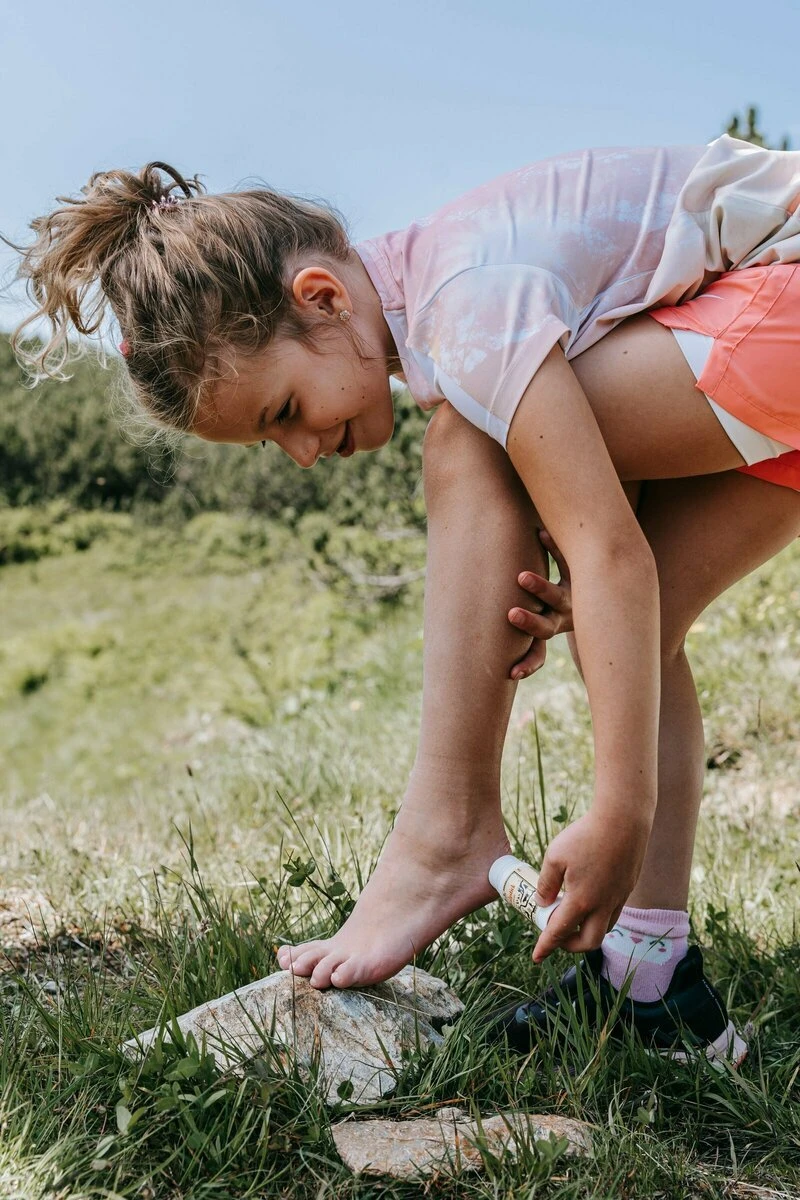 Benefits at a glance
Softens heels

Prevents blistering

Fits perfectly into any bag

With genuine deer tallow
Deer Tallow Stick Rösch
To treat your feet
€6.95
Content:
0.025 L
(€278.00 / 1 L)
Product number:
7000110
Benefits at a glance
Softens heels

Prevents blistering

Fits perfectly into any bag

With genuine deer tallow
Deer Tallow Stick Rösch: Product description
Traditional, heavy-duty foot care to prevent blisters and calluses. Provides protection when hiking and on long walks, for instance. Also ideal when you're on the go.
Deer Tallow Stick Rösch: Effect
Deer Tallow Stick Rösch creates a protective layer on your skin that prevents the formation of blisters and calluses. At the same time, your skin is nourished so that it stays supple and smooth.
Deer Tallow Stick Rösch: Uses and indications
It is best to apply the cream several days before intensive exertion, for example before hiking or running. Apply several times a day to dry, chapped skin.
Our Deer Tallow Stick can not only be used to ensure beautiful, soft feet but also to nourish the lips and as a door and window sealing (on building sites). Applied to car door seals, the stick also helps to prevent the rubber sticking together in winter.
Deer Tallow Stick Rösch: Ingredients
Adeps bovis, isopropyl myristate, petrolatum, paraffinum solidum, lecithin, adeps cervi, tocopherol, benzaldehyde
Good to know
Who is Deer Tallow Stick Rösch particularly suitable for?
Sports enthusiasts of all ages rely on the protection provided by our Deer Tallow Stick, including
mountaineers

rowers

mountain bikers

hikers

cyclists

trail runners

runners

swimmers
In many types of sports, the skin is exposed to specific stresses and there is a risk of chafing, usually because the skin rubs against clothing. This leads to blisters on the feet, sore nipples and chafed inner thighs. This friction can be avoided by applying our Deer Tallow Stick.
How does the Deer Tallow Stick work?
The Deer Tallow Stick is made from, among other things, deer fat and provides the skin with a protective layer. This prevents blistering and chafing.
In addition, nourishing ingredients give you smooth, supple skin.
When should the stick be used?
We recommend applying our Deer Tallow Stick several days in advance of a longer hike or ultra run. When cycling, running or less heavy-duty use, you apply the Deer Tallow Stick shortly before leaving.
Deer Tallow Cream or Deer Tallow Stick?
This is a question of personal preference. There is no difference in terms of their effect. Only their smell and ingredients differ: Deer Tallow Cream smells of melissa oil and Deer Tallow Stick smells of marzipan and is a little firmer. Deer Tallow Cream is ideal for those who want a product that contains no Vaseline.
If you prefer your hands cream-free, simply use our handy Deer Tallow Stick. It is also perfect when you're on the go, especially if you're planning a tour lasting several days, for example. It fits in any backpack and takes up hardly any space.
Quality from experience
Tried and tested formulations
We rely on traditional combinations of active ingredients, some of which have been tried and tested for centuries and are processed with modern formulations.
Tested raw materials
Only tested raw materials are used in production, many of which also meet the requirements of the European Pharmacopoeia or are of medicinal quality.
High-quality production
Our production is ISO 13485:2016 certified and audited annually, which ensures that our products are always of consistent quality.