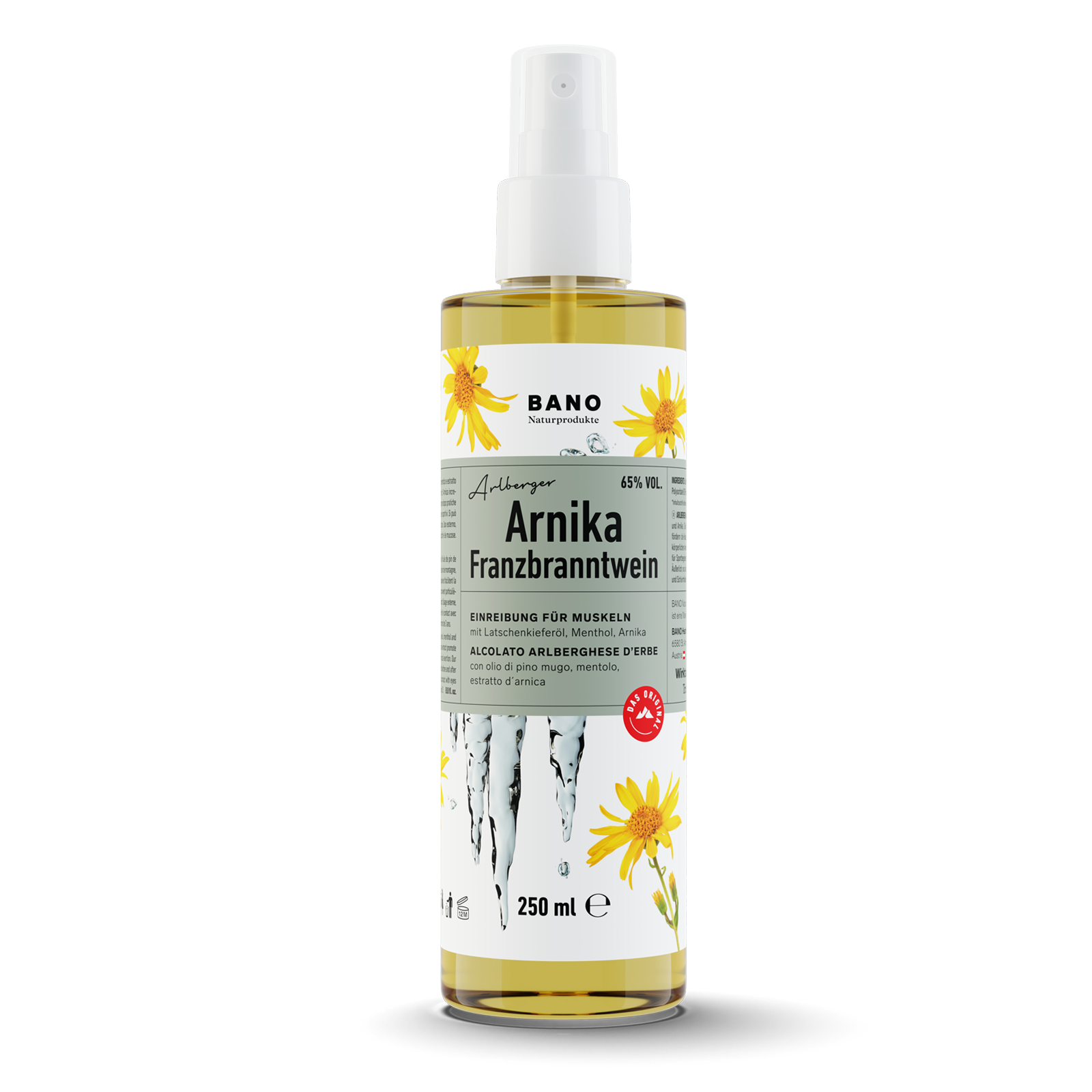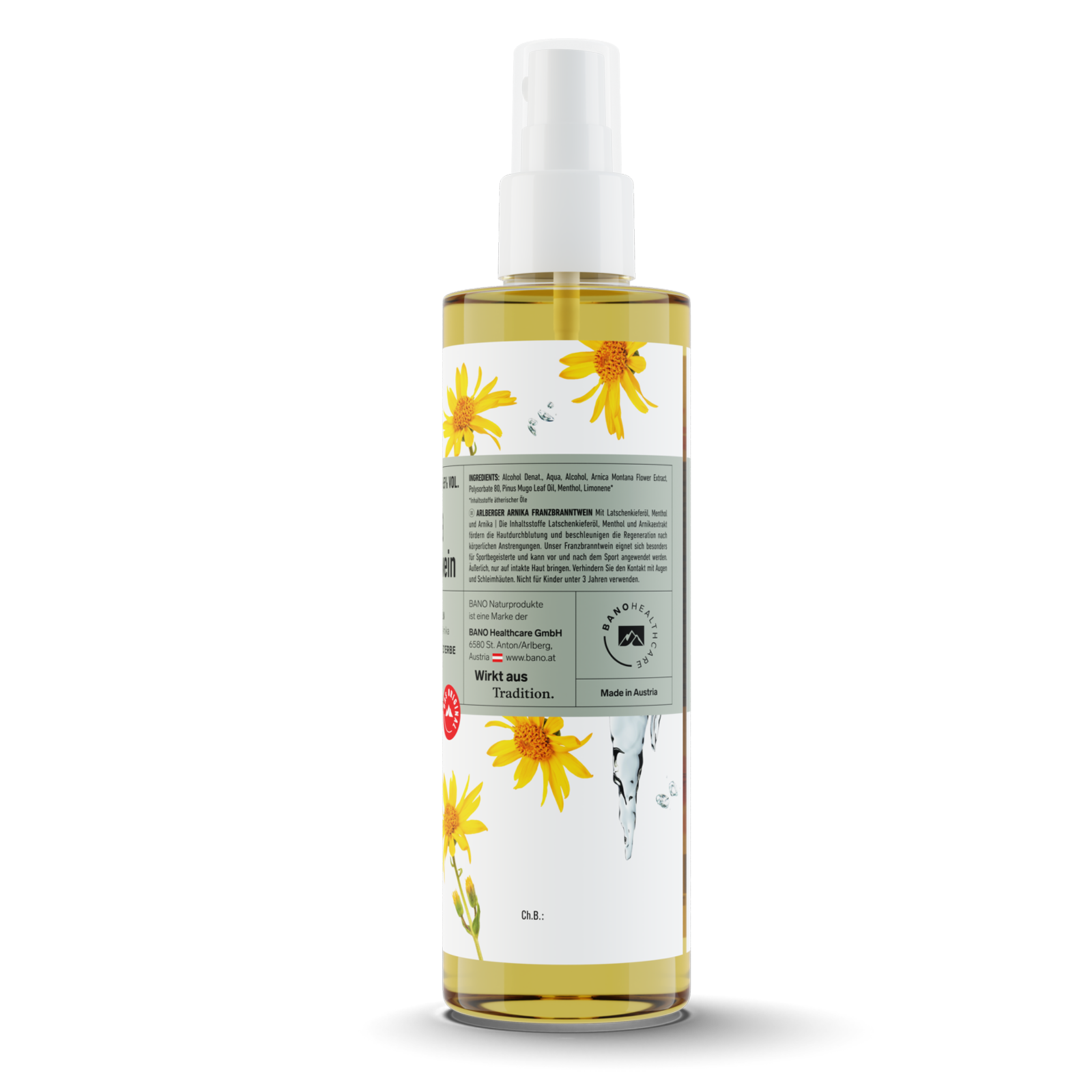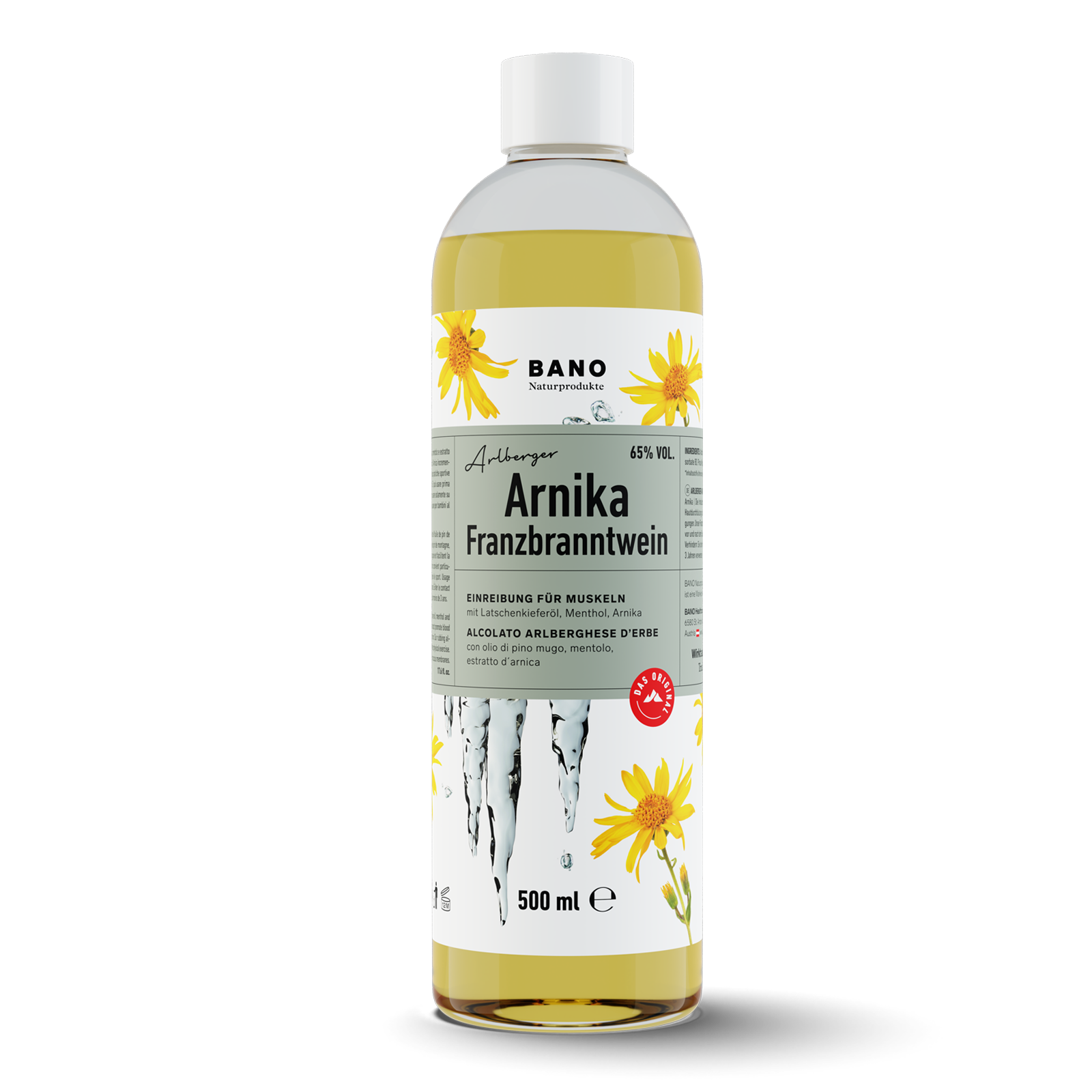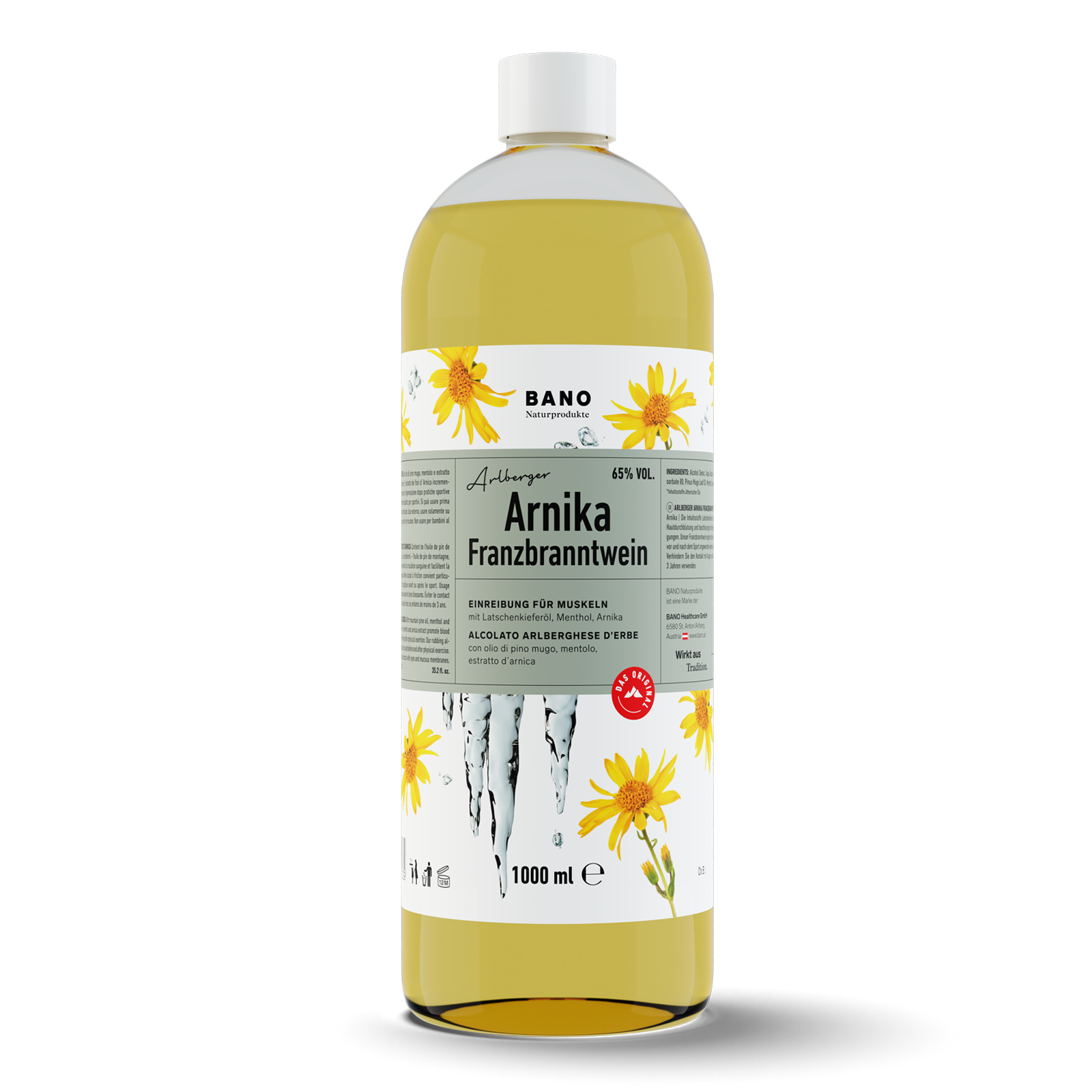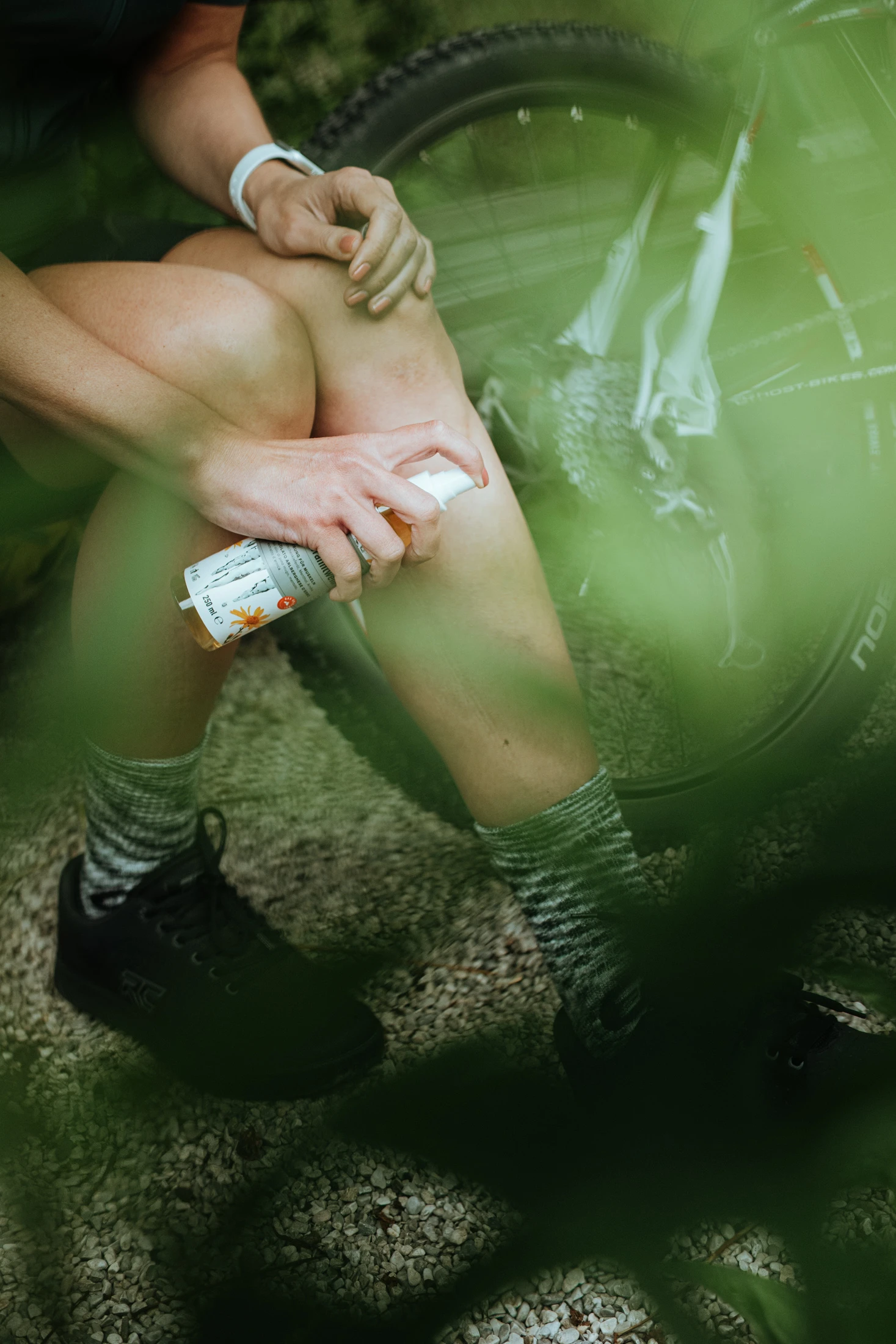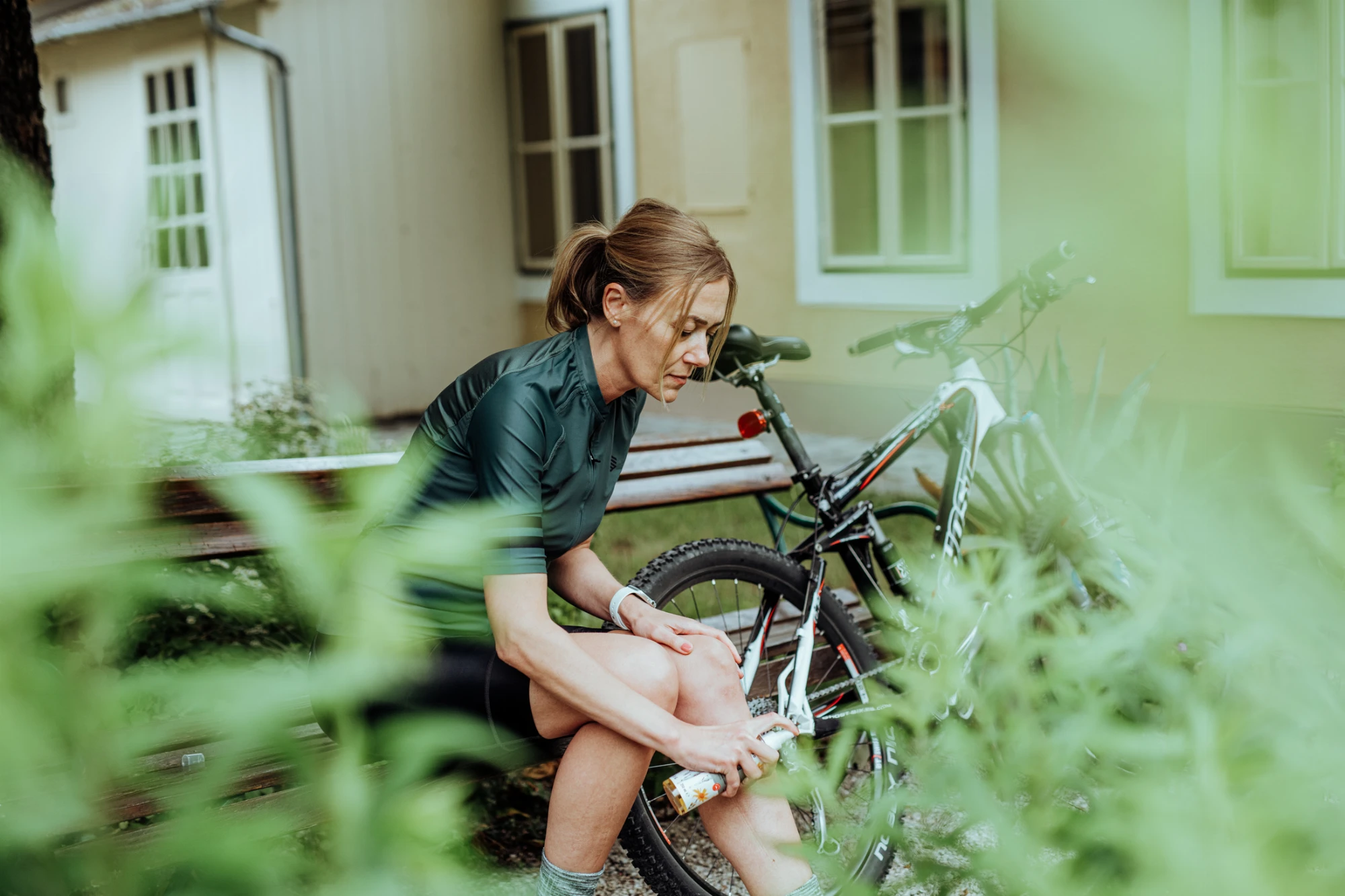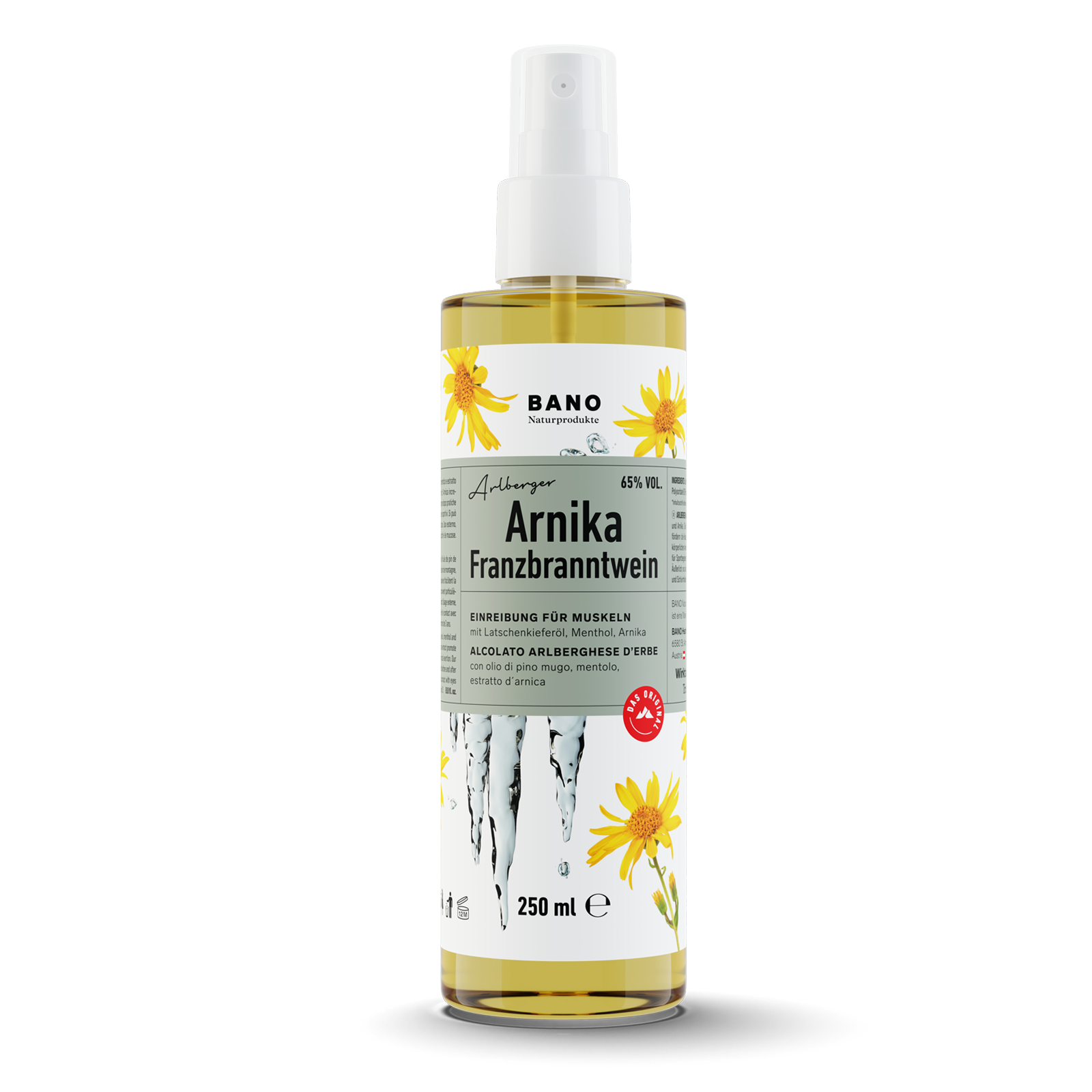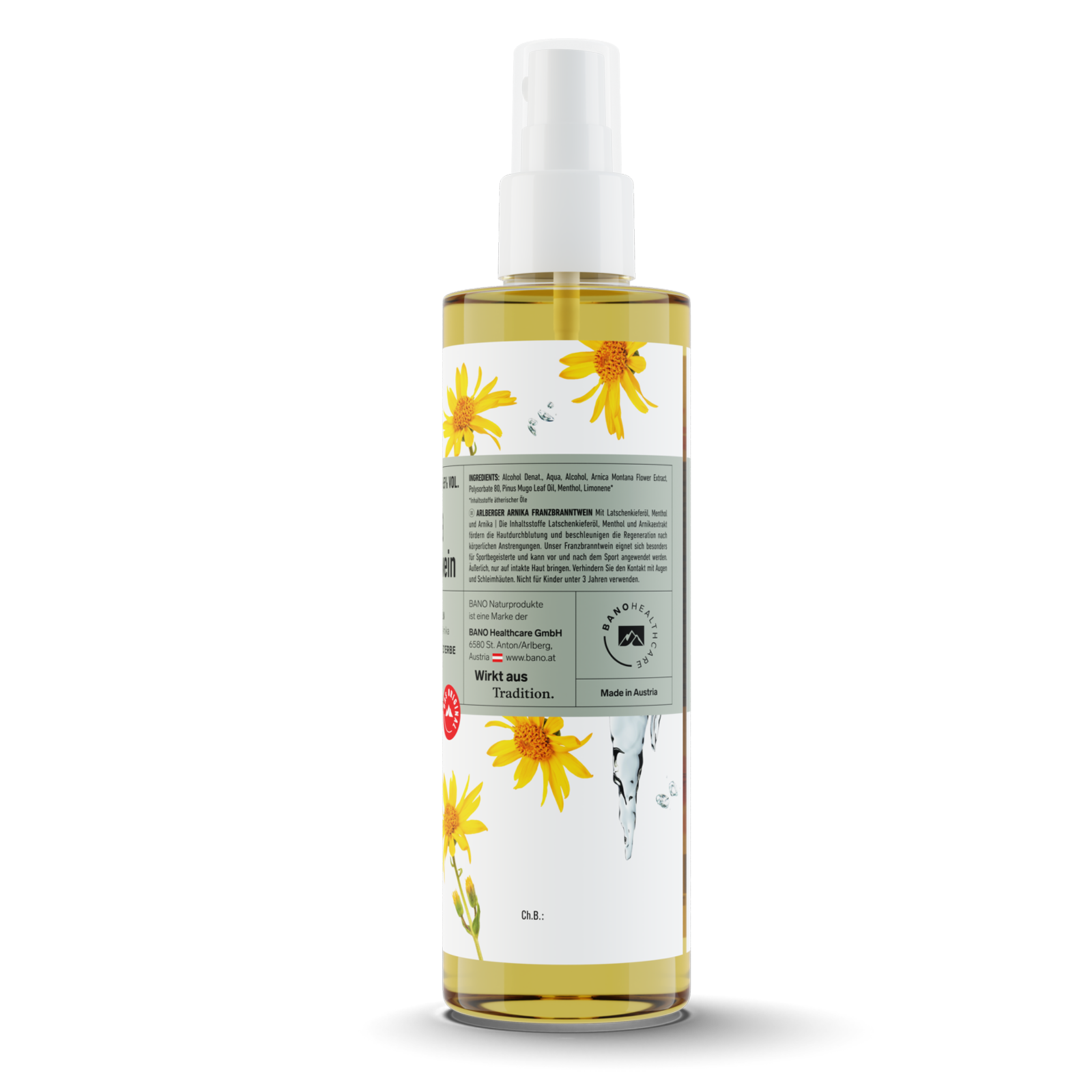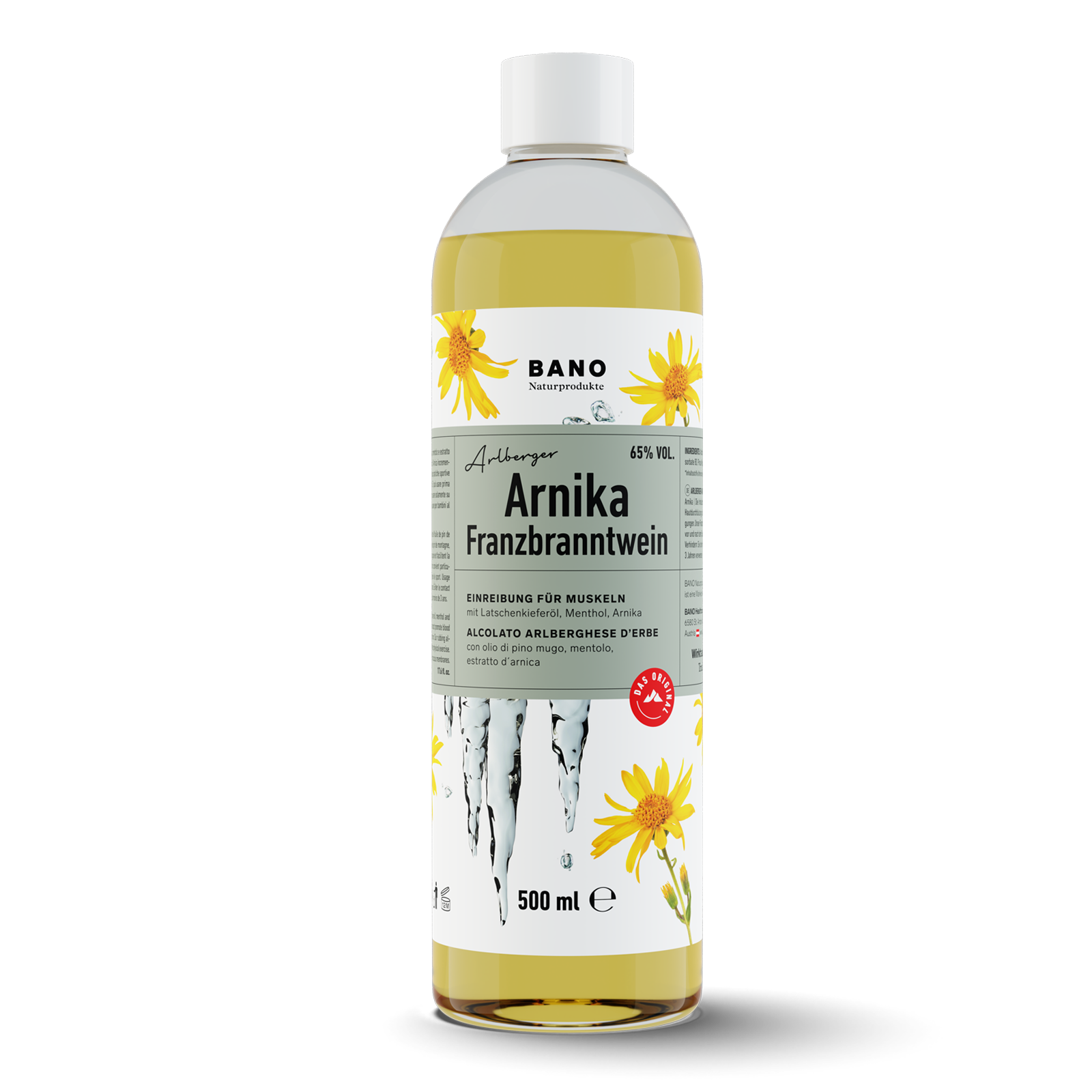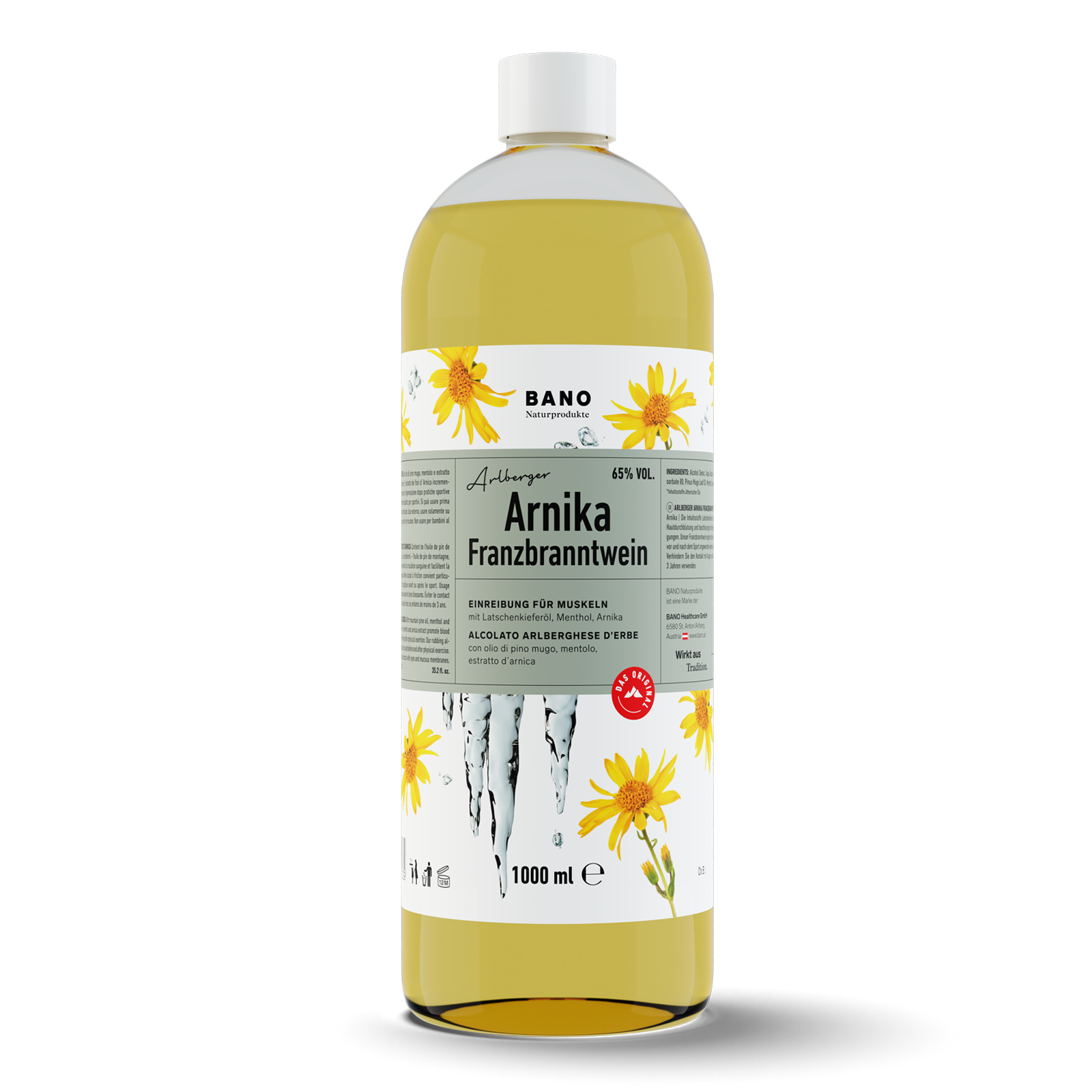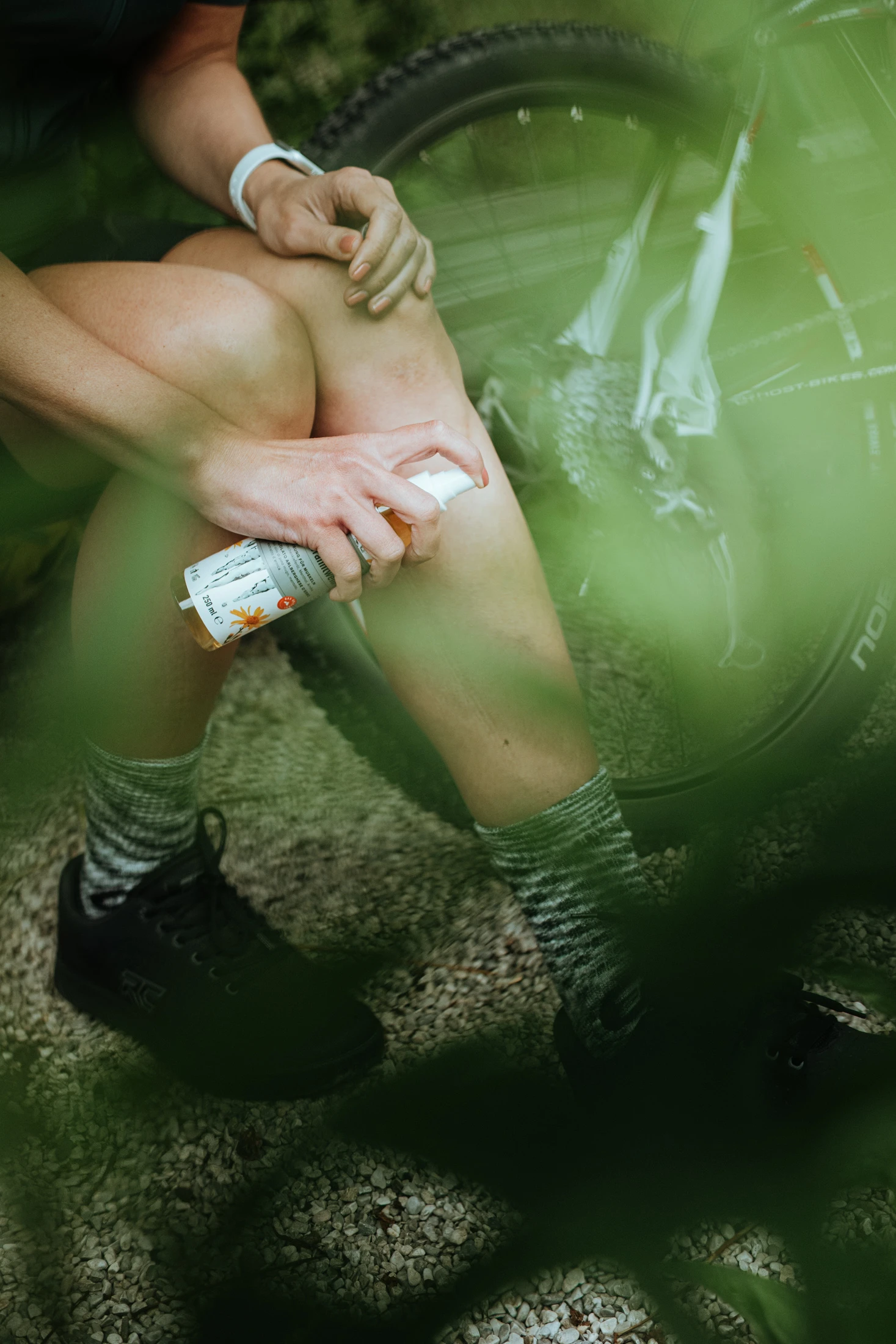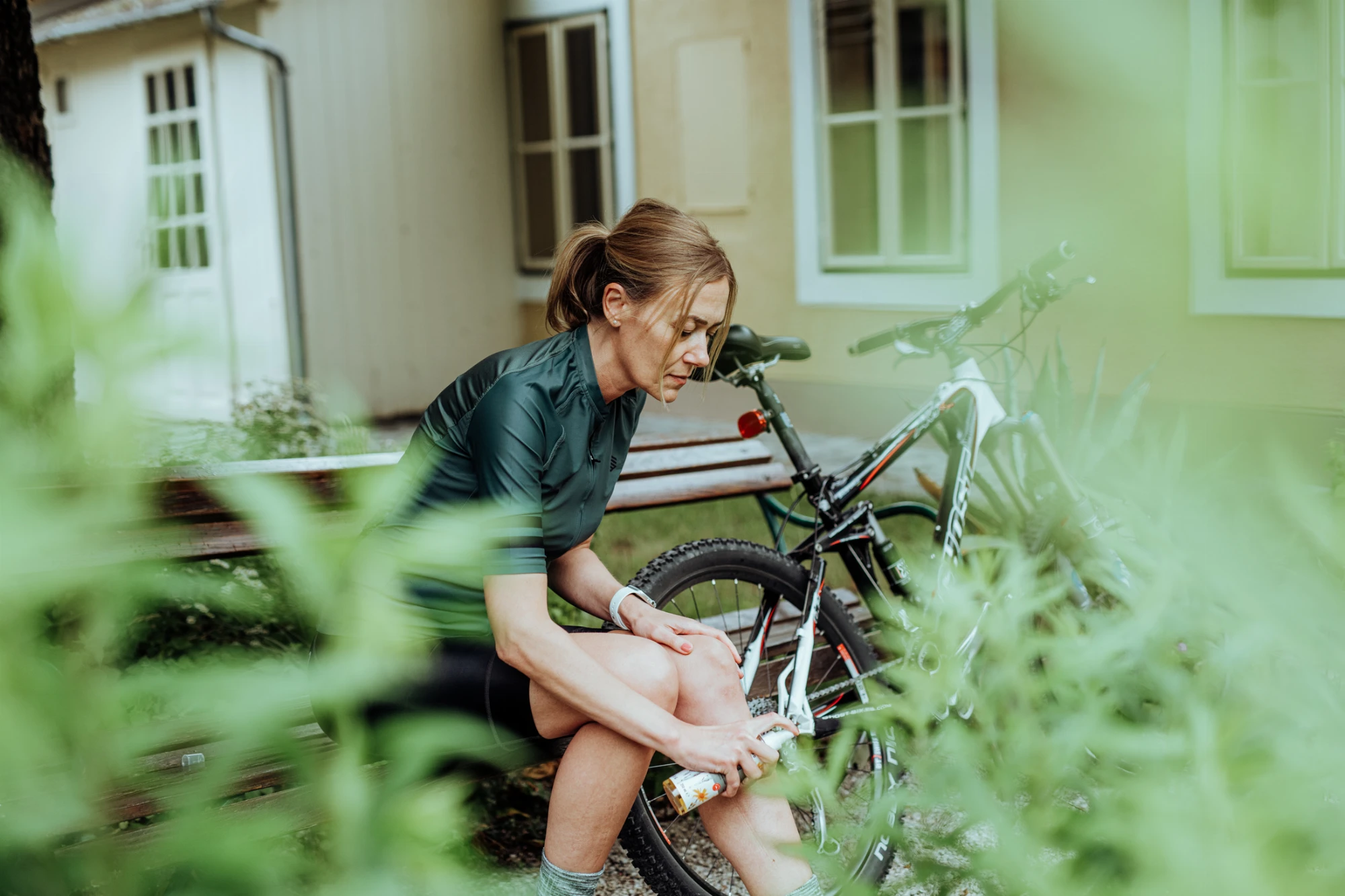 Benefits at a glance
Stimulates blood flow

For tired legs and general fatigue

Soothes muscles and joints

65% alcohol
Arlberger Arnica Rubbing Alcohol
To cool heavy legs
€9.90*
Content:
0.25 L
(€39.60* / 1 L)
Product number:
15001
Benefits at a glance
Stimulates blood flow

For tired legs and general fatigue

Soothes muscles and joints

65% alcohol
Arlberger Arnica Rubbing Alcohol: Product description
Besides arnica tincture, Arlberger Arnica Rubbing Alcohol also contains refreshing menthol. This combination is ideal for refreshing tired, sore muscles and heavy limbs after sports activities, gardening or a long hike.
The 250ml spray bottle is handy and fits into any hiking backpack, beach bag or item of luggage – a burst of freshness on the go.
Arlberger Arnica Rubbing Alcohol: Effect
Ingredients such as arnica extract, mountain pine oil and menthol promote skin circulation and thus accelerate regeneration in the case of general fatigue, tiredness and after physical exertion. Alcohol and menthol have a cooling effect that also relieves heavy legs and heat.
Arlberger Arnica Rubbing Alcohol: Use and indications
Rub into the affected area several times a day to relieve sore muscles after doing sports or on tired legs after a hard day's work. Do not apply to irritated skin. Arlberger Arnica Rubbing Alcohol can also be applied to the temples and neck.
The use of diluted alcohol together with various essential oils can be traced back to the 17th century – especially in France, hence the name Franzbranntwein, or French brandy, in German.
Arlberger Arnica Rubbing Alcohol: Ingredients
Alcohol denat., aqua, alcohol, Arnica montana flower extract, polysorbate 80, Pinus mugo leaf oil, menthol, perfume, limonene,° benzyl alcohol,° benzyl salicylate,° amyl cinnamal°
° Essential oil ingredients
Good to know
What is rubbing alcohol good for?
Ingredients such as mountain pine oil and menthol in our Murmelin Rubbing Alcohol promote skin circulation, thus accelerating the regeneration of sore muscles and tired legs and recovery after general fatigue.
Who is rubbing alcohol suitable for?
Sports and outdoor enthusiasts of all ages trust in our Arnica Rubbing Alcohol after doing sports, including
mountaineers

mountain bikers

hikers

cyclists

runners

ski tourers

cross-country skiers
Our Arnica Rubbing Alcohol can also be used after doing the housework or gardening to provide the necessary refreshment.
Owing to its 65% alcohol content, Arnica Rubbing Alcohol also has a disinfectant effect. However, it is not suitable for disinfecting wounds because of the oils and other ingredients it contains.
Why is arnica added?
Besides stimulating blood flow, arnica's active ingredients are valued by those suffering from sunburn and insect bites and to support regeneration following a sprain. Sebastian Kneipp said about arnica: "Arnica is worth its weight in gold. This plant deserves to be first among the remedies for treating wounds. I cannot, therefore, recommend it enough." Arnica montana was named Medicinal Plant of the Year in 2001.
Quality from experience
Tried and tested formulations
We rely on traditional combinations of active ingredients, some of which have been tried and tested for centuries and are processed with modern formulations.
Tested raw materials
Only tested raw materials are used in production, many of which also meet the requirements of the European Pharmacopoeia or are of medicinal quality.
High-quality production
Our production is ISO 13485:2016 certified and audited annually, which ensures that our products are always of consistent quality.