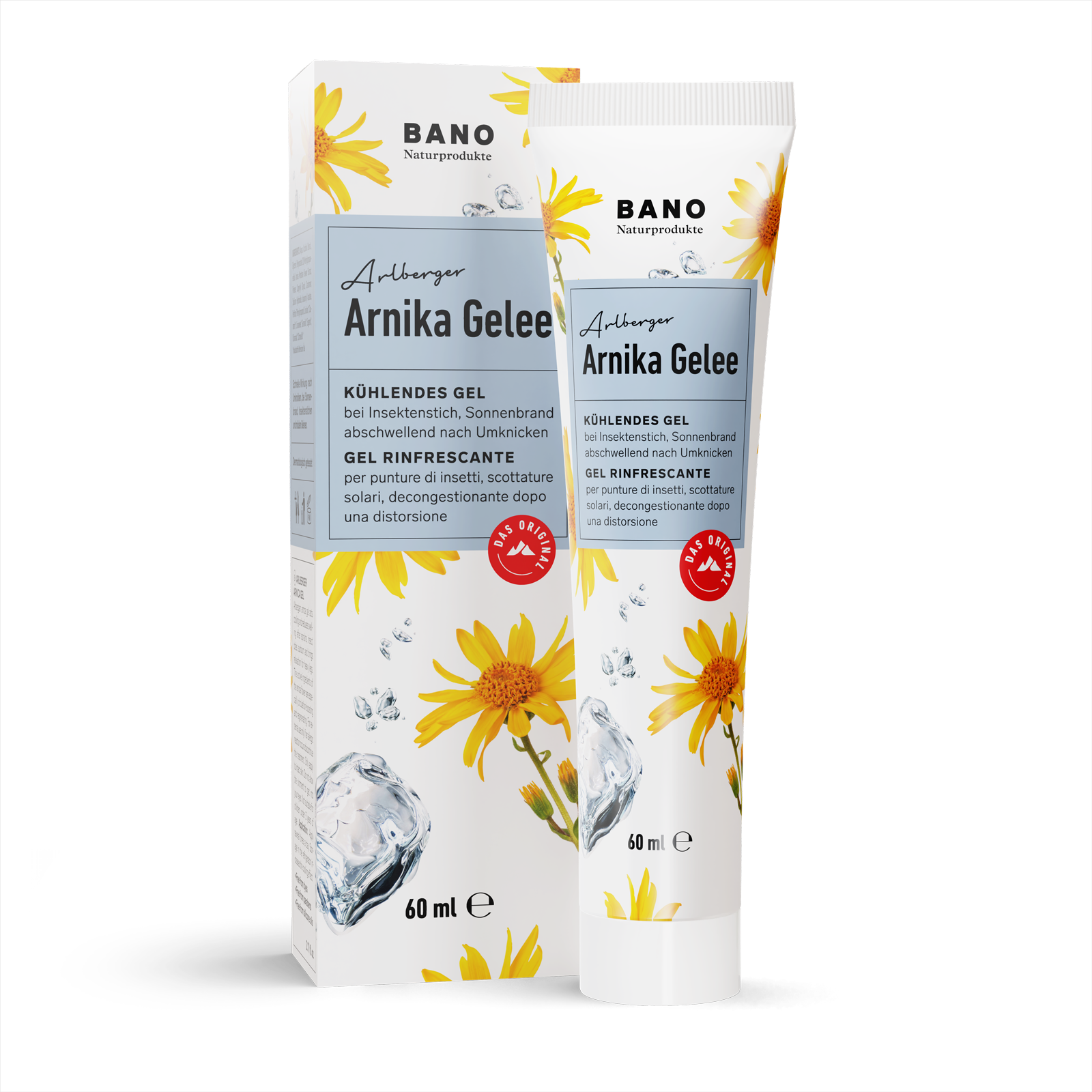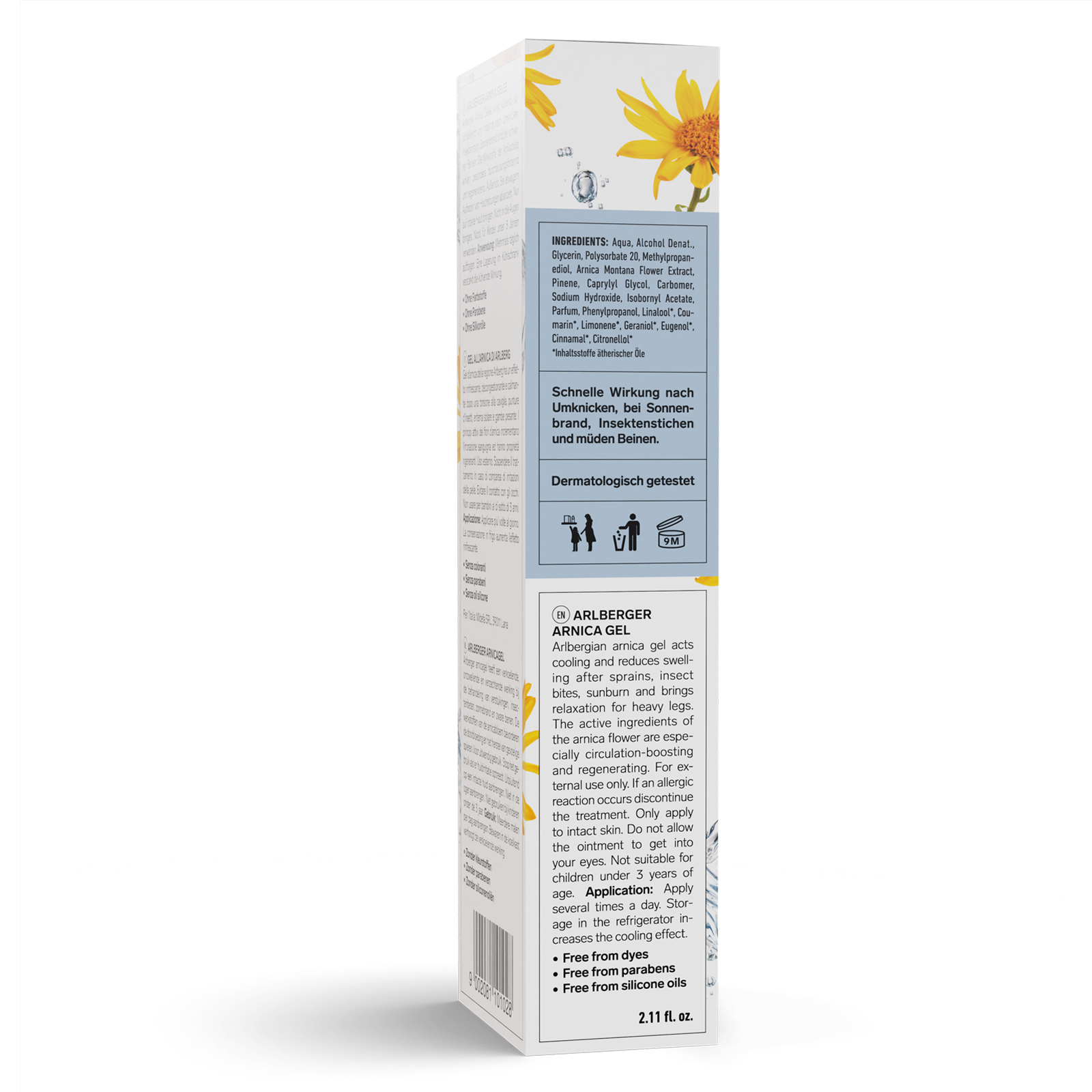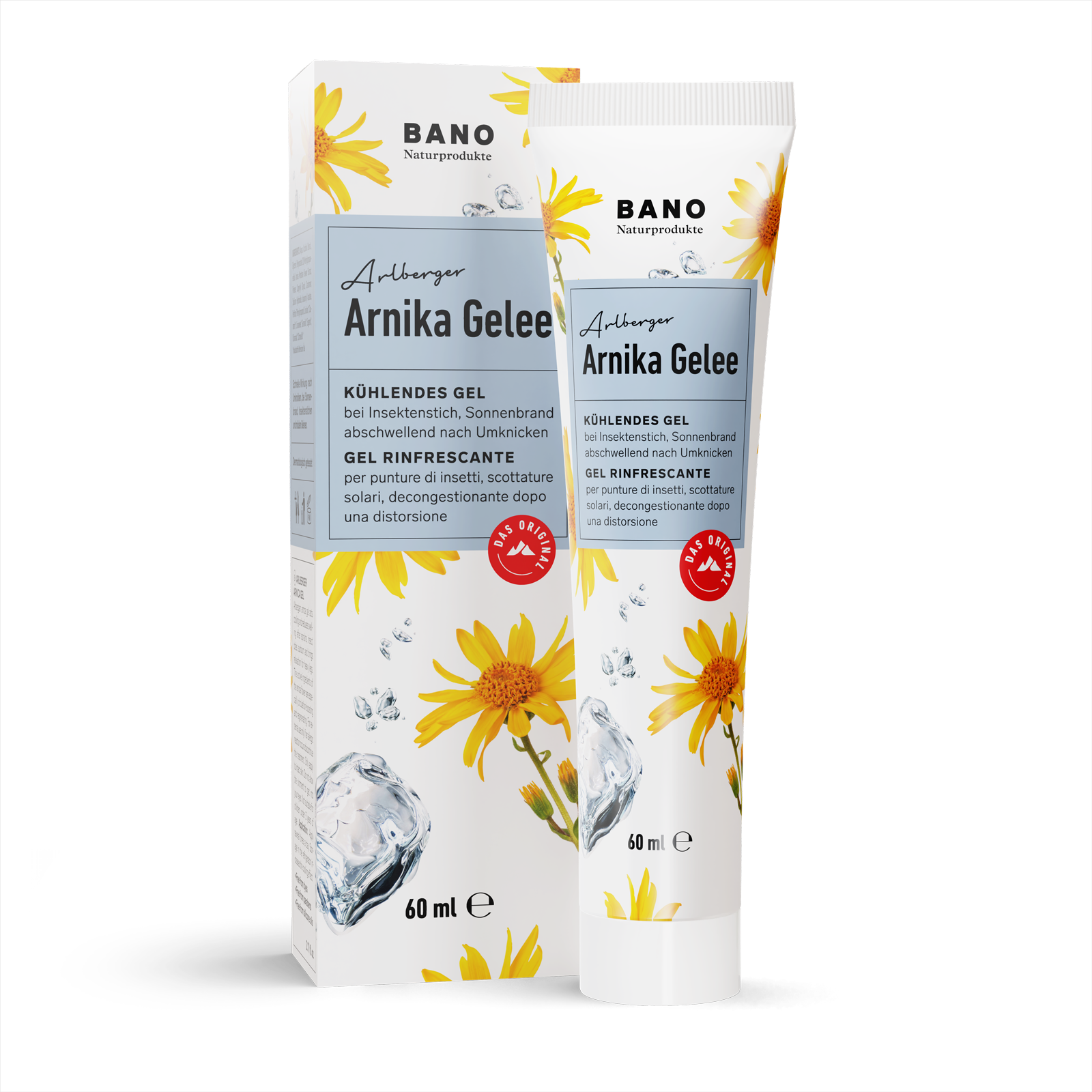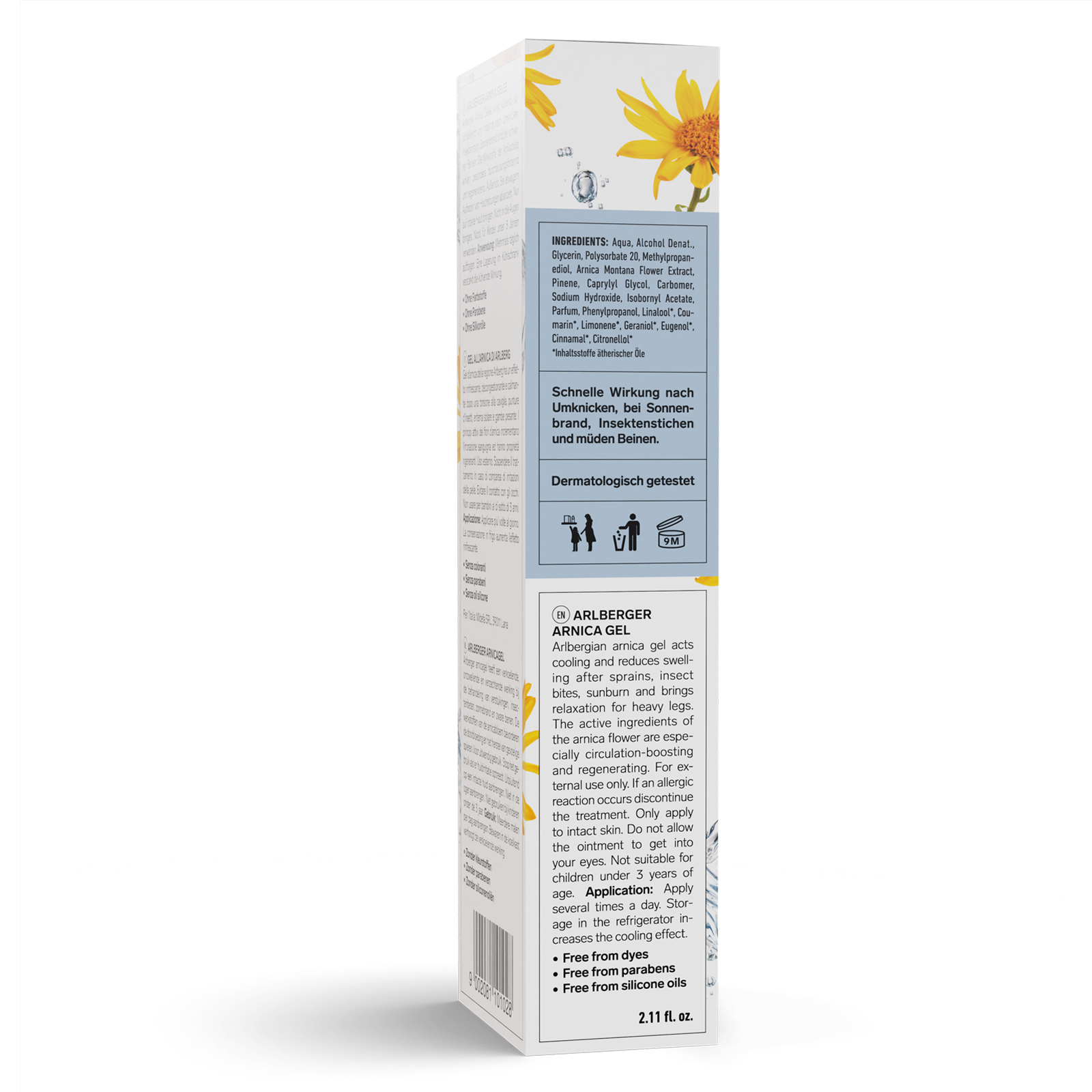 Benefits at a glance
Ideal for treating sunburn

Relieves insect bites and sprains

Cools and reduces swelling

Promotes blood circulation

Tried and tested for over 30 years
Arlberger Arnica Gel
Cooling Arnica Gel
€8.20
Content:
0.06 L
(€136.67 / 1 L)
Product number:
12001
Benefits at a glance
Ideal for treating sunburn

Relieves insect bites and sprains

Cools and reduces swelling

Promotes blood circulation

Tried and tested for over 30 years
Arlberger Arnica Gel: Product description
A cooling gel with valuable arnica extract that helps reduce swelling. Can be used to moisturise and soothe skin irritations and sunburn or after twisting your ankle.
Arlberger Arnica Gel also relieves the itching and reduces the swelling caused by insect bites and minor bruises.
Arlberger Arnica Gel is one of our most tried-and-tested products. It was developed back in the 1980s in the Arlberg pharmacy in St. Anton, Austria. It is available in pharmacies, health food shops and select specialist retailers.
Arlberger Arnica Gel: Effect
Arnica (Arnica montana), also known as mountain arnica, is a plant species of the genus Arnica in the daisy family (Asteraceae). It is found in the mountains of Europe, where it is a protected species. Arnica's healing properties were already known in the early 16th century. It is said to have analgesic and anti-inflammatory properties.
Arlberger Arnica Gel: Uses and indications
Apply Arlberger Arnica Gel to the affected area three times a day. The pleasant gel texture is quickly absorbed, non-greasy and suitable for all skin types.
You will feel the cooling effect shortly after application. We recommend storing Arlberger Arnica Gel in the refrigerator to increase this cooling effect.
Arlberger Arnica Gel: Ingredients
Aqua, Alcohol, Glycerin, Polysorbate 20, Methylpropanediol, Arnica Montana Flower Extract, Pinene, Caprylyl Glycol, Carbomer, Sodium Hydroxide, Isobornyl Acetate, Parfum, Phenylpropanol, Linalool*, Coumarin*, Limonene*, Geraniol*, Eugenol*, Cinnamal*, Citronellol*
*Ingredients of essential oils
Good to know
Where does the arnica flower come from?
Sebastian Kneipp (1821–1897) expressed his appreciation of arnica as follows: "Arnica is worth its weight in gold. This plant deserves to be first among the remedies for treating wounds. I cannot, therefore, recommend it enough." (cited in: Ursel Bühring Alles über Heilpflanzen erkennen | anwenden | gesund bleiben, p. 46.)
Arnica is a rare treasure in nature's pharmacy. It grows mainly in mountain meadows and prefers unfertilised, nutrient-poor soil where it blooms in early summer. It grows to a height of between 20cm and 60cm. It is considered a universal remedy, as it has proven to be effective in many areas. There are about 30 different varieties of arnica. Here in Austria, Arnica montana is native to the high-altitude Alps.
Arnica's strong healing properties made the medicinal plant so well known that it was picked excessively in the 18th and 19th centuries. Today, it is a protected species in Austria and Germany. We source it from various regions in Romania, where harvesting it is legal.
How can arnica gel be used?
Our Arlberger Arnica Gel has a soothing effect on skin irritations, sunburn and minor burns. Because it cools the skin and reduces swelling, it is ideal for minor bruises, sprains and insect bites. It should not be applied to open wounds, though.
Who is Arnica Gel particularly suitable for?
Sports and outdoor enthusiasts of all ages trust in our Arlberger Arnica Gel, including
mountaineers

mountain bikers

water sports enthusiasts

hikers

cyclists

runners

ski tourers

cross-country skiers
Arnica gel can also be used after doing the housework or gardening.
Why is arnica gel better than arnica ointment?
Unlike the ointment, the gel is absorbed quickly into the skin. The cooling effect of the arnica gel is also more intense.
Quality from experience
Tried and tested formulations
We rely on traditional combinations of active ingredients, some of which have been tried and tested for centuries and are processed with modern formulations.
Tested raw materials
Only tested raw materials are used in production, many of which also meet the requirements of the European Pharmacopoeia or are of medicinal quality.
High-quality production
Our production is ISO 13485:2016 certified and audited annually, which ensures that our products are always of consistent quality.