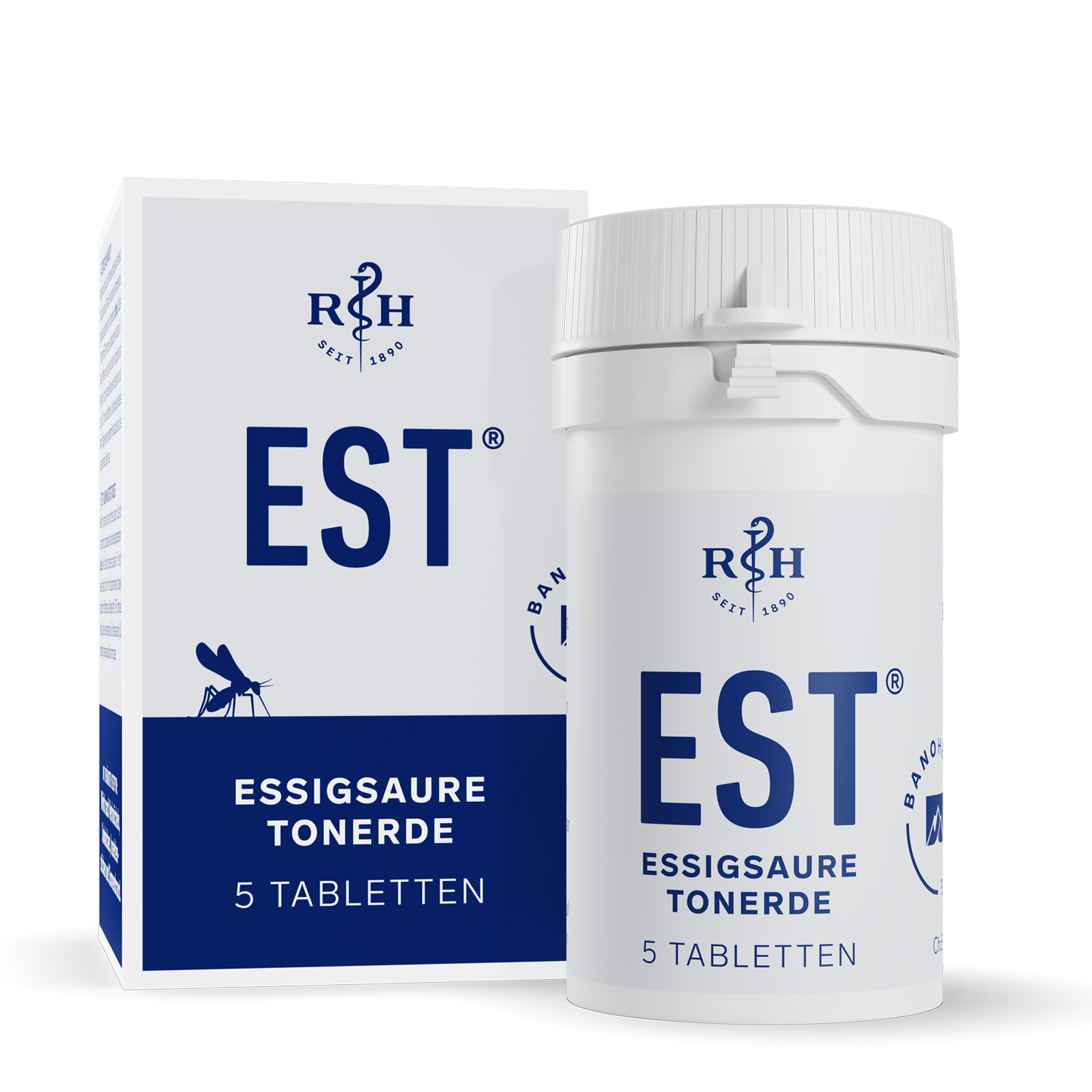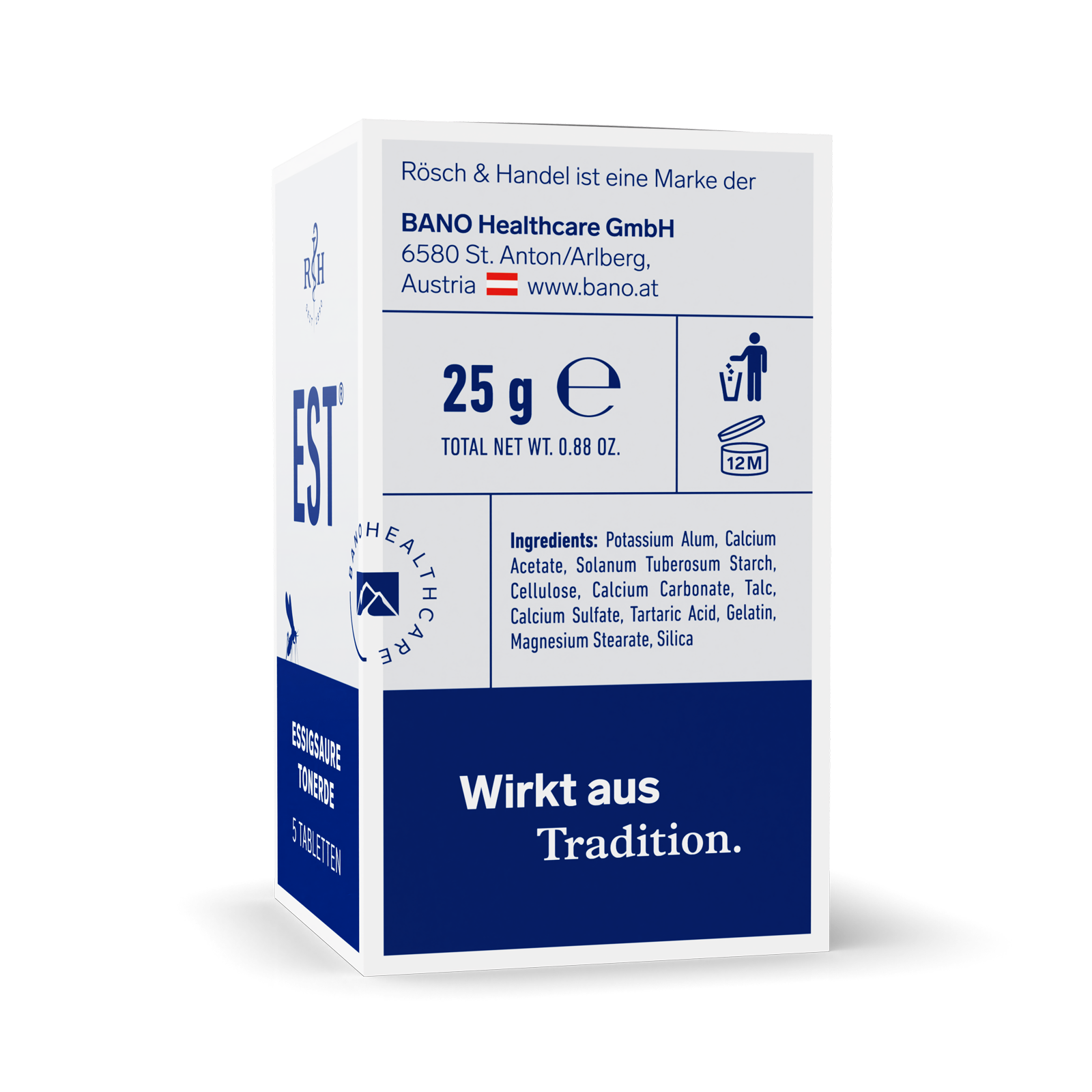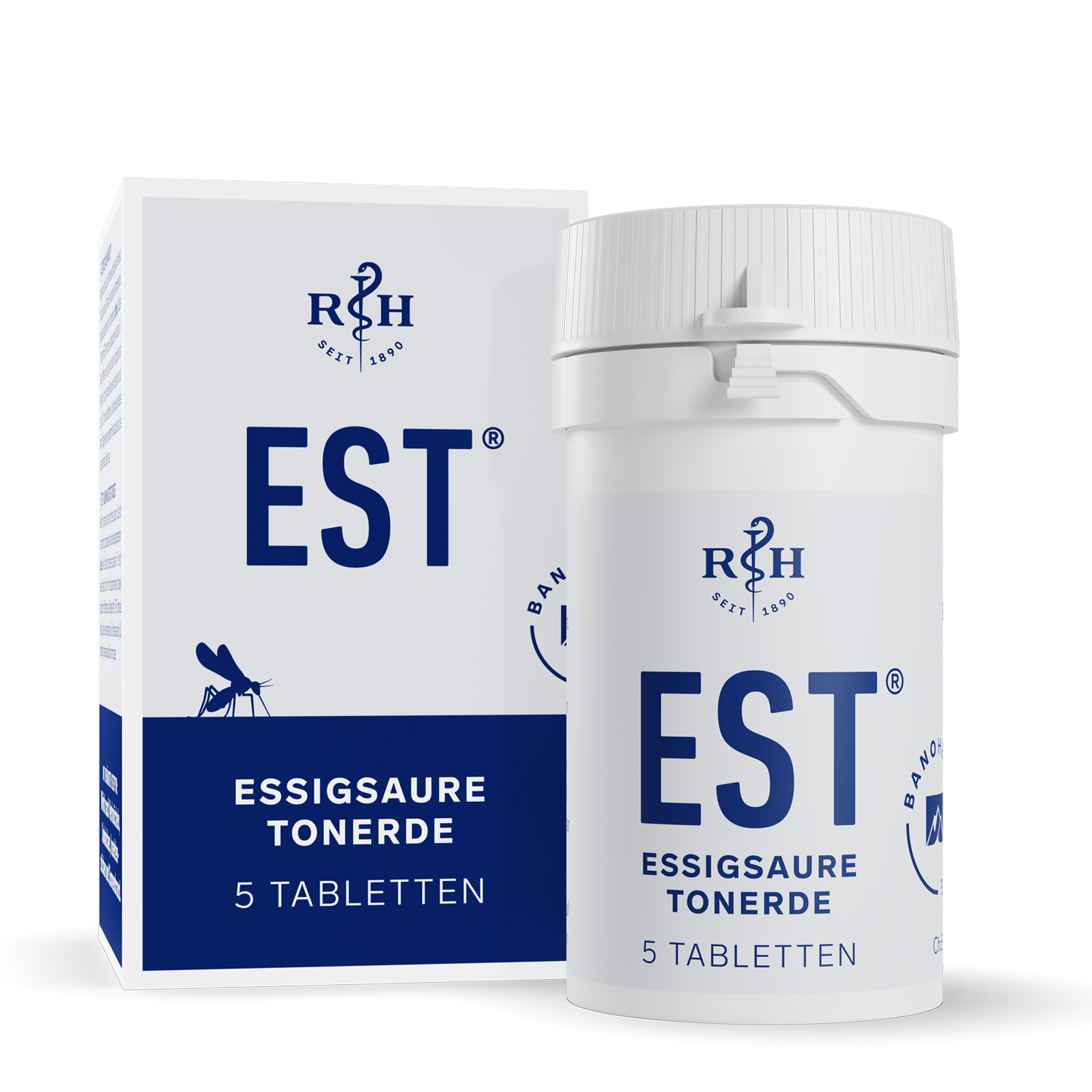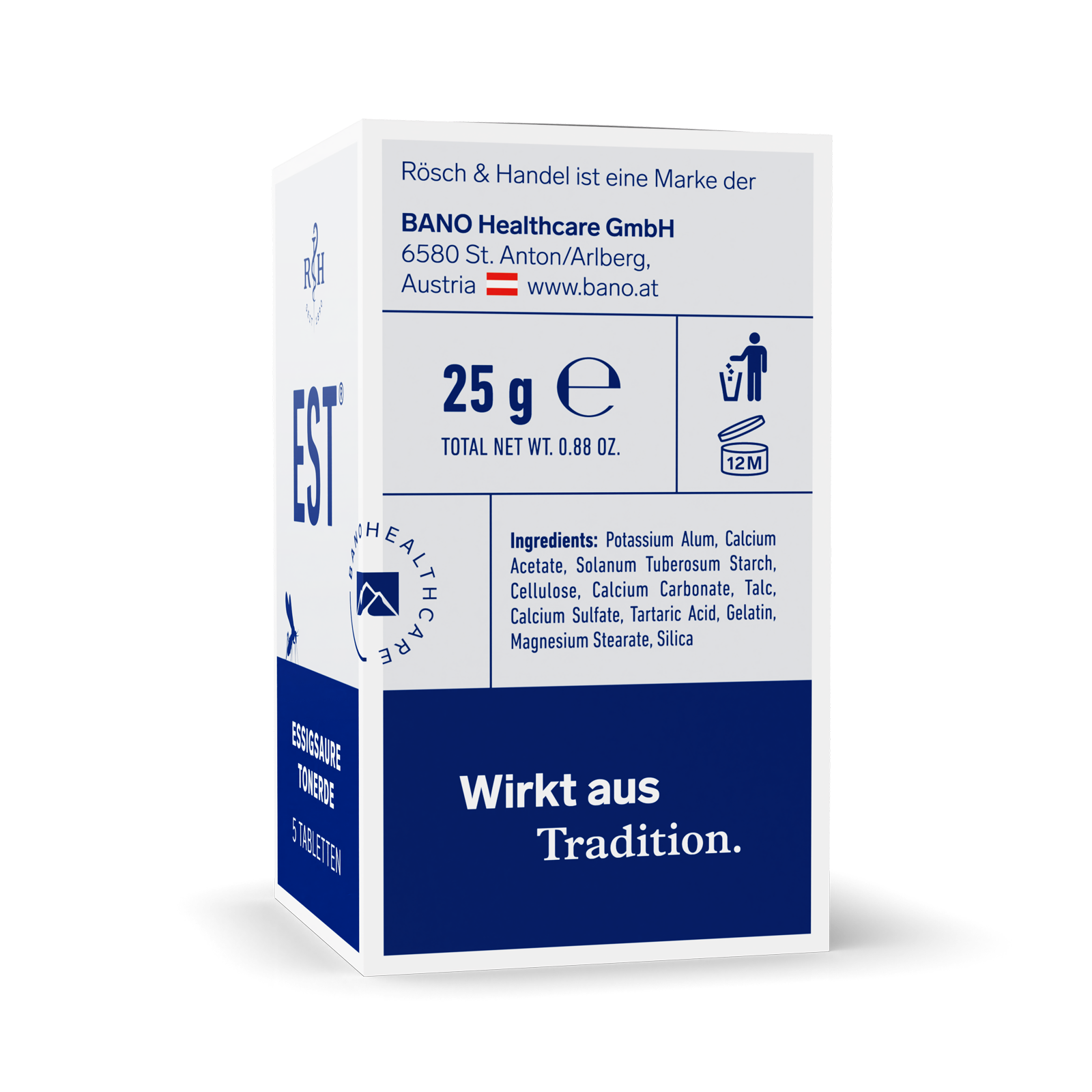 Benefits at a glance
To treat sprains

To treat bruises

To treat swelling
EST Aluminium Acetate Tablets
To reduce swelling
€8.90
Content:
5 pcs.
(€1.78 / 1 pcs.)
Product number:
20204
Benefits at a glance
To treat sprains

To treat bruises

To treat swelling
EST Aluminium Acetate Tablets: Product description
Aluminium acetate, also known as aluminium diacetate, is a time-honoured and versatile external home remedy. The trademark for EST Aluminium Acetate Tablets has been protected since 1956.
EST Aluminium Acetate Tablets act quickly to treat bruises, insect bites, swelling and sprains, for example from sports or recreational accidents or after twisting your ankle.
EST Aluminium Acetate Tablets: Effect
A compress or wrap with acetic acid clay has a cooling and soothing effect. Swelling and bruising go down so that relief can be quickly provided for minor injuries such as sunburn, insect bites, bruises and sprains.
EST Aluminium Acetate Tablets: Uses and indications
Unless otherwise prescribed, dissolve one EST tablet in 0.5l of water using a fork. Then dip a cloth into the water, wring it out well and wrap it on the affected area as a poultice.
Renew every 15 to 30 minutes. Repeat as often as you like.
You can also find a detailed instructions in our application video.
EST Aluminium Acetate Tablets: Ingredients
One tablet contains
2.4g aluminium potassium sulphate
1.4g calcium acetate
0.28g calcium carbonate
0.16g tartaric acid
0.2g calcium sulphate hemihydrate
Other ingredients: talcum, aerosil, magnesium stearate, starch
Good to know
What is aluminium acetate good for?
Used in compresses, aluminium acetate can provide relief in the case of swelling caused by insect bites, twisting one's ankle, bruises and strains.
Who is aluminium acetate suitable for?
Aluminium acetate is not only suitable for sports enthusiasts such as mountaineers, runners, cyclists and hikers following minor sports injuries, but also for anyone who has suffered a bruise, strain or insect bite, for example.
Humal Joint bath
For joints, tense muscles and lumbago
Content: 0.259 kg (€42.08 / 1 kg)
Quality from experience
Tried and tested formulations
We rely on traditional combinations of active ingredients, some of which have been tried and tested for centuries and are processed with modern formulations.
Tested raw materials
Only tested raw materials are used in production, many of which also meet the requirements of the European Pharmacopoeia or are of medicinal quality.
High-quality production
Our production is ISO 13485:2016 certified and audited annually, which ensures that our products are always of consistent quality.