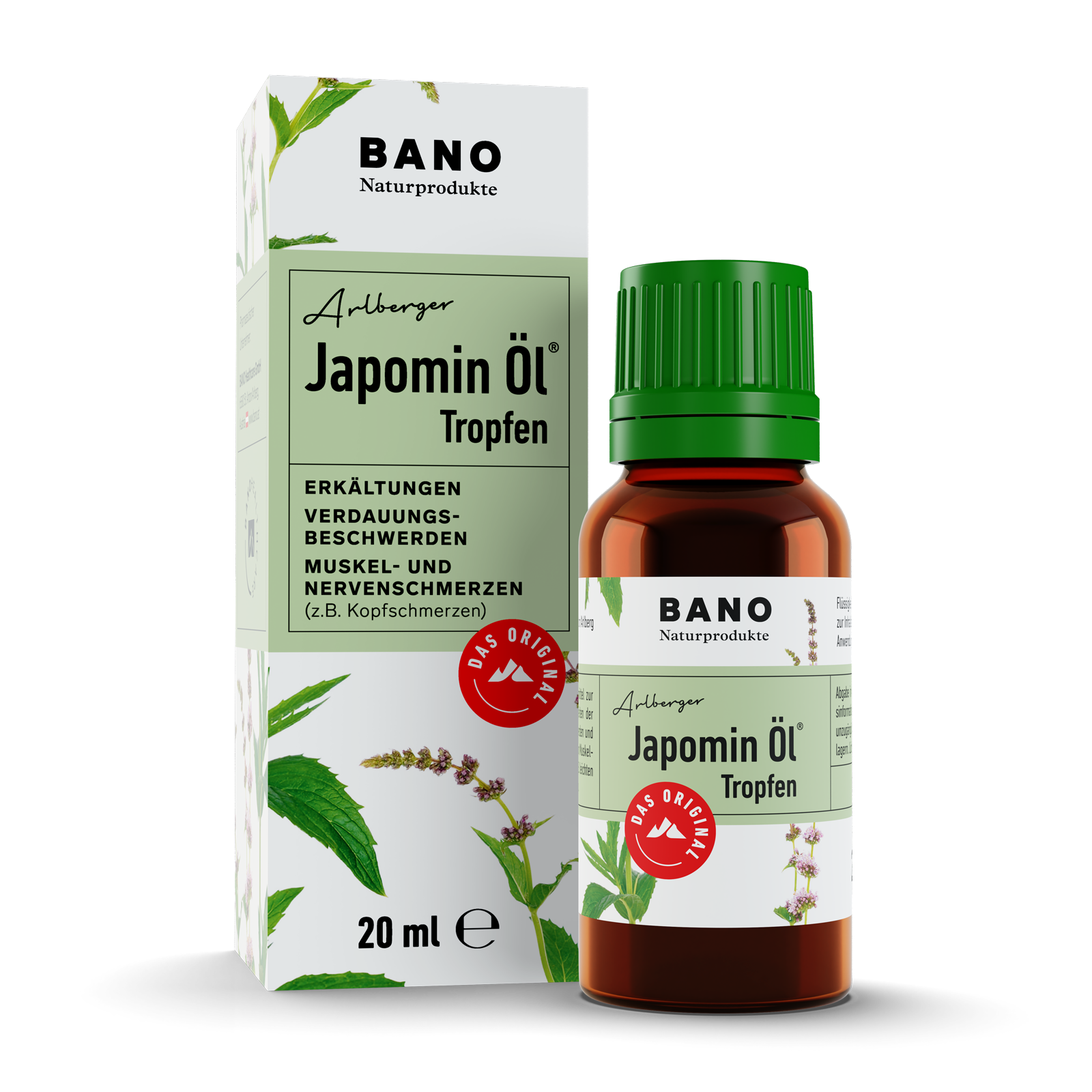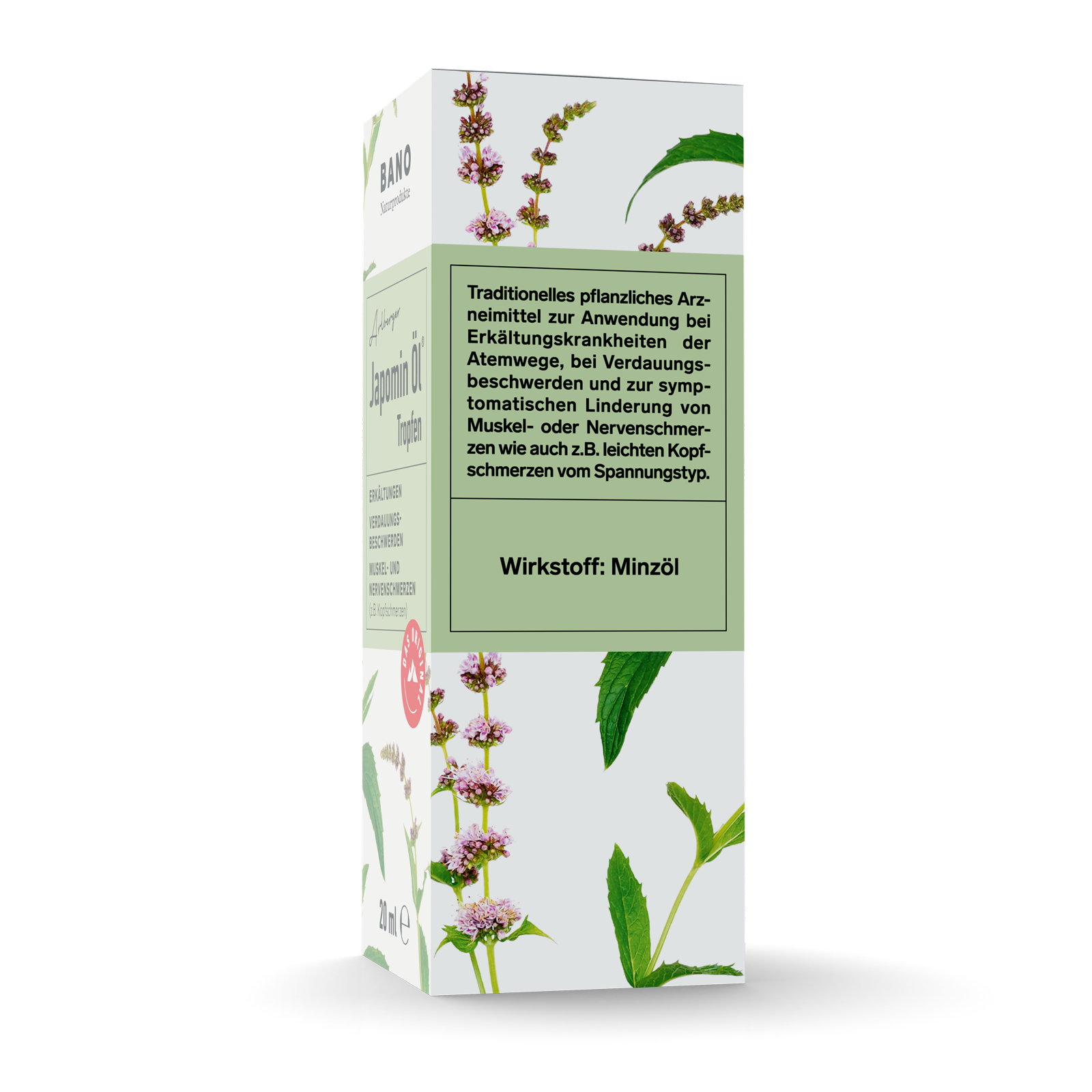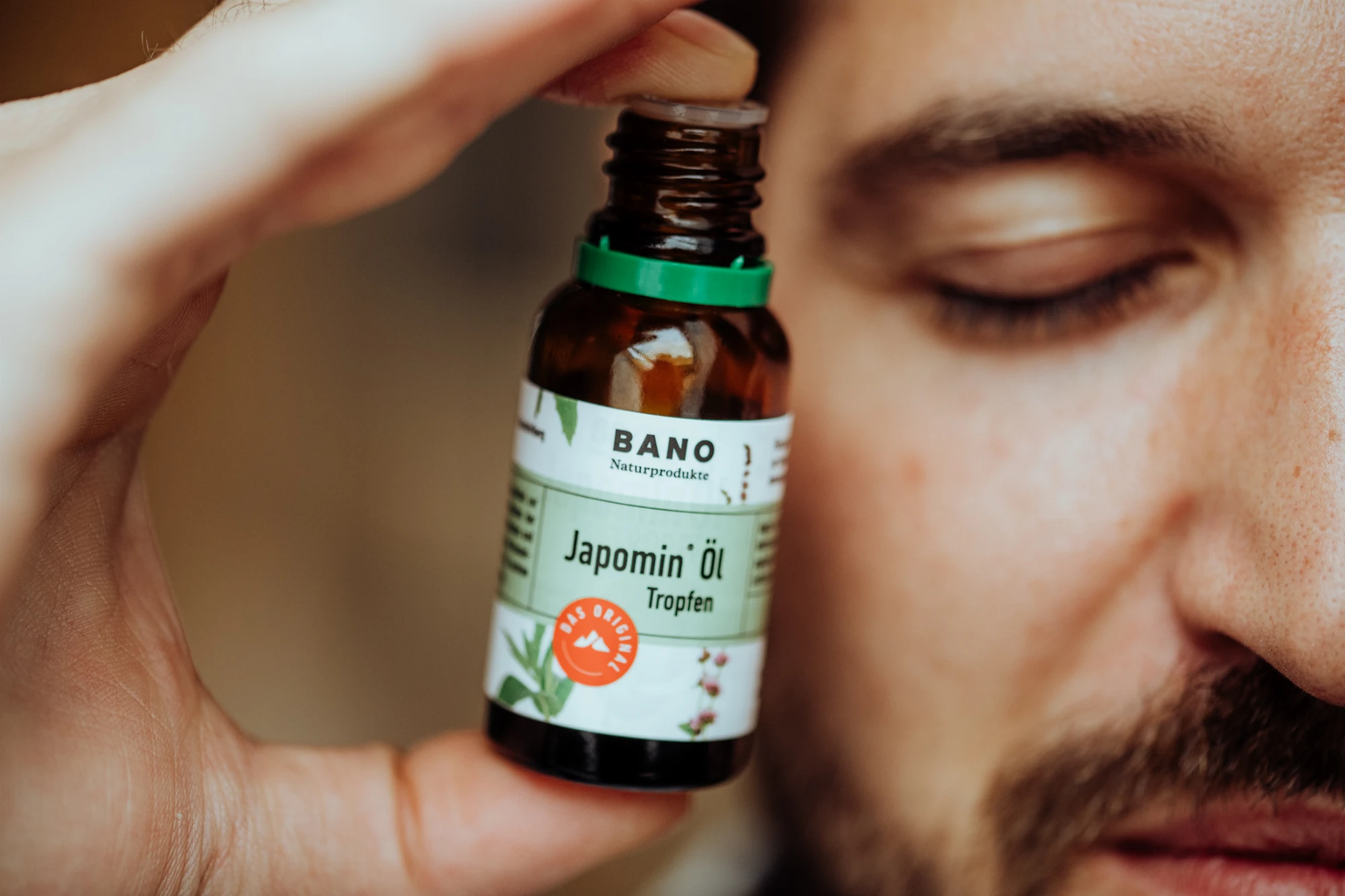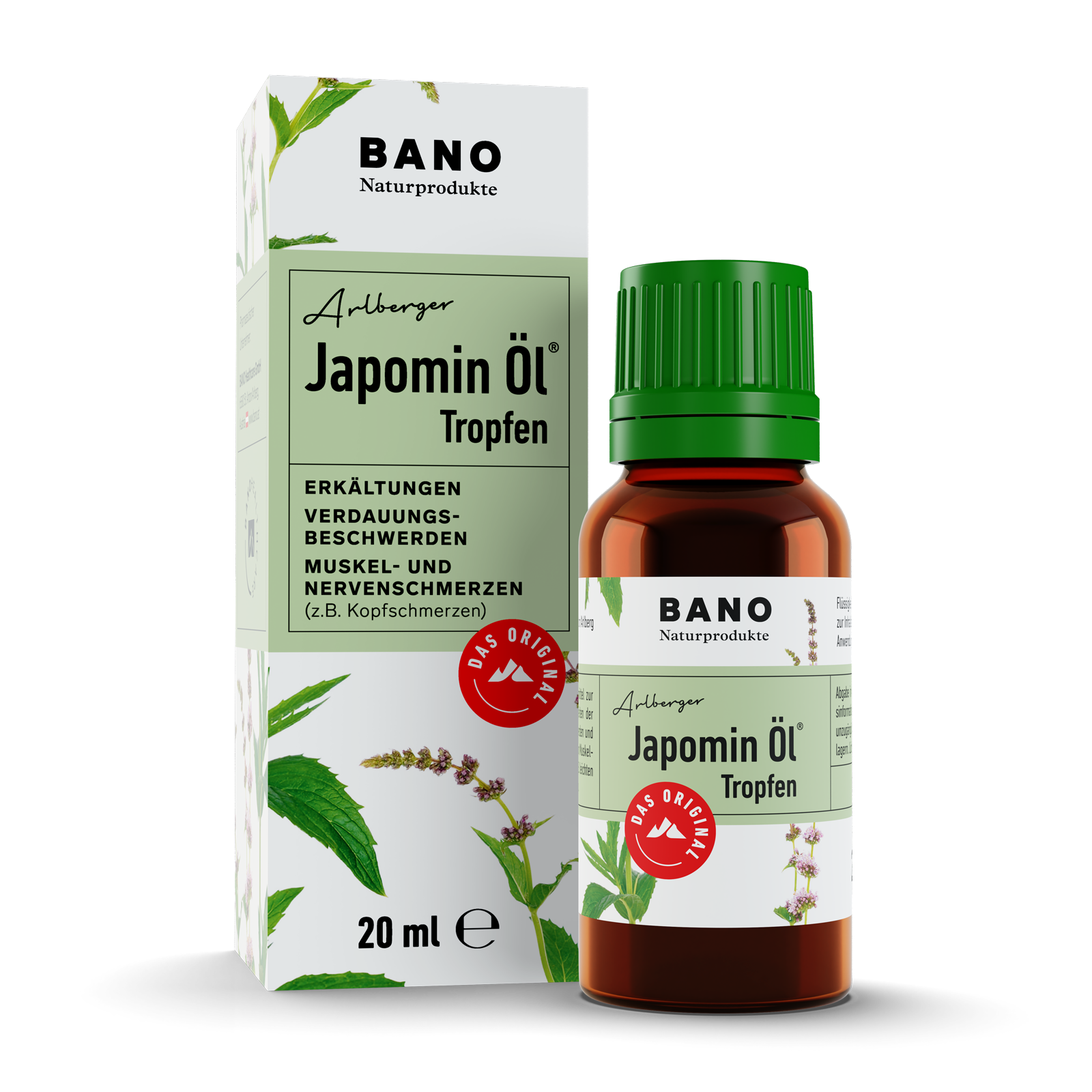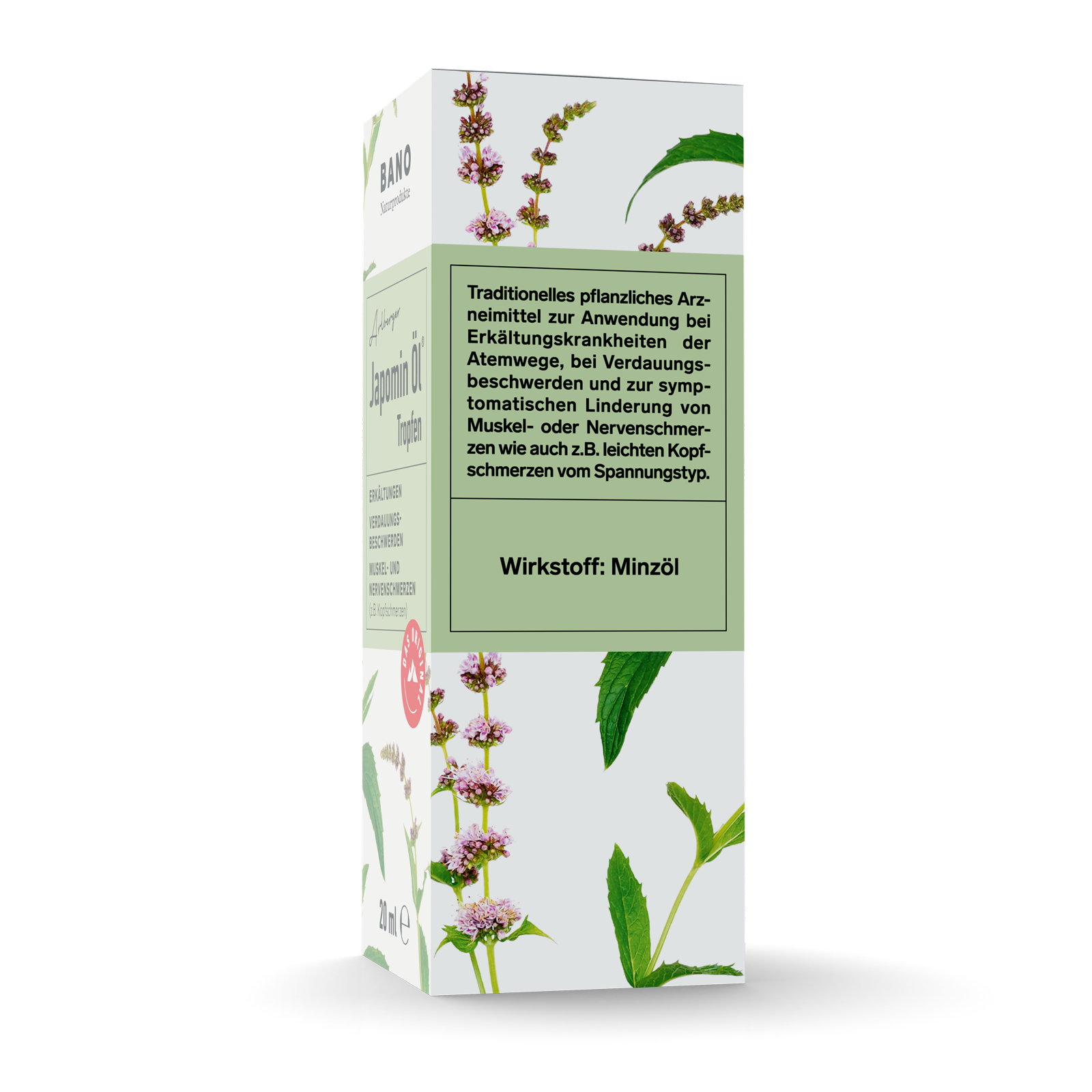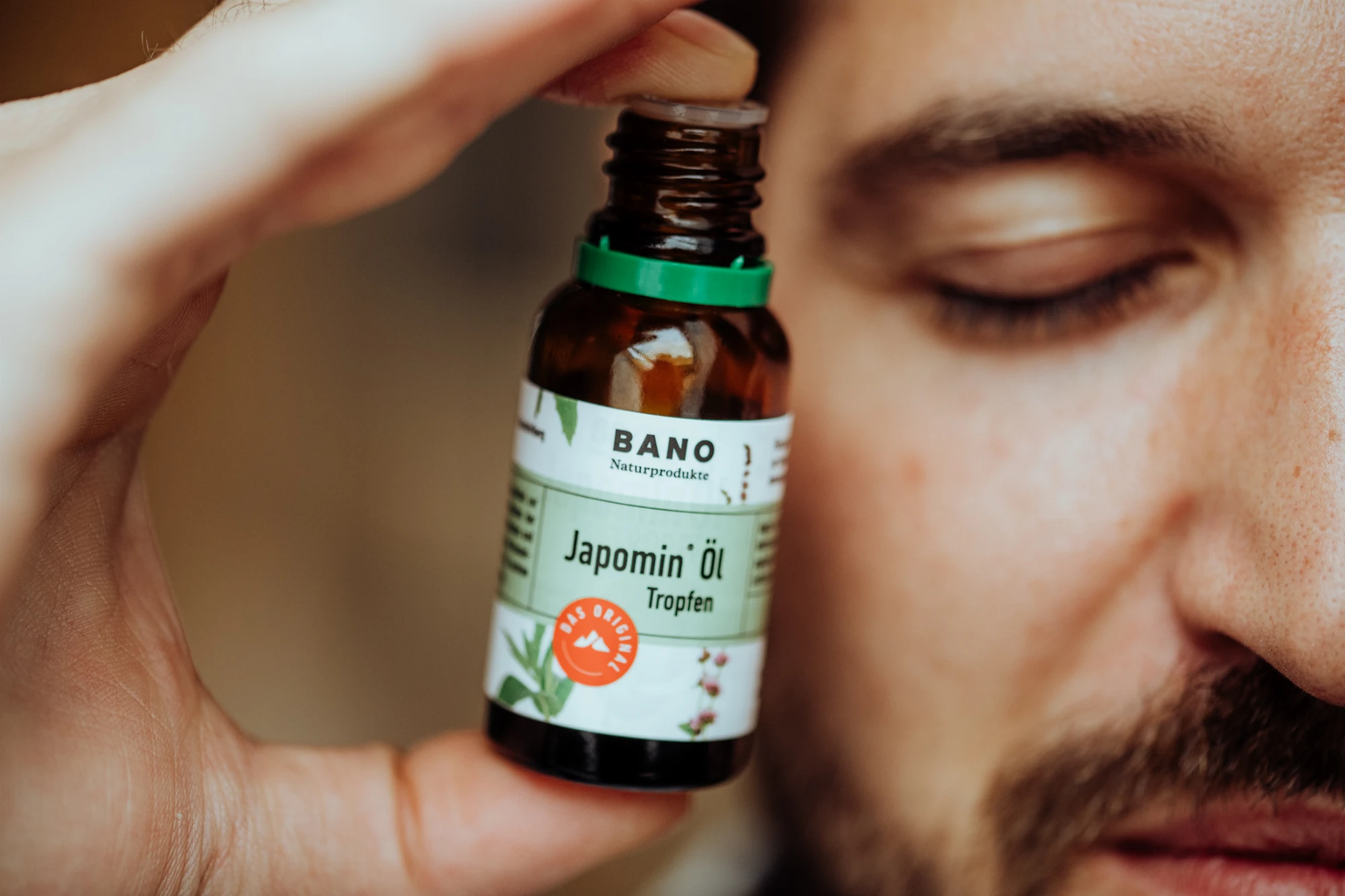 Benefits at a glance
To take for stomach and intestinal disorders
Inhalation for colds
To massage in for headaches
Japomin Oil Drops
Pure mint oil for treating headaches
This product is a medicinal product and is therefore unfortunately not allowed to be sold through our online shop. You can get it without a prescription at any Austrian pharmacy.
Product number:
17002
Benefits at a glance
To take for stomach and intestinal disorders
Inhalation for colds
To massage in for headaches
Japomin Oil Drops: Product description
Consisting of pure essential mint oil, Arlberger Japomin Oil Drops can be taken for digestive complaints, inhaled for respiratory colds and applied to relieve muscle and nerve pain, such as mild tension headaches.
As it is an over-the-counter medicine, Arlberger Japomin Oil Drops are manufactured in Austria under the strictest quality controls. They contain neither preservatives nor colouring agents.
Mint oil for headaches and digestive problems
Like so many natural raw materials, pure essential mint oil has been used for centuries in some cultures, and in the East even for thousands of years, to cure various ailments such as headaches and digestive problems. In Austria, Japomin oil is a traditional herbal medicine that has been available for many years in every pharmacy and in selected health food shops.
Arlberger Japomin Oil Drops can be used both internally and externally.
When applied to the skin, Arlberger Japomin Oil Drops have a rapid, cooling effect. This is because the menthol in the mint oil triggers a feeling of cold via receptors, which helps to relieve headaches. In fact, though, your body temperature does not change. The effect is similar to that of capsaicin – where a feeling of warmth or heat is produced.
Since mint oil also has an antispasmodic effect, it can be used very effectively to treat muscle pain. Following application, the muscle relaxes and pain is relieved. Tension in the neck and shoulders is a common cause of headaches. Sitting in front of a computer for hours on end, not enough exercise and bad posture lead to a tightening of the muscles.
Used internally, Arlberger Japomin Oil Drops help relieve flatulence and bloating.
Arlberger Japomin Oil Drops: Uses and indications
The recommended dose for our Japomin Oil Drops is as follows.
For chest colds with symptoms including cough, including with viscous mucus:
Put three drops in hot water two to three times a day and inhale with your eyes closed.
For digestive complaints such as bloating and flatulence:
Take two drops diluted in a little warm water up to twice daily.
For the symptomatic relief of muscle or nerve pain and mild tension headaches:
Apply two to three drops to the affected areas or to the temples, forehead and neck and massage in gently. Repeat up to three times daily.
Arlberger Japomin Oil Drops: Ingredients
100% pure essential mint oil
Good to know
Where does Japanese medicinal plant oil come from?
It is mainly cultivated in Asia, where the use of mint oil has a long tradition. It is also often called Japanese mint oil – hence our name "Japomin Oil".
Is mint oil suitable for children?
As insufficient data are as yet available, we cannot recommend use in children from two to 12 years of age.
Mint oil is not suitable for infants and children under two years of age.
What is mint oil good for?
Mint oil is good for
chest colds

digestive problems

the symptomatic relief of muscle or nerve pain

mild tension headaches
Go to our download area for directions for use.
How is essential mint oil obtained?
Essential mint oil (Menthae arvensis aetheroleum) is extracted from field mint (Mentha arvensis) by means of steam distillation.
On account of its extremely high menthol content of around 80%, the oil is dementholated before being used in pharmaceutical and cosmetic products. This is also how the well-known and frequently used menthol, which consists of white crystals, is produced.
Overall, mint oil goes through a complicated manufacturing process, after which it has a menthol content of between 30% and 50%. Other ingredients are menthone, isomenthone and menthyl acetate.
Since it is a medicinal product, both the raw material mint oil and the production process itself are subject to the strictest quality controls.
Quality from experience
Tried and tested formulations
We rely on traditional combinations of active ingredients, some of which have been tried and tested for centuries and are processed with modern formulations.
Tested raw materials
Only tested raw materials are used in production, many of which also meet the requirements of the European Pharmacopoeia or are of medicinal quality.
High-quality production
Our production is ISO 13485:2016 certified and audited annually, which ensures that our products are always of consistent quality.