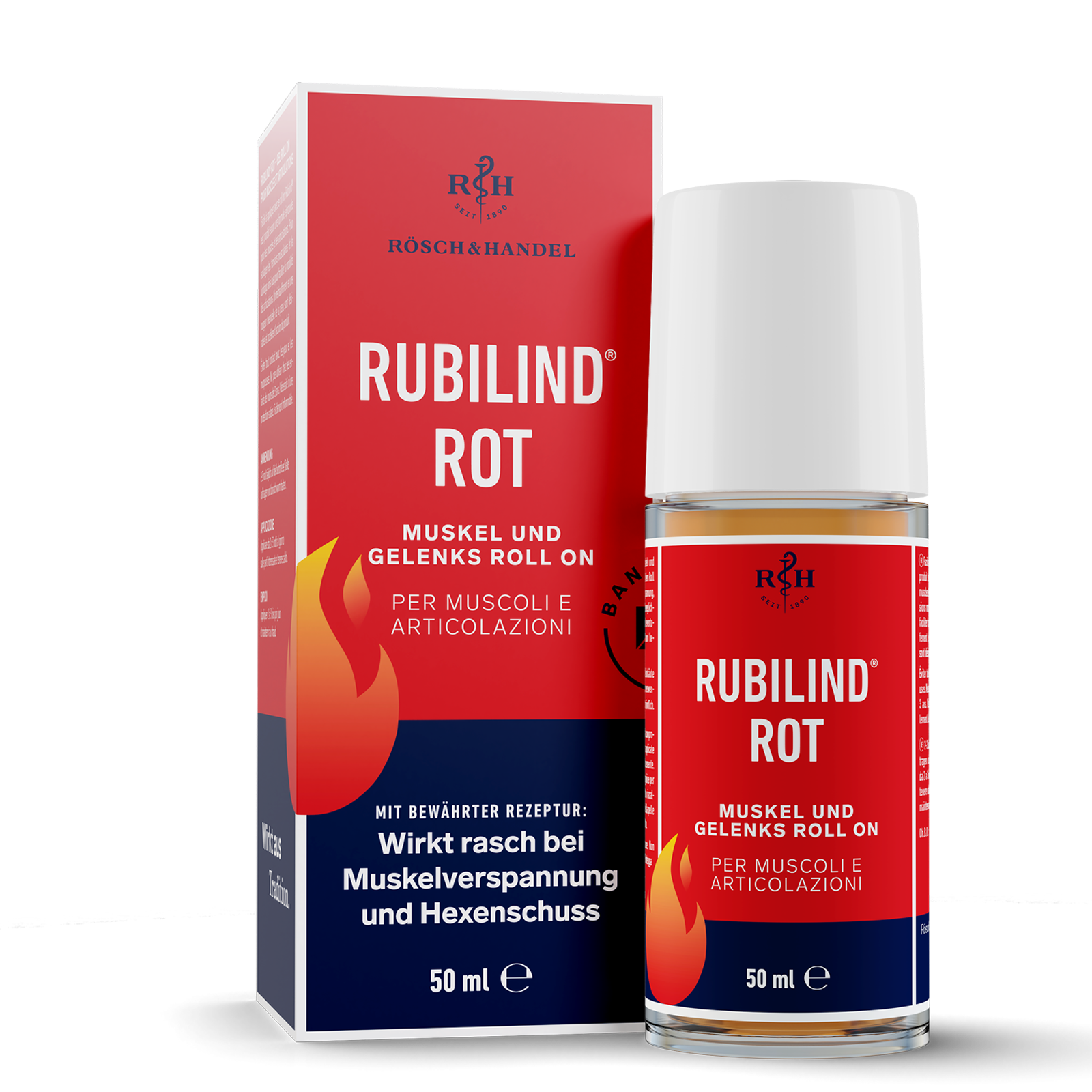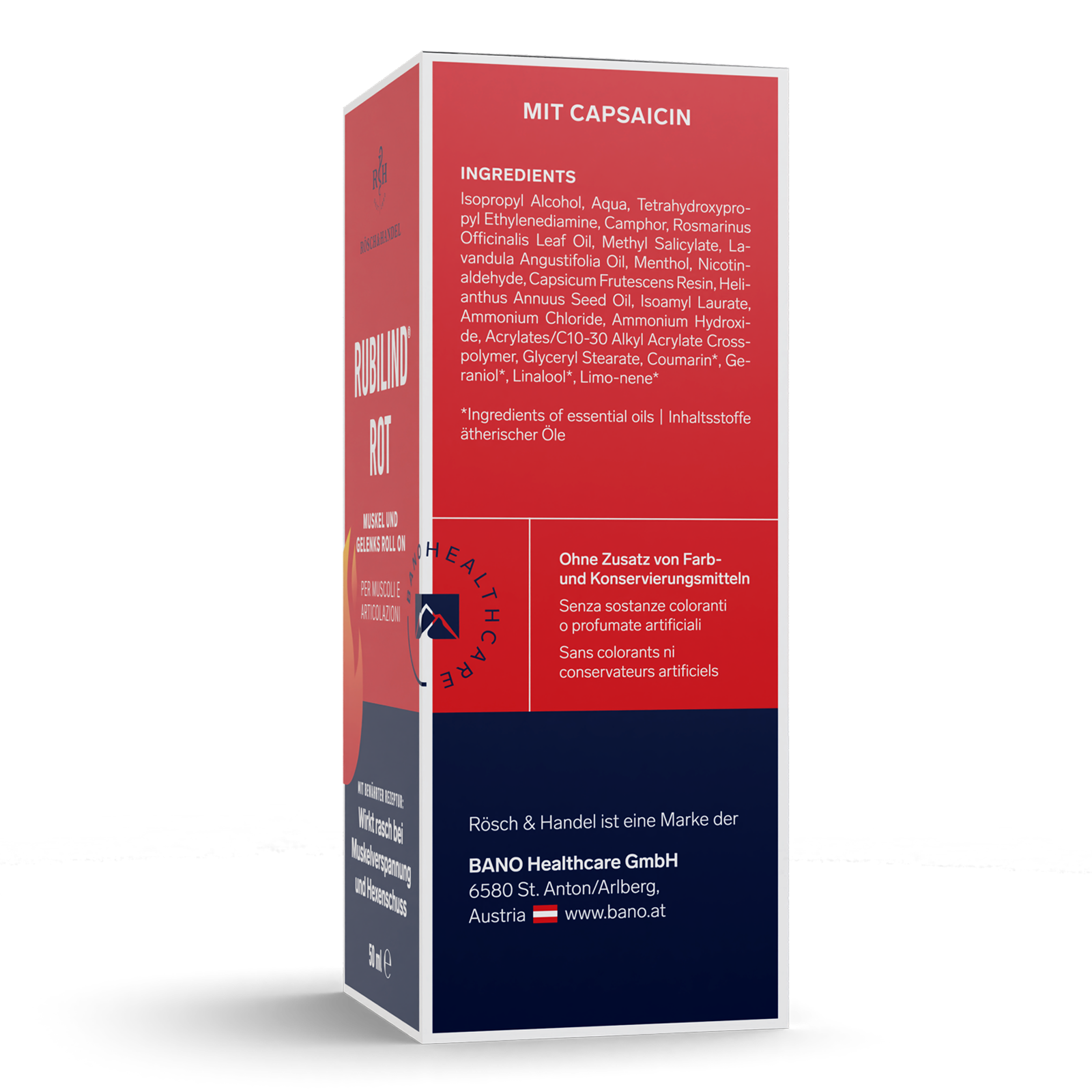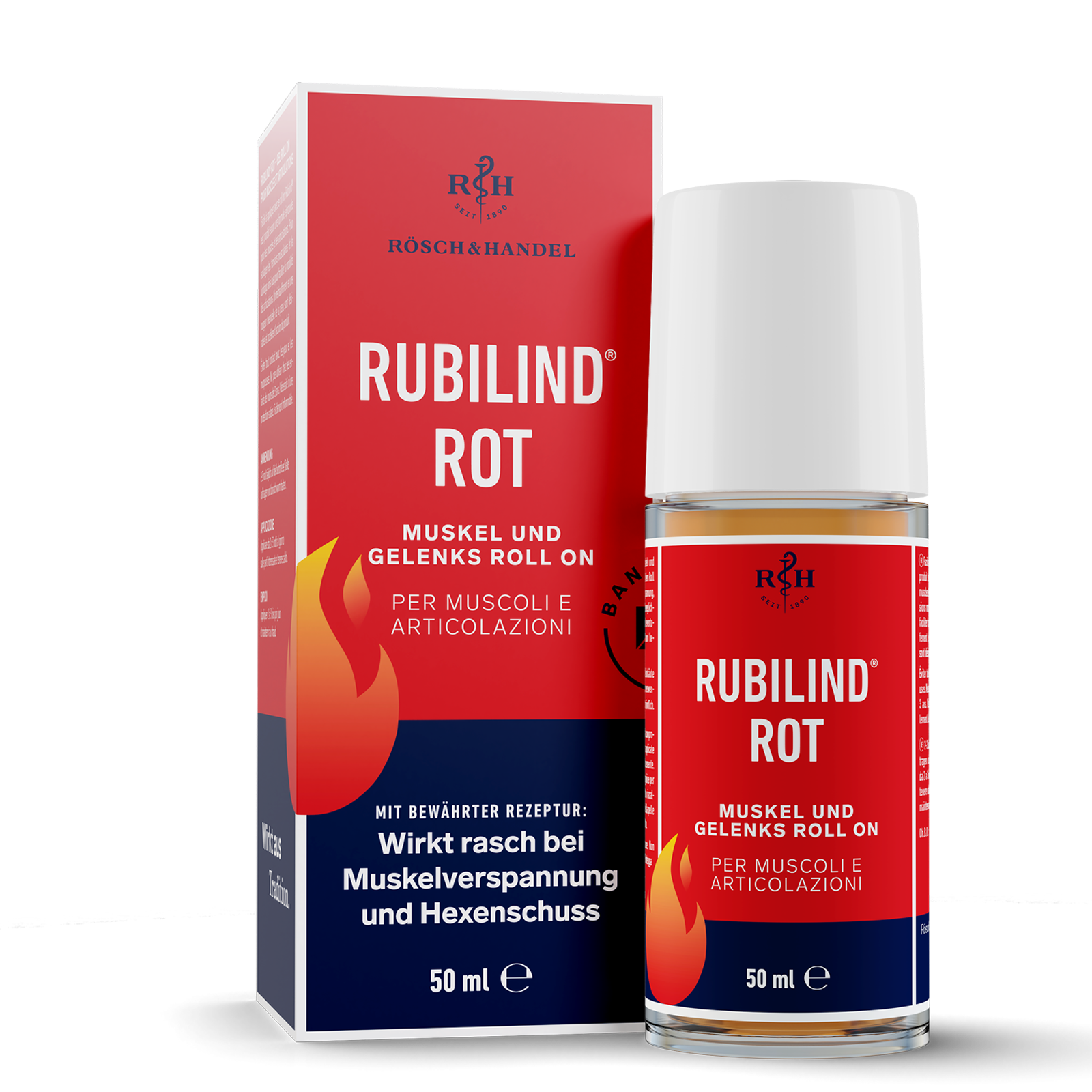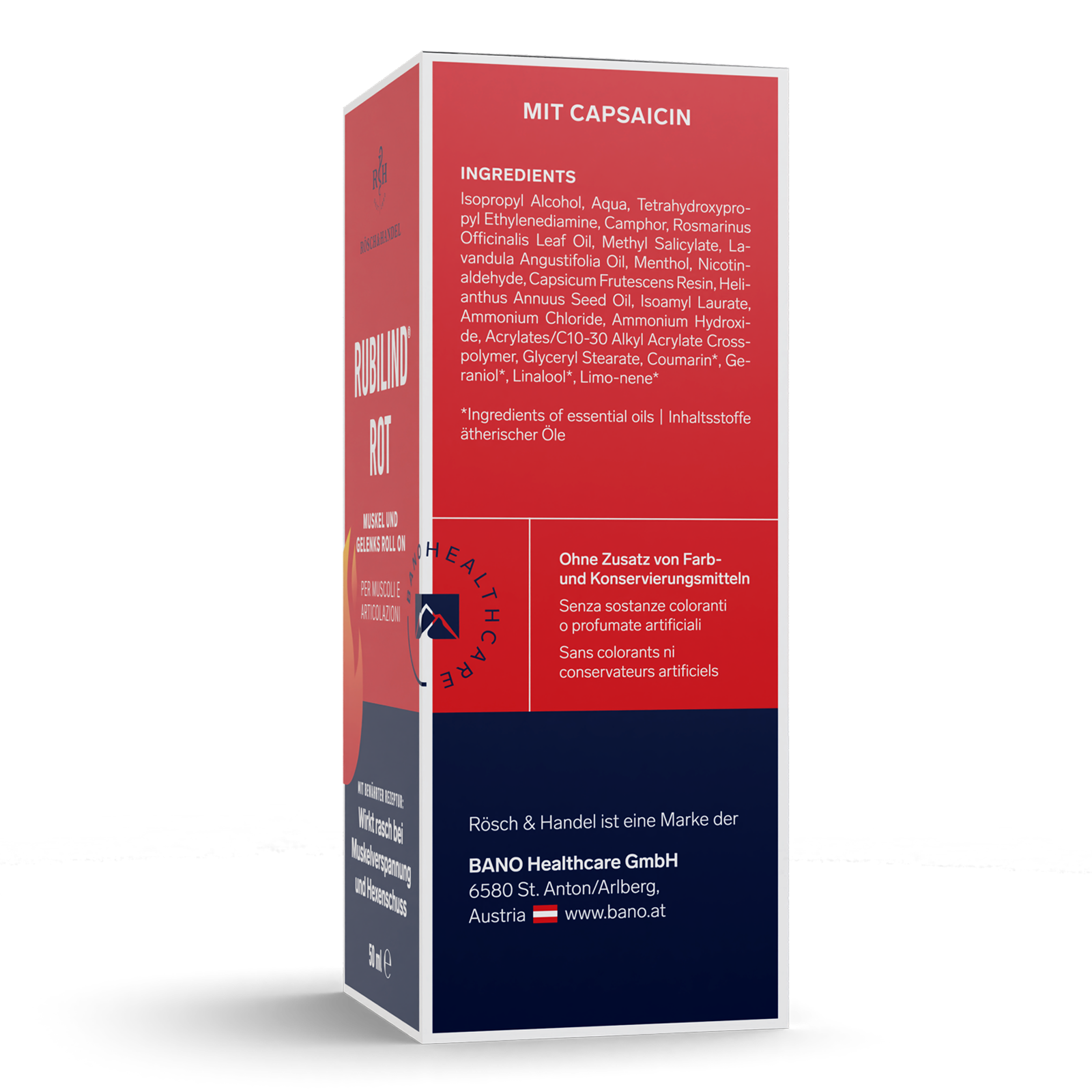 Benefits at a glance
For lumbago

For stiff muscles

For tense muscles

Warming

Soothing for muscles and joints
Rubilind Rot Muscle and Joint Roll-On
To release muscle tension
€8.90
Content:
0.05 L
(€178.00 / 1 L)
Product number:
7000991
Benefits at a glance
For lumbago

For stiff muscles

For tense muscles

Warming

Soothing for muscles and joints
Rubilind Rot Muscle and Joint Roll-On: Product description
Ingredients include camphor, menthol, lavender and rosemary oil. This special combination of active ingredients is applied using a practical roll-on and produces a soothing, relaxing warmth.
Rubilind Red also promotes joint mobility and helps relieve muscle tension.
Rubilind Rot Muscle and Joint Roll-On: Effect
Rubilind Red contains lavender oil, a versatile medicinal plant, as well as rosemary oil and camphor, which are prized because they boost blood flow and relax the musculoskeletal system. Camphor has been used since ancient times and is obtained by steam distillation from all parts of the camphor tree. Rubilind Red gets its warming effect from nicotinaldehyde and the capsaicin it contains, which is extracted from chilli pepper.
Rubilind Rot Muscle and Joint Roll-On: Uses and indications
Apply two to three times a day to the affected areas of the body using the roll-on. Warms and relaxes immediately. Any reddening of the skin is normal and proves that the gel is working.
Caution: Avoid contact with the eyes and mucous membranes. Easily inflammable.
Rubilind Rot Muscle and Joint Roll-On: Ingredients
Isopropyl Alcohol, Aqua, Tetrahydroxypropyl Ethylenediamine, Camphor, Rosmarinus Officinalis Leaf Oil, Methyl Salicylate, Lavandula Angustifolia Oil, Menthol, Nicotinaldehyde, Capsicum Frutescens Resin, Helianthus Annuus Seed Oil, Isoamyl Laurate, Ammonium Chloride, Ammonium Hydroxide, Carbomer, Glyceryl Stearate, Coumarin*, Geraniol*, Linalool*, Limonene*

*Ingredients of essential oils
Good to know
Whom is the Muscle-Joint Roll-On particularly suitable for?
Sports enthusiasts of all ages trust in the effect of capsaicin, including
mountaineers

mountain bikers

hikers

cyclists

trail runners

runners

swimmers
Rubilind Rot Muscle and Joint Roll-On can also provide relief after doing the housework or gardening.
How can I relieve muscle tension?
Our Rubilind Red is particularly suitable for releasing muscle tension because the roll-on not only ensures pinpoint application but also creates a pleasant massage effect.
How can I release neck tension?
There are several ways to relieve tension in the neck. Ideally, you will notice any incorrect posture and strain, so that you can quickly relax the affected muscle by adopting the right posture again. Applying heat is also a very effective way to release muscle tension – either by applying heat patches or using other means to warm the muscles, such as our Rubilind Red. Following contact with the skin the substance applied begins to respond, and a soothing warmth slowly spreads throughout the area. A chain reaction follows: blood circulation is stimulated, the muscle slowly relaxes, leading to the tension being released.
Why Rubilind Rot Muscle - Joint Roll On?
The practical roll-on ensure very easy and precise application, with the additional massage effect. Your hands stay clean and the warming agent unfolds its effect only where you actually need it. Due to its handy size, it also fits into any backpack or handbag – for relaxation on the go.
Humal Joint bath
For joints, tense muscles and lumbago
Content: 0.259 kg (€42.08 / 1 kg)
Quality from experience
Tried and tested formulations
We rely on traditional combinations of active ingredients, some of which have been tried and tested for centuries and are processed with modern formulations.
Tested raw materials
Only tested raw materials are used in production, many of which also meet the requirements of the European Pharmacopoeia or are of medicinal quality.
High-quality production
Our production is ISO 13485:2016 certified and audited annually, which ensures that our products are always of consistent quality.