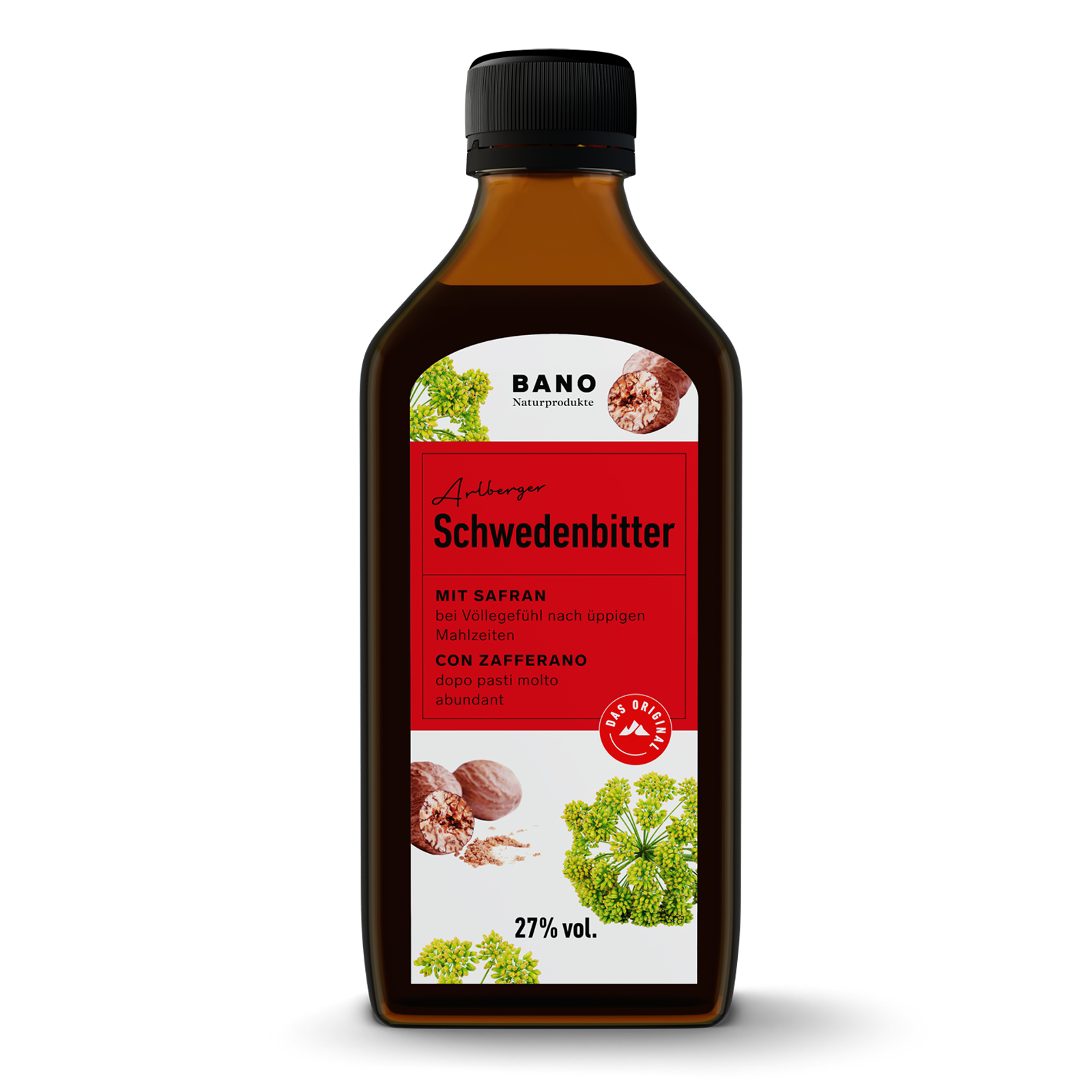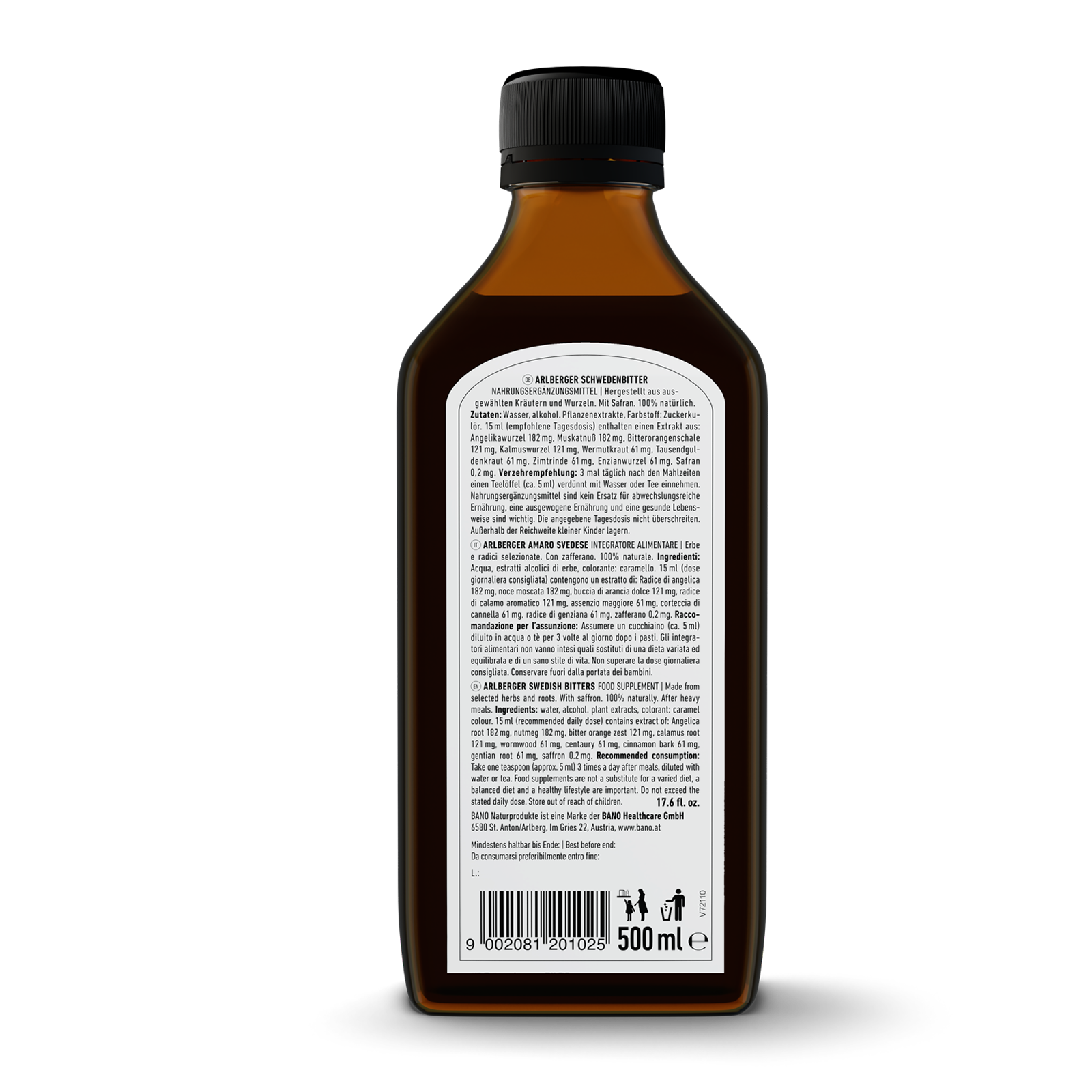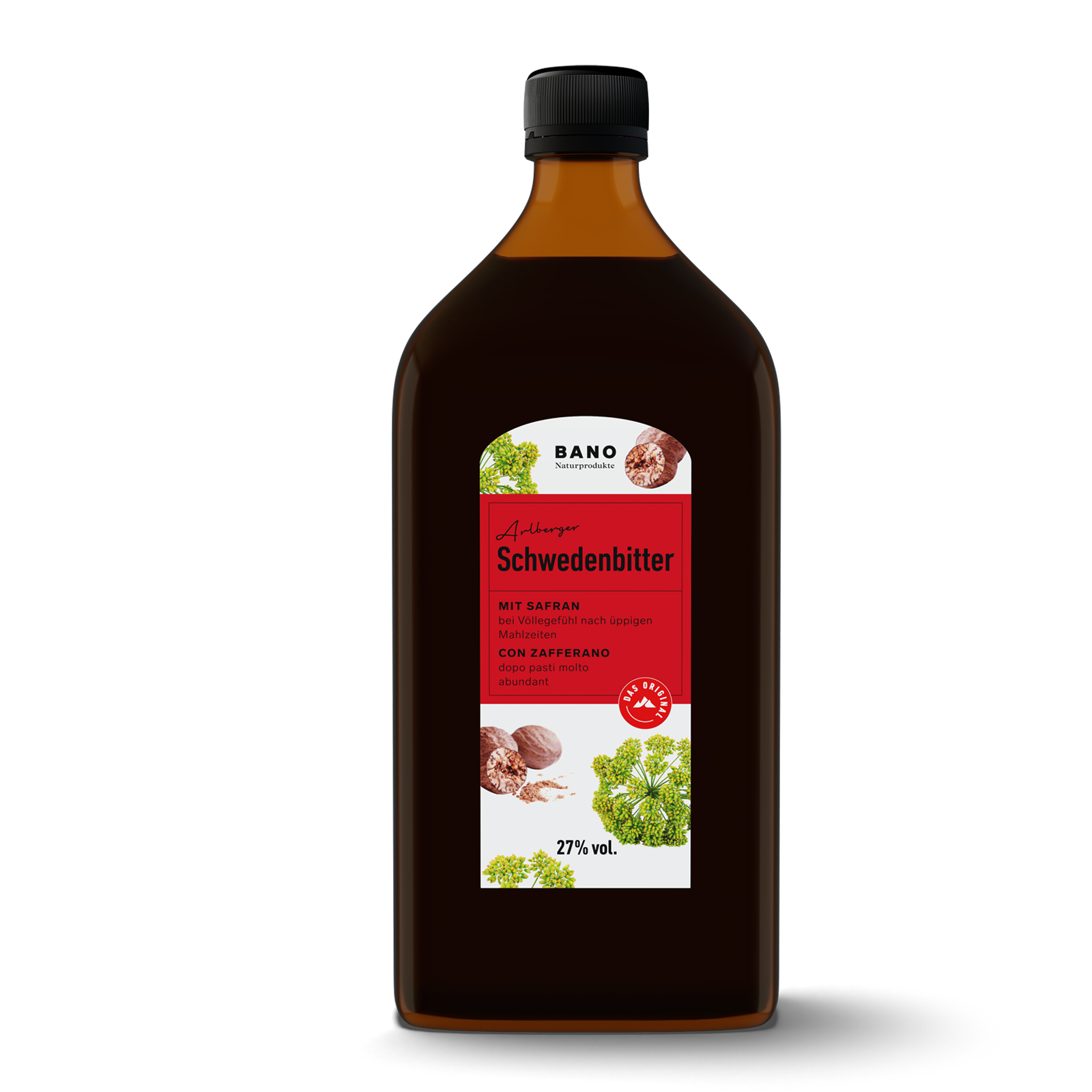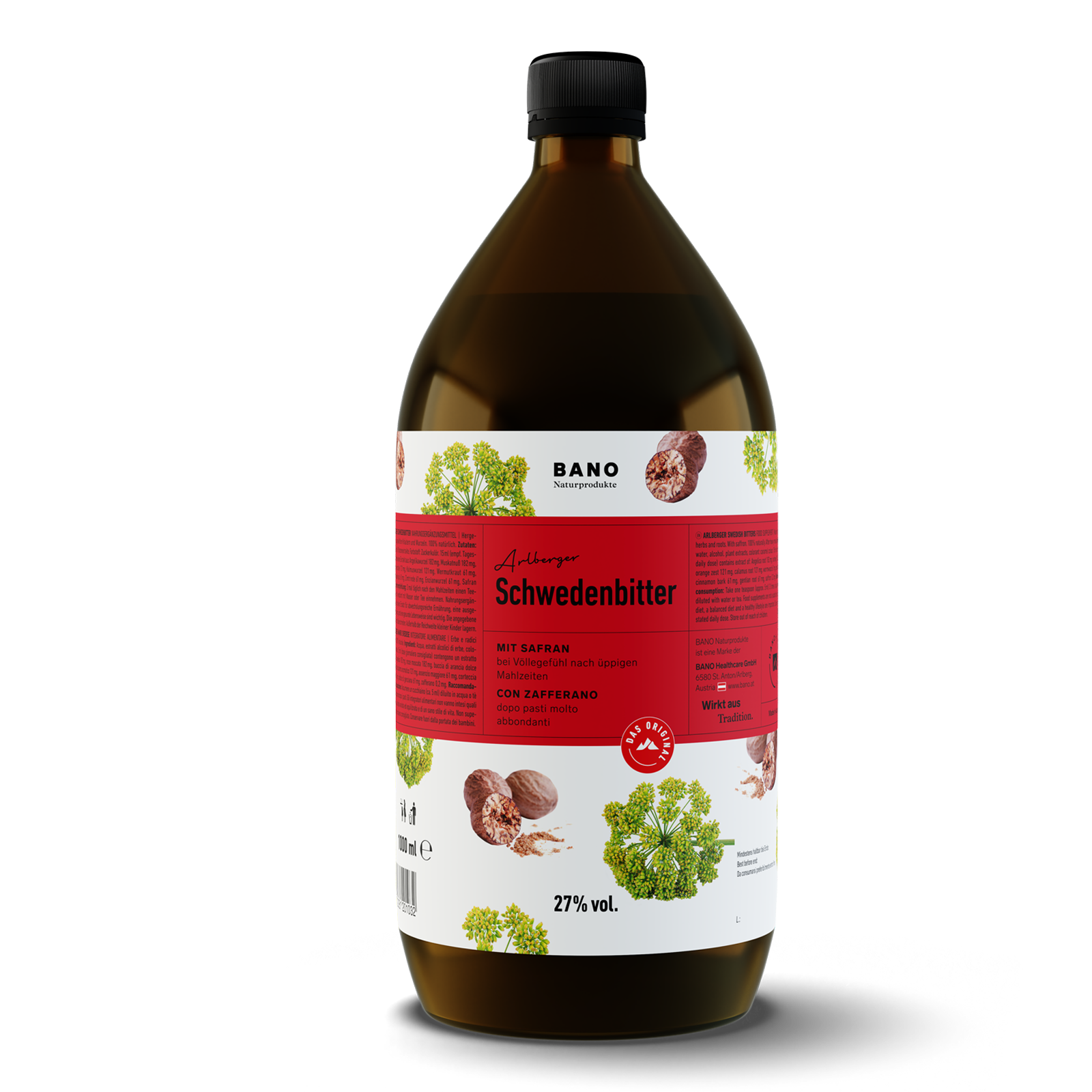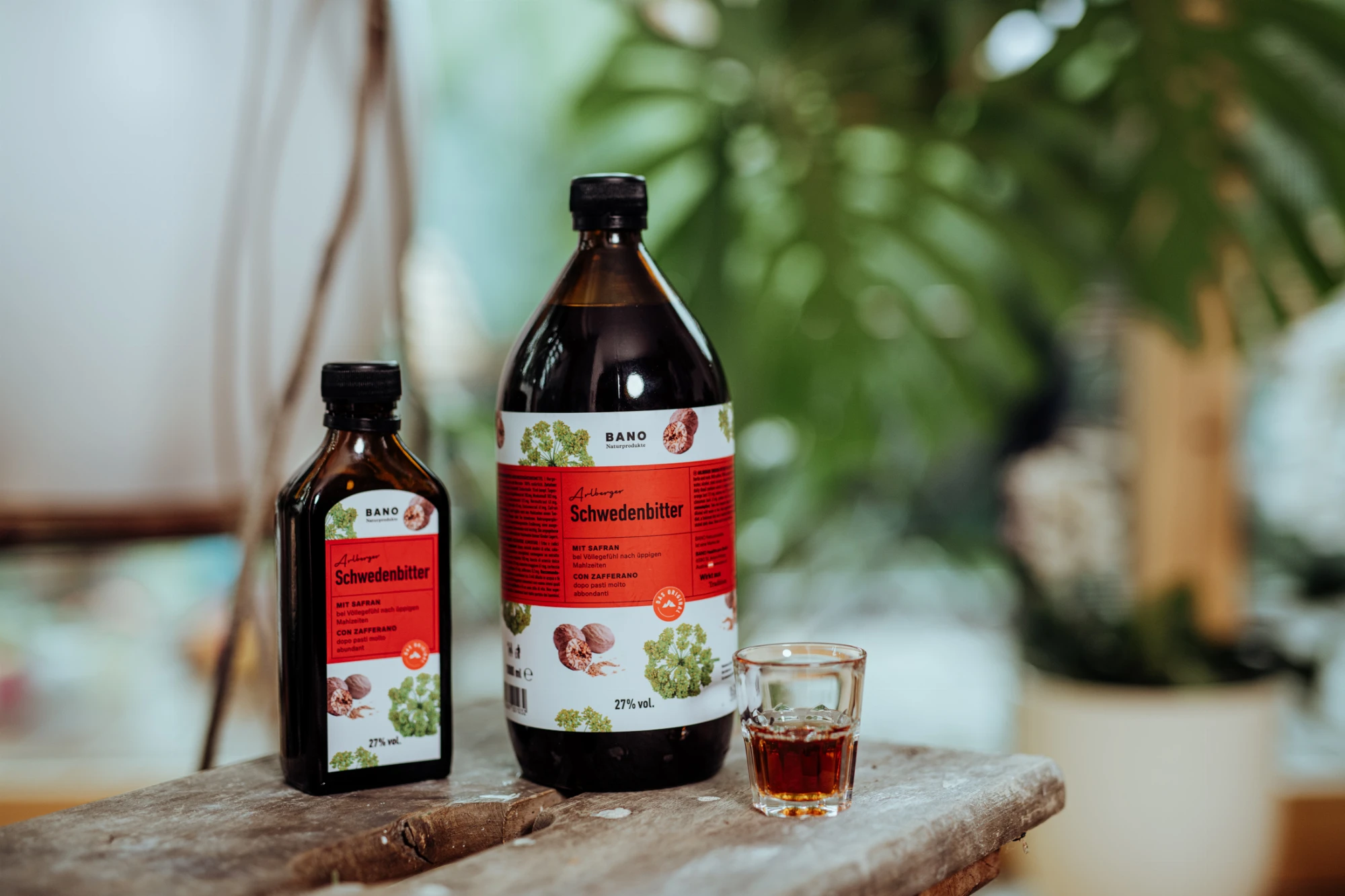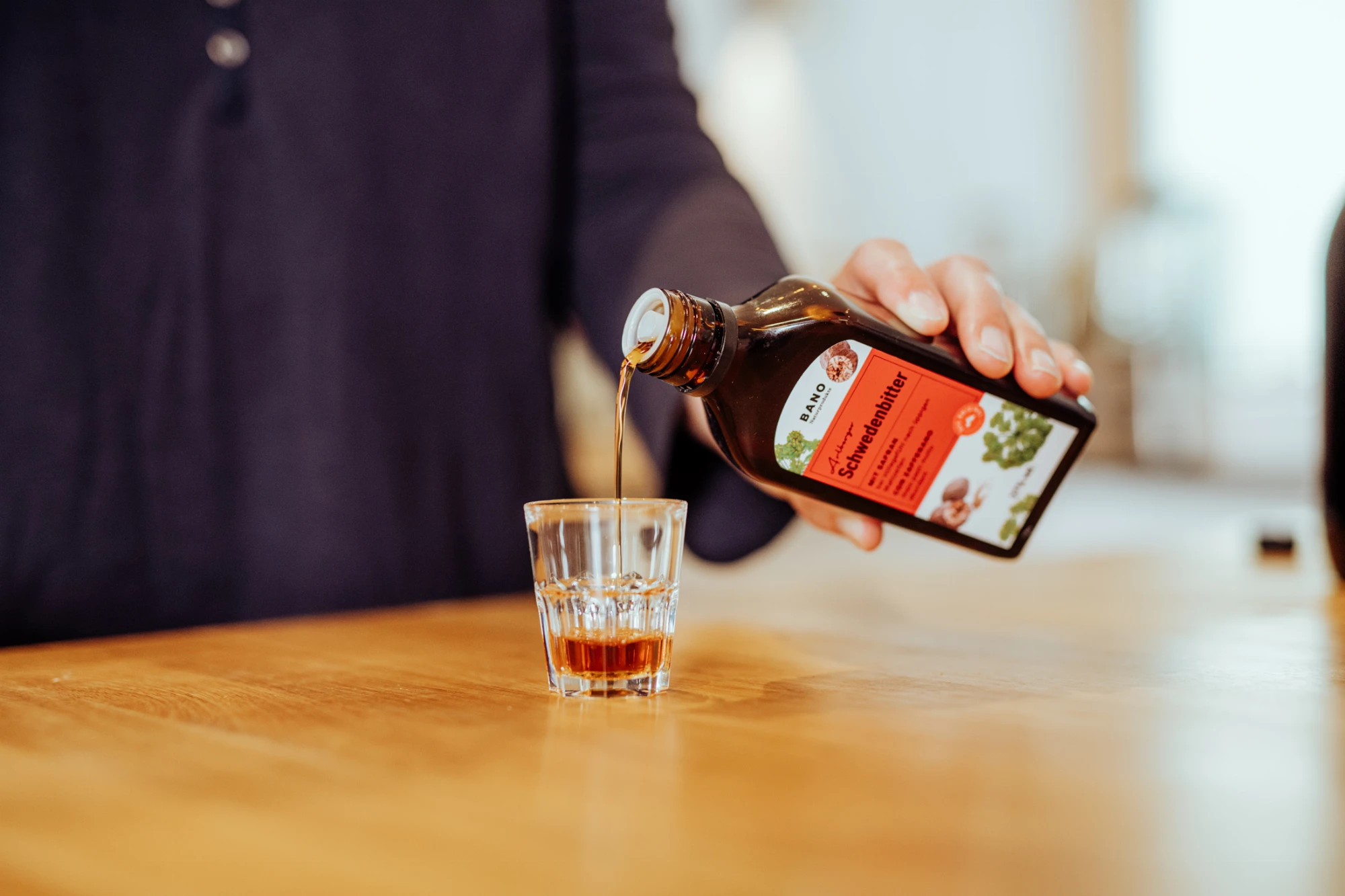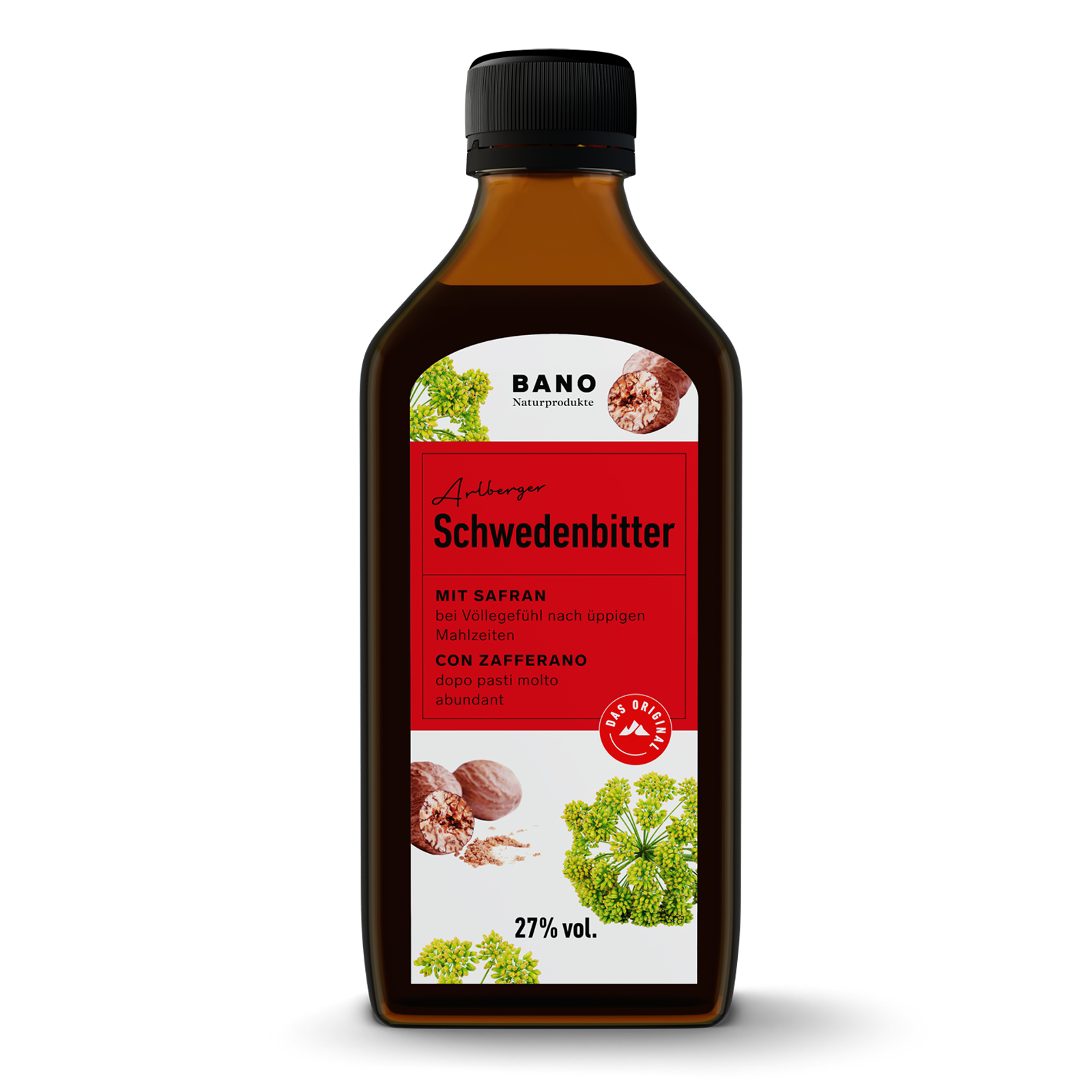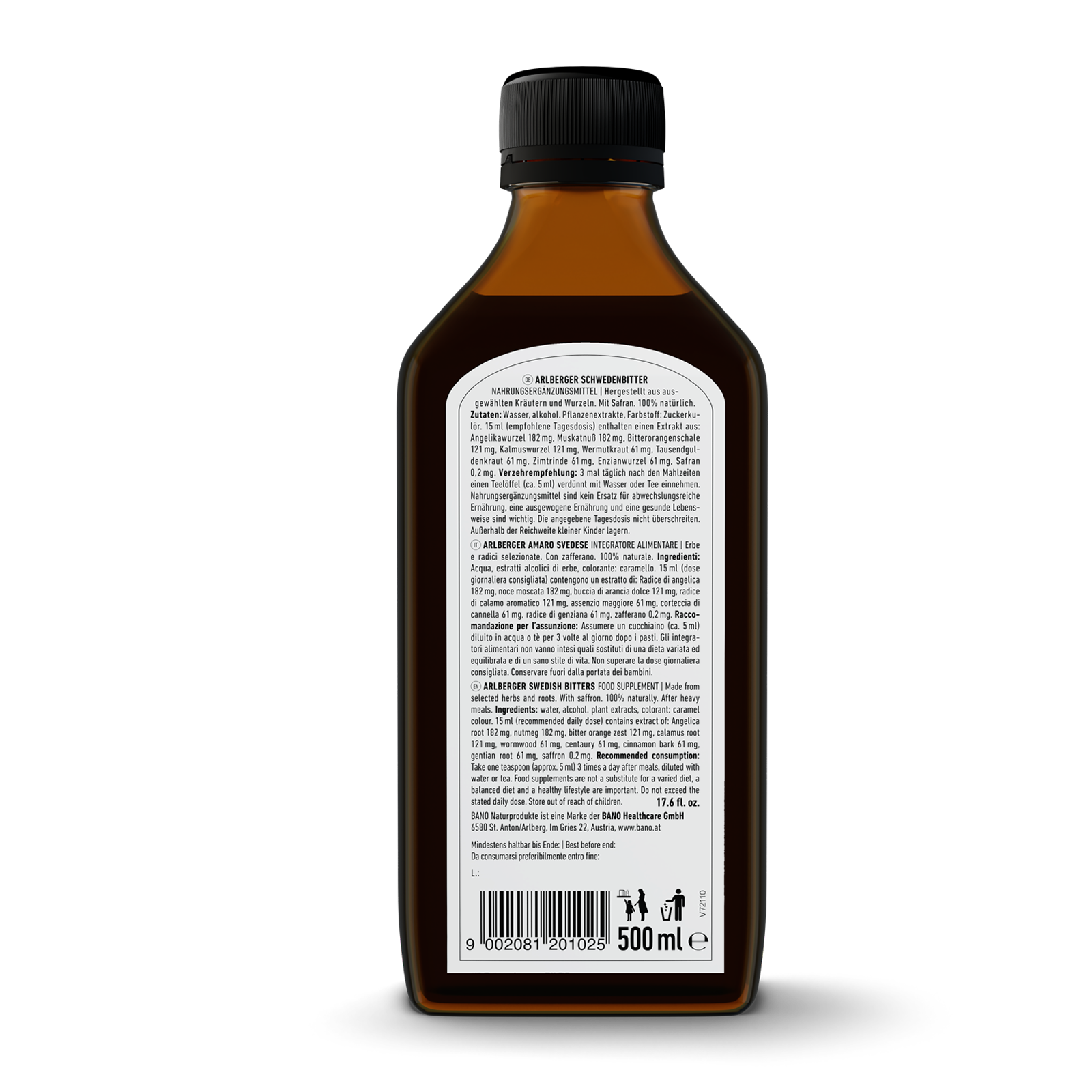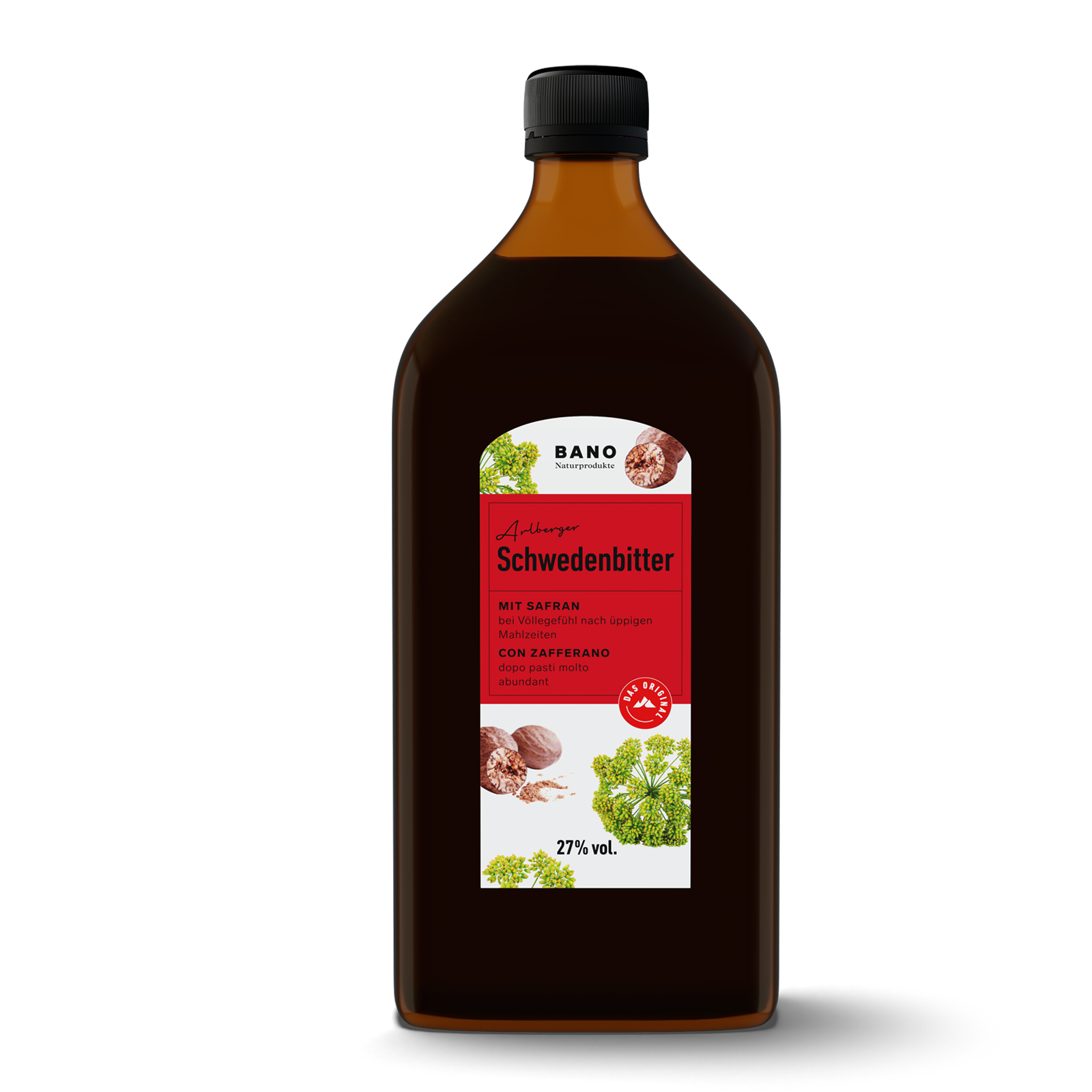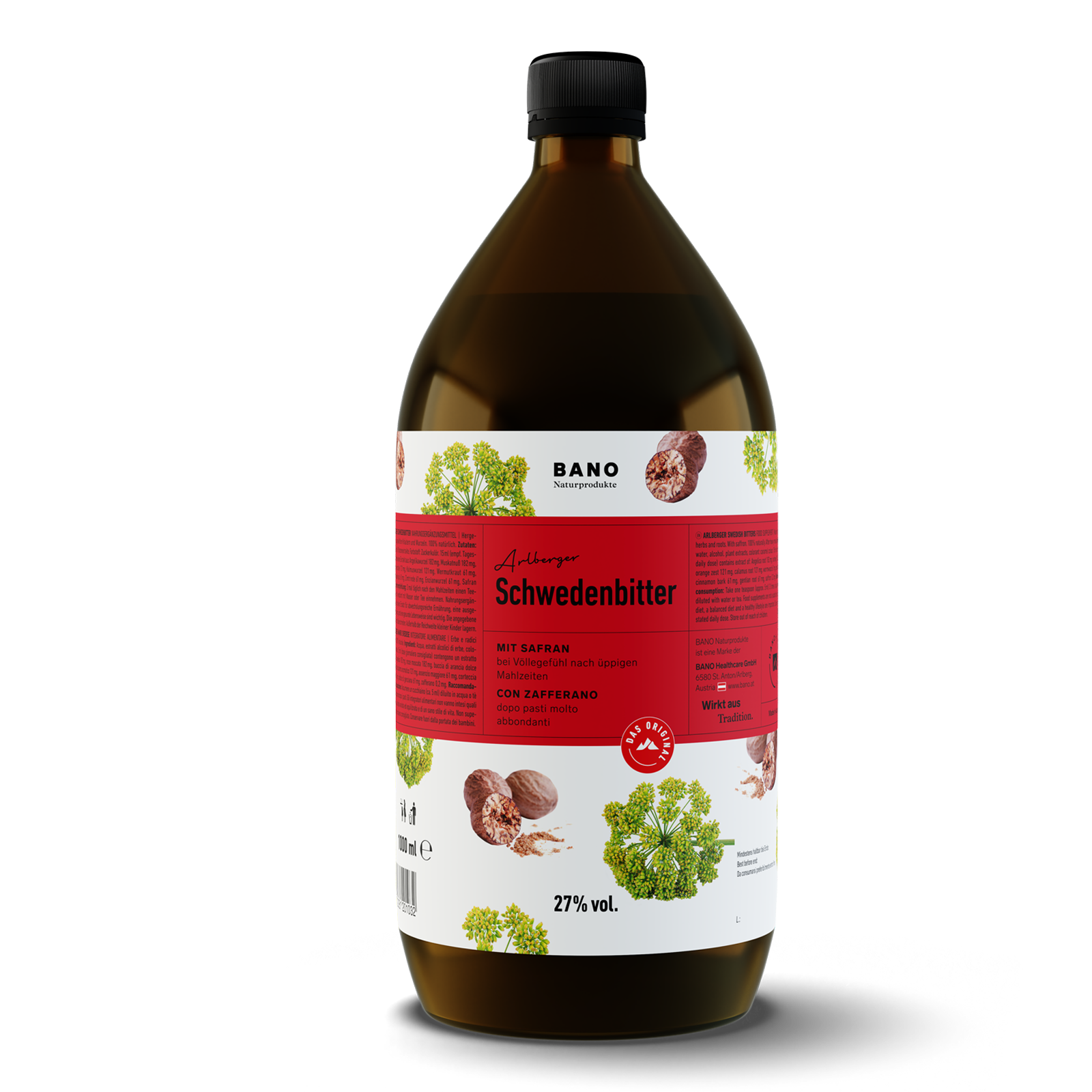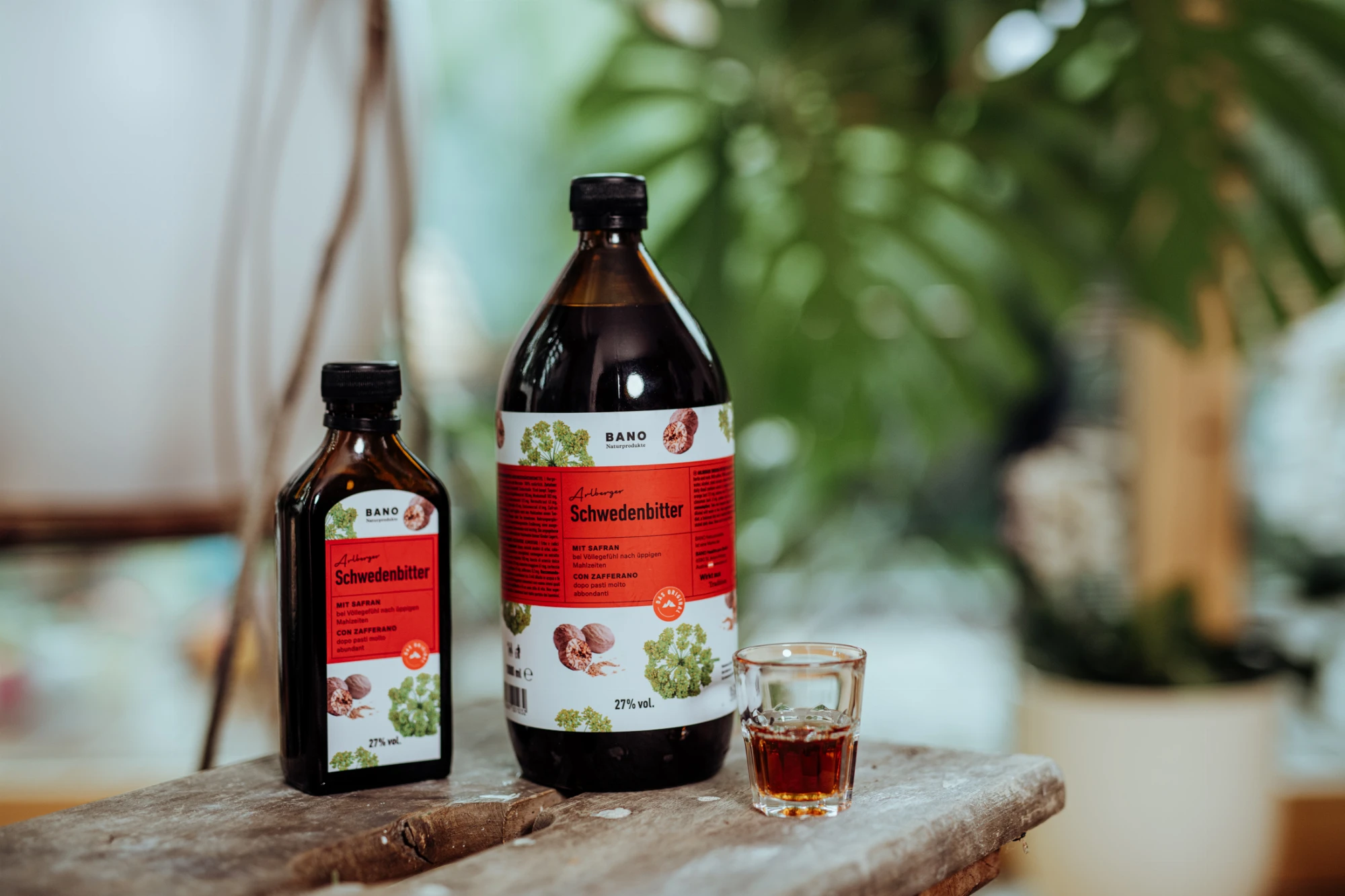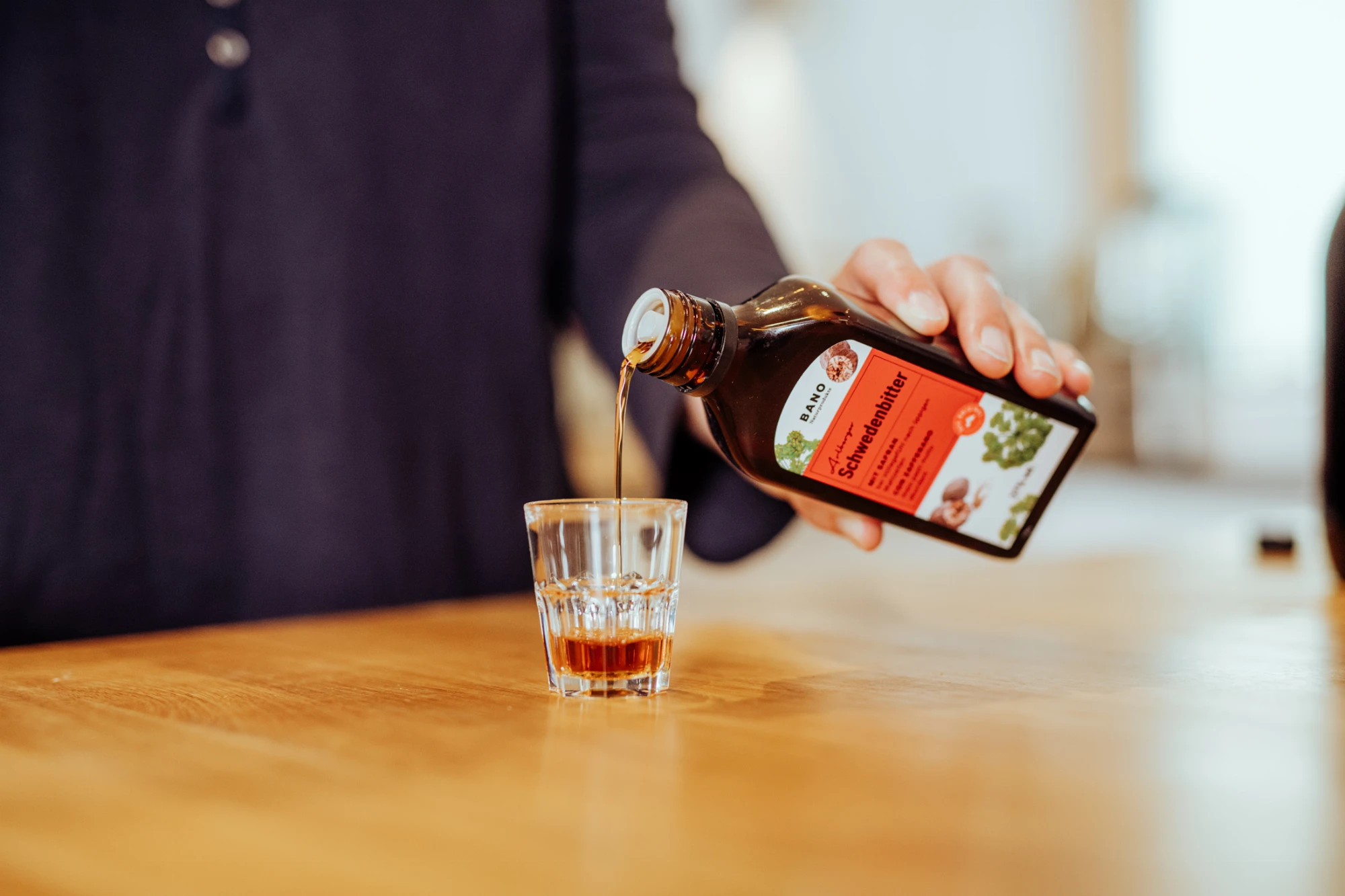 Benefits at a glance
Stimulates digestion

Ideal for treating bloating and flatulence

With select herbs and roots

Sugar-free, 27% alcohol
Arlberger Swedish Bitters
Bitters for digestive problems
€9.90*
Content:
0.2 L
(€49.50* / 1 L)
Product number:
24001
Benefits at a glance
Stimulates digestion

Ideal for treating bloating and flatulence

With select herbs and roots

Sugar-free, 27% alcohol
Arlberger Swedish Bitters: Product description
A food supplement made according to an original recipe with select herbs, roots and saffron.
Swedish bitters have never been missing from medicine cabinets since the 17th century. They used to be used to treat all kinds of aches and pains, though nowadays they are primarily taken after meals to promote wellbeing. Maria Treben's book "Health from God's Pharmacy" ensured that Swedish bitters became one of the best-known and most popular home remedies.
Our Swedish Bitters contain only alcohol, water and alcoholic herbal extracts.
Arlberger Swedish Bitters: Effect
Bitter substances are valuable digestive aids. When bitter food is ingested, the bitter receptors register this, causing increased production of gastric acid. The production and release of digestive enzymes are stimulated in the liver and pancreas, and digestion in the small intestine is accelerated.
In recent decades the food industry has increasingly removed naturally occurring bitter substances from salads, vegetables and bitter fruits. This lack of bitter substances can lead to the insufficient formation of gastric acid and digestive enzymes. This, in turn, can lead to flatulence, bloating and stomach distention.
The plant extracts selected for our Swedish Bitters contain bitter substances that have a digestive and stimulating effect and thus support digestion in the case of bloating and after a lavish meal.
How to use Swedish Bitters?
Take one teaspoon (about 5ml) diluted in water or tea three times a day after meals.
Arlberger Swedish Bitters: Ingredients
Water, alcohol, plant extracts. Colourant: caramel
15ml (recommended daily dose) contains the following extracts: 182mg angelica root, 182mg nutmeg, 121mg bitter orange peel, 121mg calamus root, 61mg wormwood, 61mg centaury, 61mg cinnamon bark, 61mg gentian root and 0.2mg saffron.
You just need the right ingredients
Orange peel is a frequent ingredient in tea blends. It contains bitter-tasting flavonoids that stimulate the release of various digestive juices. These not only relieve flatulence and bloating, they can also stimulate the appetite. That is why orange peel is often an ingredient in digestive tinctures and an important ingredient in our Swedish Bitters.
Centaury has many names. Depending on the region, it is also called feverfew, God's grace herb or bitter herb, and it is easy to see why given their respective uses. The extract is especially popular when it comes to stimulating the digestive juices of the liver, gall bladder and stomach.
Angelica was grown in medieval monastery gardens, primarily to combat the plague. Its name probably refers to the celestial powers attributed to it. The main plant, which is quite stately at 2m high, contains coumarins, caffeic acid derivatives and essential oils as its most important constituents. Dried angelica roots are used in our Swedish Bitters and contribute to their bitter taste.
Cinnamon was already mentioned in the Old Testament. In Europe it has been used since around 500 BC. The spice not only tastes great in Christmas biscuits, it also stimulates the digestive in those who suffer from flatulence and loss of appetite.
Like most medicinal plants, wormwood has been used since ancient times, when it was considered sacred and was dedicated to the goddess Artemisia, the patron saint of women. Wormwood has been used in many different ways – as a love potion, instead of incense or as a worming agent by the ancient Egyptians. Sebastian Kneipp also recommended it, and for a long time absinthe distilled from wormwood was a popular, intoxicating drink (when taken to excess). In our Swedish Bitters it is said to intensify the bitter taste and thus has a stimulating effect on all the digestive juices and aids digestion.
Good to know
What are Swedish bitters good for?
Swedish bitters are used to aid digestion, especially after rich, heavy meals, to relieve bloating or loss of appetite.
When should I take Swedish bitters?
Since the bitter substances contained in Swedish bitters stimulate the production of gastric acid, it is best to take it after meals. This aids the stomach during digestion.
What are the symptoms of indigestion?
The most common symptoms include:
f

eeling full

flatulence

abdominal cramps

abdominal pain

belching

nausea
Quality from experience
Tried and tested formulations
We rely on traditional combinations of active ingredients, some of which have been tried and tested for centuries and are processed with modern formulations.
Tested raw materials
Only tested raw materials are used in production, many of which also meet the requirements of the European Pharmacopoeia or are of medicinal quality.
High-quality production
Our production is ISO 13485:2016 certified and audited annually, which ensures that our products are always of consistent quality.