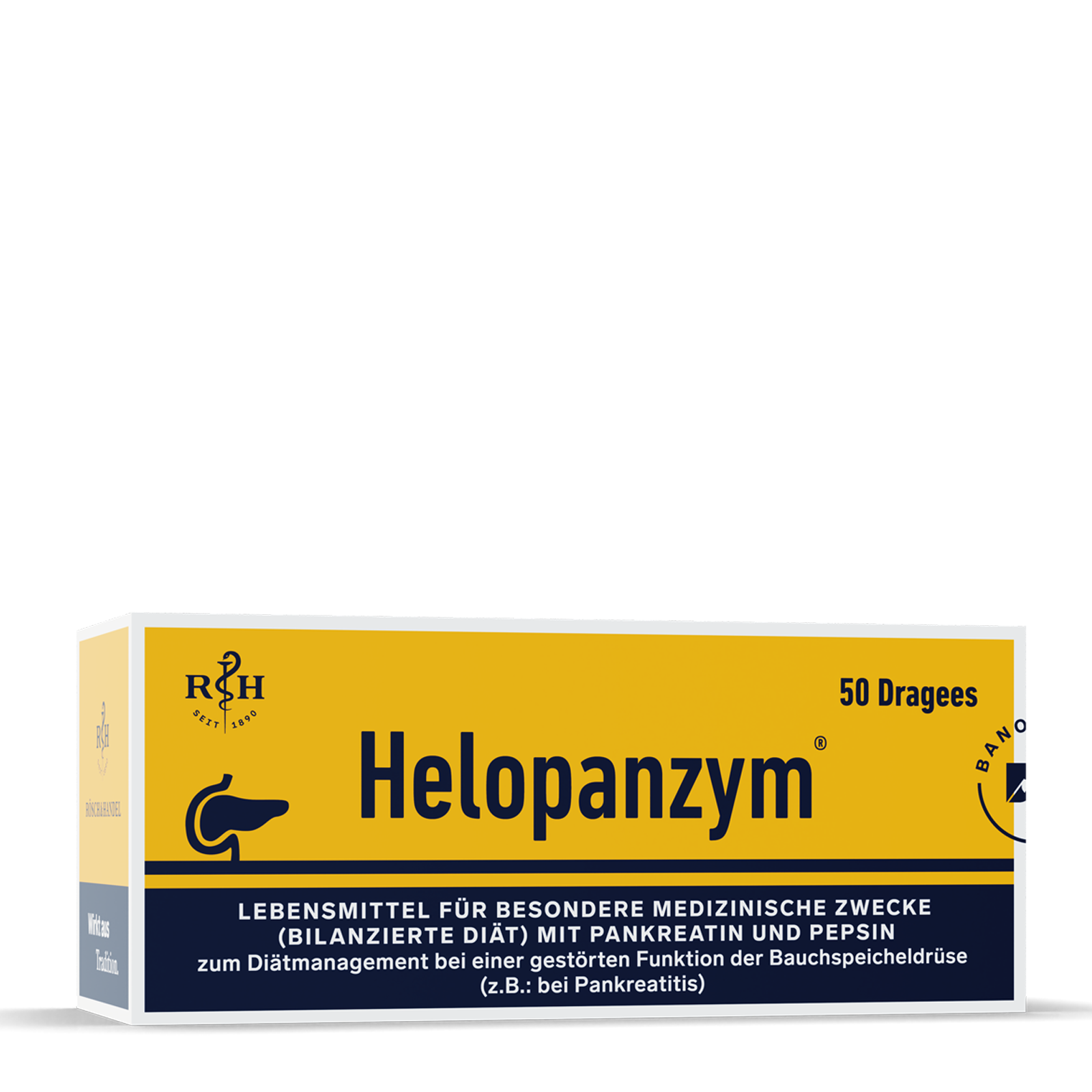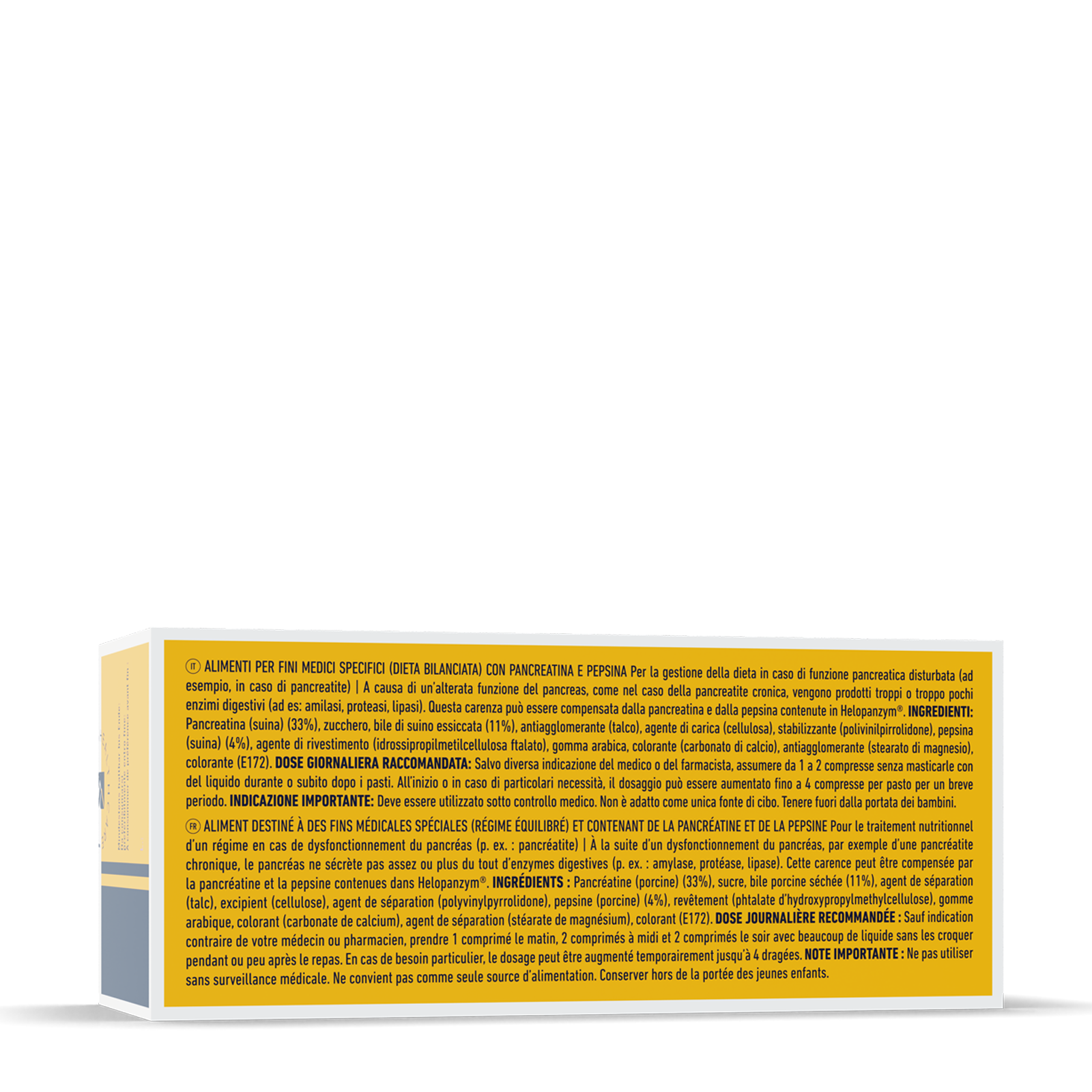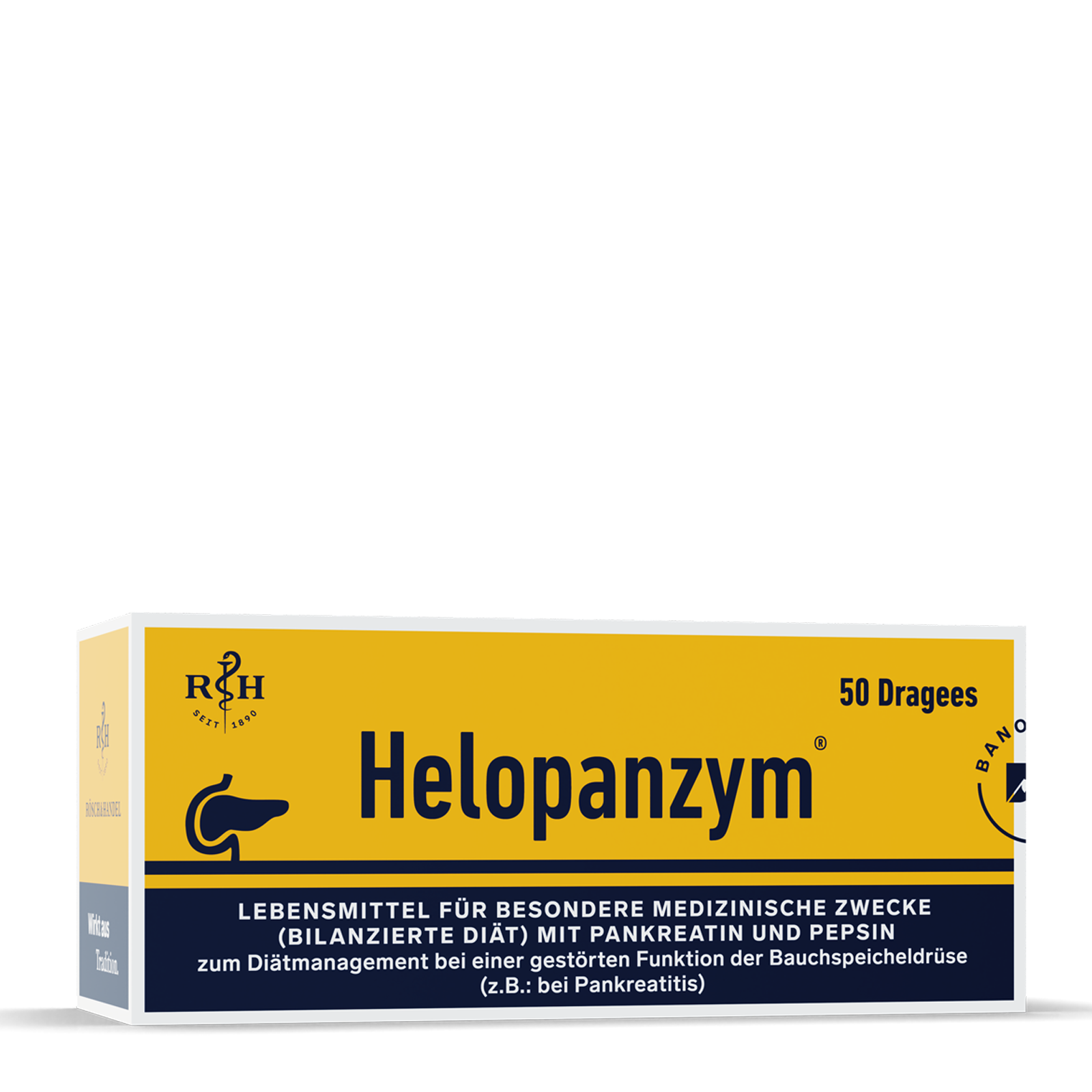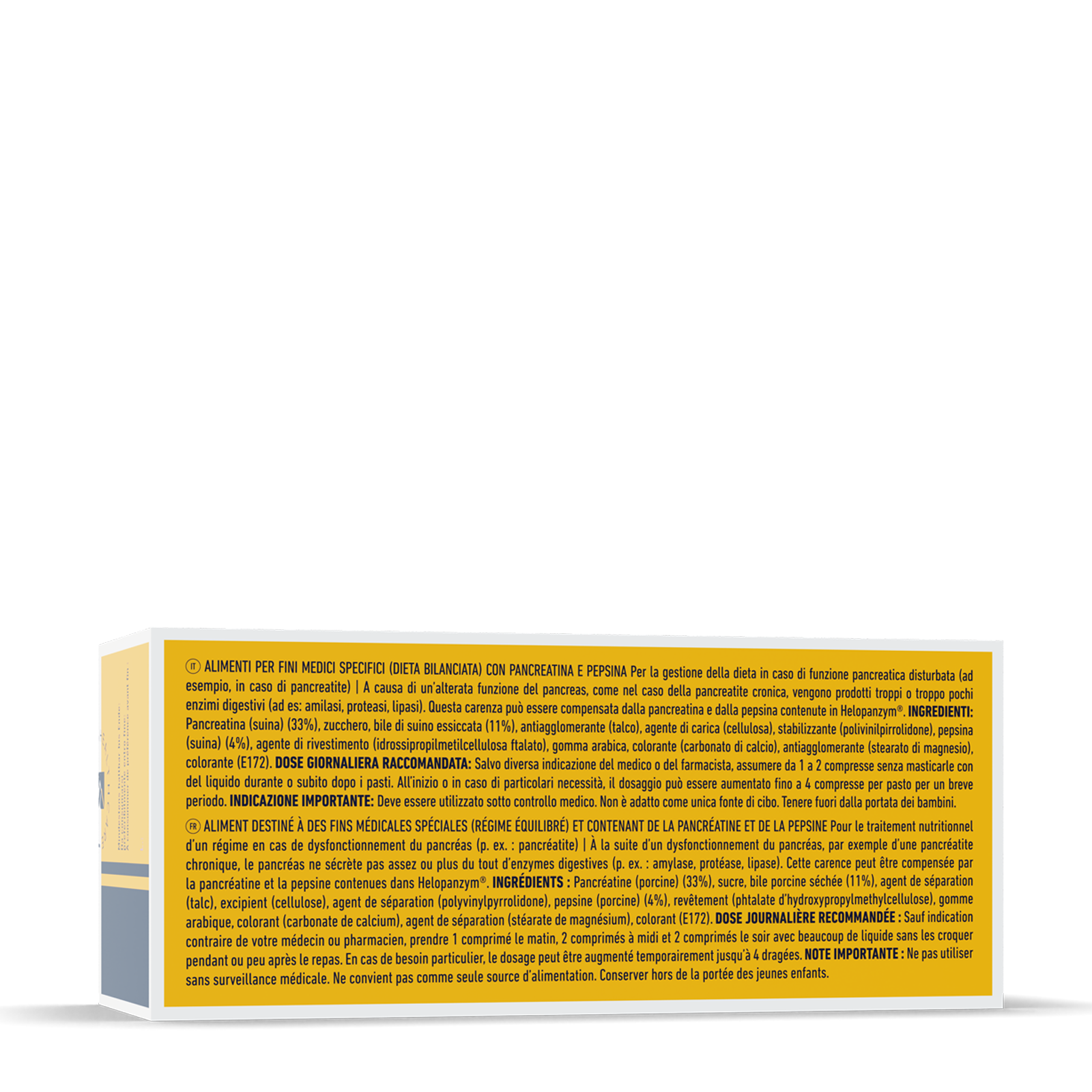 Benefits at a glance
With pancreatin and pepsin

For digestive problems caused by enzyme deficiency

Based on a decades-old recipe
Helopanzym
For digestive problems caused by enzyme deficiency
€12.95
Content:
50 pcs.
(€0.26 / 1 pcs.)
Product number:
7000165
Benefits at a glance
With pancreatin and pepsin

For digestive problems caused by enzyme deficiency

Based on a decades-old recipe
Helopanzym: Product description
Pancreatic insufficiency, such as chronic pancreatitis, leads to the production of insufficient or no digestive enzymes (e.g. amylase, protease, lipase). This insufficiency can be compensated by means of the pancreatin and pepsin in Helopanzym.
Helopanzym: Effect
Pancreatin and pepsin promote the production of digestive enzymes in the stomach to counteract indigestion.
Helopanzym: Uses and indications
Take two coated tablets before or during meals – up to four coated tablets for a short time –and one to two coated tablets before going to bed. The coated tables are best taken unchewed and with a little liquid.
Helopanzym: Ingredients
33% pancreatin (porcine), sugar, 11% dried porcine bile, anti-caking agent (talc), bulking agent (cellulose), anti-caking agent (polyvinylpyrrolidone), 4% pepsin (porcine), coating agent (hydroxypropyl methylcellulose phthalate), gum arabic, rice starch, colourant (E171), anti-caking agent (magnesium stearate), colourant (E172)
Good to know
How do I know if I have an enzyme deficiency?
Enzyme deficiency in the digestive system leads to digestive problems and can manifest itself as various symptoms. It leads to the body being unable to make proper use of ingested food, food being transported partially unprocessed and beginning to "rot" in the digestive tract due to not being broken down, which can lead to abdominal pain, bloating, diarrhoea and weight loss.
How do digestive enzymes work?
Digestive enzymes help to break down food into their constituent parts and thus enables the body to make use of these. In simple terms, amylases help to break down carbohydrates in the mouth, proteases break down proteins in the stomach and lipases break down fats in the small intestine. These enzymes are normally produced by the pancreas and can be supplied externally by taking Helopanzym.
There are other enzyme deficiencies, such as a deficiency of lactase (leading to lactose intolerance), DiAminOxidase (leading to histamine intolerance) or the enzyme fructose-1-phosphate aldolase (leading to fructose intolerance). These enzymes are not included in Helopanzym.
What works against enzyme deficiency?
If you suffer from an enzyme deficiency, it is important to support the body by taking the enzymes you are lacking. The pancreatin and pepsin in Helopanzym support digestion in the stomach and intestines so that ingested food can be broken down into its individual nutrients. Pancreatin produces the amylases, proteases and lipases mentioned above.
Go to our download area for directions for use.
Helo-Acid
For digestive disorders caused by gastric acid deficiency
Content: 90 pcs. (€0.17 / 1 pcs.)
Quality from experience
Tried and tested formulations
We rely on traditional combinations of active ingredients, some of which have been tried and tested for centuries and are processed with modern formulations.
Tested raw materials
Only tested raw materials are used in production, many of which also meet the requirements of the European Pharmacopoeia or are of medicinal quality.
High-quality production
Our production is ISO 13485:2016 certified and audited annually, which ensures that our products are always of consistent quality.