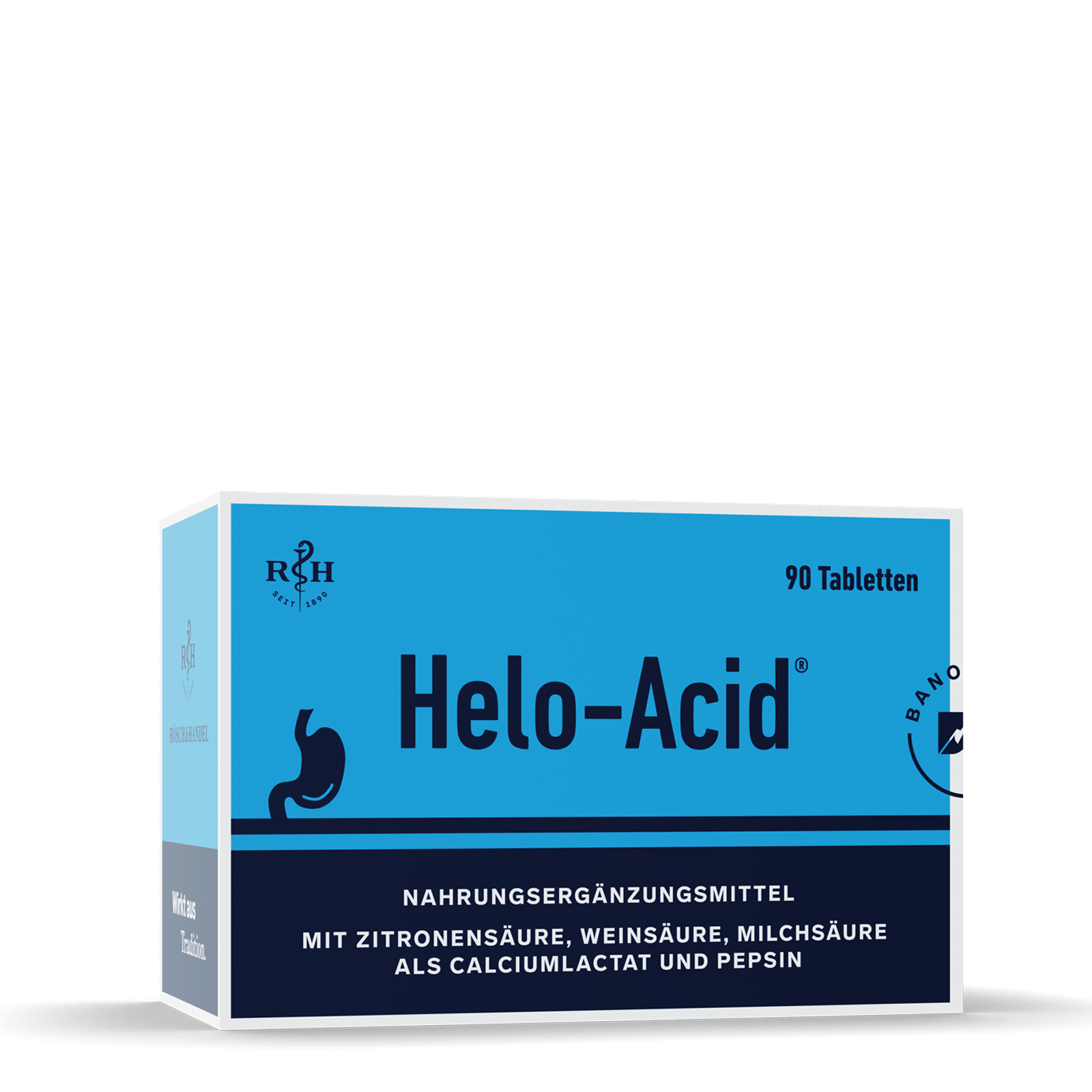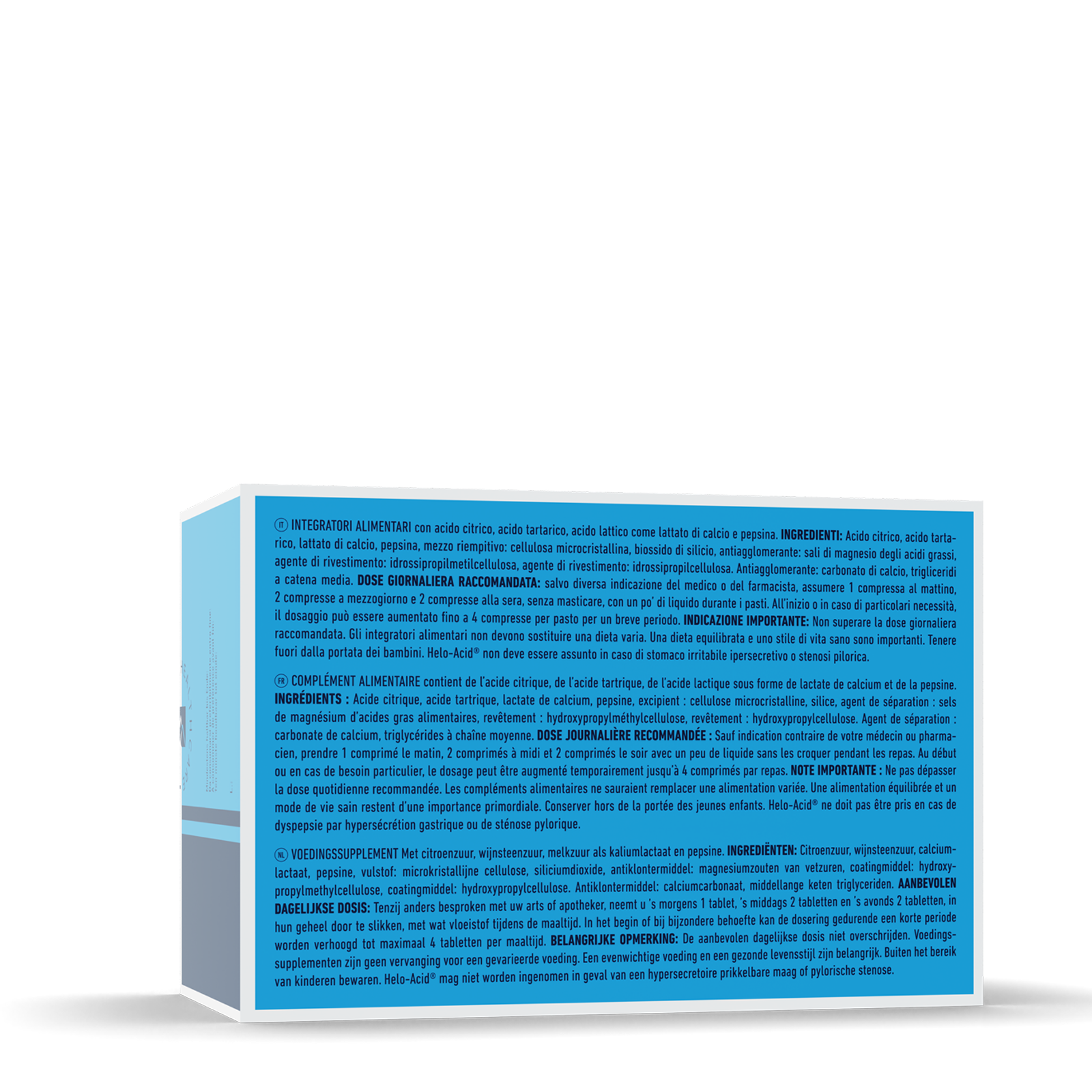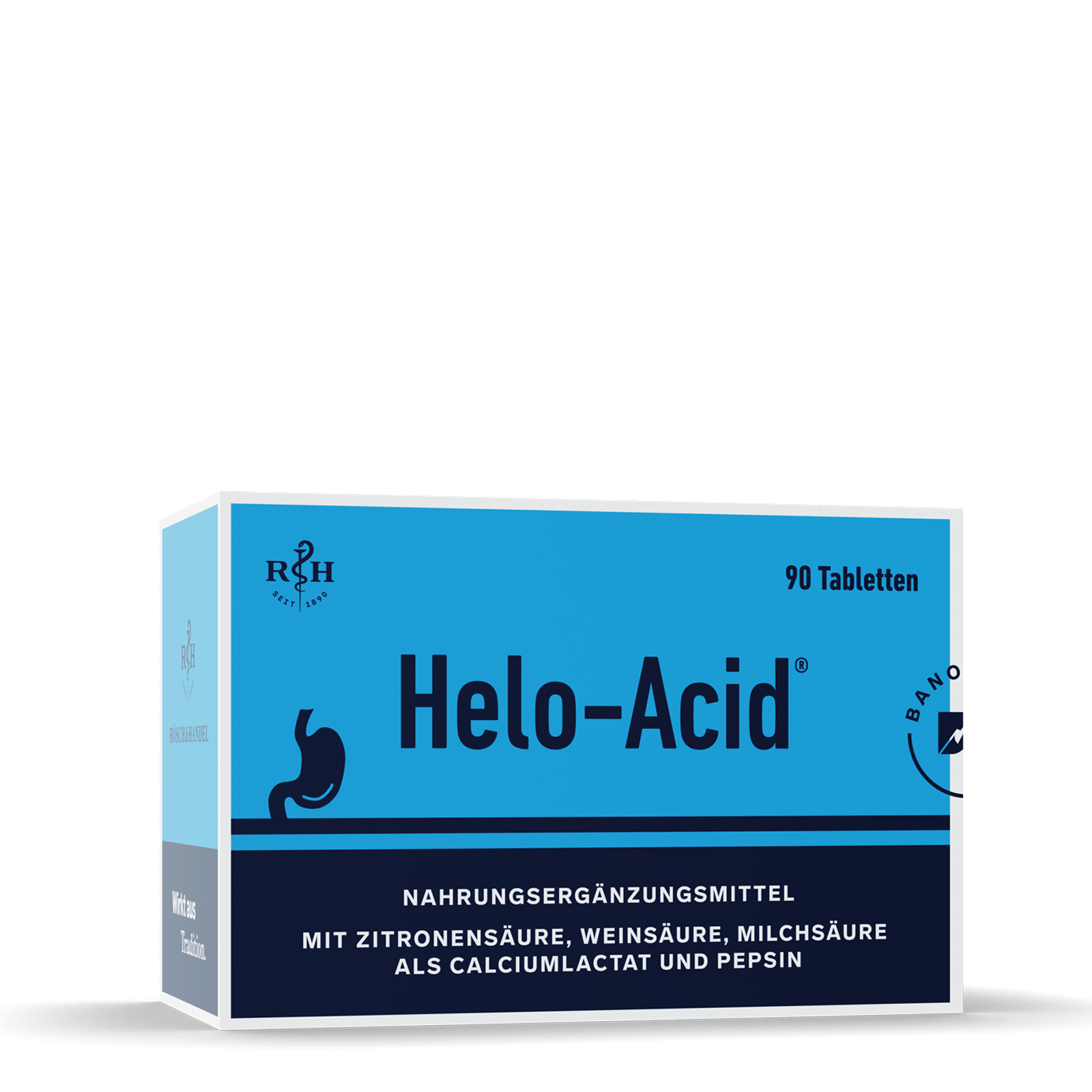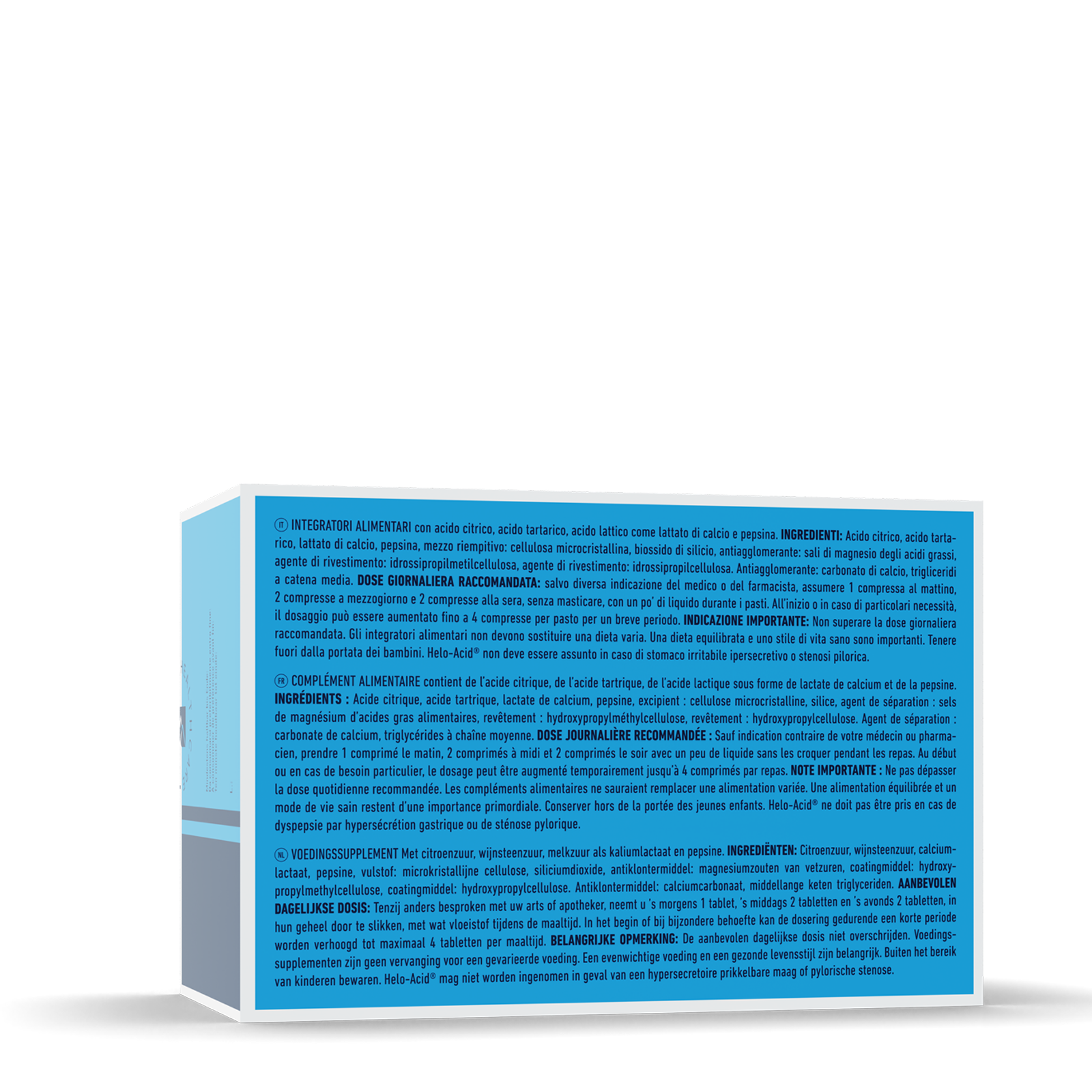 Benefits at a glance
For digestive disorders caused by acid deficiency

With pepsin to combat enzyme deficiency

With citric acid, tartaric acid and lactic acid (calcium lactate)
Helo-Acid
For digestive disorders caused by gastric acid deficiency
€14.90
Content:
90 pcs.
(€0.17 / 1 pcs.)
Product number:
7000158
Benefits at a glance
For digestive disorders caused by acid deficiency

With pepsin to combat enzyme deficiency

With citric acid, tartaric acid and lactic acid (calcium lactate)
Helo-Acid: Product description
Helo-Acid tablets are used to treat indigestion caused by gastric juice deficiency, acid deficiency and enzyme deficiency in the stomach.
Helo-Acid: Effect
Helo-Acid tablets contain the proteolytic enzyme pepsin, fruit acids and lactic acid. The effect is based on the digestive properties of the organic acids and the digestive power of the gastric enzyme pepsin.
They fulfil the various tasks of the natural gastric juice, that is they mainly prepare food and protect the stomach against bacterial colonisation with fermenting and putrefactive bacteria. In addition, Helo-Acid can have a positive effect on the stomach's own acid formation.
Helo-Acid may not be taken by those with hypersecretory dyspepsia or pyloric stenosis.
Helo-Acid: Uses and indications
To be taken with a little liquid in case of indigestion due to a lack of gastric acid and enzymes. We recommend taking one tablet in the morning, two tablets at noon and two tablets in the evening without chewing.
Helo-Acid: Ingredients
Citric acid, tartaric acid, calcium lactate, pepsin, bulking agent: microcrystalline cellulose, silicon dioxide, separating agent: magnesium salts of fatty acids, glazing agent: hydroxypropylmethylcellulose, glazing agent: hydroxypropyl cellulose, separating agent: calcium carbonate, medium-chain triglycerides
One tablet contains 120mg citric acid, 100mg tartaric acid and 8.2mg pepsin.
The total acid content of one tablet of Helo-Acid is approximately equivalent to 34ml of 0.1 N-HCl.
Do not simultaneously use so-called "base powders", as this can reduce the effectiveness of Helo-Acid.
Go to in our download area for directions for use.
Good to know
What causes gastric acid deficiency?
Gastric acid deficiency (achylia) can be caused by surgical procedures, advancing age, chronic gastritis, stress or the long-term use of medications that inhibit gastric acid.
How does gastric acid deficiency manifest itself?
Gastric acid is often mistakenly associated with negative side effects. In fact, the gastric acid produced by the stomach lining has the important task of breaking down food pulp and all its nutrients, such as trace elements and vitamins. Acidity also kills most of the undesirable bacteria contained in food.
Too much gastric acid as well as gastric acid deficiency can cause unpleasant symptoms such as indigestion, flatulence, nausea, deficiencies (e.g. of vitamin B12), bloating and gastric discomfort.
When do you need pepsin?
Pepsin consists of hydrochloric acid and fulfils various tasks in the natural gastric juice. Above all, however, it prepares the food by pre-digesting food proteins and thus enabling further processing in the body.
Its acidity protects the body from bacterial colonisation with fermenting and putrefactive bacteria and kills bacteria.
Helopanzym
For digestive problems caused by enzyme deficiency
Content: 50 pcs. (€0.26 / 1 pcs.)
Quality from experience
Tried and tested formulations
We rely on traditional combinations of active ingredients, some of which have been tried and tested for centuries and are processed with modern formulations.
Tested raw materials
Only tested raw materials are used in production, many of which also meet the requirements of the European Pharmacopoeia or are of medicinal quality.
High-quality production
Our production is ISO 13485:2016 certified and audited annually, which ensures that our products are always of consistent quality.