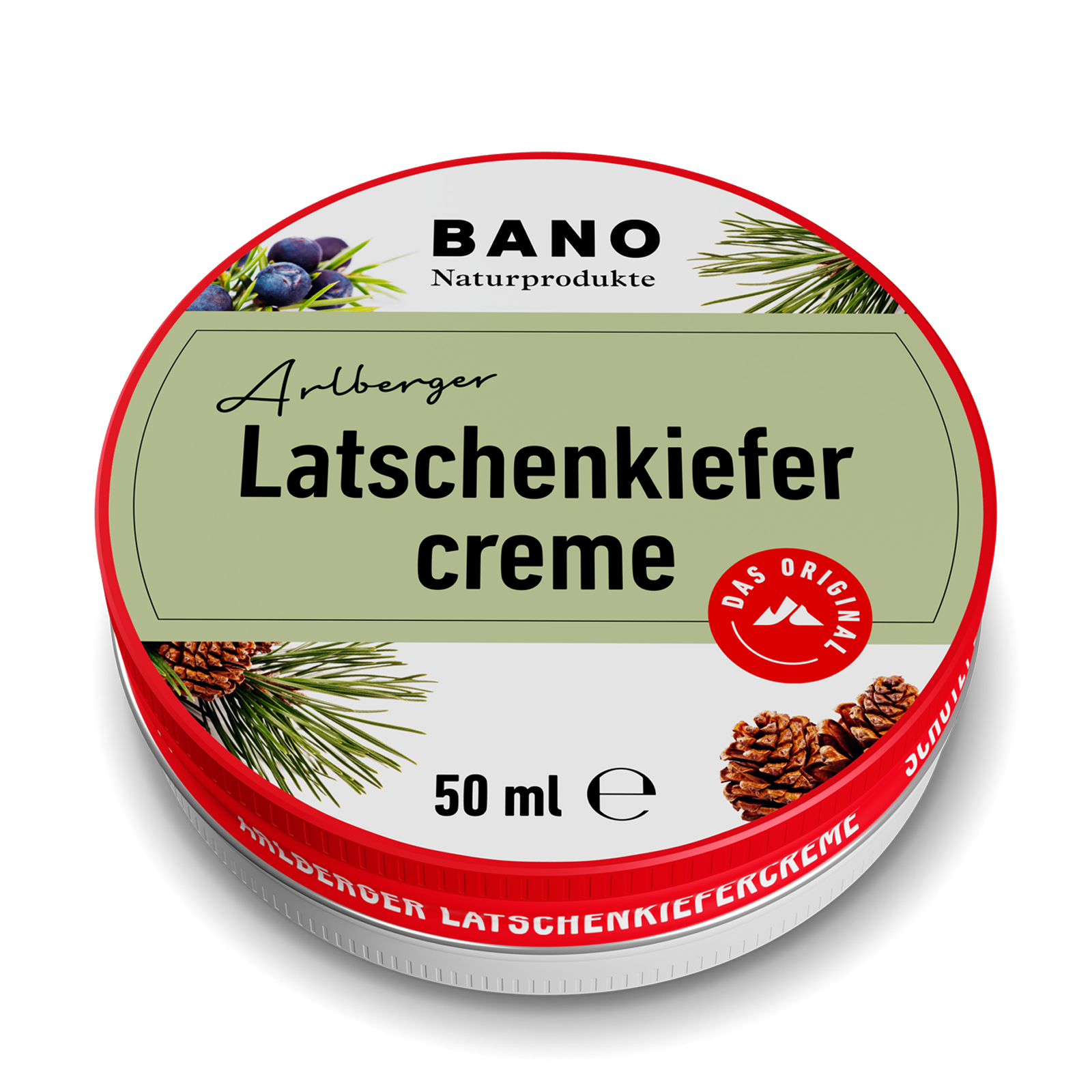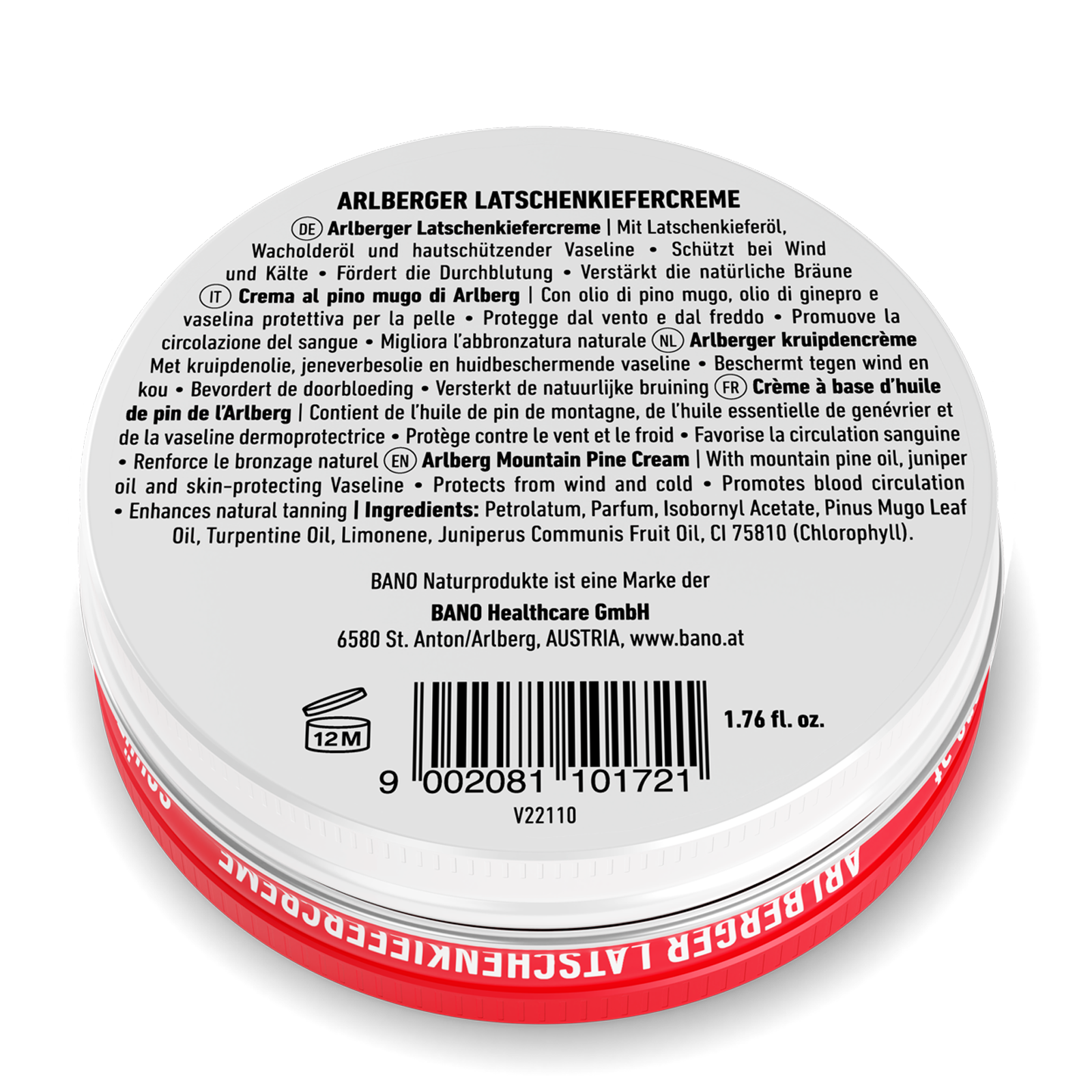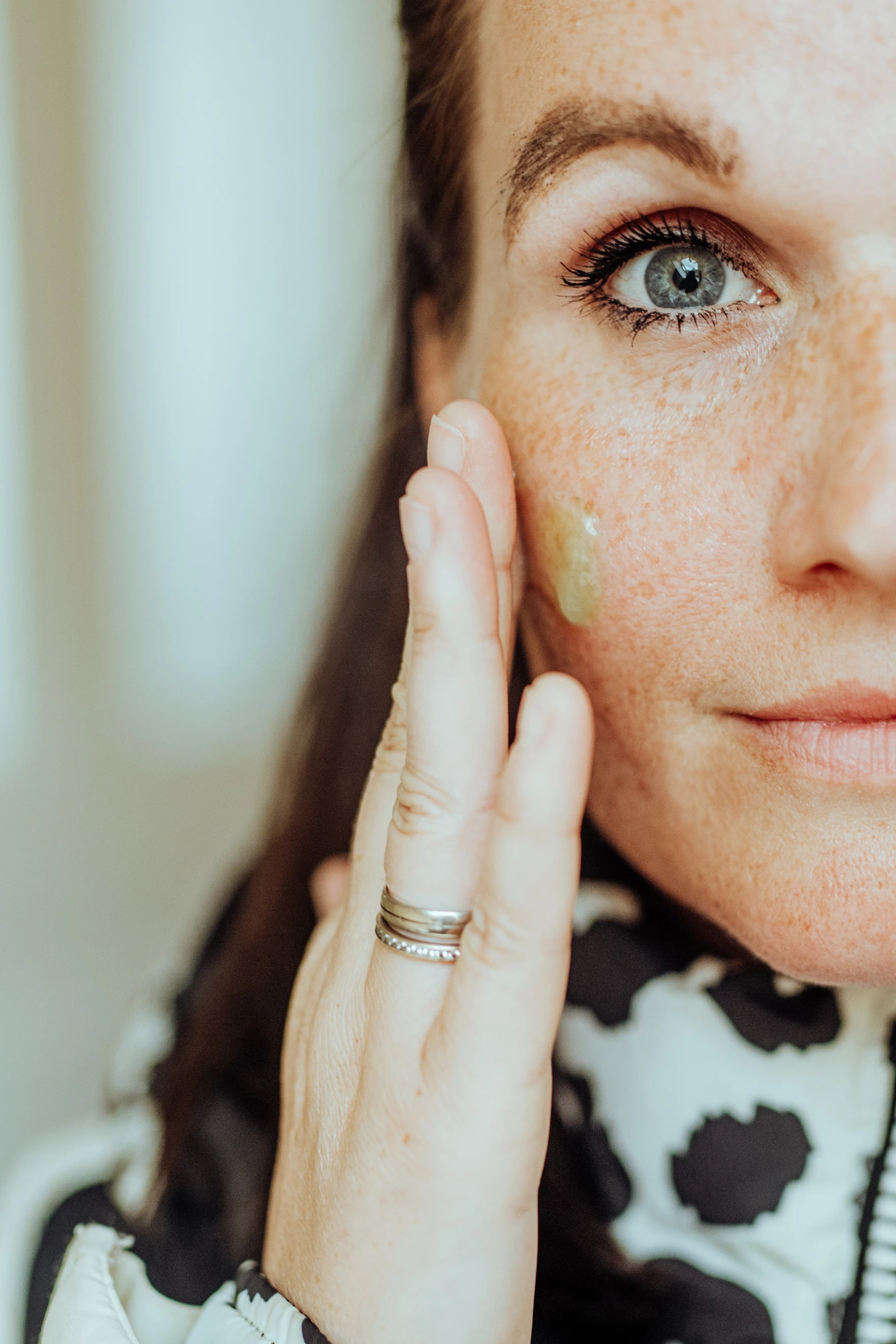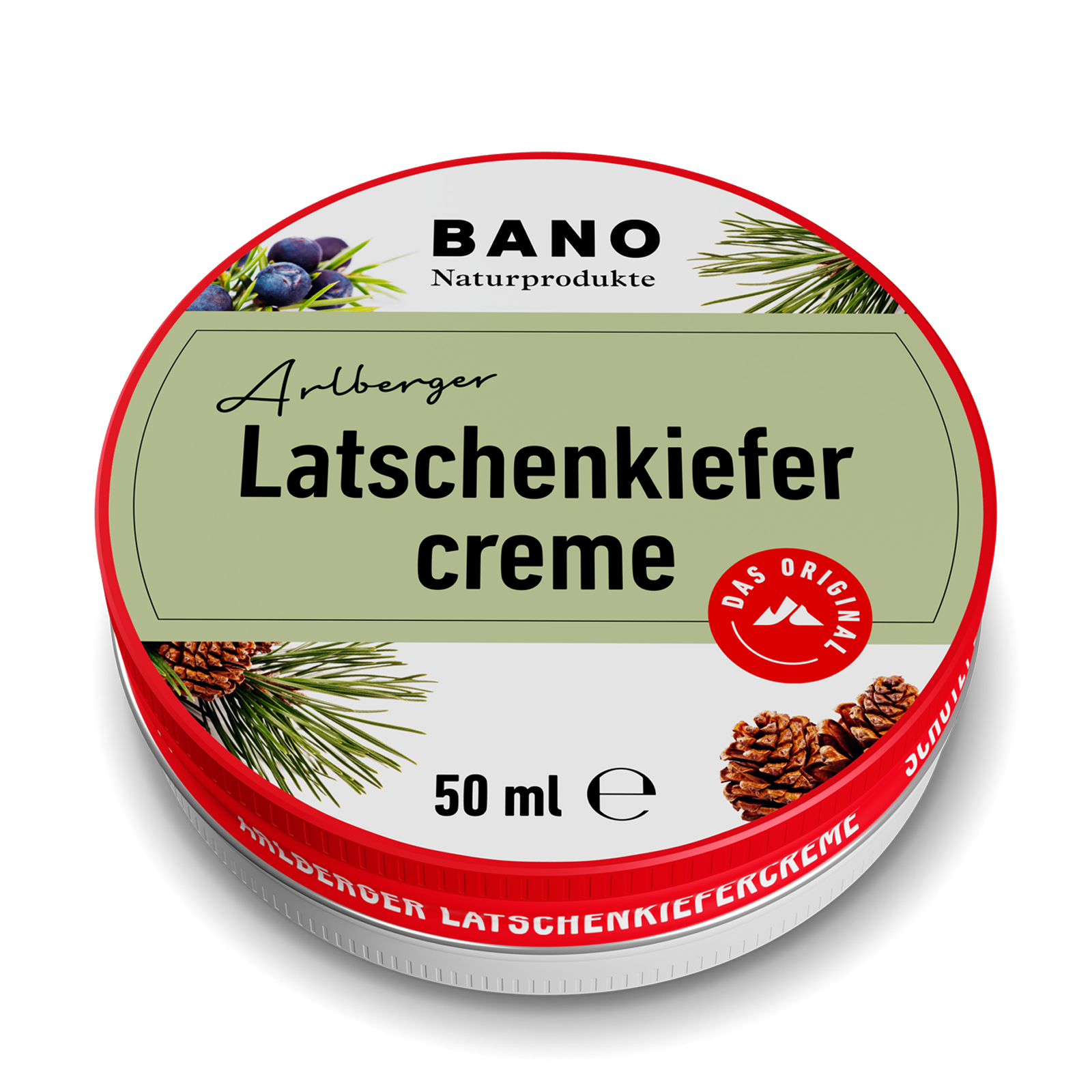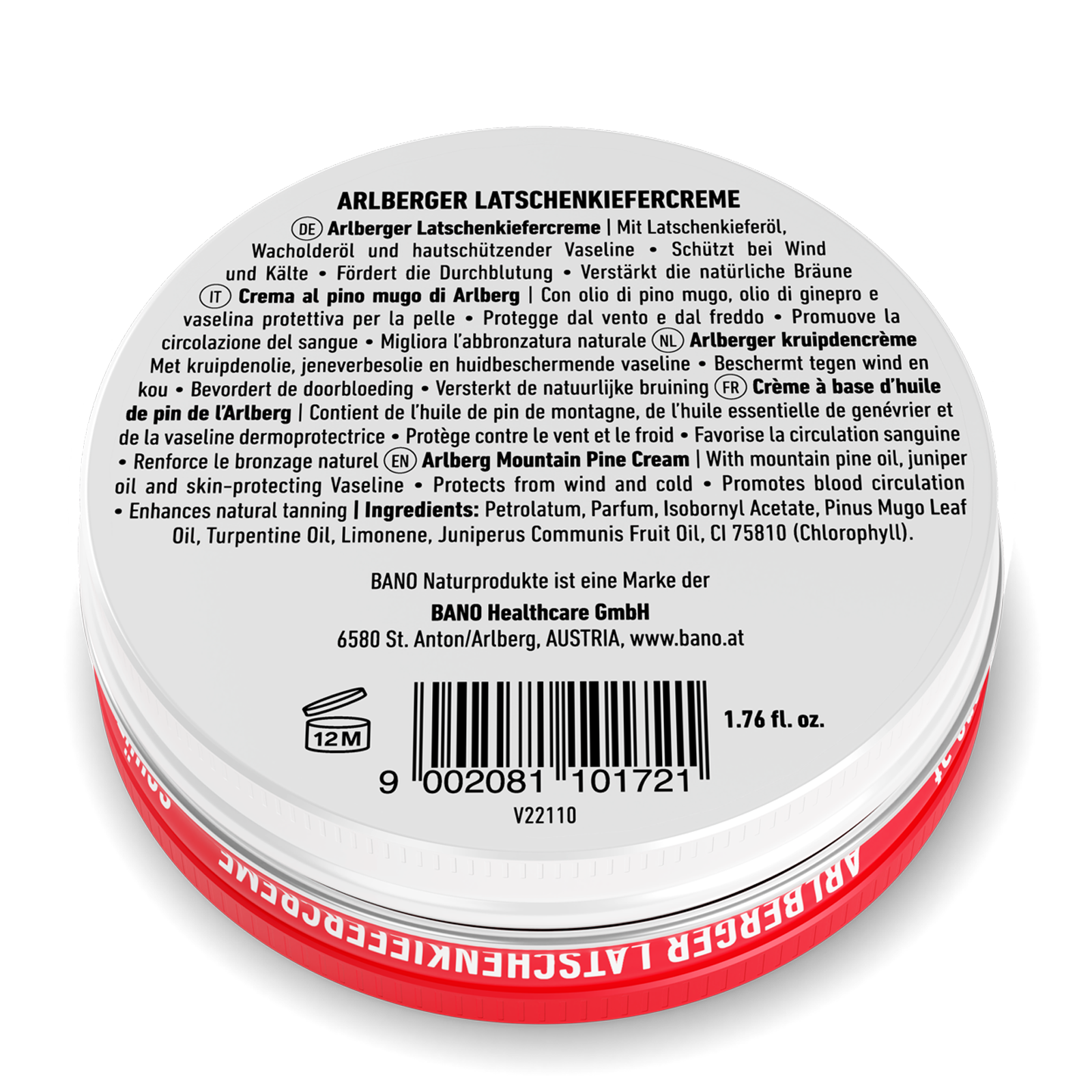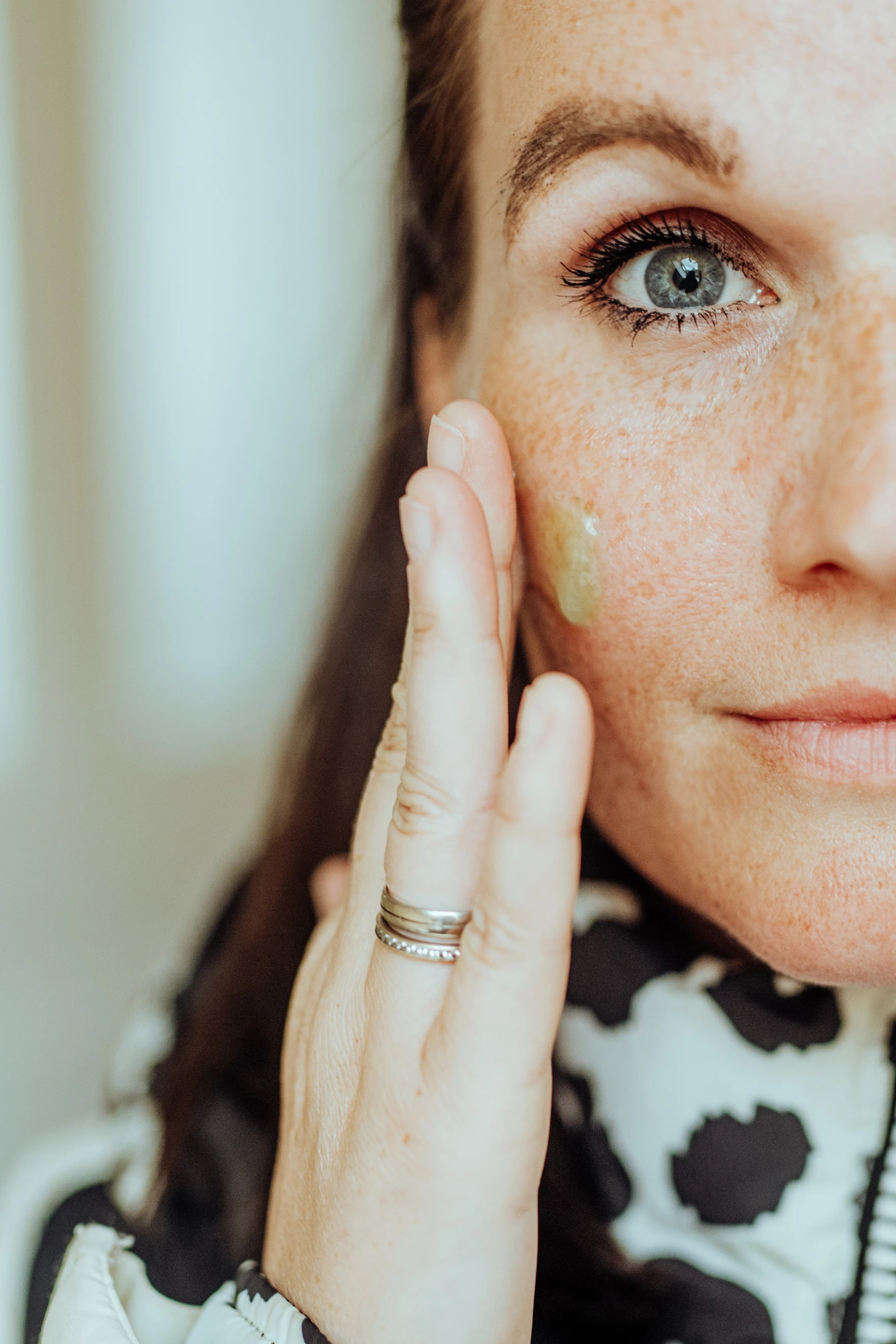 Benefits at a glance
Protects against wind and cold

Ideal for protecting skin in winter and when skiing

Aids natural tanning
Arlberger Mountain Pine Cream
Protects against wind and cold
€8.90*
Content:
0.05 L
(€178.00* / 1 L)
Product number:
18001
Benefits at a glance
Protects against wind and cold

Ideal for protecting skin in winter and when skiing

Aids natural tanning
Arlberger Mountain Pine Cream: Product description
Our skin already shuts down its own fat production when the temperature drops below 8°C. Yet, fat acts as a barrier and prevents cold winter air from damaging the skin.
That's why Arlberg Mountain Pine Cream is the absolute best for when you're on the piste. It protects the skin against the wind and cold and also aids natural tanning by reflecting the sun on account of the Vaseline it contains.
Arlberger Mountain Pine Cream: Effect
The combination of mountain pine oil, juniper berry extract and skin-protecting Vaseline makes this cream unique. Its effectiveness and the pleasant smell of mountain pine have made our Mountain Pine Cream part of many skiers' standard equipment for many years. Ski instructors in particular who are permanently exposed to the wind and cold and want an intensive tan swear by our Arlberg Mountain Pine Cream.
Arlberger Mountain Pine Cream: Uses and indications
Apply to the face, neck and throat as needed. If you only wish to protect your skin against the cold and do not need the tanning effect, you can apply sunscreen first.
Arlberger Mountain Pine Cream: Ingredients
Petrolatum (Vaseline), Pinus Mugo Leaf Oil (Mountain Pine Oil), Parfum, Juniperus Communis Fruit Oil (Juniper Berry Oil), Limonene*, CI 75810 (Chlorophyll Dye).
* Essential oil ingredient
Good to know
What is mountain pine cream good for?
Mountain pine cream not only promotes natural tanning but above all protects the skin against the wind and cold.
Where does the mountain pine come from?
The mountain pine belongs to the pine family and grows in the mountains where only a few trees can still thrive, such as the Swiss stone pine. There they defy the wind, weather and especially the cold and offer important protection against avalanches.
How do mountain pine oil and juniper berry oil work?
Mountain pine oil has been used for centuries to promote blood flow and also has a beneficial effect on the musculoskeletal system. It is a firm fixture in medicine cabinets across the alpine region.
Juniper berry oil, like mountain pine oil, is obtained by steam distillation. It is said to have mainly invigorating properties.
Why does mountain pine cream contain petroleum jelly?
The Vaseline contained in Arlberg Mountain Pine Cream serves to protect the skin from the cold and wind. It forms a protective layer through which the cold can hardly penetrate.
Who is the mountain pine cream suitable for?
Sports enthusiasts of all ages and all those who spend a lot of time outdoors in the winter rely on the power of mountain pine, including
skiers

ski instructors

mountain climbers

paragliders

ski tourers

cross-country skiers

snowshoe hikers
Our top tip for cold feet
Apply our Mountain Pine Cream to the feet before going to bed. That way your feet will stay nice and warm even in winter.
Quality from experience
Tried and tested formulations
We rely on traditional combinations of active ingredients, some of which have been tried and tested for centuries and are processed with modern formulations.
Tested raw materials
Only tested raw materials are used in production, many of which also meet the requirements of the European Pharmacopoeia or are of medicinal quality.
High-quality production
Our production is ISO 13485:2016 certified and audited annually, which ensures that our products are always of consistent quality.