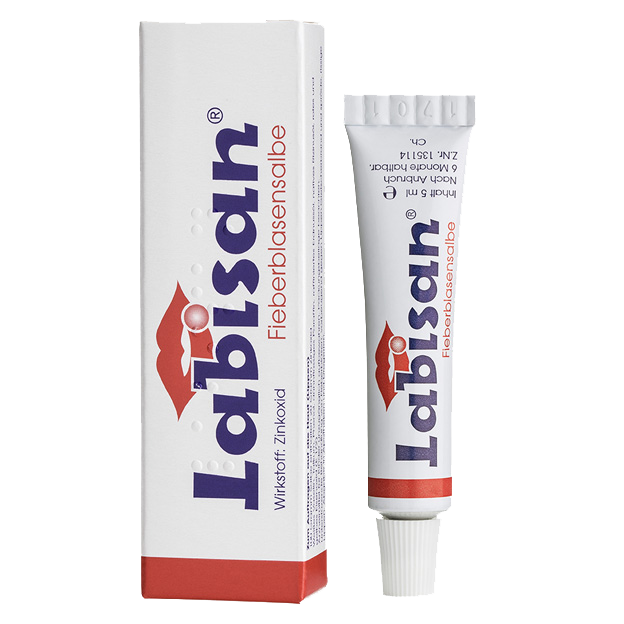 Benefits at a glance
Anti-inflammatory

Decongestant and drying effect

Local immunostimulant

Long-lasting UV protection
Labisan Fever Blister Ointment
The crème de la crème for herpes
This product is a medicinal product and is therefore unfortunately not allowed to be sold through our online shop. You can get it without a prescription at any Austrian pharmacy.
Product number:
30001
Benefits at a glance
Anti-inflammatory

Decongestant and drying effect

Local immunostimulant

Long-lasting UV protection
Labisan Fever Blister Ointment: Product description
Labisan Fever Blister Ointment prevents and treats fever blisters (herpes ambiti di utilizzo) and prevents chapped, cracked lips.
Labisan Fever Blister Ointment: Effect
Labisan Fever Blister Ointment prevents fever blisters, also known as cold sores, and helps them to heal quickly. It can also be used to treat chapped, cracked lips and protects them from sun exposure on account of the UV protection it contains.
Zinc oxide has an astringent, anti-inflammatory effect and antimicrobial effect. By contracting superficial vessels, it supports the drying effect on weeping wounds.
Zinc influences the activity of numerous enzymes and can therefore be key to the healing process in superficial skin injuries.
Labisan Fever Blister Ointment: Uses and indications
Apply Labisan Fever Blister Ointment thinly to the lips or affected areas when you notice the first signs of a fever blister developing.
Labisan Fever Blister Ointment: Ingredients
Active substance: zinc oxide
Other ingredients: white Vaseline, talcum, phenol, thin paraffin, refined peanut oil, virgin castor oil, red and yellow iron oxide (E172)
Good to know
How do fever blisters develop?
Fever blisters are triggered by the herpes simplex virus, which gets into the nerve ganglia after the initial infection and is reactivated during physical exertion, stress or excessive UV radiation, leading to the development of fever blisters.
Are herpes and fever blisters the same thing?
Fever blisters are small blisters on the lip caused by the herpes simplex virus. Both terms are in use and they describe the same symptom.
Is herpes contagious?
Yes, herpes, or cold sores, are contagious. If you have oral herpes, you should therefore be careful not to share glasses or bottles with other people, to clean your hands thoroughly after touching your lips and avoid kissing.
Quality from experience
Tried and tested formulations
We rely on traditional combinations of active ingredients, some of which have been tried and tested for centuries and are processed with modern formulations.
Tested raw materials
Only tested raw materials are used in production, many of which also meet the requirements of the European Pharmacopoeia or are of medicinal quality.
High-quality production
Our production is ISO 13485:2016 certified and audited annually, which ensures that our products are always of consistent quality.